Goh Kaki, Penang – Local Coffee Retreat with Combination of Chinese Culture
BY CK Lam
* The cafe has since closed down!
George Town Penang is reputed with its many heritage shophouses with five foot pedestrian walkways. Many are familiar with these sheltered walkways which are popularly known as goh kaki 五脚基. It is not surprise having one of the cafes going after the name.
Goh Kaki located in two heritage shophouses on Bishop Street is a casual relaxing space. It is one of the several cafes in town that brings back childhood memories.
The drinks menu offers brewed local coffee, fresh juices, soothing teas and ice blended. Coffee choices on the menu include Kopi C, Kopi-O, Kopi and Chocolate Coffee, all served in porcelain kopitiam cups and saucer with flower motifs.
Goh Kaki offers customers the signature 'Say No' Chocolate Coffee with "old-school" chocolates wrapped in gold foil. The chocolate coins with the charm of yesteryear are still sold at some grocers.
Chocolate coffee RM7.90
For those who love their coffee strong and thick, try the GohKaki DIY Kopi-O. The freshly brewed local coffee is served with a piece of roti roll, alongside containers of condensed milk and sugar.
The crunchy roti roll is not too sweet and is wonderful for dipping into the coffee.
 The pot of coffee comes with a strainer for filtering
Coffee goes swimmingly well with toast bread. There are a number of spreads, with options of butter, sugar, peanut butter or cheese. The Tic Tac Toe Bread with a spread of peanut butter and honey provides insight into the old fashioned game.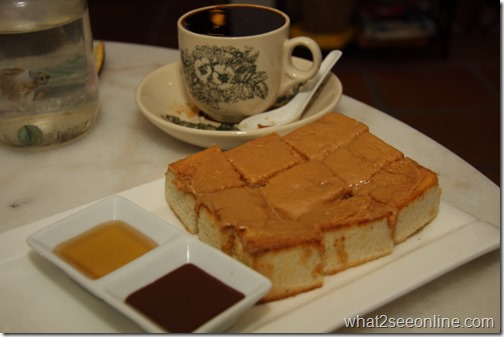 Tic Tac Toe Bread with peanut butter 花面牛郎 RM5.90
There are endless of good fun with the many traditional children's games, board games and books. Children can while away the time with a game of snake and ladder, liew qian, congkak or a game of chip chip chom (hopscotch). Grids are drawn on the floor where they can amuse themselves hopping on one leg from one square to another.
Hopscotch provides hopping fun for the young
A game of snake and ladder, liew qian and congkak
The fairly large cafe has its five-foot way (kaki lima) decorated with restored old bicycles and wicker rocking horse. The casual interior is cosy and comfortable. A popular seating area is near the courtyard, decorated with water feature and potted plants.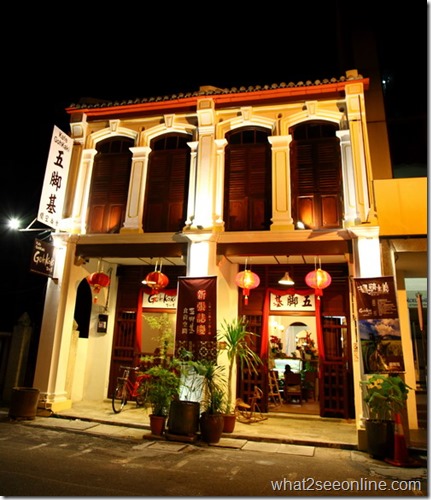 One thing for sure, Goh Kaki is a better place to drink than to eat. However if you require food, expect to find a number of noodles, rice dishes and GohKaki Miku (turtle-shaped bun) with choices of chicken curry or bang kuang (stir-fried yambean) in the menu.

The plate of Blue Flower Rice cost RM10.90
Goh Kaki 五脚基
34 & 36 Lebuh Bishop
George Town
10200 Penang
Tel:04 262 9916
Business Hours: 11.30am-11.30pm (daily)