G Hotel's new Tree Bar Launching and Ribbon Cutting
BY CK Lam
The Tree Bar launching on 11th July 2014 at the ground floor, alfresco area of G Hotel Gurney Penang sees a wonderful addition to the hotel's portfolio of food and beverage outlets.
Established guests and media were present to witness the launching of the new hangout spot in town.
Mr. Michael Hanratty's (General Manager of G Hotel) got the party started with his welcoming speech.
Our goal for this space was to create a relaxed, casual hangout serving the best beer and bites in town whilst showcasing the beautiful nature of Penang. The Tree you see here was originally moved when making way to build the hotel, so instead of a second move, we decided to embrace our beautiful tree. This gave us the concept to create this ambience, logo, name, and the colour yellow. 
Tree Bar gives their guests what they are looking for, a stylish wooden bar built around an 80 year old 'Albizia Saman' tree, a rain tree also known to the locals as "five o'clock" tree".
The bar offers relaxing ambience with bar top seating and also conventional dining tables while its al-fresco area holds a couple of comfortable cushioned seating.
Tree Bar pleases the drinking crowd with variety of bites, international beers, wines, traditional cocktails and also Tree Bar specialty cocktails that are personally curated by in-house mixologists.
This hangout spot serves up some of the best happy hour deals in town, featuring a buy one free two promotion draught beers on tap: Carlsberg, Asahi, Connor's, Stella Artois, Lowenbrau and Hoegaarden. The happy hour continues on after 9.30pm with a promotion of buy one free one.
The bar features bottled beers: Tsing Tao, Guiness, Little Creatures Bright Ale and Pale Ale, Warsteiner, Somersby Cider and others. If you are into cocktails, give the Long Island Iced Tea, Atlantic Breeze, Malaysian Dream, Rum Jungle and Blue Hawaiian a try. There are more than 12 choices of single malt whiskeys, 12 types of liqueurs plus more than 15 types of liquors.
Tree Bar also offers non-alcoholic beverages, with selections of coffee, tea, fruit juices and soft drinks.
So much beers to try and discover
Guests were treated to casual bites such as quesadilla, nachos, chicken satay, deep-fried calamari, smoked salmon rolls and Moroccan spiced lamb skewers.
The bar's menu includes chicken wings and buckets of chilled shrimp served alongside homemade cocktail sauce. For a healthier meal, go for the caesar salad, nicoise salad or the Thai beef salad.
"For something heavier, there are the 'Big Buns', with choices of beef, chicken sausage or burger patty. Each style comes with different condiments and choice of bread. It gets better with an add-on portion of French fries, spicy wedges or truffle fries," says marketing communications manager Christina Tan.
Not only does Tree Bar turn out a selection of desserts, the bar also offers the Malaysian born Italian ice cream, gelatomio.
    Staffs worked tirelessly behind the bar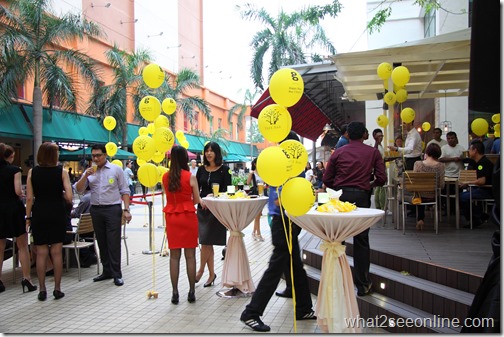 The evening went on with a cutting ribbon ceremony by Mr. Michael Hanratty, General Manager of G Hotel, and Mr. Phuah Choon Meng, Director of G Hotel.
Tree Bar is open seven days a week, from 11am until 1am.
Its vibe and its prime position in Gurney Plaza makes for an ideal spot to unwind after a long day or even for that business talk.
G Hotel Gurney Penang
168A Persiaran Gurney
10250 Penang
* Many thanks to G Hotel for extending this invitation.