Koay Teow Th'ng at Clarke Street, Penang
BY CK Lam
The secret is in the soup
The light and flavorful noodle dish of koay teow th'ng is a popular hawker food across Penang.  One place that many would head to for a bowl of koay teow th'ng (flat rice noodle) is Ah Boy Koay Teow Th'ng located on Clarke Street – a street between Argyll Road and Hutton Lane.
Hidden in a small alley, the koay teow th'ng stall that has been running for more than 30 years.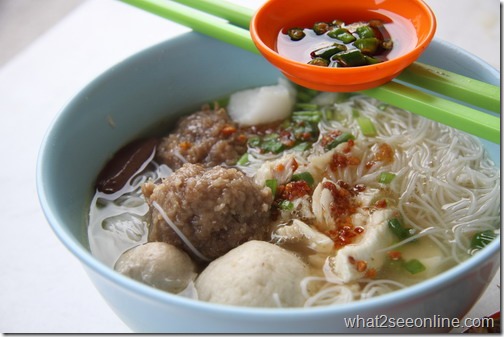 A bowl of koay teow th'ng prepared with beehoon
Now helmed by the second generation, the stall still continues offering the koay teow thng with its sweet hearty broth prepared by simmering old hens and a combination of ingredients. The soup has a rich appealing chicken flavor.
Customers can have the koay teow thng with a choice of noodles ranging from koay teow, beehoon to yellow mee. Besides the soup version, there is the dried version, tossed with black sauce.
A bowl of koay teow th'ng
The bowl of koay teow th'ng with chicken slices, congealed blood cakes (optional), and four types of balls is served drizzled with deep-fried garlic oil and garnished with spring onions. It is warm delicious goodness with simple condiments of light soy sauce and sliced green chilli padi.
Among the four types of balls, the pork tendon ball is the best – delicious with gelatinous texture and ginger flavor.  The large fish ball proves too soft a bite for me.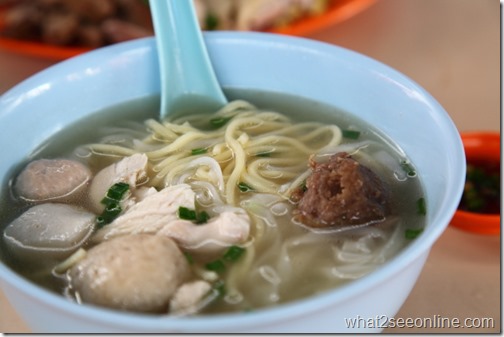 A bowl of koay teow th'ng prepared with yellow mee and koay teow
A side dish of poached chicken meat, liver, and heart arranged on top of blanched bean sprouts makes a nice complement to the koay teow thng.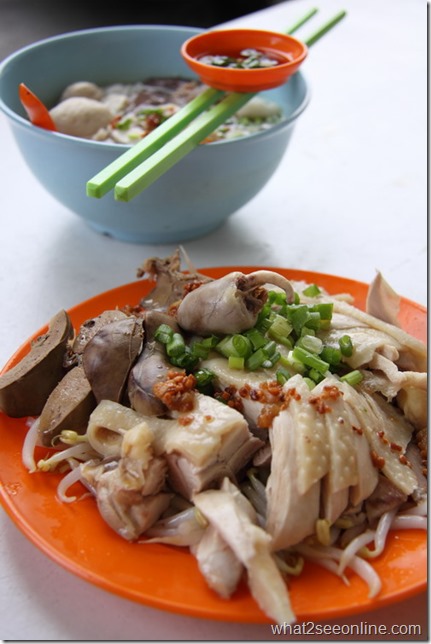 Watched the owners preparing the old hens for poaching. They make it look so easy picking out pin feathers that are embedded in the skin.
If you are not a morning person, consider going there for lunch as this food stall is open from 7am till 2pm everyday, except Tuesday.
Koay Teow Th'ng Stall
Clarke Street (Lebuh Clarke)
10050 Georgetown
Penang
Business Hours: 7am – 2pm
Closed on Tuesday