Mid-Autumn Mooncake Celebration at Gurney Paragon Mall Penang
BY CK Lam
Happy Mid-Autumn festival and happy mooncake feasting!
With the Mid-Autumn Festival just around the corner, a group of us had an enjoyable time savoring many baked and snowskin mooncakes at the mooncake tasting event hosted by Gurney Paragon Mall Penang.
We saw the introduction of the latest trends and new gourmet ingredients featured in mooncakes from Canton-i, The Baker's Cottage, Casahana, Leong Yin, Foh San, Purple Cane, Fai Fong, Kum Lun Tai and Hong Kong Mei Xin.
Canton-i introduced the Frosty Skin Series made with six new flavors. Be prepared to pay RM28 for two pieces of their renowned Frosty Durian Musang King mooncake, made with aromatic and quality musang king durian filling. Also included is the Organic Charcoal Skin with Coffee Paste mooncake. I would have preferred if it comes with a stronger amount of coffee.
Premium grade lotus seed imported from Hunan, China is used in the baked Hong Kong White Lotus Paste mooncake with single yolk (less sugar). Canton-i got it right with the amount of sugar and delicate lotus paste.
Hong Kong white lotus paste with single yolk (less sugar) – per piece RM21
Frosty durian musang king – per pack  of two pieces RM28
Mooncakes from Casahana 喜月堂 were also introduced to us during the event. What makes the mooncakes at Casahana different from others is that the baked mooncakes come with flowerish and striking colorful crust. The Crimson Opera has its crust made of beetroot juice and filling of lotus paste, cheese and creamy white chocolate.
There are abundance of combo flavors varieties available at Leong Yin 梁贤 (with its office and factory located in Penang). Its Managing Director, Dr. K.F. Leong was on hand introducing the varieties of flavors.
The Ballad of The Moon made with custard paste and salted egg custard paste is a bit too sweet while the Lunar Delight has two of the best flavors – strong coffee and durian.
"For those seeking mooncakes with health properties, the Intense Wheatgrass Jujube Splendor made with red dates and wheatgrass paste has detoxifying properties,"said Leong.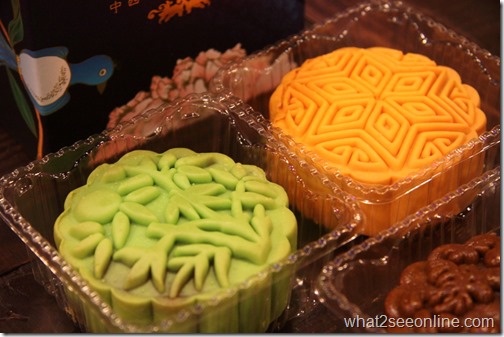 Intense Wheatgrass Jujube Splendor  – per piece RM17.20
Ballad of The Moon – per piece  RM17.20
Lunar Delight – per piece RM17.50
Kum Lun Tai 锦纶泰 is known as a master in creating traditional mooncakes. Its renowned Shanghai 1 Yolk mooncake is the one to go for. Featuring a golden soft crust, it comes with fillings of top-grade lotus seed paste and salted egg yolk.
Shanghai 1 Yolk – per piece RM17.20
Purple Cane 紫藤 offers traditional Cantonese crust and innovative non-baked mooncakes. The White Tea Purple Potato Lotus Paste mooncake (RM9.80) with light and delicate purple potato crust is filled with lotus paste, purple sweet potato and a touch of white tea.
Mooncakes with traditional Cantonese crust and fillings of assorted nuts are found in many places. However, those at Purple Cane not only come with assorted nuts but also with healthy ingredients such as Puer, Chinese Wolfberry and Dang Gui (RM11.30).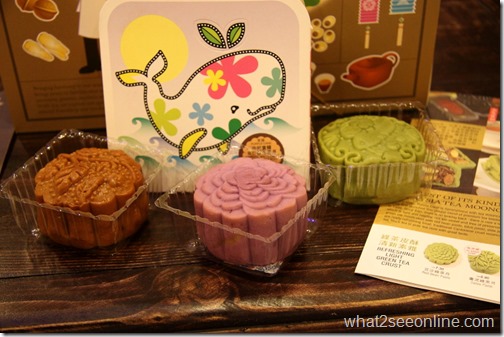 The Avocado Mango Tango mooncake from Baker's Cottage 麦可思 easily captures those who desire avocado. Made with fragrant coconut butter pastry skin, the filling offers ingredients of milky avocado lotus paste, mango mung bean paste and dried mango.
Avocado Mango Tango mooncake – per piece RM16.90
New names such as Fai Fong 惠芳 made its debut with its Bamboo Charcoal Lotus Paste mooncake (RM14.50) besides the Assorted Fruits, Nuts & Ham mooncake (RM16).
Hong Kong Mei Xin 美心 has also launched its box of petite premium egg custard mooncakes infused with sandy textured custard filling. The mooncakes come in two packaging options: four pieces for RM50 and eight pieces cost RM98.
Foh San 富山 makes it a point to maintained its mooncakes with high grade lotus seed paste. The fragrant lotus seed paste with salted egg yolk and kua chi (melon seeds) are held within a very thin baked crust.
The Mooncake Fair is held in front of St. Jo's building and at Penang On 6 (level 6) till 8th September 2014.
Starting from 5th to 7th September, shoppers can redeem a complimentary Leong Yin pastry's mooncake with a minimum spending of RM200 and above in a single receipt at any of Gurney Paragon Mall's outlets.
On 6th September, customers can redeem a complimentary pot of tea from Jing-Si Books and Cafe with RM50 and above spend in a single receipt or at Wei Shiang at Penang on 6.
For more information, please visit facebook.com/gurneyparagon
Gurney Paragon Mall
Persiaran Gurney
10250 Penang
* Many thanks to Gurney Paragon Mall  for extending this invitation