Tedeschi Wine Dinner at Vino Vino Bistro, Penang
BY CK Lam
The Tedeschis' name is one of the oldest wine producers of the Valpolicella region, in Italy. Its collection comprises classic wines of the Valpolicella and Veronese regions.
The family winery is run by Renzo Tedeschi together with his children Antonietta, Riccardo and Sabrina. I had the pleasure of meeting Sabrina when Asiaeuro held a wine dinner in Vino Vino Bistro Penang.
The wine pairings that accompanied the tasting menu included the Tedeschi Soave 2012, Valpolicella Superiore 2011, Tedeschi Capitel San Rocco Valpolicella 2011 and the Tedeschi Capitel Monte Olmi Amarone Della Valpolicella CLassico 2008.
Sabrina shared with us the pleasure of loving the food with the wines made from grape varieties like corvina, corvinone and rondinella besides several others.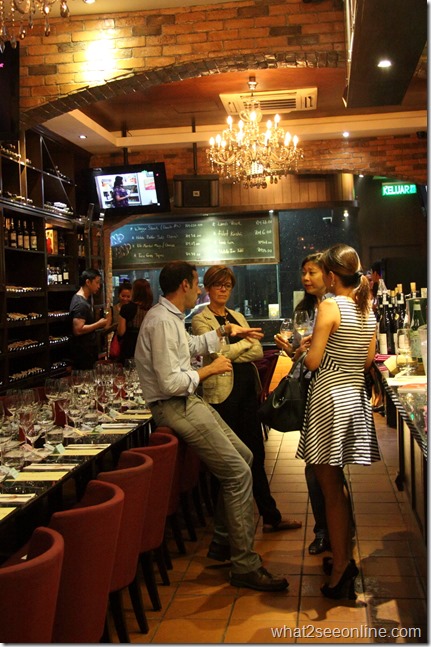 Guests were greeted with glass of Tedeschi Soave 2012. I took to liking this easy-drinking white wine produced from Garganega grapes. Straw yellow in colour, the crisp fruity wine with notes of dry fruit and almonds was absolutely delicious served with light bites of edamame (snow bean).
2012 Tedeschi Soave
Sabrina Tedeschi and William Chong sharing their views on the wine pairing
The next dish presented was a combination of foie gras tapas and aburi ehire (grilled stingray). The dish was paired with 2011 Tedeschi Valpolicella Superiore, made from corvina, corvinone and rondinella besides small percentage of molinara, rossignola, negrara and dindarella grapes.
Pairing the grilled delicacies (especially the velvety foie gras) with the red wine with clear notes of cherry and currants was pretty pleasing.
The evening progressed with the pairing of tobiko avocado salad and seafood platter with 2011 Tedeschi Valpolicella Superiore Ripasso Capitel San Rocco. An interesting fact about this red wine is that it is produced with the old Ripasso technique, which sees the re-fermenting of young wine on the Amarone marc (lees).
The pairing of the tobiko avocado salad with the red wine was an interesting part of the meal. The red wine with notes of cherry, raspberry and red currant went surprisingly well with the salad, highlighting the creaminess of the avocado.
As for the seafood platter of uni (sea urchin) cod fish, tiger prawn and scallop, the dish was great (though my piece of scallop was slightly overcooked). Its taste was made even richer paired with the red wine.
The heavier second course was a mix platter of tenderloin and black pork steak paired with the elegant and complex 2008 Tedeschi Amarone della Valpolicella Classico Capitel Monte Olmi.
The red wine made from corvina, corvinone, rondinella and rossignola grapes has a powerful edge. With peppery and berry characteristics, and medium tannins, the wine works nicely with the medium-rare meat and the small salad.
It was an excellent pairing, which enhances both the flavor of the food and the wine.
The last course was ice cream with Caffe Americano.
It was an enjoyable night at Vino Vino Bistro of not only discovering and appreciating four Tedeschi wines but also delicious food: foie gras, aburi ehire, uni, black pork.
Tedeschi wines are distributed in Malaysia by Asiaeuro and available at Vino Vino Bistro Penang. More info of Tedeschi wines can be found at: http://www.tedeschiwines.com/en/