The Haven Harbour Cafe at Chime Heritage Penang
BY CK Lam
Nagore Square, a buzzy food scene in Penang is home to many food outlets. Conveniently sitting on the corner of the refurbished Chime Heritage building on nearby Jalan Bawasah is The Haven Harbour (HH). This double storey corner unit cafe with its white washed walls and spacious upstairs dining area is welcoming with modern day design and relaxing environment.
Andus Yeap takes care of the kitchen while Carine Lim is the lady behind the wide range of creative pastries and cakes. For freshness, only small patches of desserts are baked daily while the made to order signature desserts take 15 minutes of preparation.
Take your pick from the different types of chocolate desserts made with superior quality Callebaut chocolate products. Would it be the Poke Boule or the Chocolate Assiette? We had both choices.
The ball of Poke Boule with Frangelico infused lady finger coated with Belgian chocolate was served cold in a ramekin. Carine took it up a notch by adding nice sense of texture – fine lines of white chocolate and crisp peanuts. Recommended to go with a cup of Americano, the Poke Boule practically melts in the mouth. It brings back something memorable – roughly like eating rum ball.
Unlike the Poke Boule, the Chocolate Assiette is a cold and hot treat. This dessert will have you swooning in delight with subtly sweet fine Belgian chocolate lava served with marshmallow and oreo coated ice cream on the side.
We dived in with our spoons, scooping up the oozing hot lava and the ice cream.  The dessert was just heavenly.
HH's signature dessert – Chocolate Assiette RM16.90
The unbaked cheese cake on crumbly biscuit base with melt in mouth texture and hint of acidity, was served with fresh berries.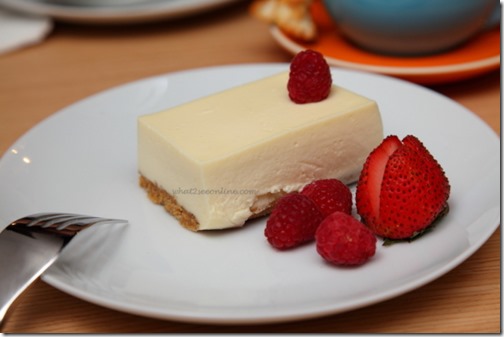 The Penang Island, with steambaked handcrafted meringue was served on a bed of fresh fruits. Creme Anglaise was poured over the meringue, and the combination together with the zest of the fruits was light and delicate.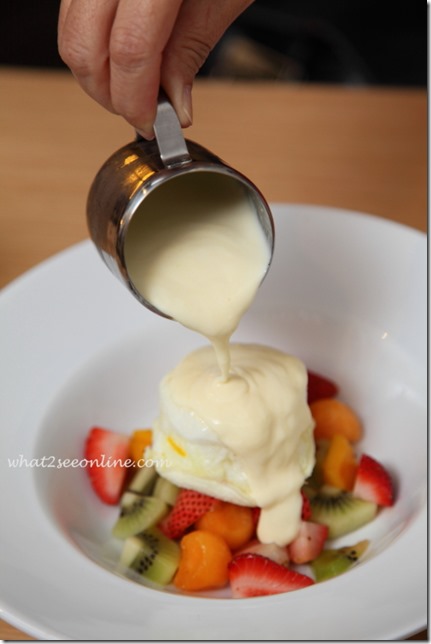 HH's signature dessert – Penang Island RM14.90
The affogato sounded inviting, however we were truly enamoured of the many other interesting desserts that we give it a miss.
Cafe Affogato RM9
We included a brewed cup of Americano and the signature Callebaut fine Belgian Chocolate drink.
If you are a true chocolate geek, you will like the signature Callebaut fine Belgian Chocolate drink. The chocolate drink with a combination of chocolate couverture, ganache and silky milk was simply inviting.
A cup of chocolate with a piece of coconut macaroon
As mentioned in the menu, they are serving coffee prepared with three different specialties coffee beans roasted under the supervision of IASC Roaster (International Academy of Special Coffee).
There are several varieties of coffee – mocha, cappuccino, latte, espresso, Americano and flat white. The Americano give slight acidity.
Cafe Americano RM7.90
As of now, the cafe only offers a decent selection of salads and pastas. The full menu will be on the tables very soon – around mid-September. It will include loads of snacks, soups, sandwiches and wines. "We will also be putting together cheese platters highlighting different regions and styles while Carine will be continuously adding different sweet specialties based on seasonal items," says Andus.
We had the Ceaser Salad with baby romaine lettuce, cherry tomatoes, hardboiled egg and thick pieces of chicken done with slight charring. The salad was brightened up with some parmesan cheese, ceaser dressing and crunchy bites of croutons. The portion was filling and large enough as a light main course.
The cafe offers five varieties of pasta and prices range from RM18.90 to RM19.90. The garlic white wine pasta cooked with garlic, white wine and seasonal fresh seafood delivers a clear soup with natural freshness and sweetness. The decorative herbs added flavor to the dish.
Garlic white wine pasta RM19.90
On weekdays from 11am till 3pm, the cafe offers a lunch special – a pasta comes with complimentary salad and hot coffee beverage.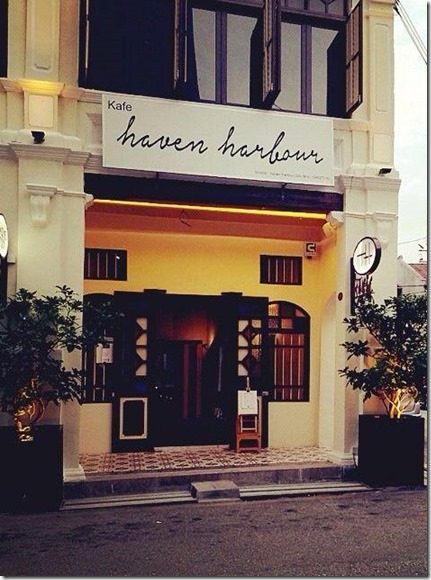 Photo via HH facebook
The Haven Harbour
21 Jalan Bawasah
10500 Georgetown
Penang
Business Hour: 11am – 12midnight
Tel: 04-2266508