Leeuwin Estate Winery, Margaret River Australian Wine Dinner at Tiffins
BY CK Lam
The recent Leeuwin Estate Wine Dinner hosted by Asiaeuro Wines & Spirits Sdn Bhd in Tiffins at Parkroyal Penang Resort was a great way to experience Leeuwin's wine.
The wines which included Art Series Riesling 2013, Prelude Chardonnay 2010, Siblings Sauvignon Blanc Semillon 2011, Art Series Cabernet Sauvignon 2009 and Dow's L.B.V Port 2007 were paired with a range of delicious dishes.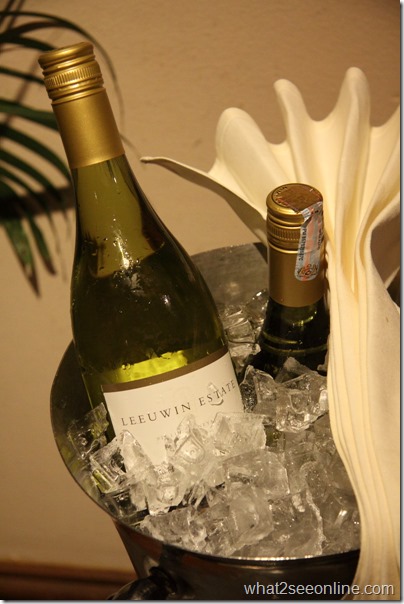 The wine reception started off with serving of colorful canapes along with the refreshing Art Series Riesling 2013.
The chef presented a delicate fish dish with two pieces of pan seared sole, enoki mushroom and winter vegetables plated on Chardonnay herb sauce. The dish was paired with Prelude Chardonnay 2010, an elegant white wine made with great balance from a superior Chardonnay vintage.
With clean acidic finishing, the wine was excellent complement to the fish, as it helped soothe the fish's strong taste.
The colorful dish of Oven Braised Quail with Foie-Gras was definitely the dish for quail and foie-gras admirers.  Prepared  with butter sauce and served with poached pear and orange compote, the dish chock-full of flavors can easily make anyone an instant quail and foie-gras fan.
With the dish we enjoyed the Siblings Sauvignon Blanc Semillon 2011. The crisp white wine with a lightly grassy bouquet and lovely textured mouth feel offers a dry refreshing finish.
Siblings Sauvignon Blanc Semillon 2011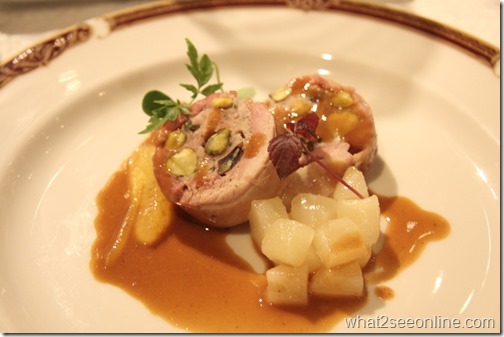 Then we enjoyed the Cranberry and Morelos Cherry Granite before the next meat dish.
The main course was a well-executed creation of Pan Seared Australian Wagyu Beef Fillet and Roast Spiced Australian Lamb Loin. The wagyu beef fillet, served with porcini mushroom ragout, melts in the mouth while the lamb loin was served on braised fennel and marinated asparagus with truffle honey glaze.
The flavorful dish paired amazingly well with the Art Series Cabernet Sauvignon 2009, for this full-bodied red wine boasts vibrant fruit flavors of blackcurrant and cherries. It had a wonderful aftertaste and finishes with great fruit length.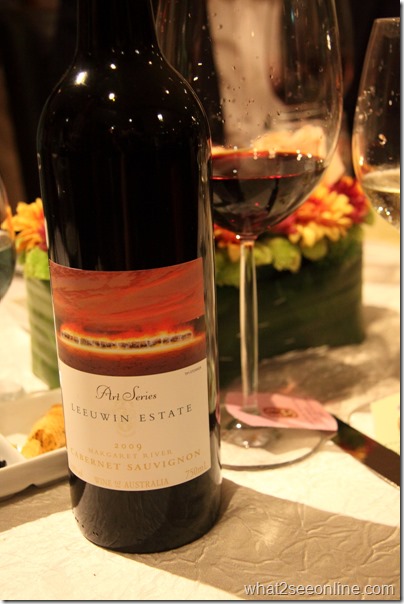 Art Series Cabernet Sauvignon 2009
For dessert, we sampled the Cocoa Cannelloni with Chocolate Monte Creamand and Rambutan Pearls Espuma together with a tasting of Parkroyal mignardises. Paired with the dessert was the Dow's L.B.V Port 2007. I just took a taste of the wine as it was very, very sweet.
Cocoa Cannelloni with Chocolate Monte Creamand along with Parkroyal mignardises
Leeuwin Estate, one of the founding wineries of the Margaret River district was thrust into the international spotlight when Decanter Magazine gave its highest recommendation to the 1980 "Art Series" Chardonnay in an international blind tasting.

Maintaining a team of highly skilled and dedicated winemakers,  and now under the direction of two generations of the founding family, Leeuwin now exports to over 30 countries.
Leeuwin wines are distributed in Malaysia by Asiaeuro and available at Vino Vino Bistro Penang.