Dim Sum at Yong Pin Restaurant, Sungai Ujong, Penang
BY CK Lam
Among the many dim sum places in Penang, one old-time favorite is Yong Pin Restaurant. The place with its location in Sungai Ujong is full of memories for those who frequent this place for its range of dim sum and noodles.
Besides a breakfast fare, the dim sum is also available during dinner. Round bamboo steamer filled with small plates of dim sum is being carried around the tables by workers.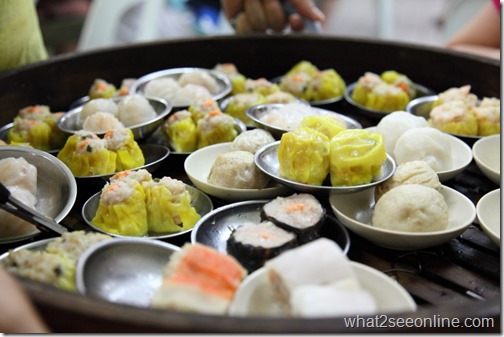 There is a variety of fried to steamed items. The staple steamed items of siu mai, and har kow  dumplings (with prawns and meat),  lotus leaf wrapped rice, spare ribs, fish balls and lor mai kai (glutinous rice with Chinese black mushrooms and barbeque meat) please just about anyone.
Yong Pin serves several types of steamed sweet and savory paos. Chinese pork sausage pao, barbecued meat pao, meat pao (indicated by a red dot) and lotus paste pao are some of the choices.

Chinese pork sausage pao and meat pao
Barbeque meat and sweet lotus paste paos
Then there is the deep-fried century egg bean curd sheet roll, prawn dumpling and yam puff (wu gok) with an inner layer of yam paste and barbeque meat.
The deep-fried century egg bean curd sheet roll comes with a bean curd sheet wrapping up a delicious stuffing of lightly seasoned prawn and meat paste together with pieces of century egg. The yam puff however is just ordinary at best.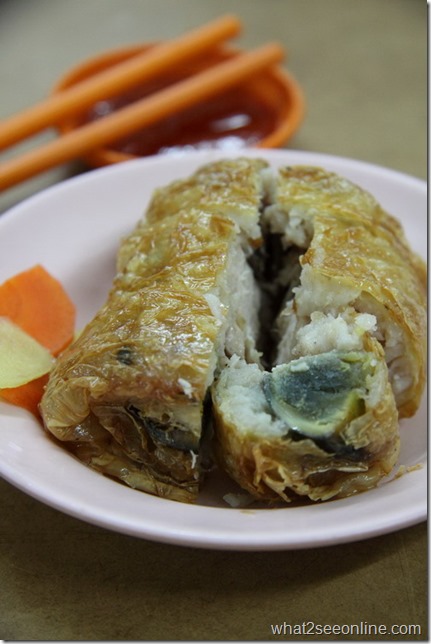 Chinese tea is a part of a dim sum meal in Yong Pin. Most customers will have a pot of their favorite hot Chinese tea on the table.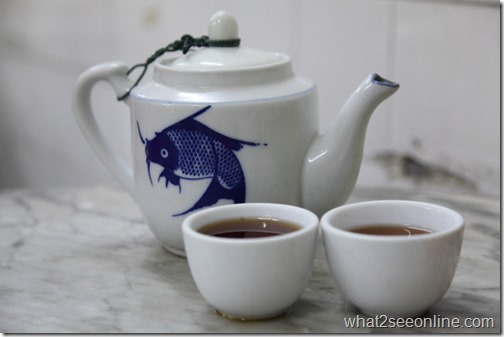 In addition to dim sum, there is a noodle list too. The braised ginger duck yee foo mee is one of Yong Pin's best-sellers. The noodle is stir-fried in the savory braised gravy with the soft and flavorful duck and some vegetables.
This dish is available only on Friday and Saturday.

Braised ginger duck yee foo mee
Other varieties of noodles are the Singapore beehoon, yeefoo mee and sang mee.
Do not leave without trying the slightly sweet pan-fried water chestnut cake, a dessert that is not easily available in Penang. With a definite bite, slightly burnt topping and crunchy pieces of chestnut, the cake had us hankering for more.
Although there is a variety of desserts, the malai kuih (Chinese sponge cake) and soft chewy mochi (loh mai chi) with chopped peanuts filling are the more popular sweeten delights. A serving of the mochi comes in threes.
Opened in the eighties, the two shophouses has a wide dining area and the setting is very basic.
Yong Pin Restaurant 榕槟茶楼
11-B & C Jalan Sungai Ujong
10100 George Town
Penang
Tel: 04-261 1355
Closed on Monday