DownTown Art Heritage Cafe in Georgetown Penang
BY CK Lam
*The cafe has since closed down
For those looking to indulge in international fare and treats fused with Penang's thriving culinary pulse, do make a visit to DownTown Art Heritage Cafe.
The outlet on the corner of touristy Armenian Street and Jalan Masjid Kapitan Keling does a brilliant nasi ketuk, serving up the traditional Indonesian rice dish cook with local clitoria flower. There is a choice of Nasi Ketuk with Chicken Rendang or Nasi Ketuk with Grill Lemongrass Chicken.
The Nasi Ketuk with Chicken Rendang comes with delicious spicy slow-stewed chicken drumstick, spicy anchovy sambal, papaya & onion compote and crispy local prawn crackers.
Nasi Ketuk with chicken rendang  RM16.90
Expect salad dishes such as Scallop Mango Salad and Downtown Smoke Duck Mixed Salad. The latter is put up with a balance sesame dressing,  four different types of greens, tomatoes and slices of  smoke duck.
Downtown smoke duck mixed salad RM10.90
The Downtown Banhi Mi (RM15.90) with a crusty and light bagel makes its appearance with a filling of grilled lemongrass whole chicken drumstick, marinated papaya and onions, lettuce and Chinese parsley.
The slices of marinated papaya and onions brighten up the the banhi mi which comes with nicely salted sweet potato fries.
The drinks offer interesting combinations of freshly squeezed juices and smoothies. Be on the lookout for the Apple Sancha Smoothie, prepared with apple, haw flakes and caramel (RM9). Some particularly like it, and some might not.
For coffee lovers, there is the Downtown kopi RM3.50, and Americano at RM11. As for dessert, there is only the cheesecake and three local tongsui. A huge bowl of black glutinous rice tongsui cost RM5.
Sancha smoothie and coffee
From Monday to Friday, Downtown Set Lunch is served from 11am to 3pm. Starting from RM20.90++, the set lunch features soup of the day, dessert and a choice of beverage (coffee, tea or ice tea).
One can easily be tempted by the Nasi Ketuk Grill Lemongrass Chicken set lunch (RM25.90) served with a juicy piece of chicken drumstick grilled with lemongrass, spicy anchovy sambal, papaya & onion compote and crispy local prawn crackers. Together with a beverage, soup and dessert, the set is a big size for lunch (definitely worthy).
Nasi Ketuk Grill Lemongrass Chicken set lunch RM25.90
DownTown Art Heritage Cafe is a great place to enjoy some fresh tastes and people-watching as its front and side window seats open up to the touristy area. The attentive service certainly makes dining here a pleasure.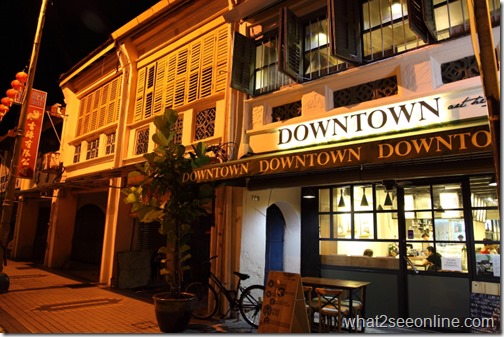 DownTown Art Heritage Cafe
149 Jalan Masjid Kapitan Keling
Georgetown
10200 Penang
Tel: 604-261 1303
Business Hour: 10am to 10pm (Daily)
GPS Coordinates: 5.4154892 , 100.3370954