Gusto Cafe, Hillside Penang
BY CK Lam
Tucked away in the Hillside area of Tanjung Bungah in Penang is Gusto Cafe. This cafe's with a cosy vibe is built with open space for light and warmth. On the ground floor is the main dining hall, complete with the kitchen while a second smaller dining area is located on slightly lower ground.
The owner, Jason Selvanayagam runs the community neighbourhood cafe with his wife, serving up homemade breakfast and lunch fare to an eclectic mix of (neighbours) regulars.
For early birds, comforting breakfast staples include sausage, egg, bacon, baked beans and bagel while the kid's menu offers toast with juice and choices of egg and bacon.
The burgers are available with different filling options, notably the The Pig Out Burger which has pork and melted cheese. One can upgrade one's choice of burger with extras slices of pork bacon, cheese or egg.  The cafe also serves Jalapeno bacon cheese burger.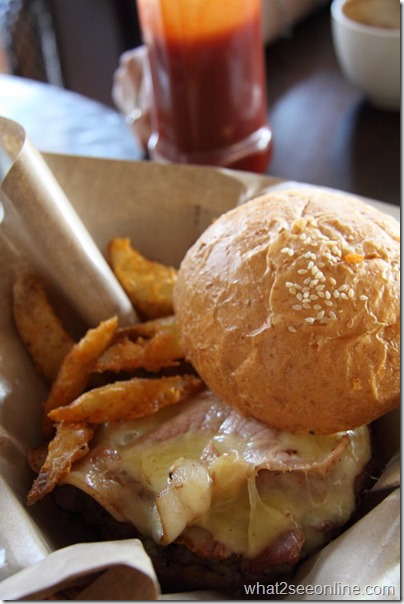 The Pig Out Burger with potato wedges
Sink your teeth into the many sandwiches, with options like grilled chicken, BLT, smoked salmon and pulled pork. The pulled pork sandwich with a hefty portion of slow cooked juicy and flavorful meat filling comes with salad and potato wedges.
The cafe also offers a selection of coffee, tea and thirst-quenchers like fresh juices, lassies and smoothies to help keep one refreshed especially on a hot day.
Starting this December, with extended business hours from 6.30pm till 10.30pm, visitors can drop by for light dinner. Items for dinner include Chicken/Cheese Empanadas, Quiche & Salad and the Very ADULT French Toast.
The cafe conjures up the pipping hot chicken empanadas as a lighter option with salad. There is a bit of waiting as the pastry pocket is freshly made.
Chicken Empanadas RM10
If you really wanted to try something a little different, then go for the Very Adult French Toast. Many might not be familiar with the name and must be wondering how adult can a French toast be? Well, this French toast topped with banana is given a grown-up twist, served sitting in a pool of heavenly bailey and chocolate syrup.
Cafe Gusto offers not only the food with bailey but also in its coffee too. The Baileys Hazelnut Coffee with a price tag of RM22 is flavored with the cream based liquor.
If coffee is not your fancy, there is also the Christmas Special Hot Choc & Cinnamon. Gusto gets inventive with the hot chocolate, adding pieces of marshmallow to suit the diners palate.
Baileys Hazelnut Coffee
Christmas Special Hot Choc & Cinnamon RM10
For desserts, expect a small menu of sweet items. A slice of homemade carrot cake with frosting and dried fruits was chosen to go with the hot beverages.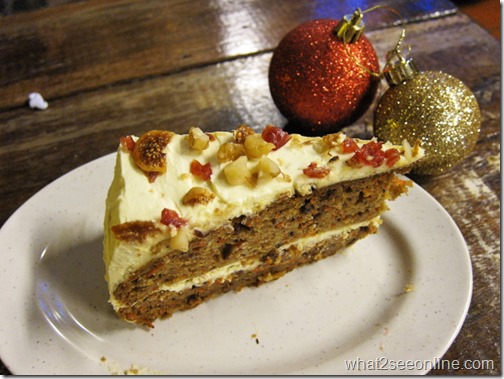 Carrot Cake RM10
Many will be happy to know that the owner will be embracing more fully of their food menu for dinner in time to come.
There are roadside parking  spaces right in front of the cafe.
Gusto Cafe
4 Jalan Sungai Kelian
Tanjung Bungah
Penang
Business Hour:
Monday, Tuesday & Thursday – 7am till 3pm & 6.30pm till 10.30pm
Friday, Saturday, Sunday & Public Holiday – 8am till 3pm & 6.30pm till 10.30pm
Closed Tuesday evenings and Wednesdays