Chinese New Year Prosperous Buffet Dinner at Hard Rock Hotel Penang
BY CK Lam
Hard Rock Hotel Penang continues its tradition of celebrating Chinese New Year!
Located in Batu Feringgi, Penang, the hotel is introducing the Year of the Goat Prosperous Buffet Dinner on the eve and first day of the Lunar New Year.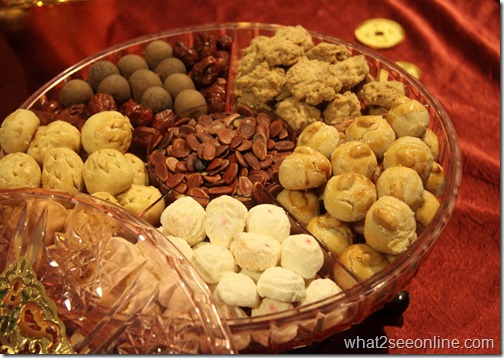 Held at Starz Diner, the Prosperous Buffet Dinner spread will be featuring a selection of symbolically lucky dishes crafted by banquet sous chef Y.T. Heng and his team.
There is a widespread of cold selection, soup, Yee Sang Station, Chinese Mains, Chinese BBQ Carving Station and Steamboat Station where diners can enjoy a wide range of meat, seafood, vegetable and noodle.
From the Chinese BBQ Carving Station, savour the heartier fare of Roasted Duck served with flour egg skins and steamed mantou buns. The tender poultry goes really well with the sauce laced with depth of sweet spices.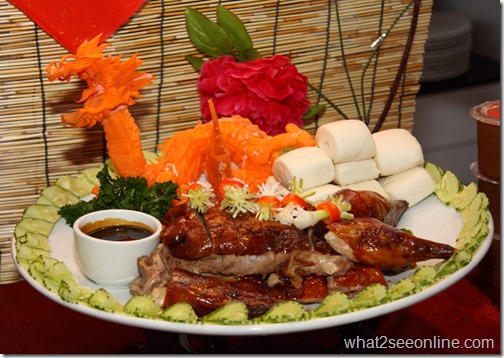 Highlights from the Cold Selection are the Seafood Mango Cocktail, Prawn Dragon Fruit Cocktail, Marinated Fish with Papaya, Baby Octopus Salad and Pie Tee with Condiments.
Both the Baby Octopus Salad and Prawn Dragon Fruit Cocktail with refreshing light sauce are good starters. However the Pie Tee is less impressive as the filling is more salty than it needed to be.
Pie Tee &  Baby Octopus Salad
The star attraction is the colorful Yee Sang platter. This dish tantalised the palates with a mixture of sliced fresh salmon, Chinese five spiced powder, toasted sesame seeds, red pickled ginger, carrots, ground cinnamon, roasted peanuts, white radish, crackers and tangy plum sauce.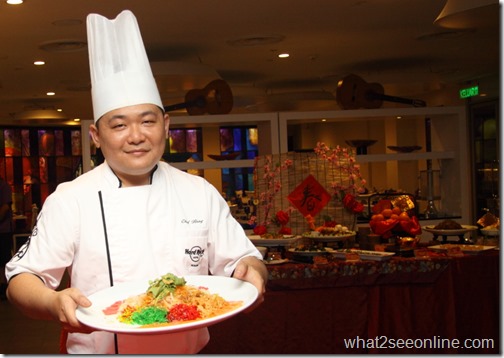 Chef Heng presenting the Yee Sang dish
Tossing of the Yee Sang
When it comes to soup, Chef Heng will be serving the Ginseng Chicken Soup on the eve of Chinese New Year and Crab Meat Seafood Soup on the first day of Chinese New Year.
Crab Meat Seafood Soup
Some of Chef Heng's specials from the mains are the Fried Vegetable with "Loh Hon Chai" and "Seow Pak Choy" with Oyster Sauce, Marinated Mussels with Pepper, Steamed Fried Rice in Lotus Leaves with Yam and Dried Shrimps and Steamed Fish "Teow Chew" Style.
The chef had the whole fish steamed "Teow Chew" style with fresh ginger, salted vegetables, tofu, sour plum and carrot. The light sour and salty gravy is pretty appetizing.
The vegetarian dish – Loh Hon Chai is prepared with many auspicious ingredients, including the black moss (fatt choy – which resembles the Chinese characters for prosperity).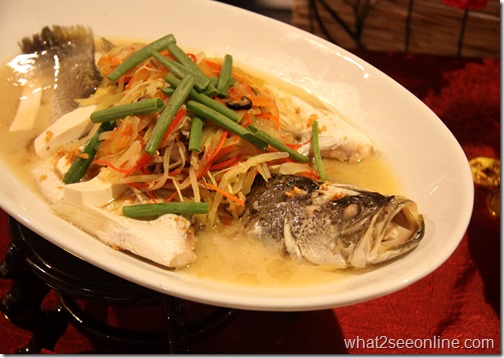 Steamed Fish "Teow Chew" Style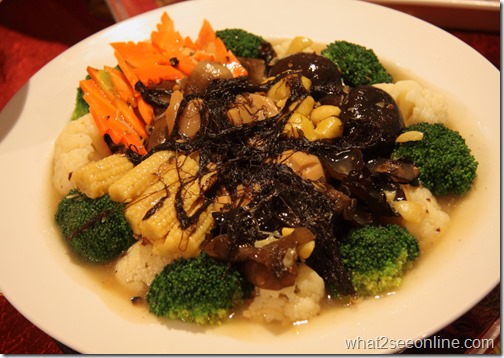 Vegetarian dish – Loh Hon Chai
To end the meal, delight in the Cold Longan Sea Coconut dessert and the warm Hot Soya Bean with Gingko Nuts and Glutinous Rice Balls filled with black sesame paste.
Be sure to try the assortment of delightful Chinese cookies, Mandarin Oranges and Pomelo.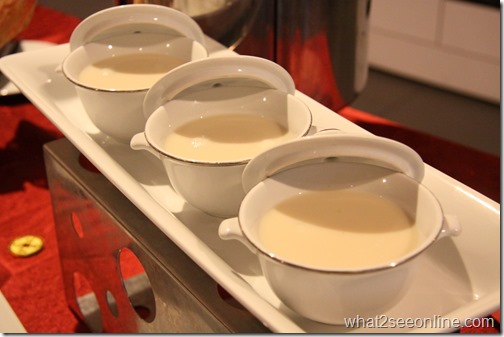 Hot Soya Bean with Gingko Nuts and Glutinous Rice Balls
 Honeycomb Biscuit, Pomelo and Kuih Kapit
The prosperous buffet dinner starts at 6.30pm till 10.30pm. Guests can choose to enjoy the buffet dinner at only RM80.00++ (per adult) and RM58++ (per child 6 to 12) or pay an additional RM30.00++ (per person) to enjoy free flow of house wines, selected chilled juices or soft drinks. For inquiries or reservations, please call: 04-8868057.
If you are escaping from the prosperous buffet dinner, do check out Pizzeria's Italian Fusion offerings. Available for the whole month of February, highlights include  Dim Sum Pizza, Four Seasons Chicken Fusilli Pasta and Chinese Italian Odyssey Platter.
The hotel will also be offering Auspicious Platters at Hard Rock Cafe from 12th February 2015 till 5th March 2015. The platters are priced at RM130++ for 2 persons and RM195++ for 3 persons. The platter features a starter, eight types of mains and dessert.
Hard Rock Hotel Penang
Batu Ferringhi Beach
11100 Penang
* Many thanks to Hard Rock Hotel Penang for extending this invitation.