Ginza Japanese Restaurant @Vantage Desiran Tanjung, Tanjung Tokong, Penang
*The restaurant has since closed down and replaced with Yuraku Tei

Ginza Japanese Restaurant opened its doors in Vantage Desiran Tanjung in Tanjung Tokong, Penang recently. Occupying three units, this spacious restaurant with light touch of Japanese and relaxed atmosphere is a branch outlet of its Alor Setar restaurant. This outlet differentiate itself with its menu focusing on specialized range of ingredients flown in from Japan.
We had the pleasure of attending Ginza's opening day where we drank some great sake and sampled dishes from its exquisitely designed VIP Course Menu.
Before the meal, we were offered the fugu fin sake. The experienced chef at Ginza has a license to serve this infamously poisonous blowfish. The warm alcoholic drink with lightly burnt fugu fins rendered a complex and not overly fishy taste.
Next up was the Fresh Oyster from Hokkaido, served on a bed of ice. Opened just before serving, the plump oyster was addictive with droplets of lemon juice, scallion and grated daikon radish.
Fresh oysters from Hokkaido
The second appetizer was the Seiko Crab and Monk fish Liver. The steamed monkfish considered as 'foie gras of the sea' has same melting rich qualities and smooth texture of  the goose  foie gras.
This was our first time trying this prized Japanese delicacy. Served with scallion, grated daikon radish and flavored soy sauce, this dish is not to be missed!
Monk Fish Liver and Seiko Crab
The meal included the Monk Fish Nabe which came with a platter of vegetables, mushroom, carrot, tofu and cuts of monkfish flesh, skin and liver. We cooked the food right on our own table on a portable gas stove.
The clear broth was transformed with sweetness with the added ingredients. The monk fish liver with smooth texture was apparently big hit and special with diners.
There was the serving of sashimi in its freshness form with sea urchin, sweet shrimp and thick cuts of blue fin tuna and tai fish. Eating the sashimi with wasabi indeed woke up the taste buds.
Then came the plate of grilled items with a combination of cod soft roe kobu yaki, tora fugu yuan yaki and taraba crab shio yaki.
Notably was the luscious cod soft roe kobu yaki. We thoroughly enjoyed its smooth and creamy texture balanced with slight acidity and fruity notes of lemon zest.
The main dish in the evening's menu was Iberian Pork with thinly sliced fresh onions, green bell pepper, okra, cherry tomatoes and wasabi. Marbled with a little fat, and cooked over high flame, the tender and refined meat was amazingly tasty.
 Station for grilling
The following course was the huge and chunky Saba Sushi. Topped with yellowish pickled kombu, the saba sushi with deep flavor was enjoyable with the accompanied light yellow color pickled ginger (gari).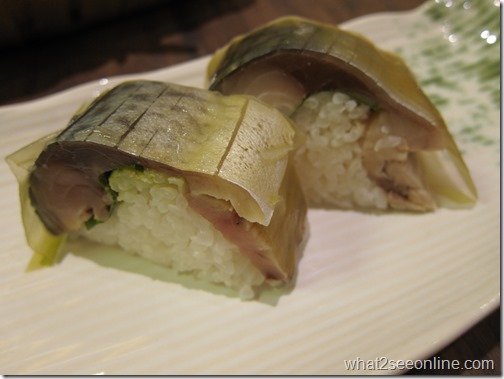 The meal ended with green tea ice-cream.
This new establishment offers a daily menu and a selection of tea, wine, beer and sake. We will be back to see what their offerings might be.
Ginza Japanese Restaurant
B-3-3, B-3-3A, B-3-5 Vantage
Jalan Desiran Tanjung
Tanjung Tokong
10470 Penang
Tel : 04 8909918
Business Hours : 12pm till 2.30pm & 6pm till 10.15pm
* Many thanks to Ginza Japanese Restaurant  for extending this invitation.