INCH – Southeast Asian Tapas Bar at 44 Muntri Street, George Town, Penang
BY CK lam
Inch surfacing on 44 Muntri Street in George Town Penang is a new drinking and dining hotspot. An abbreviation for Indochina, this new Southeast Asian bar and restaurant offers three experiences.
The bar area housed at the center of the shop is lined with many high-chair seats while the dining area takes up the rear portion. Located in the front of the entrance is the soon-to-be-open sister restaurant, Plates – a place for lunch.
There are beers on tap, spirits, cocktails and red and white wines at the bar located at the center of the shop house. The Tiger, Guinness and Kilkenny goes for RM15++, RM17++ and RM19++ during happy hours, which runs daily from 5pm to 9pm.  Additionally, there is a big selection of whiskeys and liqueurs and some vodkas and gins.
C.K.Kho, the man behind the bar shares two signature cocktails for the evening – Inch Pisco Sour and Muntri Mule made with ingredients of vodka, kasturi, lime, ginger ale, and ginger cordial.
The Inch Pisco Sour, a mix of pisco, coriander, pineapple, black pepper, lemon and sugar is an ideal cocktail suggestion for the ladies.
Inch Pisco Sour with Yum Peanut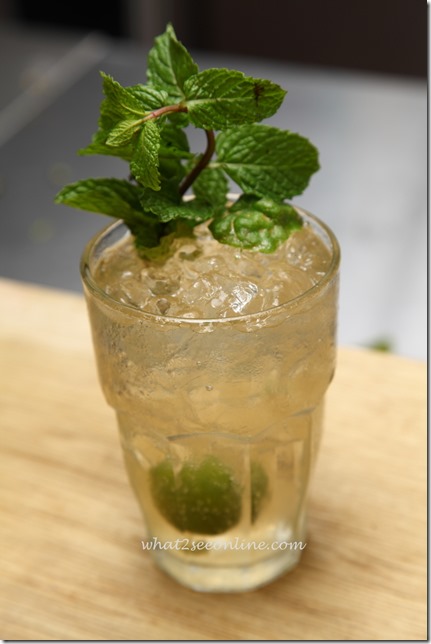 Muntri Mule
C.K.Kho blends the Inch Pisco Sour
Pair the cocktails with some bar snacks; an excellent start would be a plate of Yum Peanut. The toasted peanut snack with diced lime, ginger, scallion and bird's eye chili is topped with toasted white sesame seeds.
The Neua Dat Diew has dried beef jerky marinated for 48 hours in black pepper, coriander seeds, cumin, white sesame, garlic and coriander roots. Chef Eddie keeps the beef juicy yet with a firm bite. It's a definite crowd pleaser as there aren't many bars that serve this delicious beef jerky!
Neua Dat Diew RM12
Besides the bar snacks, Inch serves some Southeast Asian dishes, Tapas-style, ranging from appetizers to salad, mains and dessert.
The Thai cuisine has meat, seafood and green salads, interplay between sour, sweet, salty and spicy elements. For fresh bites, we had the Som Tum and Larb Pet.
Som Tum, a traditional dish of Northeastern Thailand features thin crisp strips of green papaya with cherry tomatoes, string beans, roasted peanuts plus dried shrimps. Tossed in sweet-tangy lime juice with hint of fish sauce, the ingredients made a light refreshing papaya salad. Other choices to check out include beef salad, chicken salad, catfish salad and grilled squid salad.
Som Tum RM12
Duck lovers can satisfy their cravings with the Larb Pet. This salad has chopped duck, speckled with shallots, coriander, smoked rice powder and chili pepper.
Larb Pet RM20
Main dish offerings include Salmon Chae Nam Pla with raw salmon bound together with sliced garlic, mint, coriander, and ginger and lime dressing. This seafood dish has yet to achieve an outstanding oomph.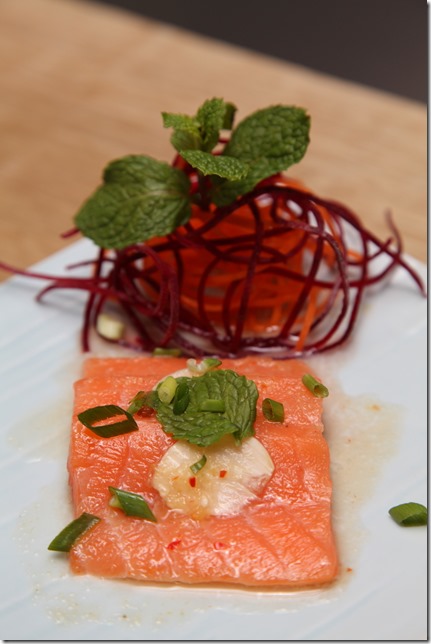 Salmon Chae Nam Pla RM16
Another main dish is the Neua Satey: beef skewers marinated in coconut milk, curry powder and coriander roots. Nicely charred, the flavors and marinade of the meat (chunky-sized) is complemented with a beautiful house-made peanut sauce.
Neua Satey RM16
There are two dessert options, from Pandan Creme Brulee to Sang-Khaya Fuak Tong (pumpkin custard). The latter is steamed pumpkin with custard which has the mixture of duck eggs and palm sugar. Presented with egg slices, the dessert however tasted just average.
The Pandan Creme Brulee on the other hand is not to be missed. This dessert is given an update, with the rich custard base infused with pandan leaf juice and creamy sweetness of coconut milk. One can easy fall hard for its sweet unique flavor.
Pandan Creme Brulee RM10
All in all, Inch is a nice place to hang out in, for its easy and casual vibe, long drink list plus affordable food bites. A small mezzanine area overlooks the dining area.
The inner dining room allows you to enjoy the meal
Inch caters to the crowd from 5pm to 2am on Friday and Saturday while other days it stays open till 12midnight. The place is closed on Tuesdays.
Inch with its signature red door at the entrance
INCH
44 Lebuh Muntri
10200 George Town
Penang
Tel: 04-261 1693
* Many thanks to Inch for extending this invitation.