Kai Curry Bar, Penang – Japanese Kare Rice & Noodle
BY CK Lam
Kai Curry Bar opened its doors on Jalan Phuah Hin Leong in Penang a few months ago. Set in a double storey house with casual ambiance, the Japanese-inspired curry house, offers a menu spotlighting the comfort fares of Japanese curry, served with either rice or noodle.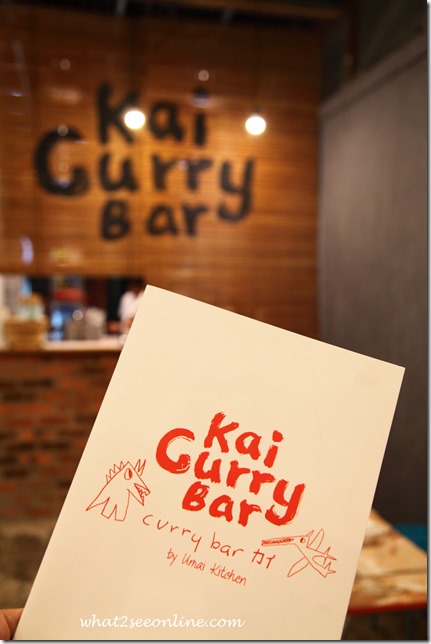 Magdalene Chow who helms the kitchen in Kai Curry Bar is also the brain-child behind the restaurant. Her journey with curry which began in Japan had her sampling many different versions of Japanese curry.
In the kitchen, she whips up nicely scented vegetarian curry and meat curry using ingredients sourced from the local markets and producers. The level of spiciness can be adjusted to the preferences of diners.
On our visit, we only had the vegetarian curry as the meat version is sold out. The price of the all meals (except kid's meal) includes a cold potato salad and a cup of mugicha (Japanese roasted barley tea).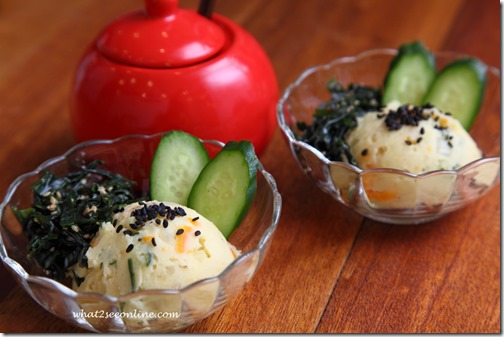 Complimentary cold potato salad
On the table is a small container of fukujinzuke – a cold pickled vegetable dish. It has an assortment of lotus root, brinjal, radish and white sesames, seasoned in soy sauce and other spices.
This Japanese accompaniment complements the curry dishes.
We had a rice and udon dish to share: Crumbed Prawn Curry Udon and Pork Hamburg Curry.
The Crumbed Prawn Curry Udon is served with udon in vegetarian curry prepared with potatoes, carrots, onions and chickpeas. Toppings include toasted white sesames and scallion.
The vegetarian curry definitely hits the spot with its mildly spicy flavor. The pieces of deep-fried prawns with crispy breading are served piping hot and taste delicious dipped in the curry.
Crumbed Prawn Curry Udon RM19.90
Pork Hamburg Curry is a favorite dish at Kai Curry Bar. The juicy burgers made with minced pork are served in the mildly spicy vegetarian curry base with carrot and green peas beside a bed of rice.
The topping of melted cheese further highlighted the whole combination of this dish.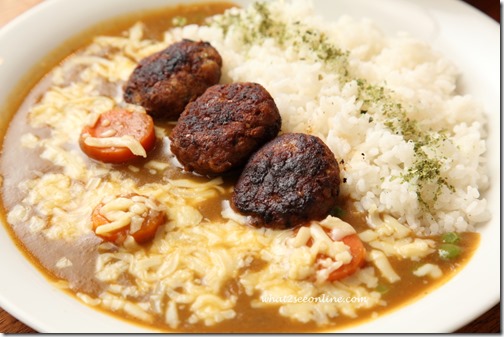 Pork Hamburg Curry RM18.90
For extra toppings, we had the Salmon Cream Croquette and a dish of okra and cherry tomatoes.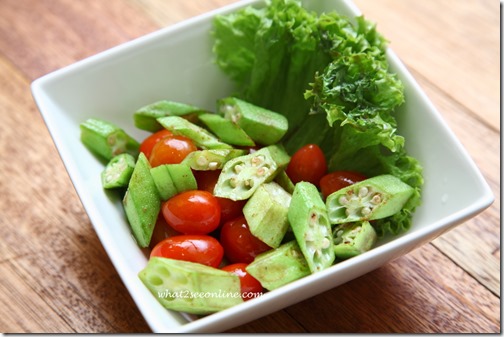 Okra and cherry tomatoes
We sink our teeth into the deep-fried golden brown Salmon Cream Croquette. Prepared with a combination of crunchy breadcrumbs coating and soft moist salmon filling, the croquette is especially addictive – absolutely no condiment needed.
According to Magdalene, Pork Katsu Curry is another combination loved by many. What's not to love especially when it comes with crunchiness of pork cutlets in meat curry base.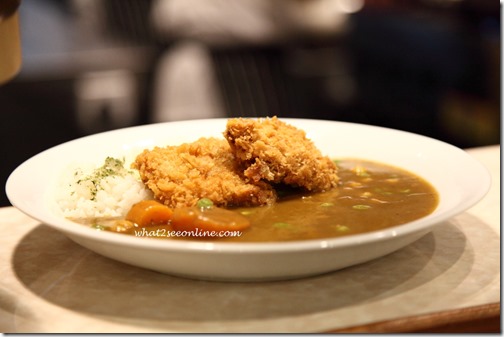 Pork Katsu Curry
All in all, Kai Curry Bar is a great causal place for a quick Japanese curry meal. If you have kids in tow, make sure to check out the kids menu which include a complimentary juice.
As there is a limited number of street parking spaces within the area, you may need to park around Burma Road.
Kai Curry Bar
15 Jalan Phuah Hin Leong
10050 Penang
Tel: 04-226 0322
Business Hour: 11am – 3pm &  6pm – 9pm
Closed on Sunday & Monday
Thanks to Kai Curry Bar for extending the invitation.