Penang Vegetarian Restaurant – Vegefield at Jalan Padang Victoria
BY CK Lam
Opening in early January 2015, Vegefield Restaurant marks a welcomed boost to the vegetarian dining scene in Penang. Housed in the residential area of Jalan Padang Victoria, the pleasant restaurant offers comfort creative vegetarian cooking.
The menu blends interesting vegetarian flavours without the use of MSG, mock meat, garlic or onions. Patrons can choose from a vegetarian menu with simple to complex a la carte dishes and noodles.
My host had already picked the dishes, with a variety that highlights wonderful fresh greens, fruits and roots. The asparagus steamed with bamboo shoot, shark fin melon and fresh lily bud came in a beetroot dressing.
The vibrantly coloured dish customarily made for the Chinese New Year was quite a pleasant surprise for many. It was refinement of both taste and presentation. On other days, the dish comes in vegetarian oyster sauce dressing.
Asparagus Steamed with Bamboo Shoot RM48
I was particularly fond of the deep-fried lotus root stewed in Chinese vegetable barbeque sauce (shacha sauce). Sandwiched with mashed dioscorea yam (淮山 huai shān), the lotus root was delicious accompanied by crunchy toppings of dehydrated pumpkin floss.
Small – RM26 & Large – RM32
The chef got creative with the satay dish. The deep-fried vegetarian satay made from blended soya bean was coated with turmeric. The skewers were accompanied with pieces of cucumber and a surprisingly addictive sauce made of lemongrass, lengkuas, turmeric and toasted groundnuts.
Satay
Another interesting dish is the vegetable meat roll which comes with a crispy seaweed and beancurd skin wrap. The roll was nicely deep-fried and not oily, which in my personal opinion is the core of any good roll. Stuffed ingredients such as veg ham, eryngii mushroom, and carrot provided nice combination of flavors.
 Vegetable meat roll with seaweed wrap
The Tai-chi Nutrient Soup priced at RM38 was delivered on its name, presented with the yin-yang pattern.  Made with a base of potato and dioscorea yam stock, together with toasted peanuts, almond and cashew nuts, the soup was creamy and sweet.
Savour it in an arrangement of spinach soup, followed by the pumpkin soup and final combination of both.
  Tai-Chi nutrient soup 
Simple Black Fungus Salad made a welcome light companion to the meal.  Also known as wood ear mushrooms, the ear-like shape black fungus with crunchy texture was tossed in light seasoning of vinegar and sesame oil. Toppings include ginger, chili strips and white sesame seeds. The small portion costs RM22 while the large at RM32.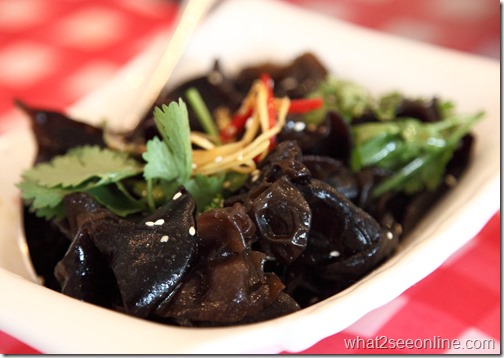 Black fungus salad

The restaurant offers stir-fried potato strings. The dish attracts with flavors of vinegar and slight numbing heat by the Sichuan peppercorn and dried chilli.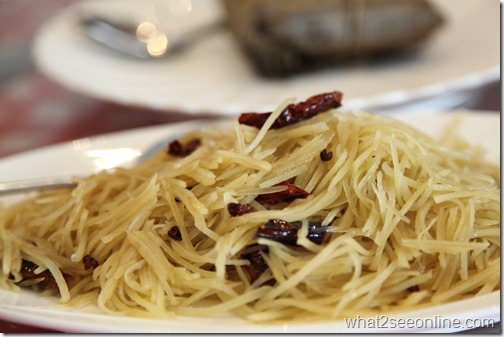 Other item on the menu include Lotus Wrap, prepared with multigrain rice, black and white glutinous rice, lotus seed, peppercorn and carrot together with a melange of mushrooms, including shitake, button, monkey head and enoki.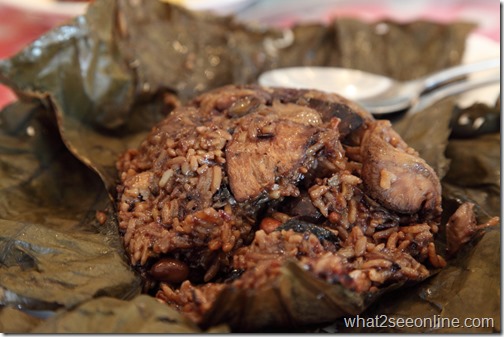 Lotus Wrap RM8.50
Since its opening, the restaurant has been serving diners with dessert of the day. During the two visits, I indulged in the warm sweet concoction of black glutinous rice and also the nutritious shark fin melon boiled with red dates, dried longan, and water chestnut.
For those who love fresh fruit juices (RM6.50 each), honey dew, green apple, carrot, cucumber, honey lemon, orange and watermelon are among some of the choices. A hot option is stewed tea, priced at RM5 per person.
Shark fin melon boiled with red dates, dried longan and water chestnut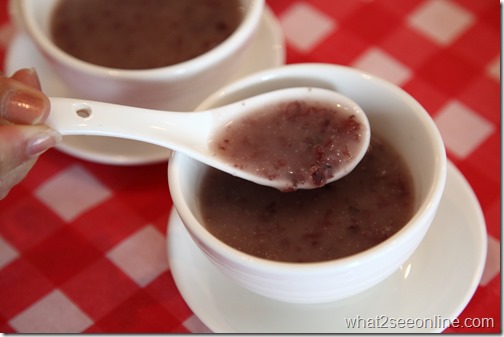 Black glutinous rice tong-sui
Overall Vegefield Restaurant is an enjoyable dining place offering healthy dishes with creative approach. The restaurant is open from 11am to 2.30pm and from 5.30pm to 9pm.  The outlet is closed on Tuesdays.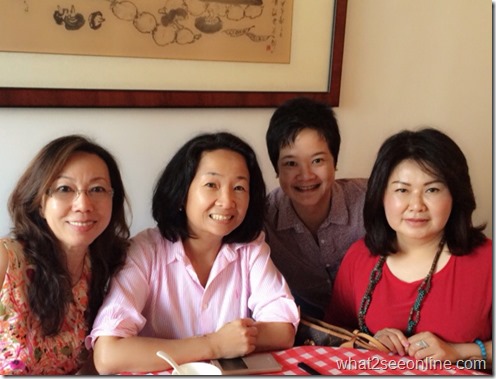 Myself, Geok Ling, Janice Yeap & Dato Daisy Ooi
Vegefield Restaurant
53 Jalan Padang Victoria (behind Union School)
10400 Georgetown
Penang
Tel: 04-228 7890