The Book Sandwich Cafe on Beach Street, Penang
BY CK Lam
Today, Beach Street in Penang is not only the place for banks and offices, but also bustling with the arrival of restaurants, cafes, pubs and coffee places.
At the recently opened The Book Sandwich Cafe, you will tempted by the pleasant menu with variety of sandwiches and other options which include salad, soup, homemade pate, pasta, mains and dessert.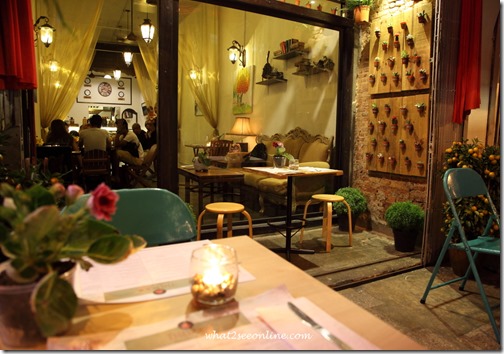 This non-halal cafe in a heritage shop house features order-at-the-table service. At the rear of the cafe is the open kitchen and a long table for larger groups. The air-conditioned front section has rows of dining tables while the seats at the entrance offer view of the single lane street.
We sampled several dishes on two separate visits. An enjoyable starter is the Spicy Thai Beef Salad. Besides nice crisp greens, cucumber, onions, and beets, the dish had beef tendons tomato, dry shrimps, lemongrass, mint leaves, peanut and deep-fried lotus root.
The flavors and ingredients melded and brightened up with saltiness, provided by dry shrimps and sharpness by lemongrass and mint leaves. Priced at RM12.50, the salad has nice crunch and lots of flavor throughout.
There is a line-up of sandwiches, featuring Traditional Roasted Chicken, Egg Benedict, Fish Schnitzel, and the creative twist of BBQ Satay, Beef Rendang, Sambal Udang. All sandwiches are made with fresh homemade bread. Hearty choices include loaf, baguette and charcoal bun.
The Beef Rendang Sandwich is highlighted by beef tenderloin stewed in rendang sauce flavored with a number of spices and a bit of heat. The baguette sturdily holds the beef, cucumber, tomatoes and onions. A side of mixed green, deep-fried potato chips by the bucket and tartar sauce done up with pickles, onions, parsley and red chili mayo, added more enjoyment to the dish.
This is one sandwich to order the next time I'm at this cafe.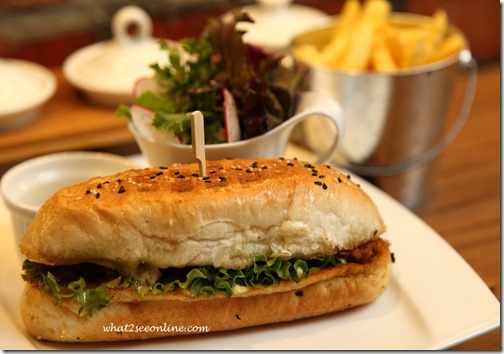 Beef Rendang Sandwich RM16.50
The Traditional Roasted Chicken Sandwich  arrives on a baguette, stuffed with seasoned and spiced chicken, mushroom, tomatoes, cucumber and cheese. Sides include mixed green, bucket of deep-fried potato chips and chili mayo for dipping.
Traditional Roasted Chicken Sandwich RM16.50
For those who like to add a little pasta to the table, there are the Seafood Marinara, Chicken Bolognaise and Chicken & Ham Carbonara.
The dish of Seafood Marinara is prepared with healthy tomato concasse (peeled and seeded tomato), along with prawns, scallops, clams, pieces of fish and served with grated parmesan cheese.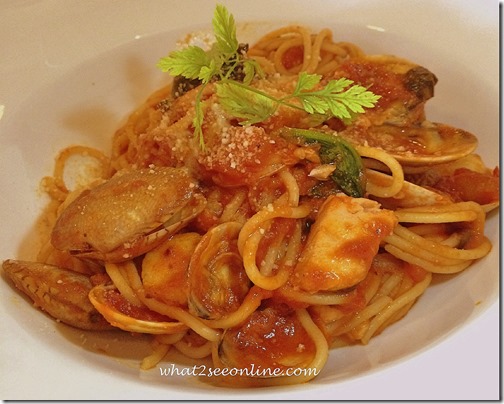 Seafood Marinara RM16.50
The BBQ Lamb Rack would be great for meat lovers. The dish had three pieces of succulent meat with honey Dijon, brown and mint sauce and ratatouille on a base of creamy mashed potato.
 BBQ Lamb Rack RM30.50
For those with a sweet tooth, there is just a tiny dessert menu with freshly house-baked cakes. Among the non-baked version are the Lemon Cheesecake Cake and the Brandy Chocolate Mousse, both with crunchy cracker base for contrast.
For chocolate lovers, their Brandy Chocolate Mousse done up with brandy is a rich choice, offering decent sweet luscious smooth spoonful.
Brandy Chocolate Mousse RM12.50
Complemented by fresh strawberry and slices of green apple, the Lemon Cheesecake Cake is bright and lemony.
Lemon Cheesecake Cake RM12.50
The food can be enjoyed with choice of beverages – wine and beer. It has Tiger, Carlsberg and Guinness Stout. House pouring wine is available by glass but diners who bring their own wine (BYO) will be charged a corkage fee of RM25 (per bottle).
The tea menu has Twinings' Earl Grey, Camomile, Green Tea, English Breakfast and Jasmine. There is a variety of cold coffee, such as latte frosty, cappuccino and mocha frappe. I kept it simple with a long black but it turned out rather light for me.
On top of that, fruit juices are available, made fresh from orange, apple, watermelon, pineapple or mixed fruits, all priced at RM7.50 each.
Fruit juices and a cup of long black
Currently, the business hours are from 11am to 11pm. The cafe closes on Mondays.
The Book Sandwich Cafe
205 Lebuh Pantai
10300 George Town
Penang
Tel: 04-261 3445