Golden Sands Resort Penang by Shangri-La Celebrates 35 Years with Anniversary Menu Dinner at Sigi's Bar & Grill On The Beach
BY CK Lam
Golden Sands Resort Penang by Shangri-La celebrates its 35th Anniversary on 15th March 2015, since its official launching in 1980 by Malaysia's third Prime Minister, the late Tun Hussein Onn.
The resort along Batu Feringgi, Penang marks its illustrious history with several celebrations. There will be a photo gallery showcasing the resort's history, fun events and culinary excitement with the presentation of the 35th Anniversary Menu Dinner.
"We are all proud to continue the legacy of hospitality from the heart that Golden Sands Resort has always offered its guests. With our one-of-a-kind Adventure Zone and Kids' Club and our extensive recreational programme for all ages, we look forward to making people's vacations memorable for many years to come," said General Manager Keith Tomkies.
Guests with young ones can join in on the fun, with another 20 per cent reduction on the admission fee to the family entertainment centre, Adventure Zone. All types of room, except for Superior Hill View, are available for this offer.
The resort will also offer 35 per cent promotion on the Best Available Rates for stays between now and 22nd December 2015. A buffet breakfast for two adults and one child at the open-air Garden Cafe is included.
Garden Cafe
The 35th Anniversary Menu Dinner promotion is available during diner and runs from 1st March to 31st March 2015 at the resort's beach front restaurant Sigi's Bar & Grill.
The menu by Executive Chef Adrian Lim remains a bit entrenched in the past of Peppino (former award-winning restaurant serving Italian cuisine) and the present Sigi's.
The chef presented several dishes, starting off with the Roasted Tomato Soup with nachos. The freshly made soup was tangy, buoyed by slight hint of roasted tomato flavor.
Roasted Tomato Soup with Nachos RM15++
For all quesadilla-loving people, there is the Chicken Quesadilla in a flour tortilla filled with chicken, pepper and Mozarella cheese. The huge quesadillas cut into eight triangular pieces was easily shared among us. This is one of the dishes that you will want to eat with your fingers.
The soft and warm quesadilla was delicious with some sour cream and avocado puree. We didn't mind having another plate to share.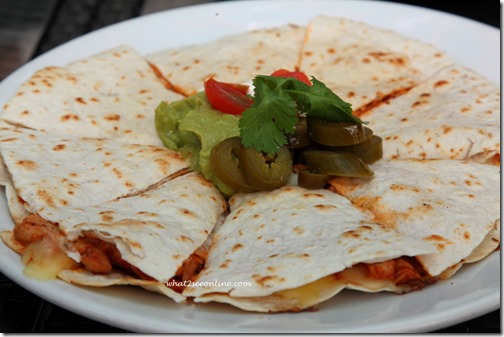 Chicken Quesadilla – Flour Tortilla filled with Chicken, Pepper and Cheese RM30++
Chef Adrian had the Californian Cobb Salad made with a mix of cubed chicken, cherry tomato, hard-boiled egg, crispy bacon, avocado and cilantro. The refreshing simple salad was served with side of chive dressing.
The traditional home-style Peppino Lasagne arrived at the table piping hot with layers of lasagne sheets and minced beef topped with creamy cheeses. Chef Adrian's version had the mince beef cooked in tomato sauce, bay leaves, oregano, basil and thyme herbs. The dish with little flavor of everything, will take many back in time happily.
Californian Cobb Salad RM30++ & Peppino Lasagne RM36++
The dish that arrived next was the do-it-yourself Hot Sizzling Fajitas, with seared marinated chicken breast laid over a bed of stir-fried capsicum in sweet and spicy sauce.
The wrap was satisfying with the griddled tortilla rolled around the tender chicken fillings, with sour cream, creamy avocado puree and smoked habanero salsa with wonderful spicy flavor. The sauces and filling flavors really stood out.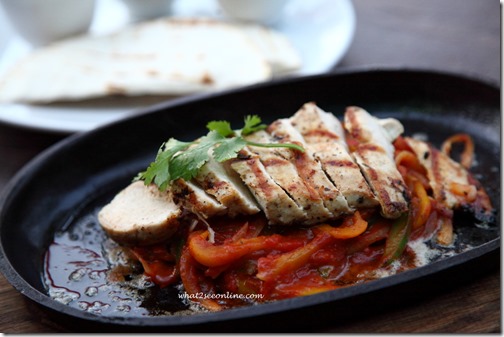 Hot Sizzling Fajitas with tortilla RM40++
The menu gets broader with a Rack of Lamb. Four fragrant pieces of lamb roasted to a crusty brown were served on a hot plate with ratatouille and a slab of gratin made with potato slices.
The sauce for this meat dish comes in mint sauce or brown sauce.
Rack of Lamb with Gratin Potatoes and Ratatouille RM86++
Besides the mains, we sample the made in-house sweet delights – Lemon Tart with Passion Fruit and the Rice Pudding with Vanilla and Sour Cherries. The latter made with combination of rice powder, rice, milk, sugar and hint of vanilla essence came as something interesting, a flavor I will not soon forget.
The resort is also celebrating with an array of beloved signature cocktails from the early days, ranging from the exotically named Samba Lesson to Sigi's African African Dream and the Sands Cooler. Guests who book stays between 15th March and 15th April 2015 will be able to sample these cocktails.
Lemon Tart with Passion Fruit RM16++
Rice Pudding with Vanilla and Sour Cherries RM15++
Don't miss out the variety of experiences at Golden Sands Resort Penang. For more details, call 04-8811 911.
Sigi's Bar and Grill On The Beach
Golden Sands Resort Penang by Shangri-La
Batu Feringgi Beach
11100 Penang
*Many thanks to Golden Sands Resort Penang for extending this invitation.