Hotel Jen Penang Unveils New A La Carte Menu at The Islander
BY CK Lam
For those looking to have a business breakfast, lunch or dinner in George Town, Penang, The Islander in the newly renovated Hotel Jen (formerly known as Traders Hotel) offers all-day dining and themed buffets. The comfortable spacious restaurant has opened at its former space on the hotel lobby, facing Magazine Road.
Executive Chef B. Sivasegaran who specialized in Italian cuisine has put together a new a la carte menu with new creations and old favorites. Available from mid-April 2015, the menu features light bites, authentic local street food, famed international delicacies, signature dishes, and delightful desserts.
Starters
The Brushetta is a simple bite to start the meal. The crisp and lightly charred rye bread with yellow and red cherry tomatoes and olive oil is finished with a sprinkling of basil and cracked pepper.
The light healthy course of Arugula Salad is a pretty standard dish, with a mix of olives, red cherry tomatoes, croutons, walnuts and arugula.
The dish with pungent, sharp and bitter taste is accompanied with home-made honey sesame dressing.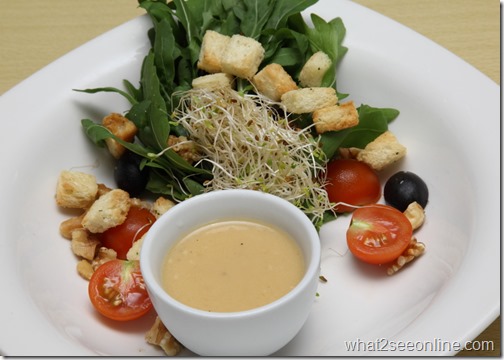 Arugula Salad
Cold beverages
Chef's Highlights
There are healthy vegetarian options, with Pan-fried Stuff Aubergine and Grilled Burger.
The Pan-fried Stuff Aubergine is an interesting choice, cooked with different flavors and texture with smoked tomato sauce. The soft aubergine is baked with couscous, parmesan cheese and provencal herbs. The accompanying Napoli sauce (tomato-based sauce) with smoky scent and bright tasty flavor lifted up this dish.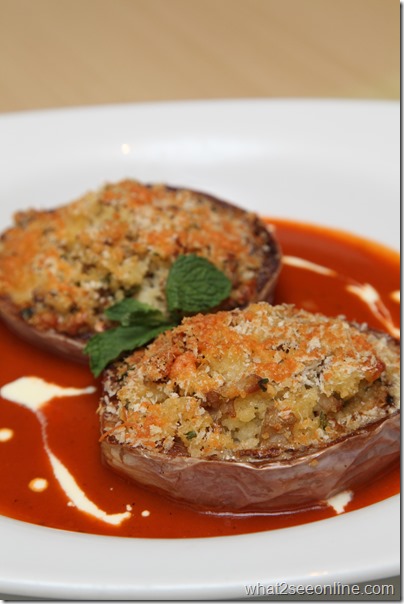 Pan-fried Stuff Aubergine RM45
Another alternative for vegetarians is the Grilled Burger (with vegetarian patty), served with crispy fires, greens and coleslaw. The grilled piece of patty made with a blend of couscous, potatoes and special seasoning is sandwich between homemade bun together with sliced tomato, cheese and lettuce. If you prefer the burger without cheese, notify them and they will forgo it for you.
The patty made of beans is a bit dry. It would be nice if there is some added yoghurt or cream cheese to it.

Grilled Burger (with vegetarian patty) RM20
For chicken lovers, there is the Chicken Rosmarino. Garnished with charred asparagus, mushroom, red and green capsicum, and potatoes, the grilled spring chicken is served with sprigs of rosemary in balsamic jus.
Another meatier option is the Lamb Osso Buco, a hearty and homey Milanese specialty. The tender flavored cross-cut veal shank (400gm) slow cooked with vegetables is piled on homemade creamy mashed potato.
The thickish sauce prepared with onions, garlic, carrot, celery, canned tomatoes, and plenty of herbs (rosemary, thyme, oregano) is nicely spiked with a shot of balsamic vinegar for tanginess.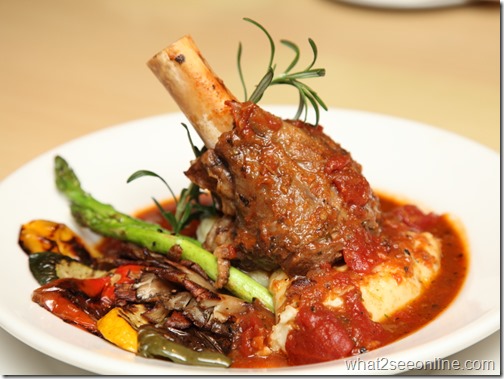 Lamb Osso Buco RM58
When it comes to seafood, dig in to the Baked Trapia (sustainable-sourced fish). The chef's rendition of this foil-wrapped baked fish is prepared with soupy flavors. The soup has a lovely interplay of taste from the fresh thyme, tomato coulis, olives, onions and capers.
The portion can serve at least two.
Desserts
Do save room for their homemade desserts which are prepared slightly different. The portions can easily be shared and together with a brew of coffee, they are worth coming for during coffee break hours.
The Tiramisu Pancake is a refreshing twist with its layers of sponge pancake, bitter taste of cocoa and espresso butterscotch sauce. The sourish taste of the berries lifted the heaviness of the dessert while the airily light brandy snap added a little crunch to it.
Jen's signature RM18 mud pie has layered chocolate ice cream, rich white and chocolate ganache and drizzle of caramel sauce. Decorated with pickled berries and fresh strawberry, this gorgeous ice cream pie is a pleasure to savor!
The Islander is open from 6.30am till 11pm.
Hotel Jen Penang
Magazine Road
George Town
10300 Penang
Tel: 04 2622622
* Many thanks to Hotel Jen Penang for extending this invitation.