Jamuan Buka Puasa Buffet Dinner @ Sarkies, Eastern & Oriental Hotel Penang
BY CK Lam
To celebrate the Month of Ramadan, Eastern & Oriental (E & O) is offering the Jamuan Buka Puasa themed buffet at Sarkies Annexe (Victory Annexe Wing). The buffet dinner is on daily from 18th June 2015 to 16th July 2015.
The spread includes a combination of dishes synonyms with Hari Raya as well as Malaysian and International favorites but diners can expect to find a smaller range of traditional festive options.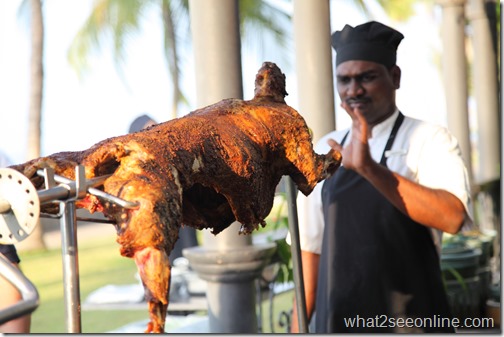 What better way to start the meal with a salad and assorted ulam and sambals. If you are in a mood for cheese, plate up a cheese platter from the selection of cheeses and enjoy with freshly baked breads, crackers, dried figs, pecan and walnuts.
Assortment of cheeses with crackers, dried fruits, bread, nuts and grapes
  Ulam, sambal & condiments
At another section is all about smoke which offers culinary pleasure of smoke duck, salmon gravlax, chicken cold cut, poach salmon, smoke saba, sesame maguro, smoke mackerel, smoke mussel and beef salami.
Fresh quality seafood are displayed on ice. The range of choices includes prawns, oysters, yabbies, green mussels, tiger prawns, fresh oysters with salsa, snow crabs, and herring. Condiments are aplenty with favourites of wasabi mayonnaise, horseradish cream mayonnaise, homemade tabasco sauce and mustard mayonnaise.
Fresh tuna, salmon and butterfish sashimi, and sushi rolls along with condiments of pickled ginger and wasabi are available at the sushi counter.
Curry dishes are part and parcel of Malay food. The curry dishes come with scent of warming spices. Some are searingly hot while many others have a mild level of spiciness.
"The udang goreng rempah, opor daging kambing, kurma kambing, daging masak merah, rendang daging, gulai ketam kampung style, ayam percik and lala tumis kering are some of our chef Malaysian kampung dishes," said executive chef Michel Camy.
The delicious gulai kawah had salmon fish head cooked in a rich, creamy and fragrant curry with vegetables. The gravy is great for white rice and bread.
The meal would not be complete without the slow roasted Australian lamb from the stall located outside the verandah. At the other stalls, you may sample satay, roti canai, rojak and gulai kawah.
From the indoor carving station and hot plate you will find creations such as roast beef, roast chicken, chicken kebab, baked cheese oysters and the signature roast duck.
When it comes to cuci mulut with sugary taste, it is truly difficult to choose between the varieties of traditional Malay kuih muih and Western cakes. There are also fresh fruits, ice cream and refreshing juices of wintermelon, roselle and tamarind.
Kuih-muih
Fresh fruits
Dates and refreshing juices
The Jamuan Buka Puasa Buffet Dinner is priced at RM128.30nett per adult and RM55.95nett for children from 6 to 12years old. Children below six years old will get to dine for free. It is on daily from 7pm till 10.30pm.
For reservations, call 04-2222000 at ext: 3151/3139.
Eastern & Oriental Hotel
10 Lebuh Farquhar
10200 Penang
Malaysia
* Many thanks to Eastern and Oriental Hotel (E&O) Penang for extending this invitation.