Taste of Gourmet Burgers at Sigi's Bar & Grill, Golden Sands Resort Penang
BY CK Lam
A visit to Sigi's Bar & Grill at Golden Sands Resort along Batu Feringgi Penang had us going through its gourmet burger menu.
The menu by the resort's executive chef Adrian Lim has an interesting take on meats and seafood, with favourites like the Lamb Kofta Classic, Chicken Cajun Delight, Big Wave Fish Burger, Egg and Cheese Burger, and the Charcoal Bread Burger. Each burger comes with a complimentary soft drink.
The Lamb Kofta Classic has a mix of flavors with a 200g lamb patty, tomatoes, onion dices, foul mudammas, and a layer of cheese served on a sesame seed bun. The dish complete with French fries and lemon wedge is priced at RM58nett.
For those who prefer white chicken meat, the Chicken Cajun Delight is the dish for you. This is one burger with a huge piece of grilled cajun spiced chicken breast, lettuce, tomato, cheese, garlic aioli and tomato sauce. Accompanied by French fries, the dish is priced at RM42nett.
There is even the Big Wave Fish Burger for eaters who like seafood. Priced at RM42nett, the burger has crispy fried battered fish fillet, julienne lettuce, tomatoes slices, coleslaw and tartar sauce. It is served with French fries and lemon wedge.
Built on toasted charcoal bun, the Charcoal Bread Burger harbours a 200g patty (made from a blend of beef), a layer of cheese, tomatoes and crisp lettuce. It is slathered with aioli, smoked BBQ sauce and tomato ketchup. Presented with a portion of nachos chips, it is a satisfying well-spiced burger.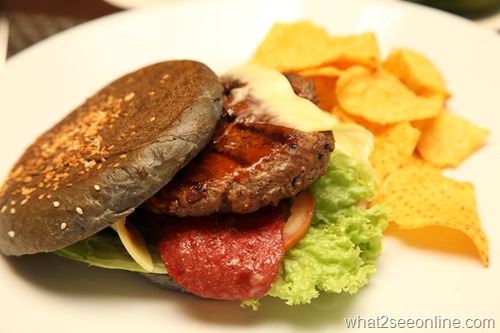 It used to be all that on the burger menu, but during this durian season, the local king of fruits has found its way on the burger. Chef Adrian Lim charms us with his take on the Durian Cheese Chicken (DCC) Burger.
The burger comes with fresh tomato, cucumber, lettuce and a 200g juicy chicken patty stuffed with a paste with light savouriness of cream cheese and sweetness of durian. Undoubtedly delicious, but the paste could do with a little richer and sharper cheese to make it more delectable. Best of all, the hearty bun is sturdy enough to hold all the ingredients.
"Along with a side of nachos chips, this burger priced at RM45nett is only available  in the month of August," explains the chef.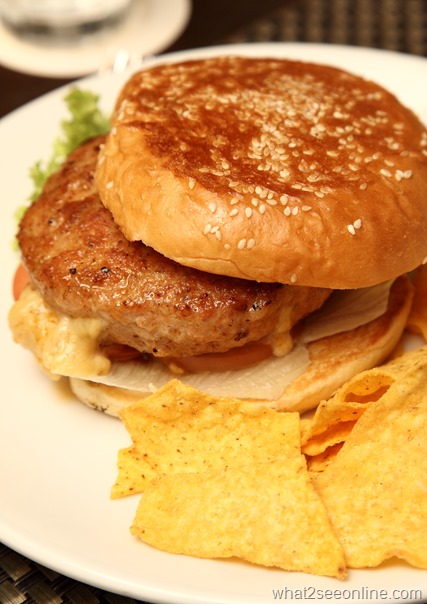 Our meal is balanced by a Caesar salad and sweetened by a durian butter cake served with vanilla ice cream.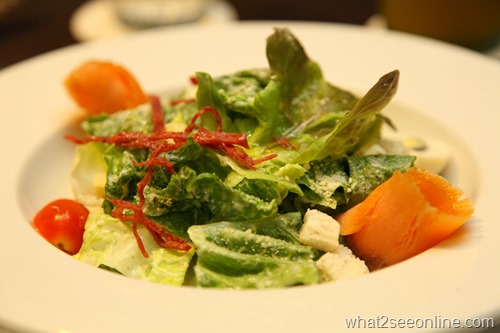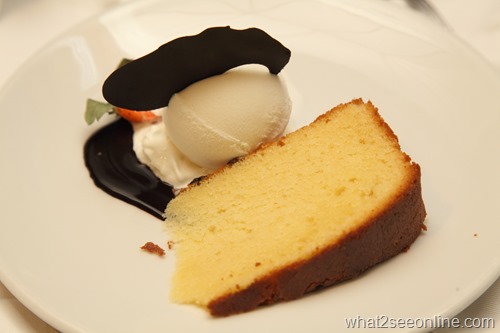 Sigi's will serve the burgers daily from 11am to 6:30pm.
Sigi's Bar and Grill On The Beach
Shangri-La's Golden Sands Resort
Batu Feringgi Beach
11100 Penang
Malaysia
Tel No.
04 8861852
Business Hour: 11am till midnight (Daily)
*Many thanks to Golden Sands Resort Penang for extending this invitation.
* Header photo courtesy of the resort