Assam Belai Restaurant @Nagore Road, Penang
BY CK Lam
You probably have not heard about Asam Belai. Not only it is the name of a dish but also the name of a restaurant located in Nagore Road, Penang.
Managed by Vivian Lim (4th generation), the restaurant is the branch of their family outlet in Jelutong. Her father, senior Lim who has 30 over years of cooking experience prepare the dishes in the kitchen using the traditional family recipes.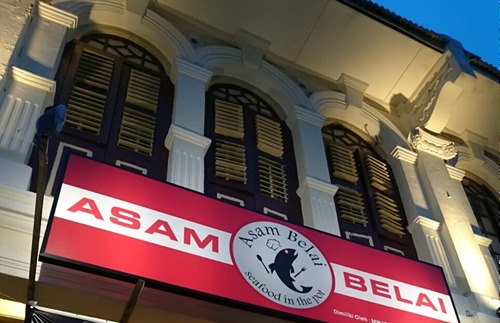 Like its namesake, Asam Belai just might make you savor sourish and spicy flavors, much like the Penang Asam Laksa. According to Vivian, Asam Belai is Chinese Northern Malaysian slanged Malay word for Asam Pedas. Literally, it is loosely translated into 'sour spicy'. Originated from the Minangkabau community, the dish has seen spread across South East Asia.
The Asam Belai is made with a 30 years old recipe relying on plenty of spices, herbs, tamarind and pineapple. It has nice fragrant flavor from the daun kesom and fresh taste of mint. Choices of fish include stingray, kembung fish or shark meat.
Small (2-3 pax) – RM18
Large (5-6 pax) – RM38
If squid is your liking, then try the Kam Heong Squid. Stir-fried with onions, lengkuas, chili and tomato, the dish has balance of sweetness, saltiness and slight spiciness. The squid has firm texture and not that chewy.
Small (2-3 pax) – RM12
Large (5-6 pax) – RM28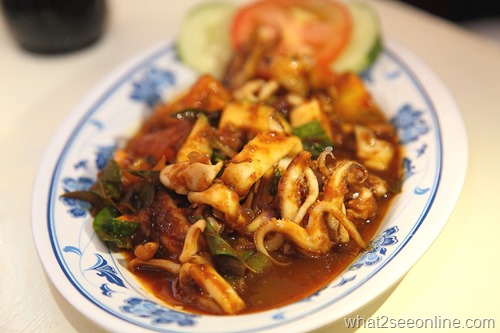 The menu offers several chicken dishes and we shared the Belacan Fried Chicken and Tom Yam Chicken.
The Belacan Fried Chicken with deep-fried crunch gives all the flavor of the chicken marinated with belacan paste. I got myself a second piece. The Tom Yam Chicken on the other hand is nicely cooked but would be deliciously addictive if the tom yam sauce had a stronger punch.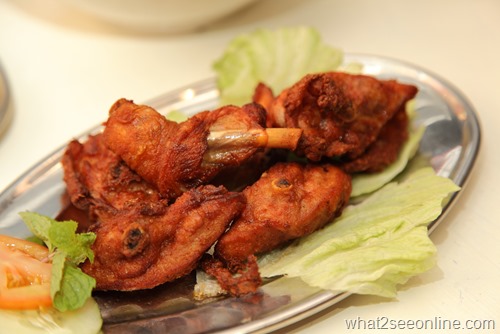 The restaurant also caters for meat-lover. The Bai Kuat Wong with deep-fried pieces of pork cooked with sweet and sour sauce is the kind of comforting dish.
As for the vegetable dishes, the restaurant serves Sambal Belacan Lady finger, Brinjal or Kangkung. Other choices include Oyster Sauce Yiau Mak, Thai Style Tofu and deep-fried Golden Crab Meat ladled with Thai sauce tweaked with spices.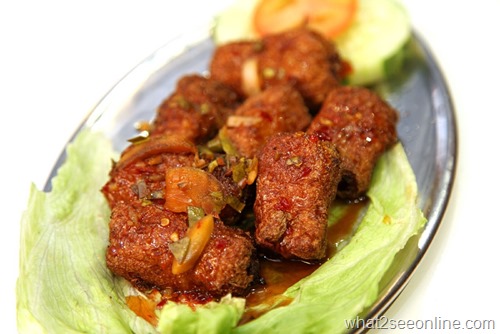 There is even the Asam Shrimp. The prawns are cooked in a combination marinating sauce of tamarind and light touch of suen mui (sour plum), making this dish deliciously different.
Small (2-3 pax) – RM12
Large (5-6 pax) – RM28
Photo by Asam Belai
The restaurant has its daily specials too. The stir-fried lal la is a good suggestion, with the fresh la la elevated by ginger and garlic.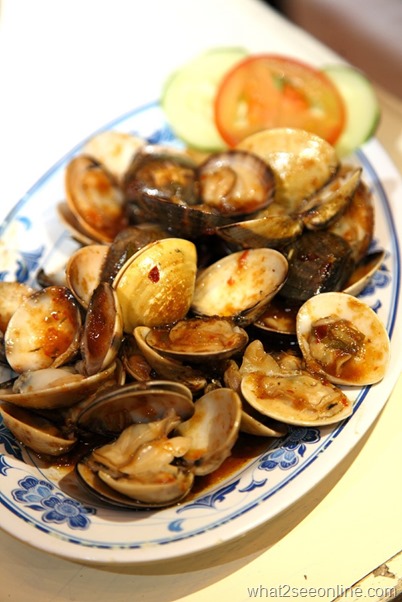 The dishes with fair pricing even comes with free flow of water and Chinese tea. When you need a refill, just walk over to the counter.
Asam Belai
77 Nagore Road
10050 Georgetown
Penang
Tel: 04 2263068
Business Hour:
11.30am till 2.30pm
5.30pm till 9.30pm
Closed on Monday
 *Many thanks to C W and Asam Belai  for extending this invitation.