Eam Huat Charcoal Steamboat, Penang
BY CK Lam
Penang takes pride in its heritage dishes and cuisines, and one culinary delight that has been maintained in terms of tradition is the charcoal steamboats. Several places  pop into mind, and one of them is Eam Huat Charcoal Steamboat.
Having been a staple for many Penangites since 1985, the outlet previously situated in Jelutong, has since moved to a coffeeshop at the corner of Medan Penaga and Lebuhraya Jelutong.
Eam Huat Charcoal Steamboat is known for its clear flavoured soup, made by boiling chicken bones, pork bones and fish bones. The steamboat is served piping hot in  a traditional metal pot with a chimney holding the charcoal.
For those who may be unfamiliar with ordering at Eam Huat, you could choose to take the readily available set steamboat meals priced from RM48, RM78, RM98 and more. Furthermore, all the set meal comes with a choice of base ingredient. It allows you a selection of either garoupa fish head/fillet, deep-fried fish head/fillet, mixed balls or four heavenly balls.
Depending on availability of supply, the deep-fried fish head/ fillet options may include either ang cho, ang sai or kalak.
The RM48 steamboat set comes with crunchy black fungus, fried tau kuah, seaweed, fried beancurd sheet, yam, and Chinese cabbage. It also includes a variety of aromatics, such as ginger and Chinese celery.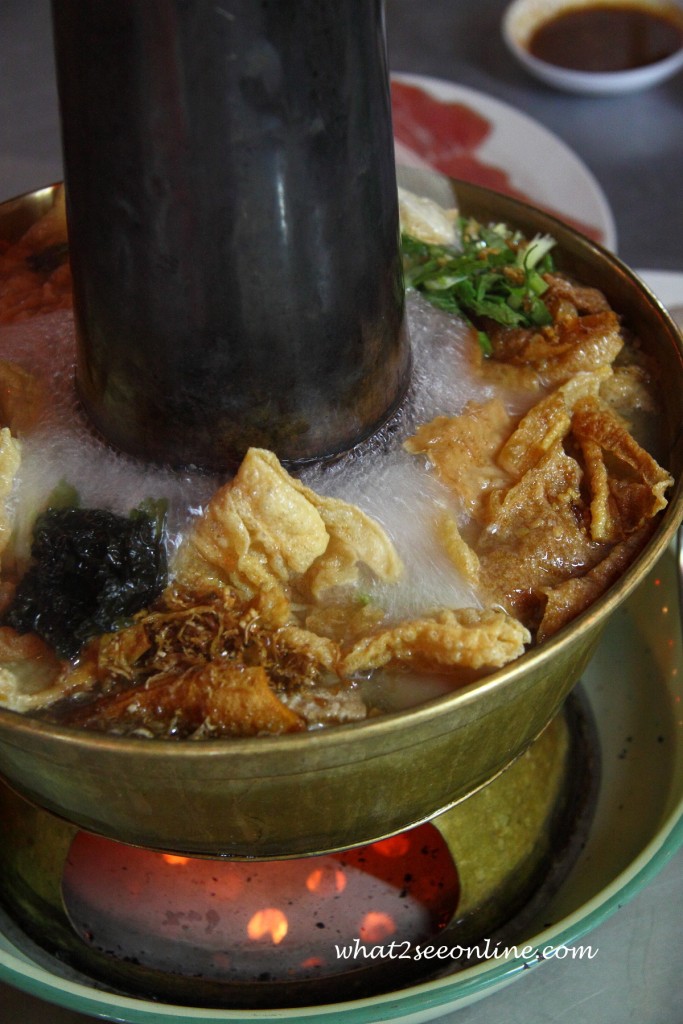 Besides the set menus, the outlet also offers ala carte dishes plus assortment of greens and enoki mushrooms with sweet, mild earthiness. For seafood ingredients, there is fish maw, prawns, abalone slice, sea asparagus, cuttlefish, squid, and sea cucumber.
Pork is by far a popular ingredient. The shabu pork slice, minced pork, meat balls, pig stomach, kidney and liver makes attractive ala carte meat dishes.
Eam Huat's signature ingredients include homemade meat balls, squid balls, hair weed balls, prawn balls and fish noodles.
Vermicelli, yellow noodles, and instant noodles are the norm for steamboat meals. However if you wish for something different, ask for a bowl of white rice to be added to the meal.
 Assorted balls
Homemade chilli sauce along with the customary soy sauce, cili padi, deep-fried garlic and aromatic garnishing of sliced scallions nicely accent the steamboat meal.
Also worth looking out for are the fish head/fish fillet beehoon soup and meat ball/fish ball beehoon soup.
Eam Huat Charcoal Steamboat is one of a number of stalls located in the corner coffeeshop right opposite Central Park apartments.
Eam Huat Charcoal Steamboat
@Labu Coffeeshop
7 Medan Penaga
Batu Lanchang
11600 Penang
Tel: 016 455 5955
Business Hours: 5.30pm till 10pm
Closed every Tuesday