Handmade Heritage Treats at Tan Thye Huat, Sungai Petani, Kedah
BY CK Lam
Mee Koo, literally translate as "rice tortoise" holds an iconic status in Chinese traditions, culture and cuisine. Also known as man kui, this traditional soft and pillowy mee koo with bit of sweetness is largely sold during traditional ceremonies, festivals and birthday celebration.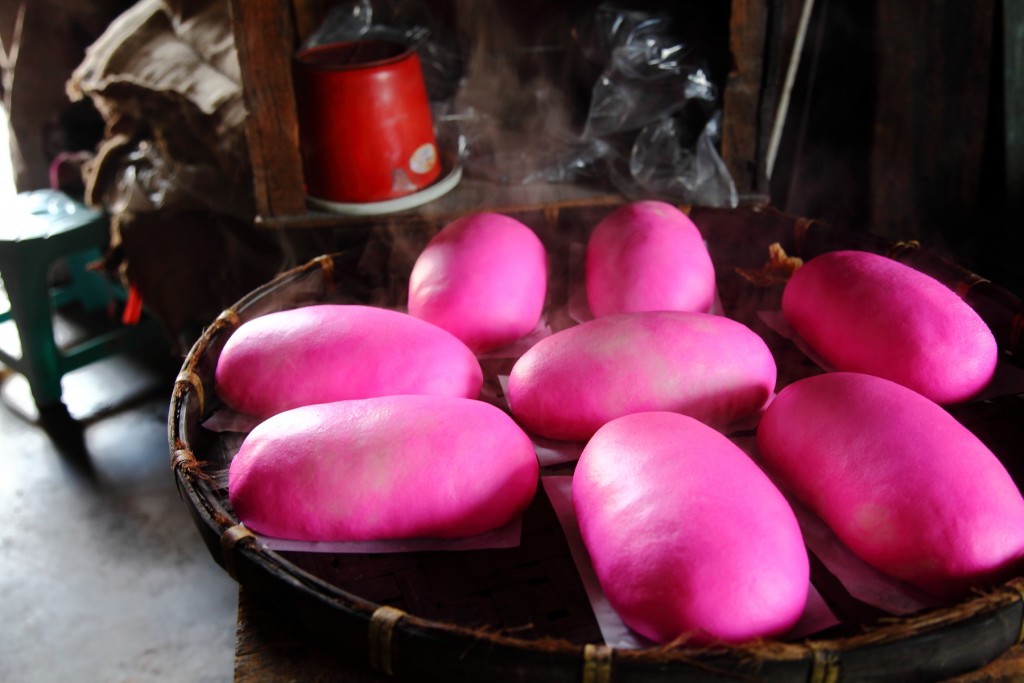 One old-school bakery and biscuit shop that still rolls out this hand-crafted heritage treat in Sungai Petani, Kedah is Tan Thye Huat Kedai Roti Dan Gula. This shop owned by eighty over years old Tan Gnark Cheng is located on Jalan Bakar Arang.
Tan Gnark Cheng with a deep passion of making biscuits and kuih-muih, picked up his skills from his father in 1950, and has been making the mee koo ever since. In the earlier years, he has been pedaling the mee koo to many happy customers staying nearby the area.
We had the opportunity to spend the morning at the shop to see the making of the mee koo. The family recipe uses flour, sugar and yeast, without any preservatives. It is best to finish off the mee koo in two or three days and if you are not going to eat it right away, you can store it in the freezer and re-steamed when needed.
"You can have the mee koo with a cup of Hainan kopi, toasted and eaten with a delicious combination of butter and sweet kaya, or pan-fried with egg," said Tan. As much as we enjoyed the sweet options, we also enjoyed the mee koo paired with savory dishes. The mee koo hold up exceptionally well to chicken curry, and stir-fried roast pork.
"One of my son has joined the family business one year ago, and he does all the kneading, rolling and moulding of the mee koo while I still supervised the steaming and writing process," said Tan.
Lots of work and lots of 'play' go into the making of the mee koo, with fermentation, strong kneading and moulding.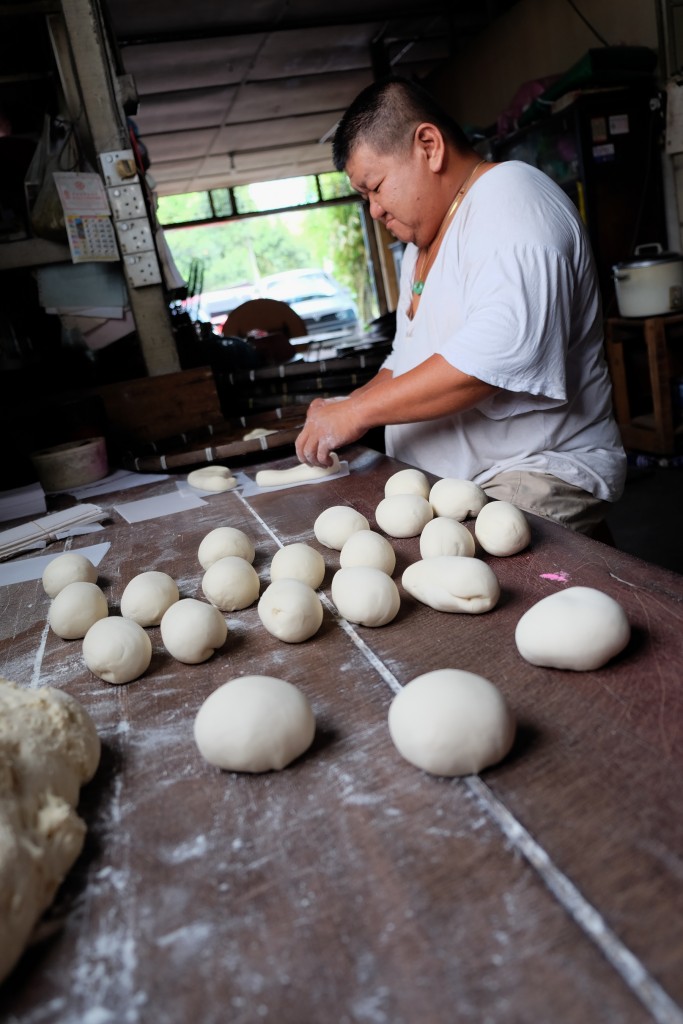 The mee koo recipe calls for two doughs, with the plain dough wrapped in an ultra-thin layer of red dough. Once ready, the mee koo is stacked up and set aside to rise before steaming.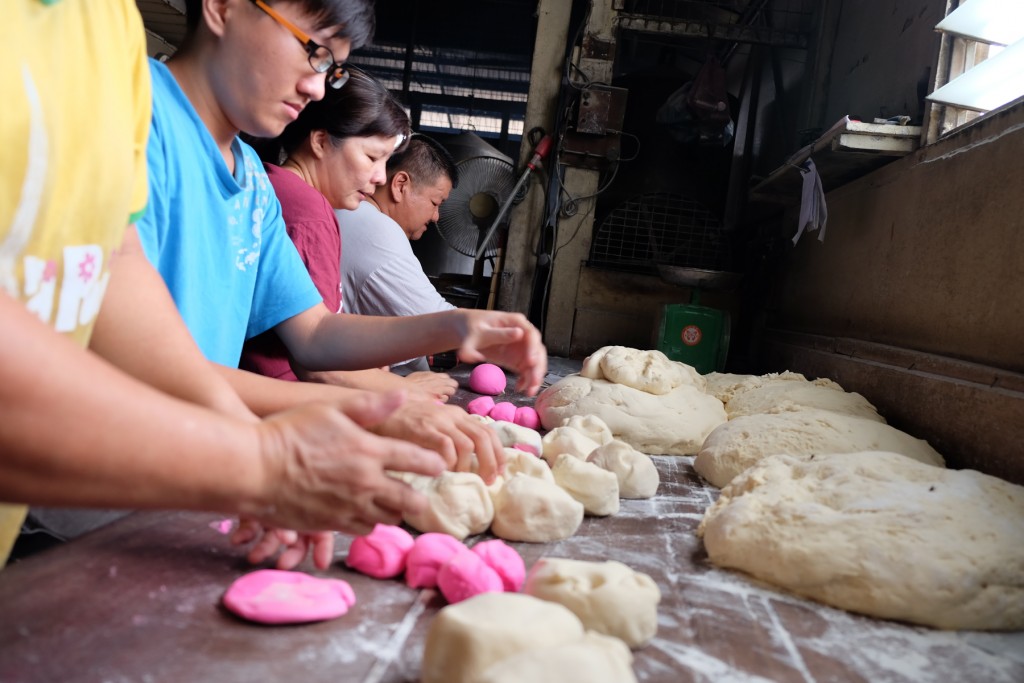 The mee koo is steamed over high heat for half an hour over the custom-made steamer fired by planks of wood.  And out of the steamer, we see the transformation of the dough into a  big soft mee koo.
Most customers will pre-order the mee koo for prayer purposes or deities birthday celebration and especially in Thnee Kong Seh (Jade Emperor's birthday). Depending on the occassion, customers will request to have Chinese characters such as 'heng', 'ong'. 'huat' on the mee koo. All the wordings which signify good meanings of fortune, prosperity and more, are done by the elderly Tan with precision that comes with his years of practice.
Some buns are shaped like the tortoise to symbolise longevity. Known locally as morhor, the process of making the tortoise-shaped bun is quite similar to the mee koo, but may take longer time to shape it. They come in many sizes and colours, such yellow, white and pink ones.
Besides mee koo, other familiar kuihs like ang koo and  huat kueh are also available.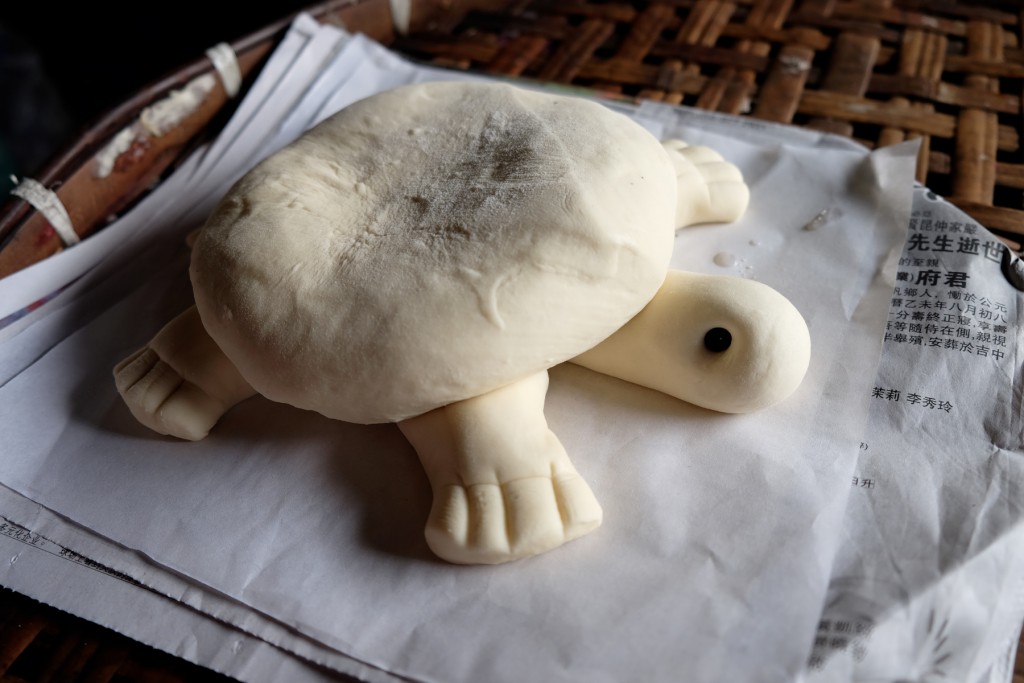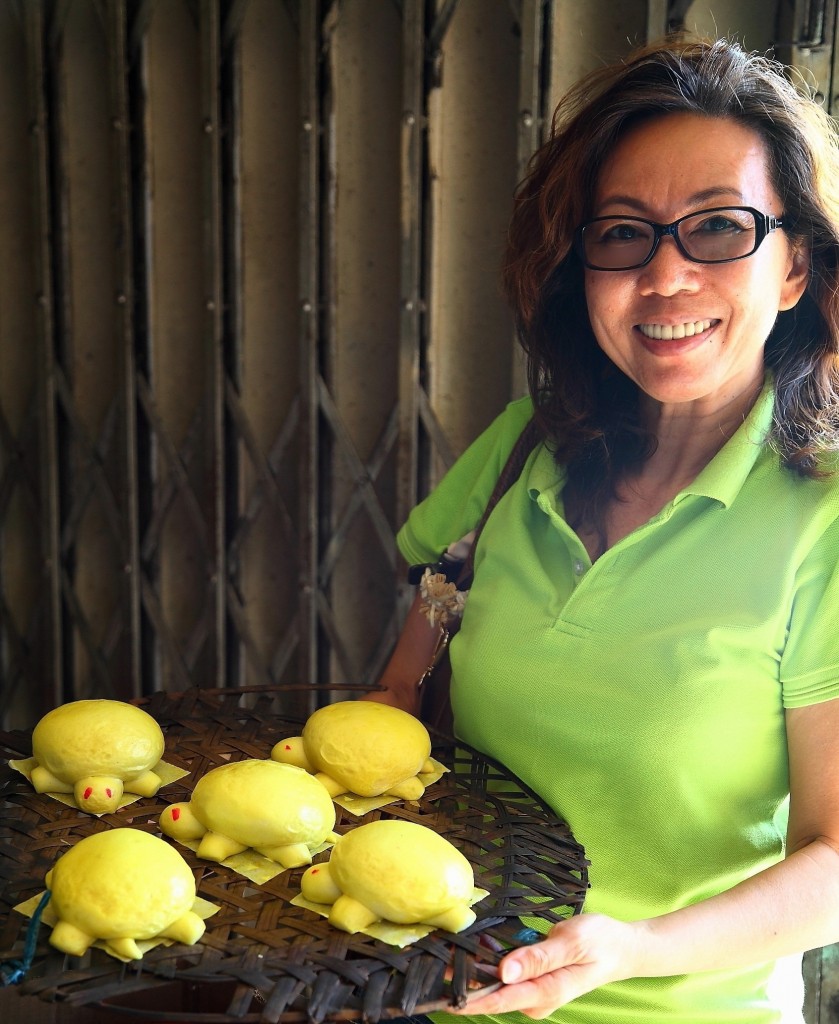 Beyond mee koo, Tan also makes delightful snacks and festival speciality. Since it was the mooncake festival, we bought ourselves some goodies made for the festival. Highly recommended is the teochew mooncake with a flaky crust.
It is filled with luxurious fillings of mung bean paste, pumpkin seeds and salted egg that contrasts well with the flaky layers of pastry. We know that we will be back for this teochew mooncake in the next festival season.
On top of that, the shop sells Chinese pastries and biscuits. Its peanut biscuit (biscuit kacang) made of peanuts, vegetable oil, flour, sugar and egg is also worth trying. The disc of peanut goody packed in neat plastic jars is suitable for the young and the old alike.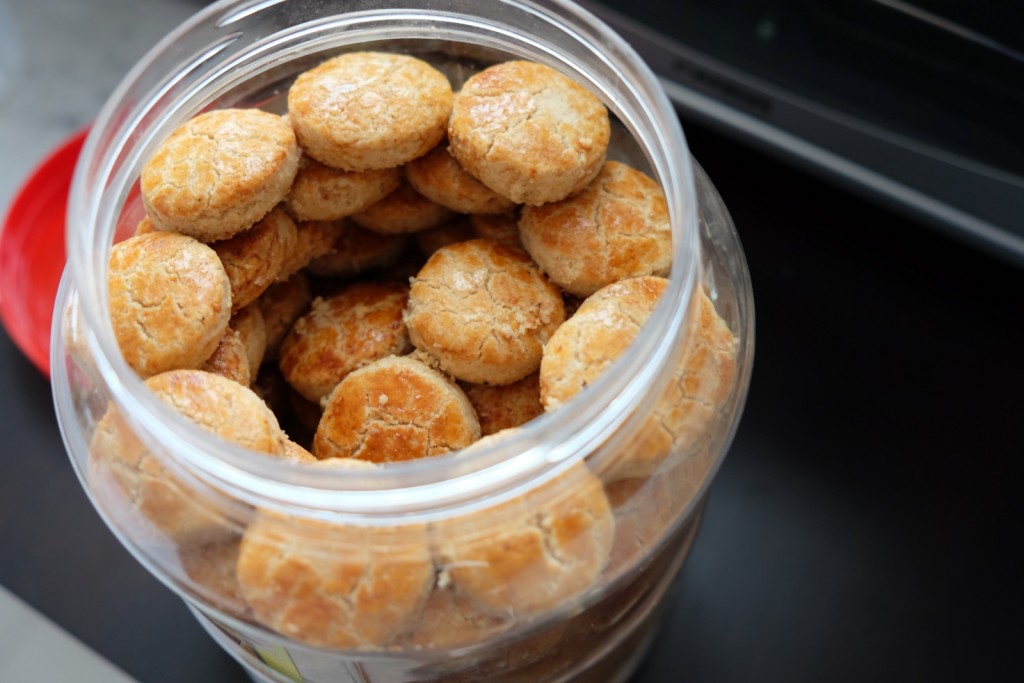 The corner wooden house has a relatively small old sign that says Chop Tan Thye Huat Kedai Roti Dan Gula. The place is well worth visiting especially for those who are keen on flavors of yesteryears.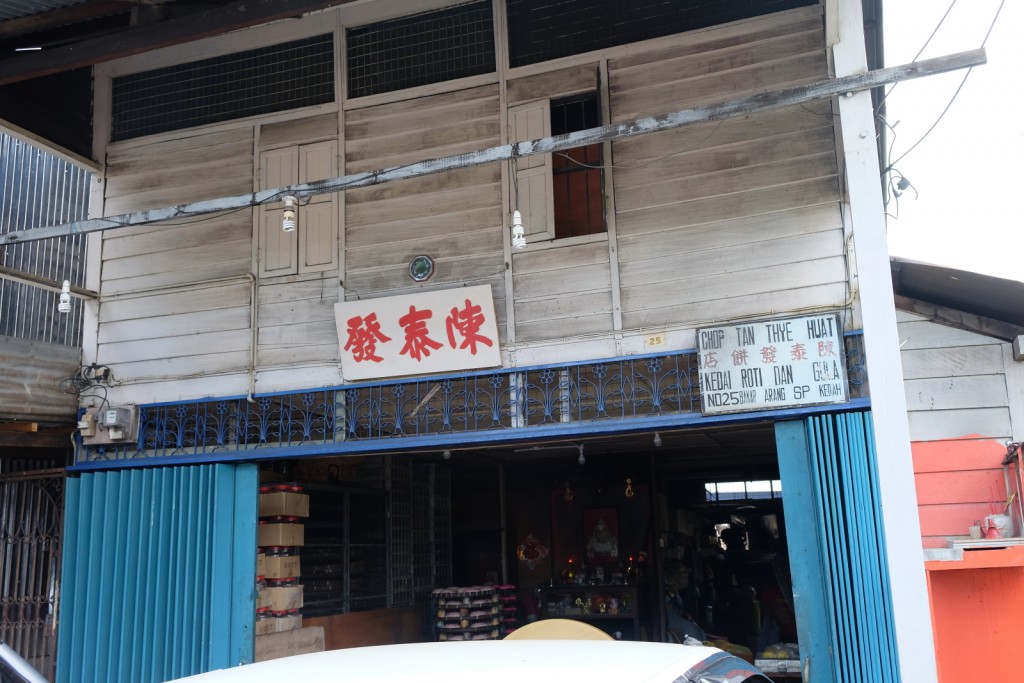 Tan Thye Huat Kedai Roti Dan Gula 陳泰發
25 Jalan Bakar Arang
08000 Sungai Petani
Kedah
Tel: 04-421 8859
Business Hour: 8am till 5pm
Closed date not confirm