Christmas and New Year Buffet at Eastin Hotel Penang
BY CK Lam
This year Eastin Hotel Penang has special menus offering Christmas and New Year theme buffets that can be enjoyed in Swez Brasserie.
Come Christmas Eve, starting at 6pm, there will be activities such  as  live performance by Eastin's Carolling singers, lucky draws, and also Eastin's own live band performance. The celebration continues right through New Year Eve, with the extra special, fireworks countdown.
The buffet is available for lunch and dinner and comes brimmed with mouth-watering international favorites including festive dishes. We attended the preview session which highlighted several of the festive dishes.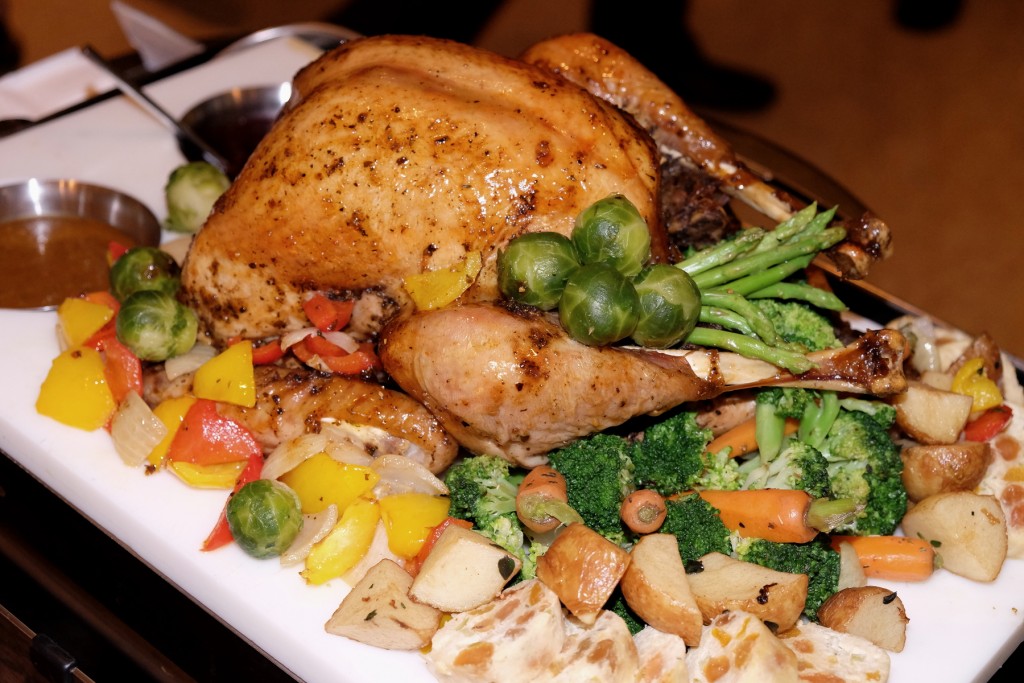 In the menu is an abundance of cold delicacies and mushroom soup along with freshly baked bread and rolls to start off with. Chicago Turkey Mixed Salad, Australia Potato Salad, and Walnut Apple Salad are just some that I tried. The latter came with a sauce , whose creaminess was just perfect with the sourness of the green apple.
Expectation of other cold delicacies include Baby Asparagus with Seafood in Citrus Vinaigrette, Mini Ratatouille Salad with Smoked Salmon, Tomato and Mozzarella with Balsamic Reduction, and Smoked Chicken with Teriyaki Sauce.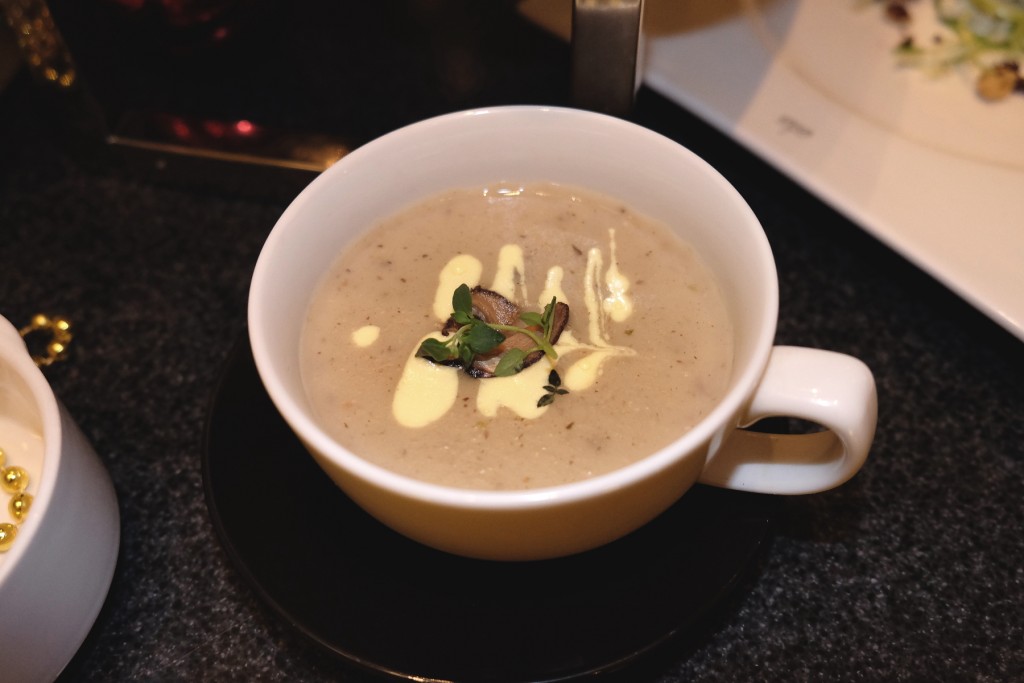 Mushroom Cream Soup
Satisfy your cravings with the Roasted Turkey served with generous sides of vegetables, stuffing, and potatoes along with cranberry sauce and giblet gravy.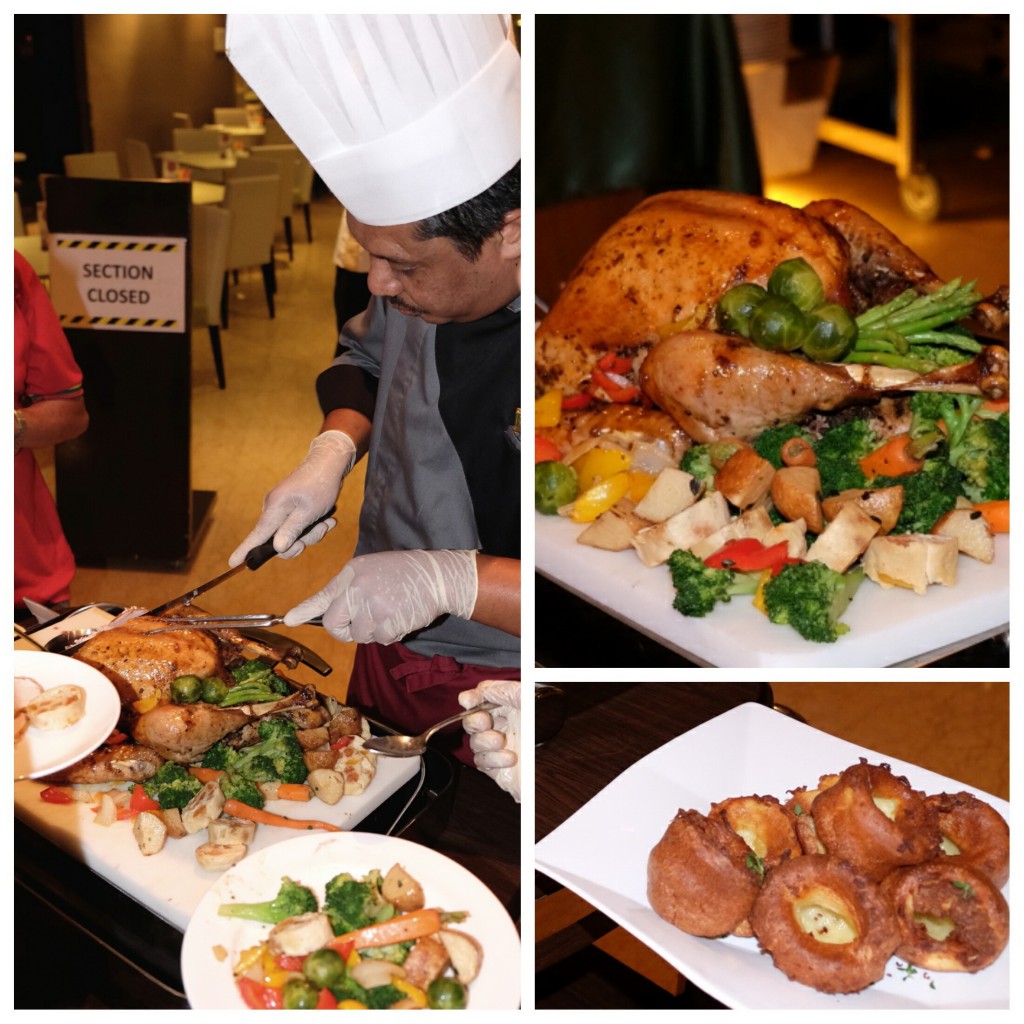 Hot delicacies from the buffet counter offers Chicken Roulade with Pomegranate Sauce, and Spanish Butter Rice with Nut. For something lighter, try the Poached Seabass with Saffron Sauce.
The Chicken Roulade with Pomegranate Sauce goes well with the Walnut Apple Salad with a nutty bite.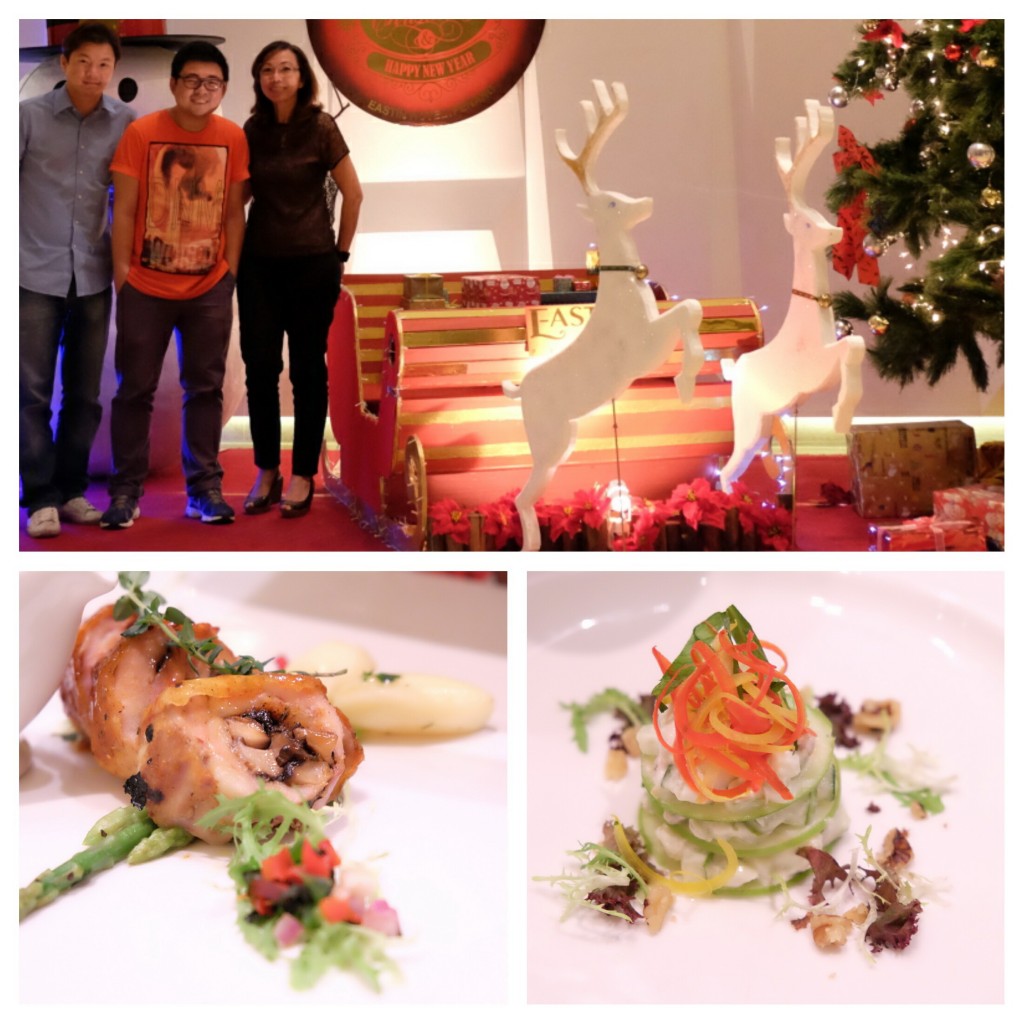 Chicken Roulade and Walnut Apple Salad
For the sweet-toothed, there is a colorful spread of desserts including Christmas Fruits Cake with Icing, Log cakes, Ginger Bread House, House Christmas Mousse, and Ginger Bread Fantasy. For something more tart, go for the Cherry Truffle.
The Christmas Eve Buffet Dinner and New Year Buffet Dinner is priced at RM168nett per adult and RM80nett per child and is available till 1st  January 2016 (from 6.30pm till 10pm). First 80 early birds are  entitled to a discount of 25% if full payment is made prior to 15th December 2015. Senior citizens are also entitled to enjoy a 25% discount too.
The Christmas Day Hi-Tea is at RM82nett per adult and RM40nett per child,  while the  Christmas Day Dinner is at RM118nett per adult and RM55nett per child.
For inquiries or reservations, call: +604 6121128.
Eastin Hotel Penang
1 Solok Bayan Indah, Queensbay
11900 Bayan Lepas
Penang
* Many thanks to Eastin Hotel Penang for extending this invitation.