Din Tai Fung Opens In Gurney Plaza, Penang
BY CK Lam
Din Tai Fung 鼎泰豐 has been around since 2007 and is neither new in Malaysia nor in many other countries. The group has since opened its first outlet out of Klang Valley in Gurney Plaza, Penang in December 2015. This marked the company's 6th outlet in Malaysia.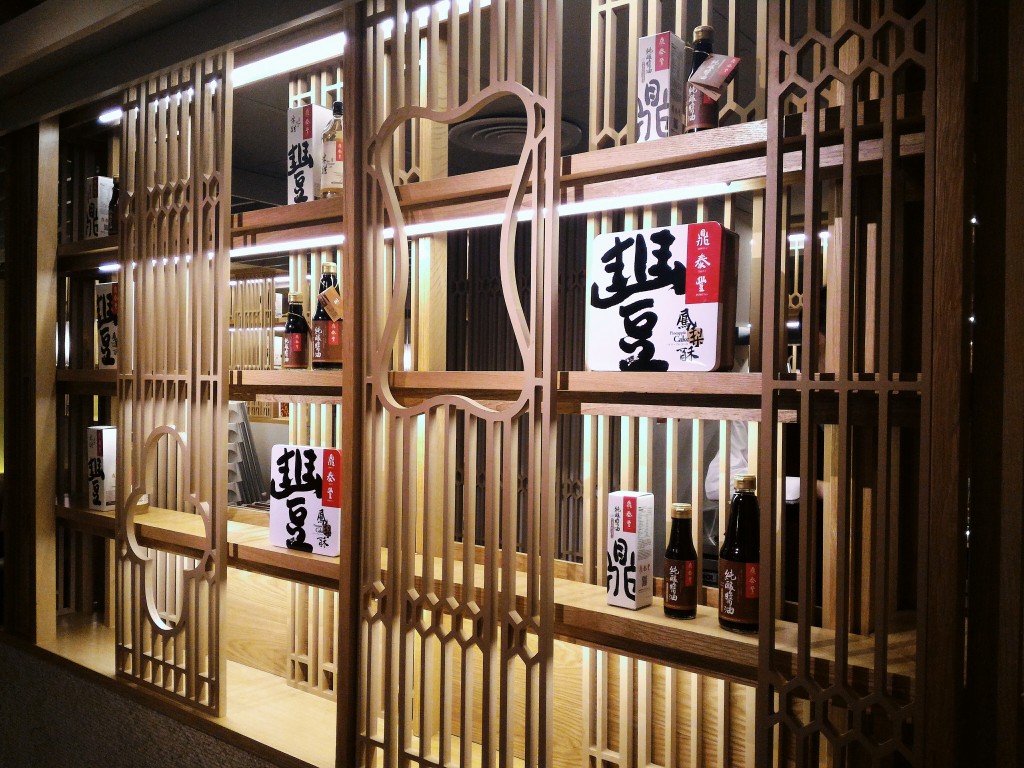 Din Tai Fung has recently put together a dining experience for the media.
Awarded one star by the prestigious Michelin guide, the restaurant with approximately 4000 square feet can comfortably seats 135 pax. At the far end of the restaurant is the kitchen where chefs were seen pleating the xiao long bao amongst towers of bamboo trays.
Our meal was an electric combination of dishes. For cold appetizers, we had the Shaoshing Wine Marinated Chicken, Spicy Pickled Cucumber, and Din Tai Fung House Special.
Served neatly arranged in a round dish, the Shaoshing Wine Marinated Chicken was tender, with a distinctive bouquet and flavor.
Shaoshing Wine Marinated Chicken RM18.50
The Din Tai Fung House Special with a mix of julienne seaweed, bean sprouts, beancurd, rice vermicelli and red chilli was prepared with vinegar, garlic, red chili, salt and sugar. Its myriad of texture and flavors was not only refreshing, but also addictive.
For all die hard xiao long bao fans, do not missed out Din Tai Fung's succulent pork-soup dumplings. Prepared fresh on the spot using the finest ingredients, each of the xiao long bao was pleated with 18 delicate folds and served steaming hot in a bamboo steamer.
Inside the xiao long bao was a delicious filling of pork and a burst of warm soup. Nibble off the translucent paper-thin skin, sip out the warm broth and finished the dumpling with a dipping sauce with strips of fresh ginger.
To optimize the dining experience of xiao long bao, Din Tai Fung dipping sauce recipe involved mixing one portion of soy sauce with three portions of vinegar.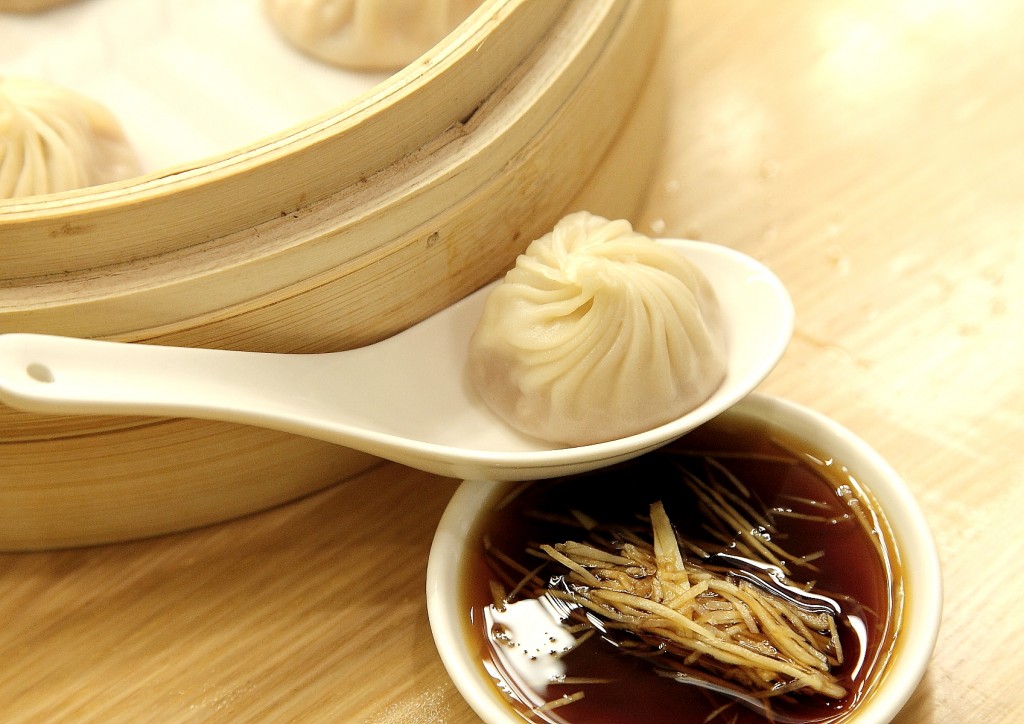 You have your pick of Pork Xiao Long Bao, Chicken Xiao Long Bao, Crab Roe & Pork Xiao Long Bao, and Truffle and Pork Xiao Long Bao filled with a blend of white and black truffle.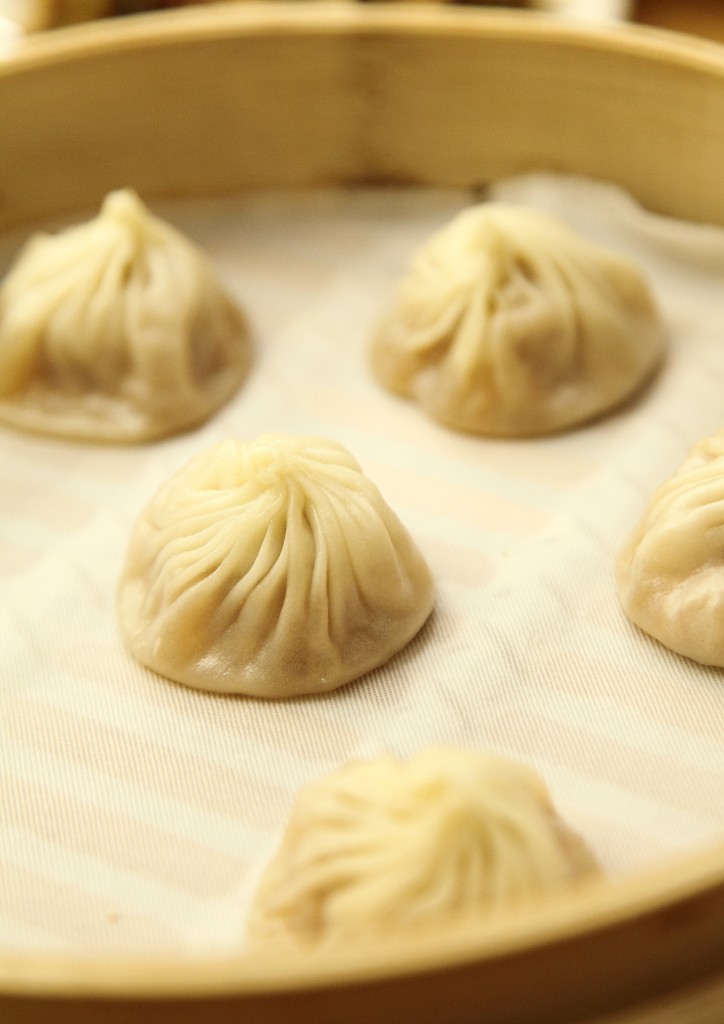 Next in line was the Spicy Shrimp & Pork Wonton. Filled with juicy minced pork and prawns, the plump wontons with delicate thin skin were served in a piquant spicy chili oil. If you require more spiciness, there is a pot of chili oil on every table.
Other wonton dishes in the menu include deep-fried Crispy Shrimp & Pork Wonton and Vegetable & Pork Wonton.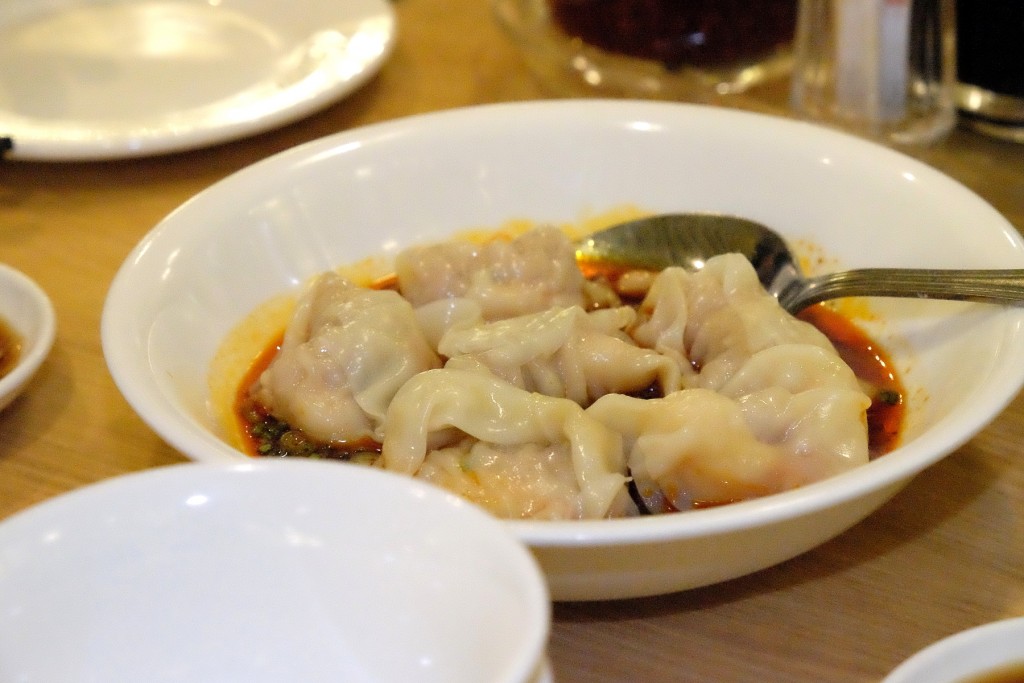 The steamed dumplings come stuffed with everything from shrimp to pork or even fish and mushroom. We had the steamed Shrimp & Pork Dumpling priced at RM7.60 (3pcs), RM14.20 (6pcs) and RM23.10 (10pcs).
Besides the dumplings, there were the fried rice and dry noodle. The flavor of the dry noodle made with minced pork in bean sauce and dotted with edamame beans was on the heavy side. I'll skip it for now and look forward to try their noodle soup next.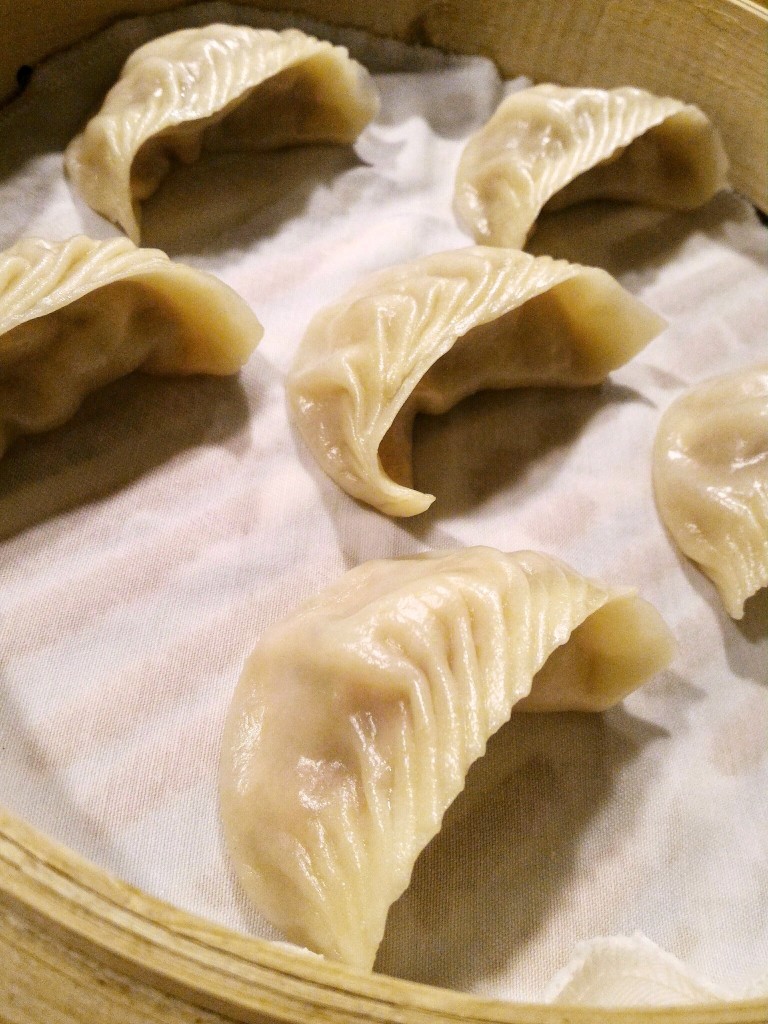 The nourishing and warm part of the meal has to be the house steamed soup. There are three on the menu – House Steamed Chicken Soup RM17.30, House Steamed Truffle Chicken Soup RM30.70 and House Steamed Ginseng Chicken Soup RM22.50. My personal favorite is the House Steamed Chicken Soup, with its purity of the chicken's essence enchanting the clear soup.
Also available are the Hot & Sour Pork Soup and the spicy Braised Beef Soup.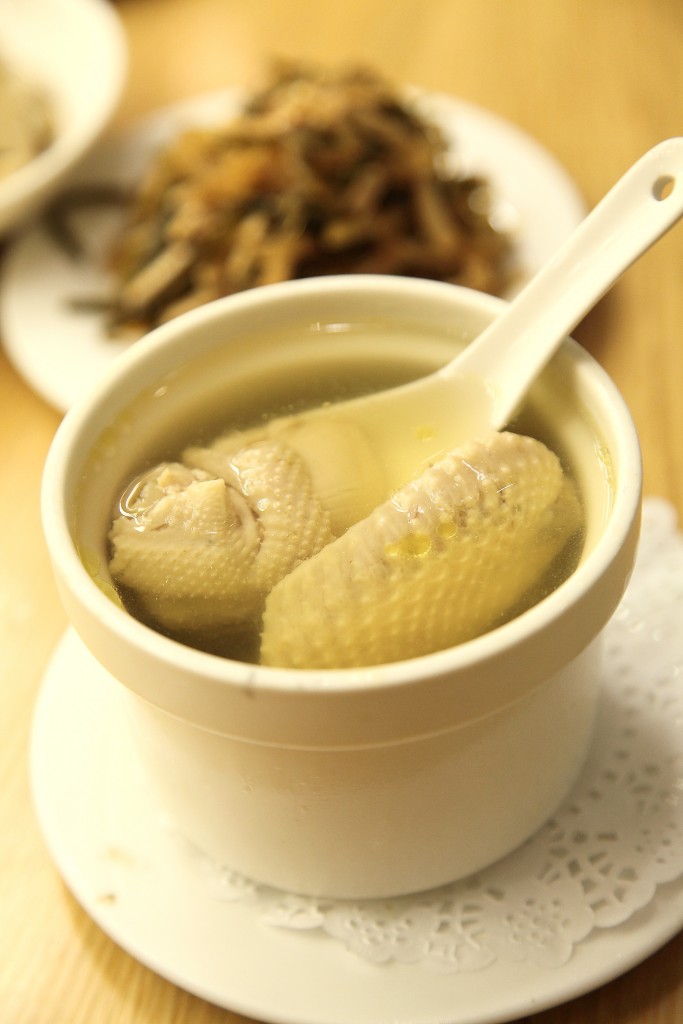 One can easily have a full meal of braised and wok-fried dishes to go with white rice at Din Tai Fung. The Stir-fried Baby String Bean with Minced Pork (RM25.10) made a nice dry-fried vegetable dish with tingly spice Sichuan peppercorn.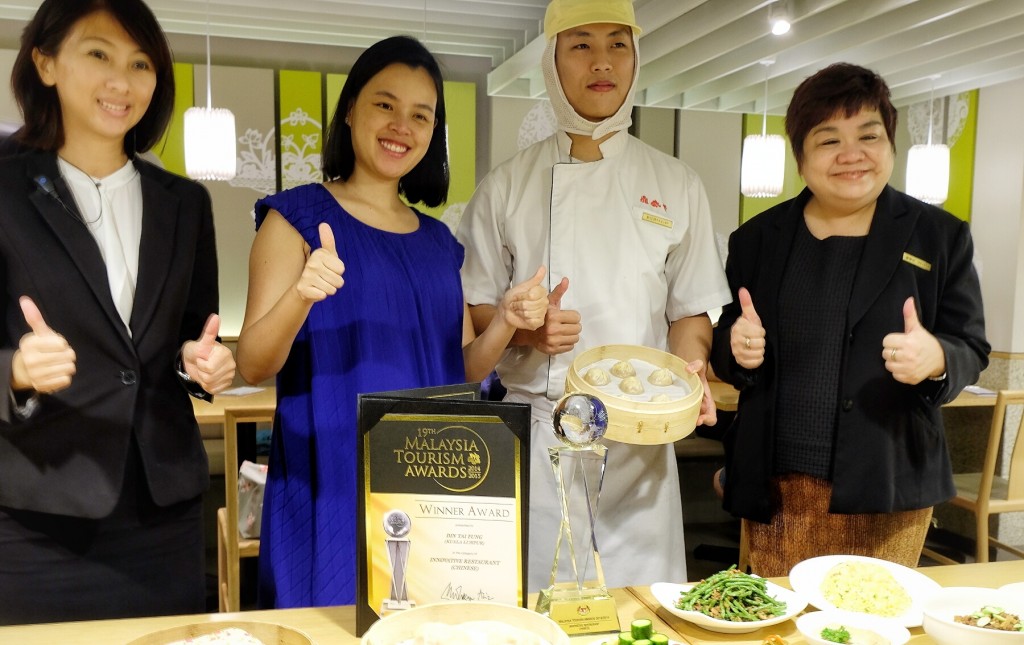 There are many desserts on the menu, and it is hard not to fall in love with the sweet versions of xiao long bao. We were presented with two: Taro Xiao Long Bao and Chocolate Xiao Long Bao. Die-hard chocolate aficionado would love the Chocolate Xiao Long Bao with a delicately thin skin holding a rich hot filling of creamy dark chocolate.
The Steamed Thousand Layer Cake is a popular dessert and each fluffy soft serving comes with fragrant black sesame paste and sweetened milk spread. For those who love sesame rice balls, they are served either coated with peanut or in warm tong-sui.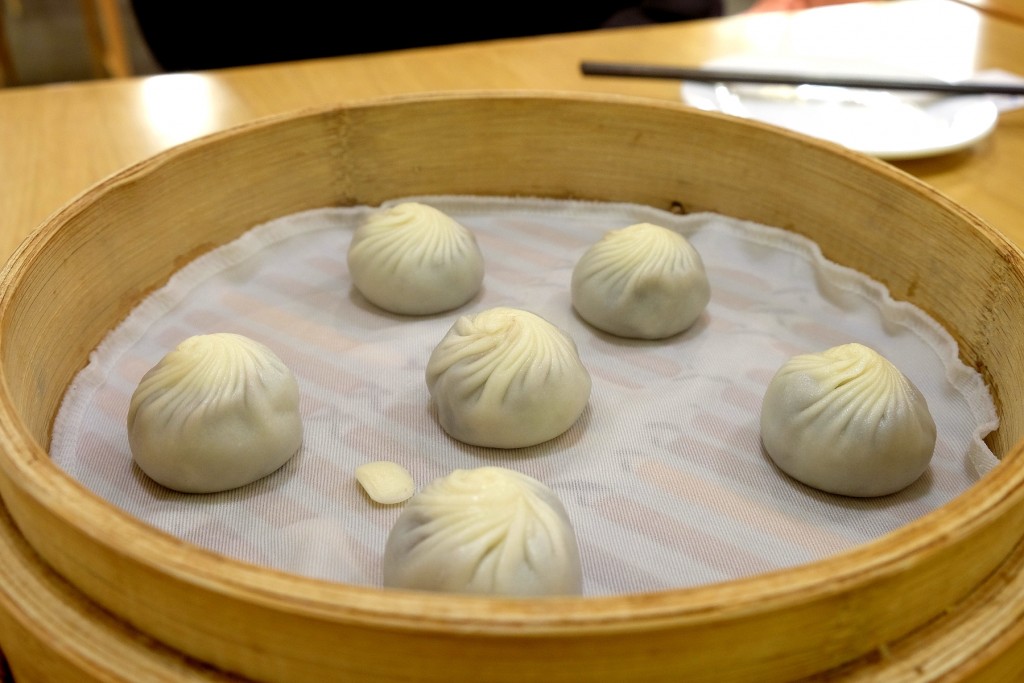 (Left) Taro Xiao Long Bao RM4.80 (3pcs) RM9 (6pcs) RM15 (10pcs)
(Right) Steamed Thousand Layer Cake RM7 (S) RM11.70 (L)
I have tried and enjoyed plenty interesting food options at Din Tai Fung, The Gardens and I'm so glad that I get to savor the delights right at our door steps in Gurney Plaza. Located on the lower ground floor of the shopping complex, there is often a queue in front of the restaurant.