Hard Rock Hotel Penang – Seafood On The Rocks Buffet
BY CK Lam
Seafood On The Rocks Buffet at Starz Diner, Hard Rock Hotel Penang offers an immaculate selection of seafood. The buffet takes place on 2nd April 2016, and is available every Saturday, at RM99nett per adult and RM59nett per child from six to 12 years old.
The menu showcases the freshest catch of the sea. Besides served chilled, the seafood are cooked using simple techniques, with a twist of Japanese and Chinese fusion  – grilling and stir-fried. Expect to find a variety of appetizers, sushi & sashimi, tempura, teppanyaki alongside Chinese carvings, dim sum and more.
The platter of sushi is a feast for the eyes, with choices such as tamago, futo maki, california maki, kappa maki, oshinko maki, inari and kanpyo. I had several but the rice of the sushi is however a little wet and soggy.
The buffet features sashimi with choices of maguro, sake, tako and salmon. Be sure to indulge the thick cuts of fresh fish with a dash of soju and wasabi.
I love salmon and the combination of the Smoked Salmon Salad with creamy avocado indeed charmed the taste buds with sweet tangy flavors
Smoked Salmon Salad with avocado

The buffet impresses even more with its offering of seafood on ice. Savor the goodness of large boiled prawns, mussels, bamboo clams, scallops and oysters with shallot vinaigrette, tabasco sauce or a squeeze of lemon. The wide selection of seafood is as fresh as can be.
The Prawn & Shellfish Bisque boasts a rich briny soup and sets a right tone complemented by assorted bread. On other days, expect a serving of miso soup with seaweed and dumplings.
The mains selection offers Chawan Mushi Unagi besides favorites such as light and fluffy Ying Yang Fried Rice, and finger-licking good Deep-Fried Prawns with Nestum.
The Chawan Mushi Unagi with plenty of ingredients is however let down with its barely cooked watery texture.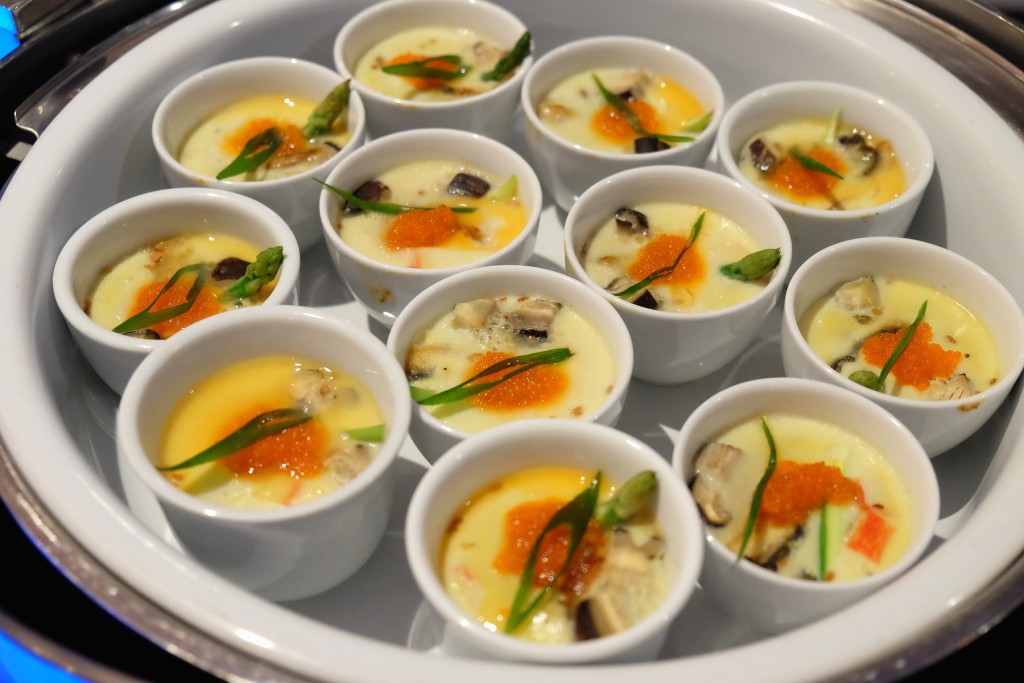 A selection of Teppanyaki seafood is prepared a la minute at the Teppanyaki Grill Station. I feasted on Slipper Lobster, Chicken, Prawn, Yaki Udon, and Beef with Goma Sauce. The latter grab the attention with lashings of goma sauce burst of sesame flavor.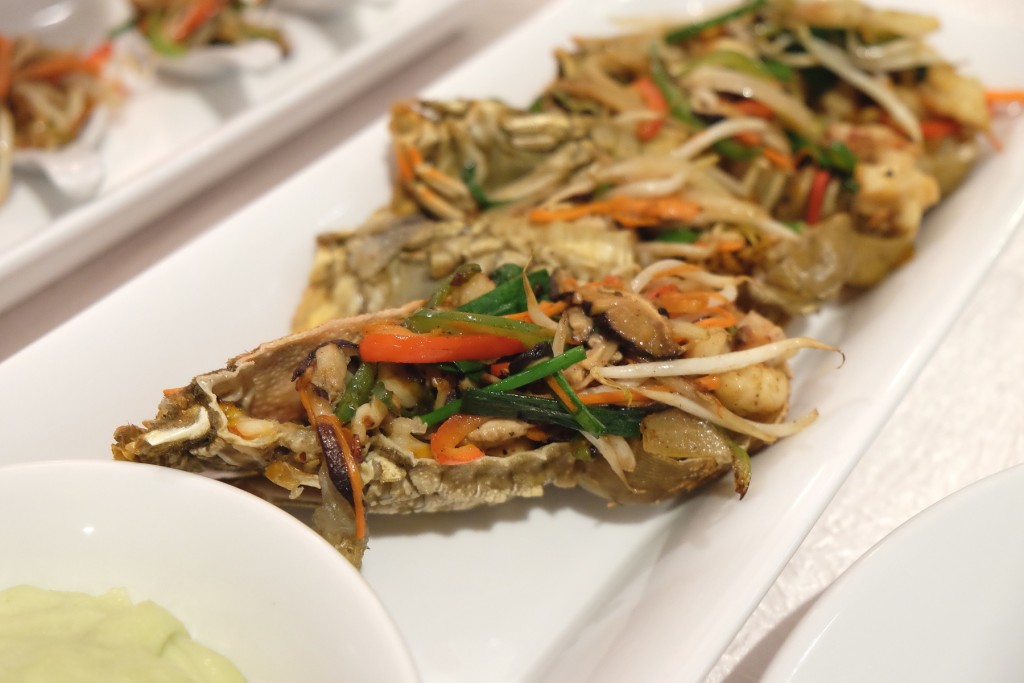 Slipper Lobster
The Chinese Carving station is offering Roasted Chicken and two char siew style roasted meats – Lamb Char Siew and Chicken Char Siew along with condiments. The meat tastes as good as it looks – succulent and tender. There are also Roasted Duck and BBQ Chicken Wings depending on the day of visit.
Apart from the roast meats, there is even a selection of dim sum and yong tau foo to please the palate.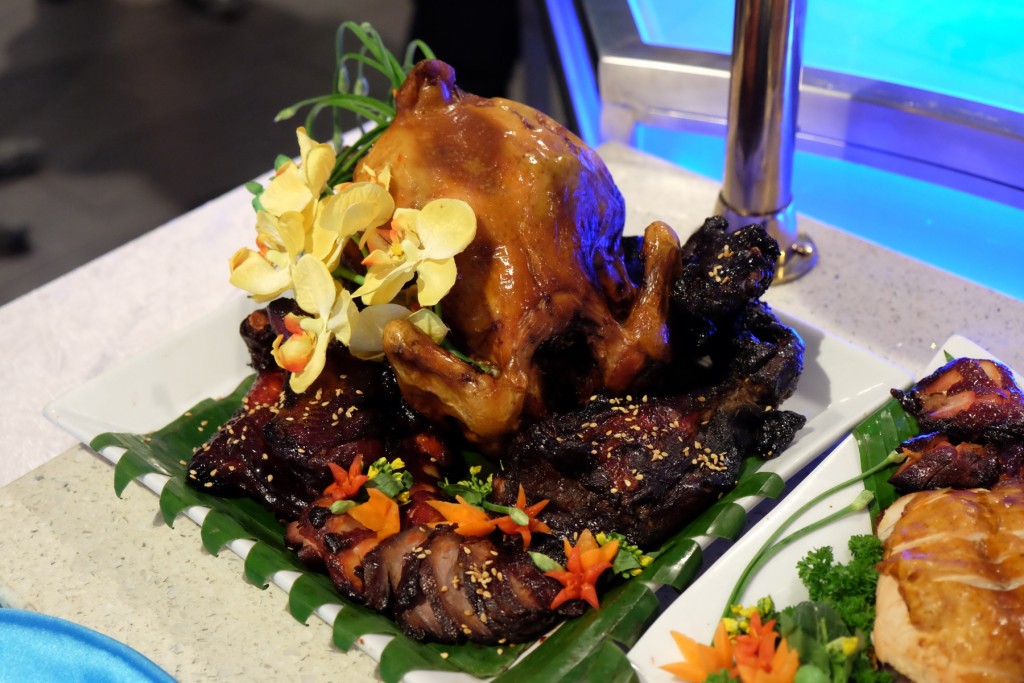 Lastly I filled up my appetite with desserts and a brew of coffee. I sampled a selection of French Pastries, Green Tea Cheesecake, and freshly made Soya Bean Milk with Glutinous Ball & Gingko Nut.
The menu offerings are the same for the first and third week of the month, and change for the second and fourth week, ensuring a variety. For reservation, call: 04-8868057.
Hard Rock Hotel Penang
Batu Ferringhi Beach
11100 Penang
Dining Hours: 6.30pm till 10.30pm
* Many thanks to Hard Rock Hotel Penang for extending this invitation.