Up And Above European Cuisine @Pulau Tikus, Penang
*The outlet has since closed down

Penang is in for a treat with the opening of the Up And Above European Cuisine. Housed in a double storey shop house along Cantonment Road in Pulau Tikus, the semi-fine yet affordable place to wine, dine and entertain is the brainchild of three aspiring youngsters.
Up and Above European Cuisine inviting white facade leads you into a dining space with intimate ambiance. Wind up the staircase on the ground floor and there is another relaxed dining section, with a private room, perfect for entertaining.
Spearheading this endeavor is the youthful coowner cum Chef Thomas Lee, who has 10 years of experience in Eastern and Western cuisine preparation.
Diners will be treated to a myriad of European cuisine, with the restaurant offering big flavors and warm services throughout the day – with set lunches, set dinners, ala carte menu as well as hi-tea sets. The culinary extravagance is best enjoyed over a 5 course menu that starts off with soup, amuse bouche, salad, main course and finally topped off with dessert.
To begin with, there is the warm bun with a dish of soft truffle butter. This is a nice start to the meal together with a bowl of warm creamy soup. The menu lists soups like mushroom, roasted tomato bacon, and clam chowder. The earthy mushroom soup is likened to a thick texture with right notes of creaminess, and the chef could do well to toss in more mushroom pieces for an extra bite.
There is sure lightness and simplicity in the amuse bouche of pan-fried spring chicken breast,  60 degrees soft cook organic egg, and seared Hokkaido scallop.  The nicely seared scallop in white wine foam makes an indulgent bite together with caviar and pencil asparagus.
The 60 degrees soft cook organic egg done with translucent whites and runny yolk is an interesting tasty discovery. Served balanced with textures from the cubes of crouton, king oyster mushroom, and saltiness from the  chicken jus, this amuse bouche will have you slurping to the last spoon.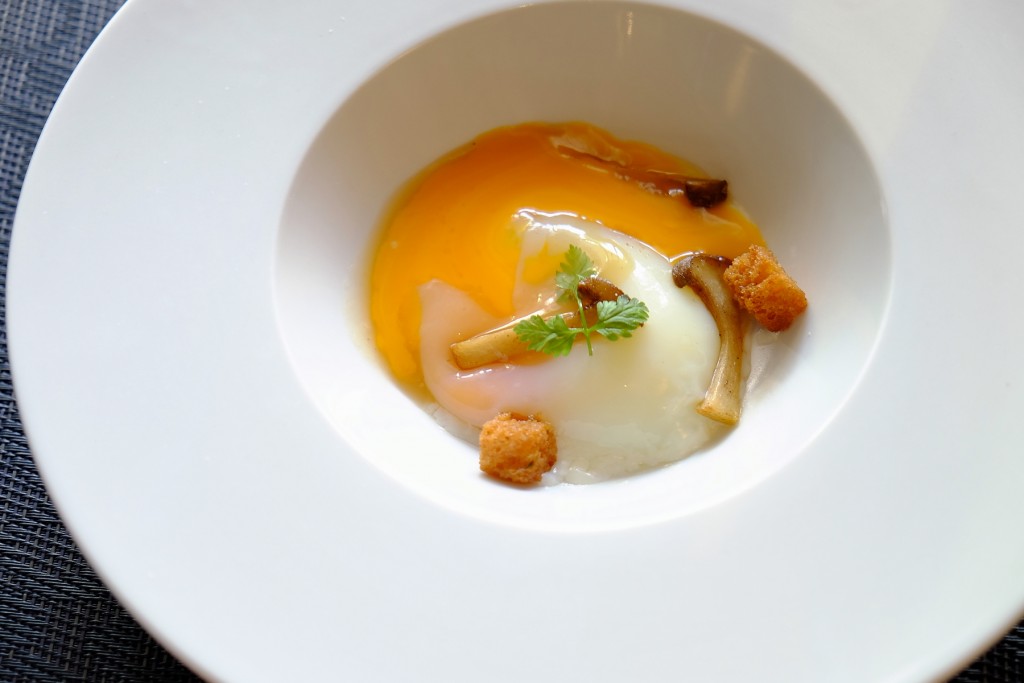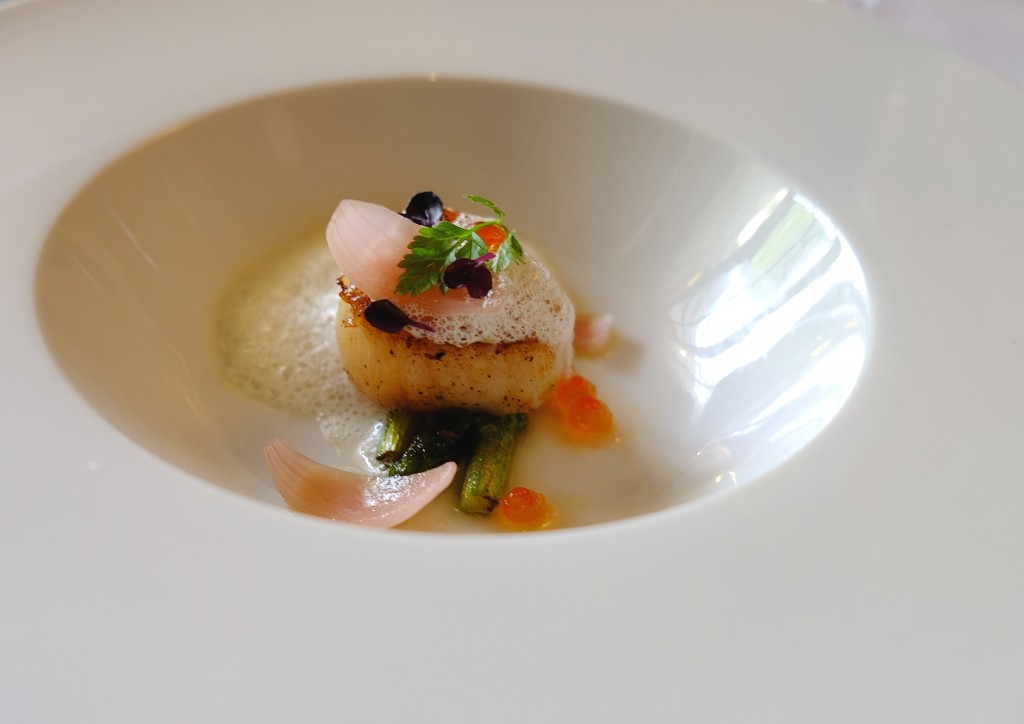 Tickled the palates with a variety of salads – prawns and proscuitto ham salad with arugula, sous vide lobster salad and smoked duck salad.
The smoked duck salad is hard to beat with its combination of smokey duck flavor, feta cheese, citrusty orange and red wine dressing.
Here at Up and Above European Cuisine, the choices of mains include a great lineup of poultry, meat and seafood.
The chef charms diners with his take on the seared artisanal smoked salmon. The dish appealing in its presentation as in its taste is served to the table with the ingredients sitting contentedly on a plate with a closed glass dome. The glass dome comes off and voolah, distinct smoke screams out from the pieces of delicate house-smoked salmon. The deep savory flavors of the salmon is complete with caramelized apple, zucchini, onion pickle; all on a bed of potato with vanilla foam.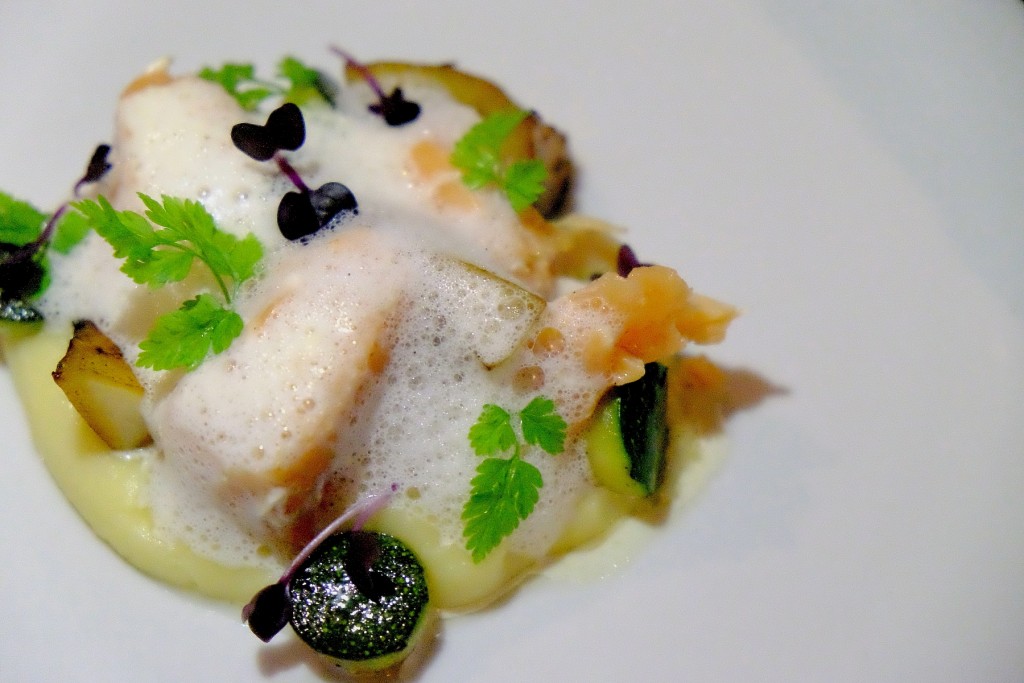 The sous vide flavorful herb chicken has two pieces of  boneless chicken lightly charred and served with mash potato, king oyster mushroom, baby carrot and chic jus. At a glance, the dish does not look complicated, but the combination of technique, herbs (rosemary)  and fine ingredients elevated the chicken to a flavorful level.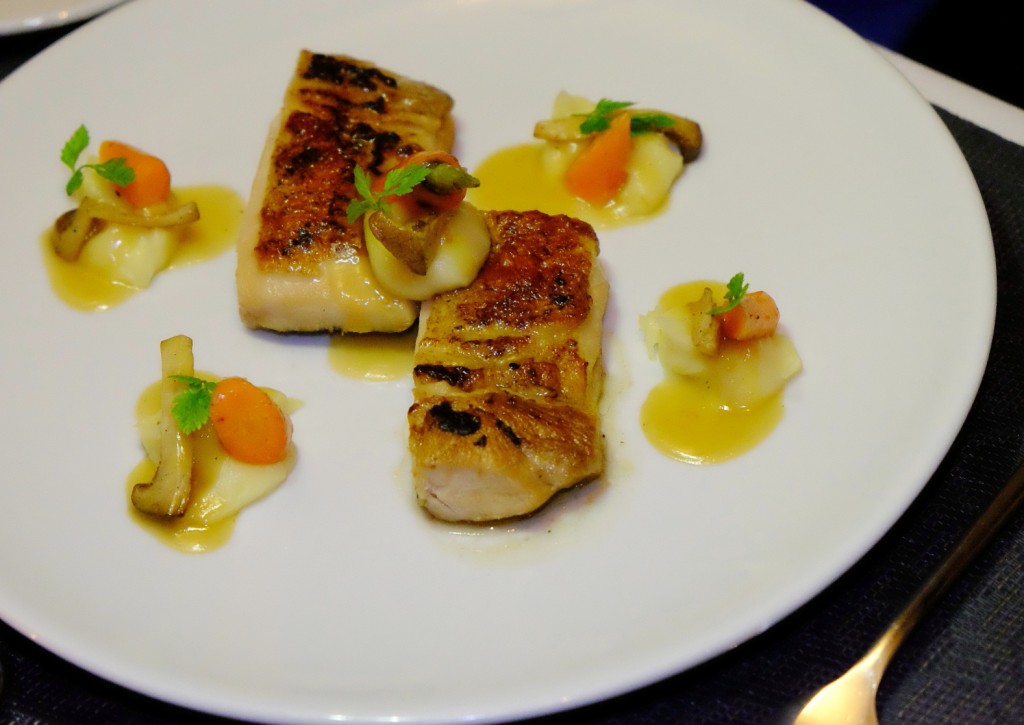 If the craving is for pork dish, do order the braised pork cheek with red wine. The dish with tender pork cheek comes laid on a bed of potato with oyster mushrooms, charred onions and asparagus. A glass of red wine goes well with the braised flavor of the meat.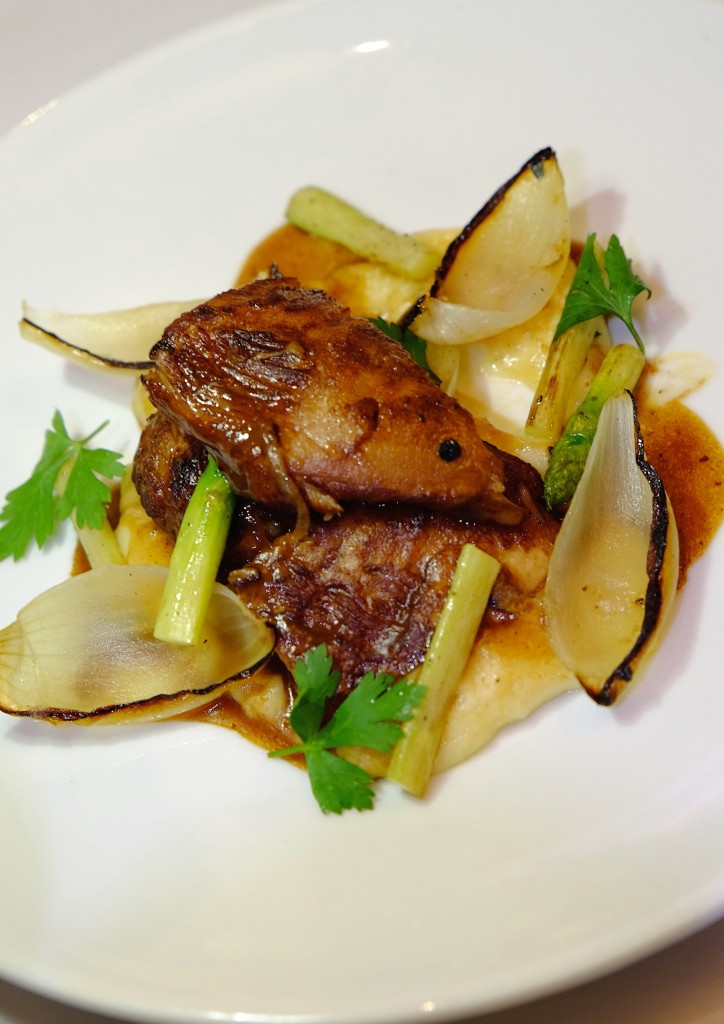 At RM68, braised Australian beef brisket is worth the price. Ideally braised, and brilliantly spiced, the generous portion of brisket comes with butternut puree and confit tomato on vine. The onion chips served alongside are also beyond reproach.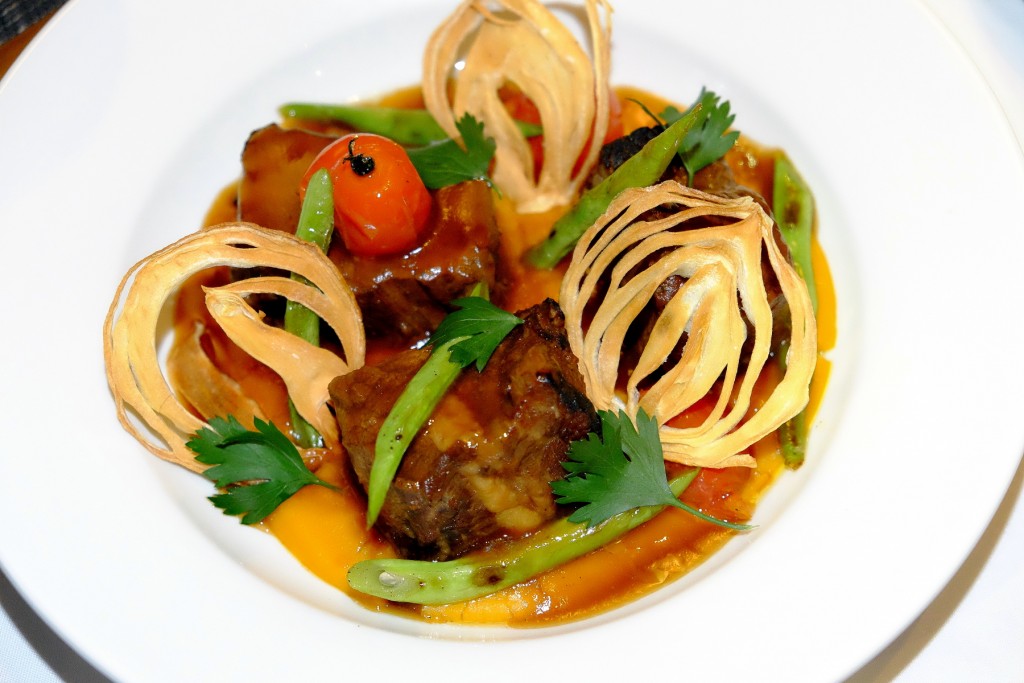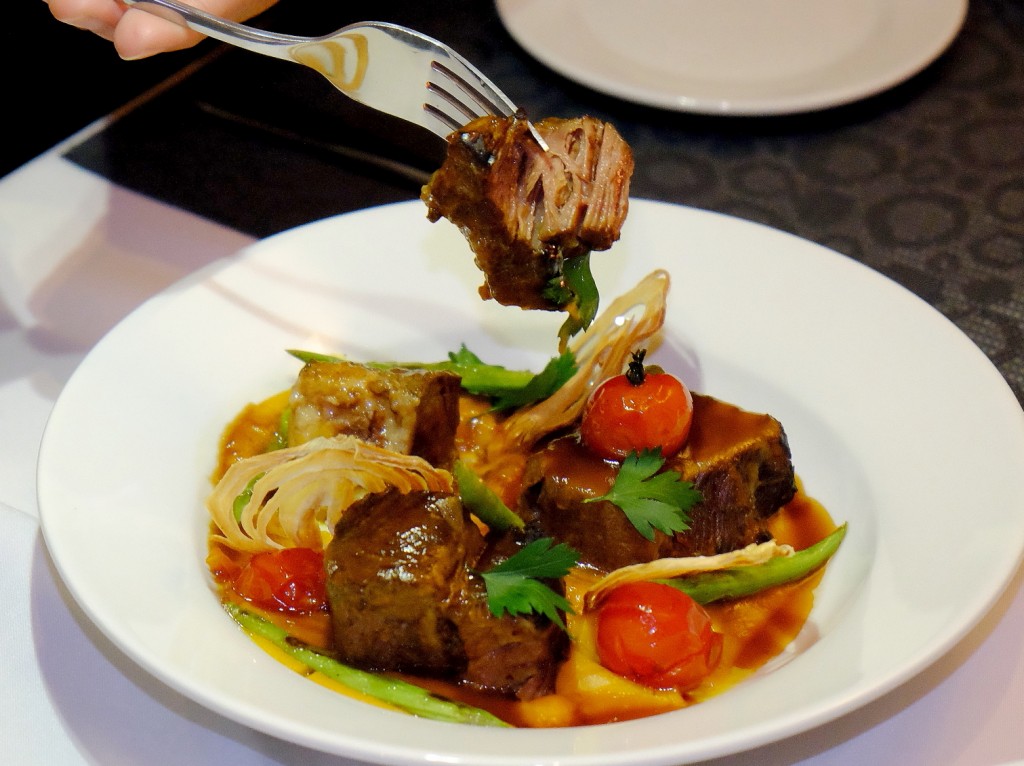 Nothing beats having the meal with some wine. The wine menu offers a range from France, Chile, New Zealand, Chile and Australia, whilst a selection of champagne (Moet & Chandon and Dom Perignon)  provide for that special occasion.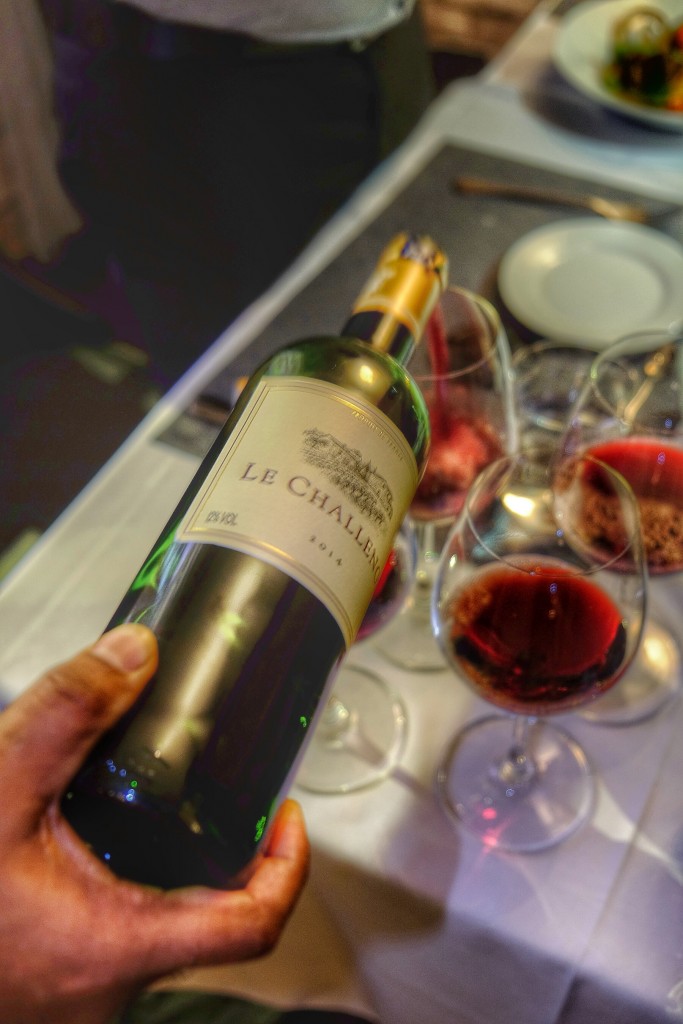 For desserts, the menu may not be as varied as the main menu. Currently, there is a mix of familiar choices such as creme brulee (with orange and vanilla flavor), tarte tatin with vanilla ice cream, and raspberry mousse cake served with chocolate ice cream, apricot coulis and caramelized walnuts.
A selection of coffee, tea and hot chocolate is served up in the beverage counter to complement the desserts.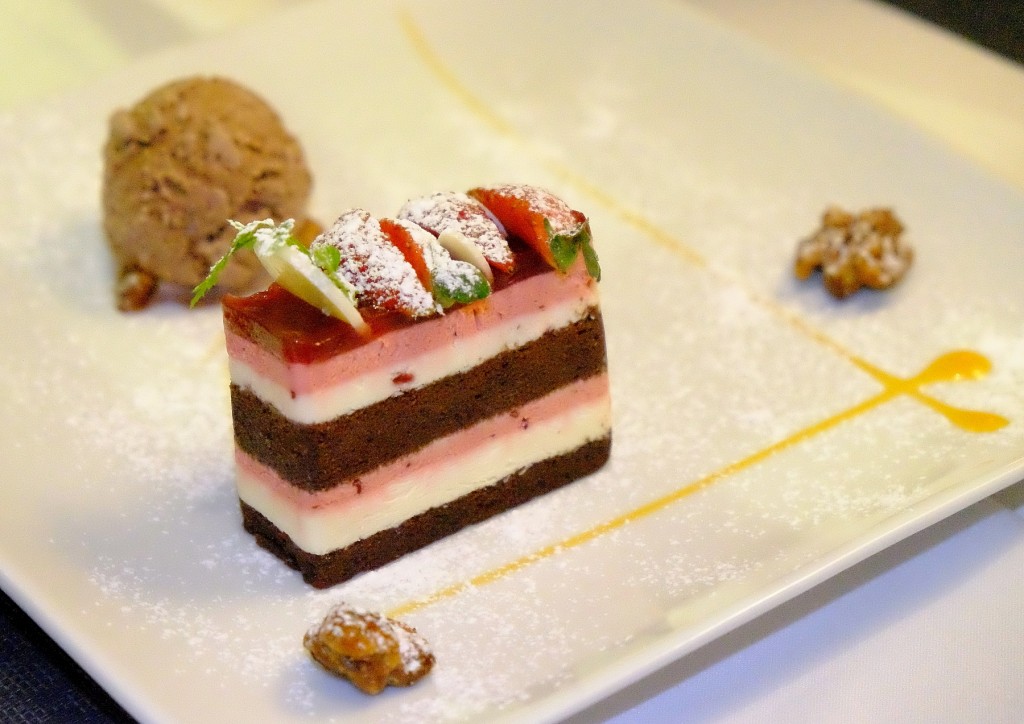 During lunch time, the restaurant serves set lunch with a soup, main course and a drink. Priced from RM17+ onwards, the three-course lunch available from 12pm till 2.30pm is one of the town's great dining bargains. Choice offerings include Spaghetti Alle Vongole RM17, Sea Bream with mash potato, broccoli and capsicum coulis RM22 and Sous Vide Chicken Breast with classic pilaf rice, chicken skin chip and garlic foam RM21.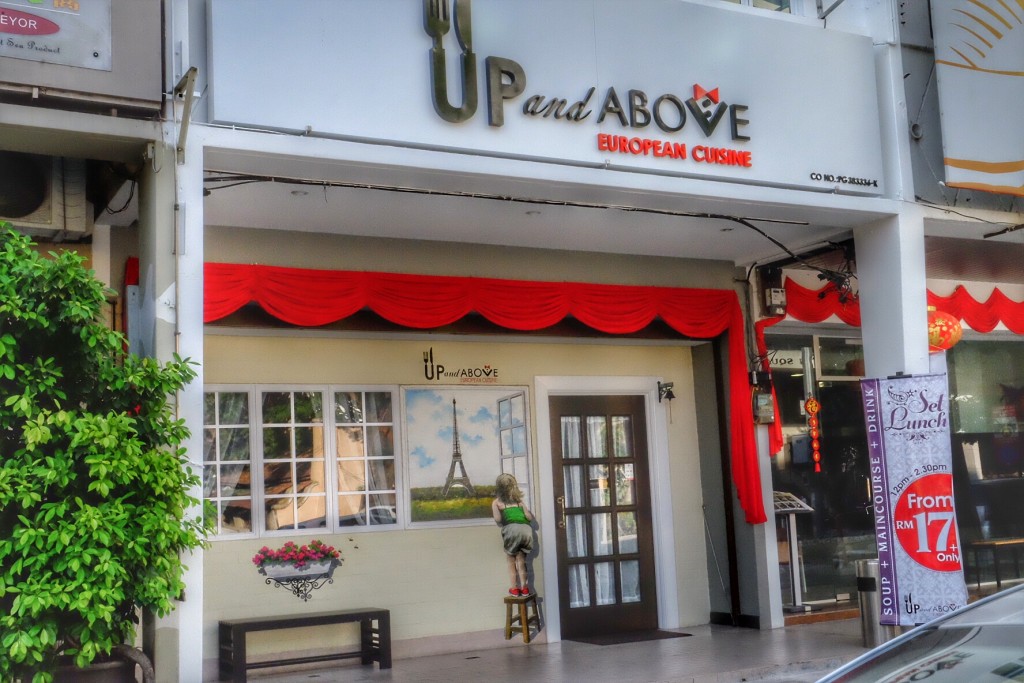 Up And Above European Cuisine
37-D Jalan Cantonment
Pulau Tikus
10350 Penang
Tel: +6012-407 9168
Business Hour: 12noon to 10pm (Daily)
* Many thanks to Up And Above European Cuisine for extending this invitation.