ECC Coffee, Gurney Tower, Penang
BY CK Lam
Espressa Coffee Company (ECC) Flagship Cafe has launched its first wave of signature coffee, chocolate and fruit tea at its outlet in Gurney Tower, Penang.
Located at the corner plot of Gurney Tower along Kelawai Road, the cafe opened its door for business on 1st March 2016. It was only a fortnight old when we popped in after lunch time on a Saturday, and the comfortably chill space had a full occupancy.
It's menu, displayed above the ordering counter, features a fairly good variety of fruit tea, chocolate beverages and endless choices of coffee. For coffee aficionados, there is the lattes, americano, espresso, cappuccinos and the flavored espressa mix.
Their Director of Franchise Developments, Ray Low was on-site to give a breakdown of what exactly is their products.
According to Low, ECC, which stands for Engaging, Customer-Oriented and Control aims to be the new and improved social hub for coffee lovers of all ages.
"We used our own manufacturing arm, with a whole ecosystem from coffee harvesting to distribution supply chain and integrated customer experience. The product is ISO 22000, a HACCP, GMP and Halal-certified," he adds. As for the coffee beans, there is the Brazil, Java, Colombia, Ethiopia and Guatemala roast.
Selection of coffees

The Espressa Mix is the result from their own R & D team and manufactured in their own factory. Some of the signature range include Coconut Espressa, Mentina Espressa, Tiramisu Espressa, Irish Espressa, Medici Espressa and Limon Espressa.
As I served myself with the Limon Espressa, I breathed in notes of lemon. It packed quite an aroma and the milk offered a smooth, sweet base for the citrus flavours to build on.
The Coconut Espressa is a nutty and creamy beverage. The coconut oil added a bit more substance to the drink, with a rather strong lingering notes of coconut lurking in the background.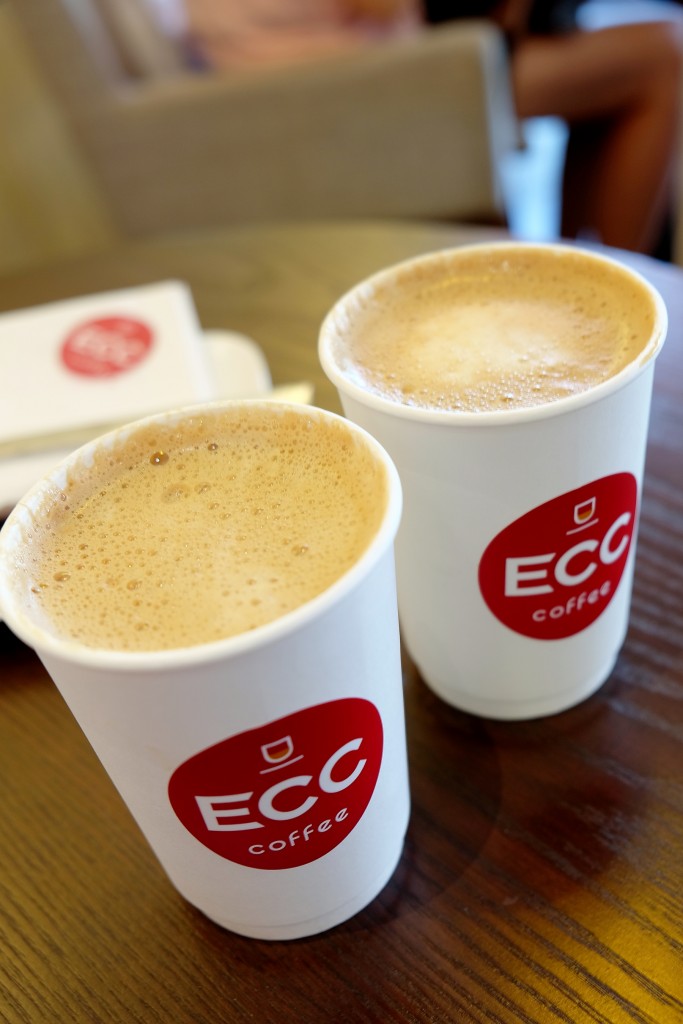 For those who prefer fruit tea, ECC offers 10 types kinds of teas, including lemon, lychee, blackcurrent, pineapple, peach, kiwi, strawberry, soursop, mango and apple. All fruit teas are available in hot and cold. The Soursop Te Freddo  highlighted the fruity characteristics of the fruit, though it would've been more enjoyable served less sweet. The Kiwi Te Freddo on the other hand was light and fruity, with a bit of kiwi tang.
As for chocolate drinks, there are six varieties – strawberry, minty, cioccolata, orange, hazelnut, and caramel. The nicely textured Orange Cioccolata with notes of zesty orange peel was received well. It was pretty interesting, with the acidity of the orange complementing the flavor of the chocolate.
I finished with the Hazelnut Espressa and Irish Espressa. I still prefer the latter more, very well made, smooth and creamy with light hint of sweetness and pronounced strong coffee taste.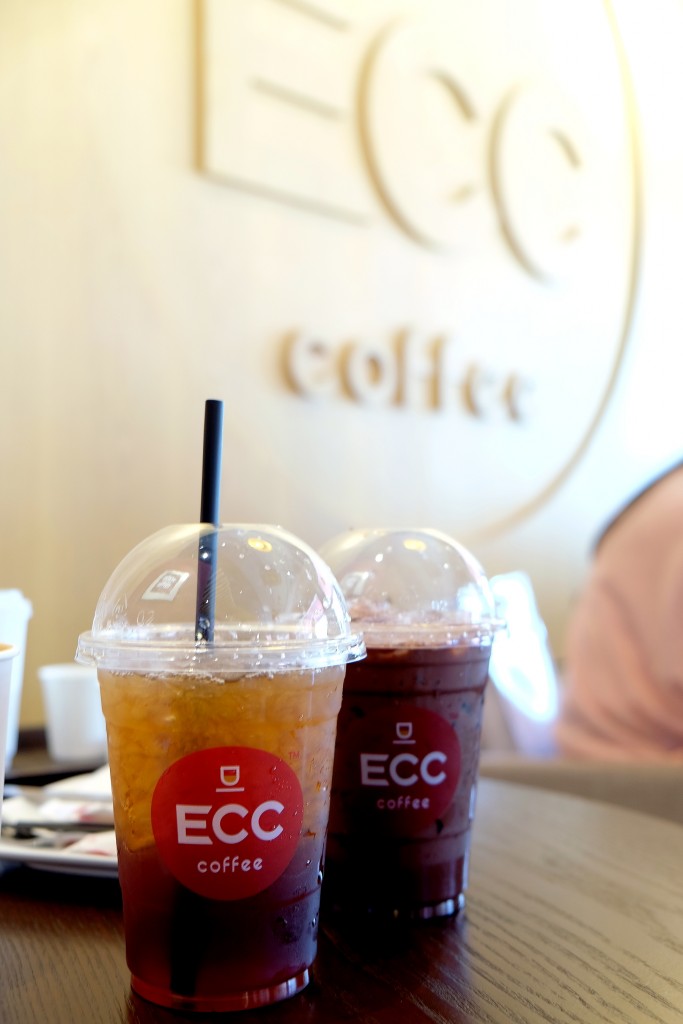 Snacks are always welcome at any cafe, and ECC offers an assortment of pastries, cakes and other goodies to enjoy with the drinks. One interesting spicy choice is the fried curry chicken donutnut with a mildly spiced filling of chicken. Other treats include almond roll, sardine puff, apple strudel and red bean donut with a substantial amount of smooth red bean paste and toppings of sesame seeds.
There is a choice of sitting area at ECC. Besides the air-conditioned indoor seating area, they also have a spacious outdoor area for those who fancy an alfresco experience.
Its all about the right combination of ingredients, and the Irish Espressa, Limon Espressa and Soursop Te Freddo are just some of the drinks that will keep me going back to this new kid on the block.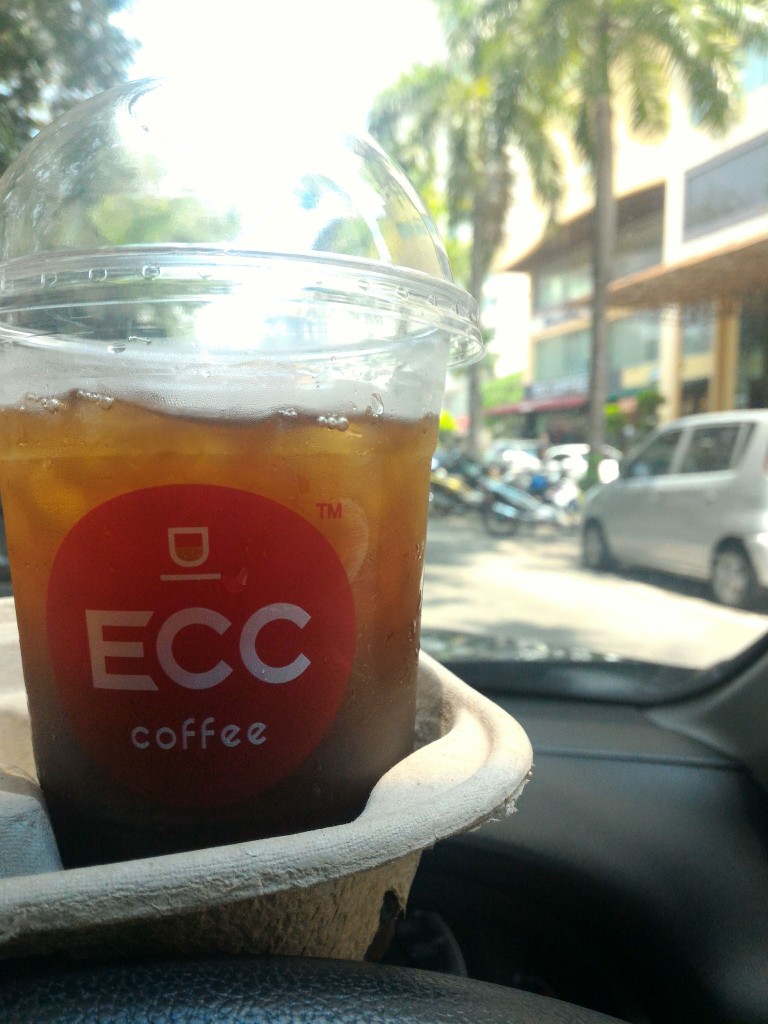 To-go Americano from ECC
If you are pondering on where to get your next cup of coffee, ECC is a drive away. You can't miss seeing the cafe as there's a big signage with the three lettering fixed right in front.
ECC Coffee
Menara Gurney R-G-B1-2
Jalan Kelawai
Penang
Business Hour:
8.30am till 10.30pm (Sunday to Thursday)
8.30am till 12midnight (Friday & Saturday)
Tel: +604-2969466
* Many thanks to ECC Coffee for extending this invitation.