Northern Thai Buffet Dinner @Shangri-La's Rasa Sayang Resort & Spa, Penang
BY CK Lam
Shangri-La's Rasa Sayang Resort & Spa will sets your taste buds alight with tempting June treats from the Thai kingdom at the Spice Market Cafe.
In conjunction with the 6-in1 promotion at Spice Market Cafe, the resort has invited guest Chef Pratthung Taka and Chef Damrongsak Khammongkhon from Shangri-La Hotel, Chiang Mai to share their specialties of Northern Thailand's popular cuisines with diners.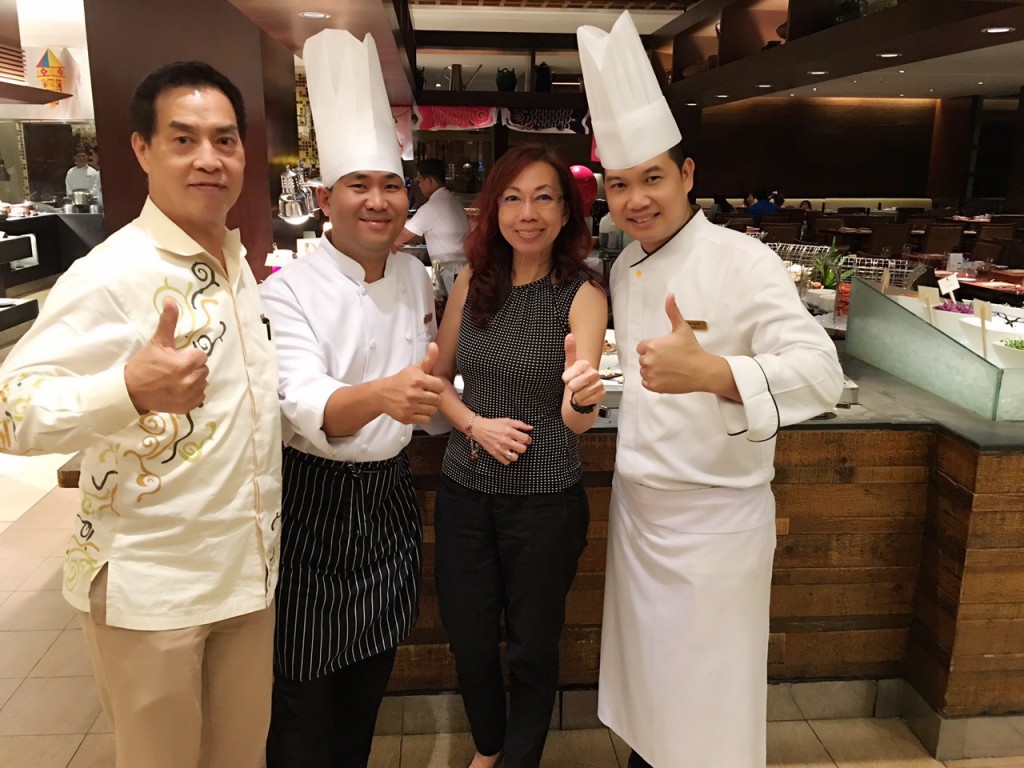 The chefs flaunt a beautiful array of traditional mouthwatering dishes in three rotational menus. "Thai food is based at its heart around the bounty of fresh and flavourful food to be found and grown in Thailand," said Chef Damrongsak.
Expect to find a wide range of popular appetizers and spicy salads such as Som Tum Goong (papaya salad with prawn), Yam Woonsen Gai Sab (spicy minced chicken salad), Goong Takrai (poached prawn salad with lemongrass and shallots), Thod Man Goong (deep-fried Thai shrimp cake), and Yum Hed Khem Thong Goong Sod (spicy enoki mushroom salad with prawn).
The Goong Takrai and Yum Hed Khem Thong Goong Sod are among the notable ones. The latter with long thin white mushrooms prepared with prawns, tomatoes, chillies, and julienne carrot in a slightly sweet and sharp dressing is easy to get hooked on.

The mains featured a marine feast with a harmony of natural flavors and exotic spices. Grab a plate and scoop on some Thao Hoo Phad Med (stir-fried tofu with cashew nut), deep-fried fish cakes, Kaeng Khiew Warn Gai (Thai green curry), Talay Phad Cha (stir-fried spicy seafood), and Kaeng Massaman Nue (massaman curry), to go along with steamed white rice.
The Kaeng Massaman Nue is an appetizing dish. Cooked in a massaman curry paste made of chillies, galangal, cloves, lemon grass, coriander seeds and peppercorns, its rich, sweet and spicy flavors will have you hankering for more. 
On other days, the mains comprise of Pla Neung Manow (steamed fish fillet in lime sauce), Kaeng Phed Ped Yang (red curry with roasted duck), Poo Pad Pongh Karee (stir-fried crab in curry powder), and Choo Chee Goong (deep-fried prawn with red curry sauce and kaffir lime leaf),  to name a few.
Noodle dishes feature highlights such as Phad Thai Goong (stir-fried noodle with tamarind sauce),  Guay Teow Tom Yum (spicy noodle soup with chicken, and chicken ball), and Chiang Mai famous curry noodle with braised chicken drum stick.
Fans of Thai soups will adore the Tom Kha Gai (spicy chicken soup in coconut milk), and Tom Yam Goong – a spicy prawn soup boiled with lemongrass, coriander and generous-sized juicy king prawns.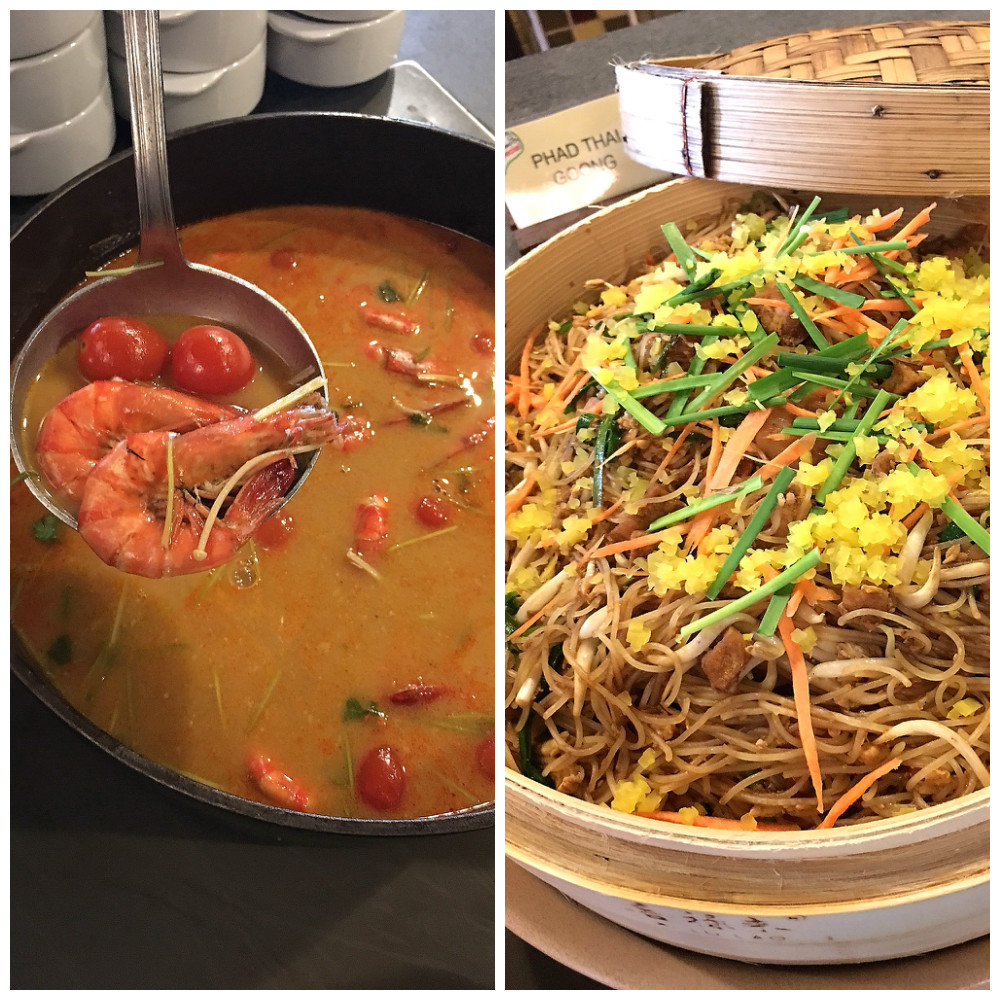 If all that spice is too much to handle, simmer down with free flow of aromatic lemongrass lemonade.
Leave room for the many colorful Thai desserts, fresh fruits and Western cakes. You are bound to like sweet indulgences of Gluay Bhuat Chee with banana cooked in coconut milk and sugar, and Khao Niew Mamuang with sticky glutinous rice, cubes of sweet mango and thick creamy coconut milk served in a shot glass.
Other delectable desserts on rotating menus include:
Kluay Thod (Thai fried banana)
Phuek guan (taro paste dumpling)
Kanom Tom (Thai coconut dumpling)
Sakoo maprow (sago with young coconut)
Bua loy (cice flour dumpling in coconut milk)
Mun lae Pheuk tod (fried potato and taro chips)
Tab tim grob (chest nut flour ball in coconut syrup)
Saku Pueak Maprao Awn (tapioca pearls in syrup and fresh coconut)
The Thai specialties will be the highlight at the buffet from 1st June until 30th June, and is available every Sunday to Thursday from 6.30pm to 10.30pm. Priced at RM173 nett per adult and RM87 nett per child, the buffet spread includes free flow of spiced beverage.
Every Monday and Tuesday, the restaurant offers the highly popular and value-for-money "P60 Promotion", meaning diners pay only 60 per cent of the standard buffet price. It is not available on the eve of the public holidays and public holidays.
Every Friday and Saturday, Spice Market Cafe features the Seafood Buffet Dinner at RM185 nett per adult and RM93 nett per child, and including free-flowing cordial. Sunday Brunch is from noon to 3pm and priced at RM138 nett per adult and RM69 nett per child.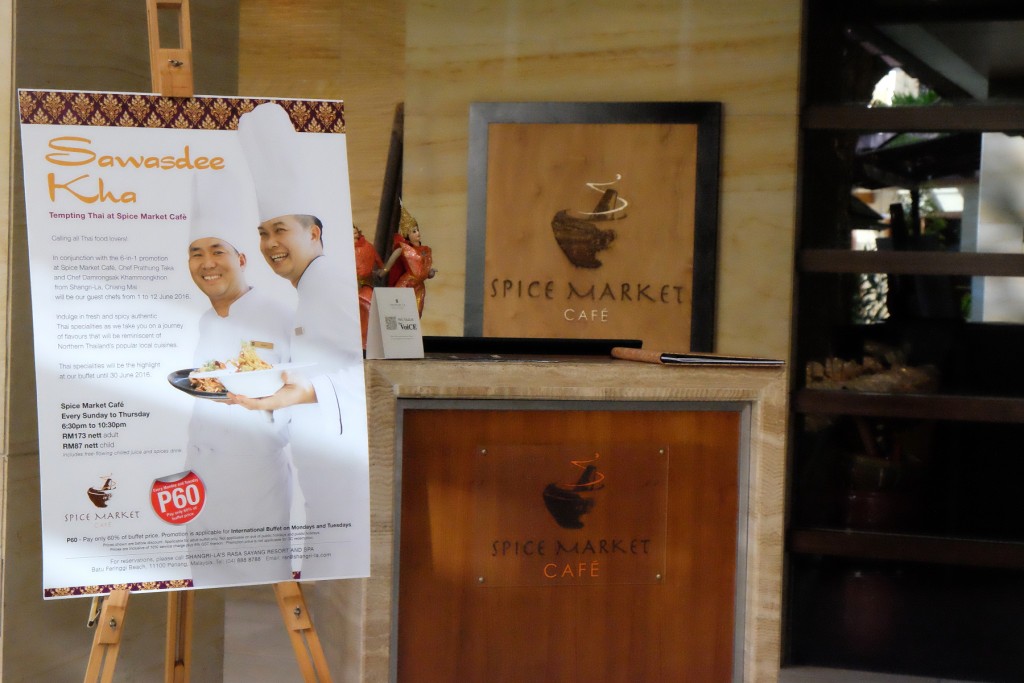 Shangri-La's Rasa Sayang Resort and Spa
Batu Feringgi Beach
11100 Penang
Tel: 04 8888788
Many thanks to Shangri-La's Rasa Sayang Resort and Spa for extending this invitation.