Ramadhan Buffet Dinner at G Hotel Gurney & G Hotel Kelawai
BY CK Lam
Ravish yourself in the festive Ramadhan period with a lavishing buka puasa buffet dinner at both Taste Cafe in G Hotel Gurney and Spoon in G Hotel Kelawai, Penang.
The Ramadhan Buka Puasa Buffet Dinner at both dining outlets starts from 6th June to 5th July 2016. It is priced at RM115nett from Sundays to Thursdays, and RM150nett on Friday and Saturday.
Taste Cafe will be featuring Hari Raya BBQ Buffet Dinner on 6th & 7th July, priced at RM150nett per person.
The 10 rotation menus by Chef Dodi and Chef Ong will delight guests with a range of specialty  dishes and an array of signature Arab dishes. Spoon at G Hotel Kelawai welcomes guests with numerous food stations and the highlights are the  kebab specialties, baked fish, Chorba Au Legumes (Moroccan vegetables soup), and Zazualla (grilled seafood stew).
At Taste Cafe, lamb lovers can appreciate the specialty Baked Whole Lamb. Beautifully seasoned with lots of spices and long cooking time, the lamb with tender, juicy meat and lined with a little fat is divinely succulent.
Refreshing Malay appetizers consist of Kerabu Perut Lembu, Kerabu Udang, Telur Masin, and Sambal Kacang Ikan Bilis. These are served alongside house specialty sauces, namely the Air Assam, Sambal Belachan, Cincaluk Acar Limau, Tempoyak and Budu.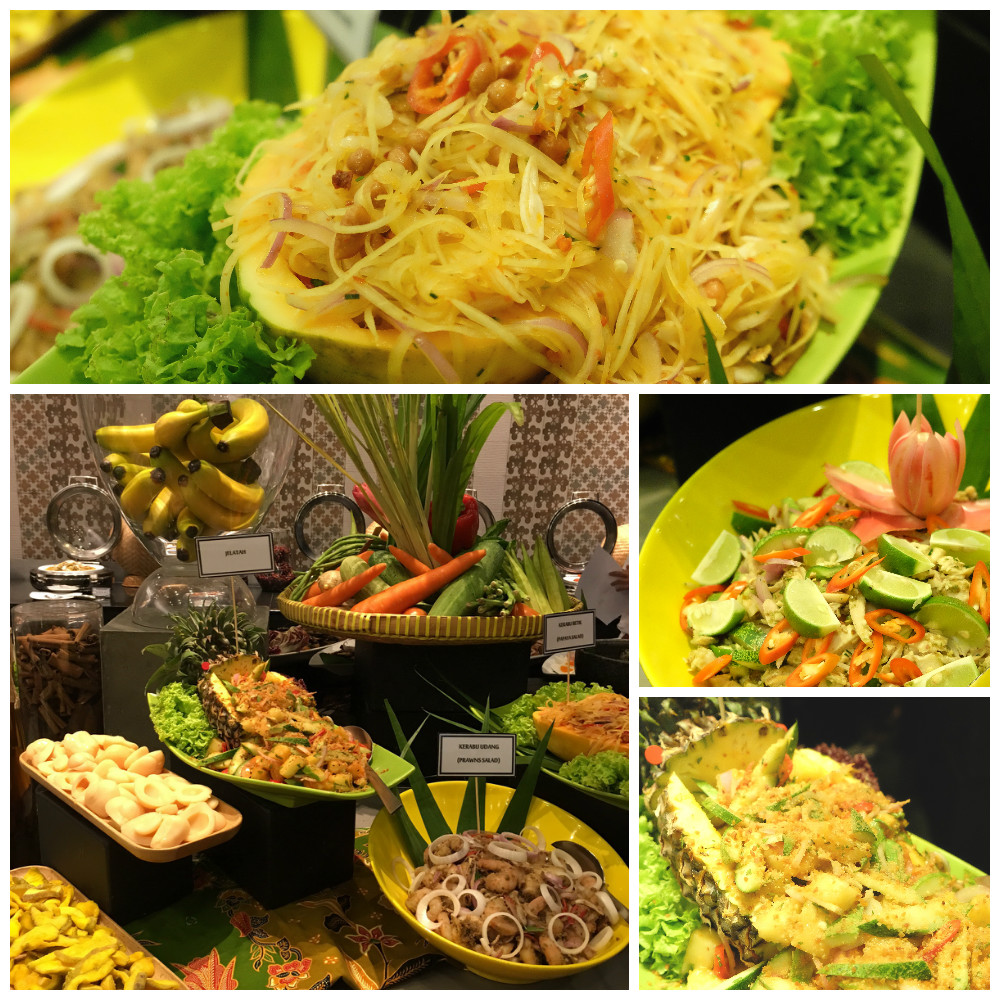 Malay appetizer station
Seafood lovers would not want to miss out on the many seafood and salad displayed. You can enjoy fresh juicy prawns, scallops and mussels along with iceberg lettuce, red chicory, lollo rossa, cherry tomatoes and an array of house-made condiments and dressings.
Then there is the Rojak Buah  – where guests can get hands-on at the DIY mixed fruit salad. Have the salad served with shrimp paste and sprinkling of crunchy chopped peanuts.
Seafood on Ice
Rojak Buah
From the hot chafing dishes, you can start off with a bowl of heart-warming Soto Ayam Mardura Soup, boiled with chicken, coconut milk, lemongrass, spices and fresh herbs.
For something different, try the specialty Bubur Lambok Telur Masin which has a wide variety of savory flavors such as black pepper, salted egg, cumin and many other ingredients.
Also, don't miss out on the plethora of Malay delights including Nasi Kurma, Udang Tiga Rasa, Sotong Goreng Kunyit Berchili, Lebanon Sausage, Grill BBQ Chicken Chop, Thai Roasted Duck Curry, Tunisian Egg, and Grill Lamb Chop. The Udang Tiga Rasa is done just nice, with the prawns retaining its springiness and sweetness while the Rendang Daging Minang is rich in coconut and well spiced.
Rendang Daging Minang
Udang Tiga Rasa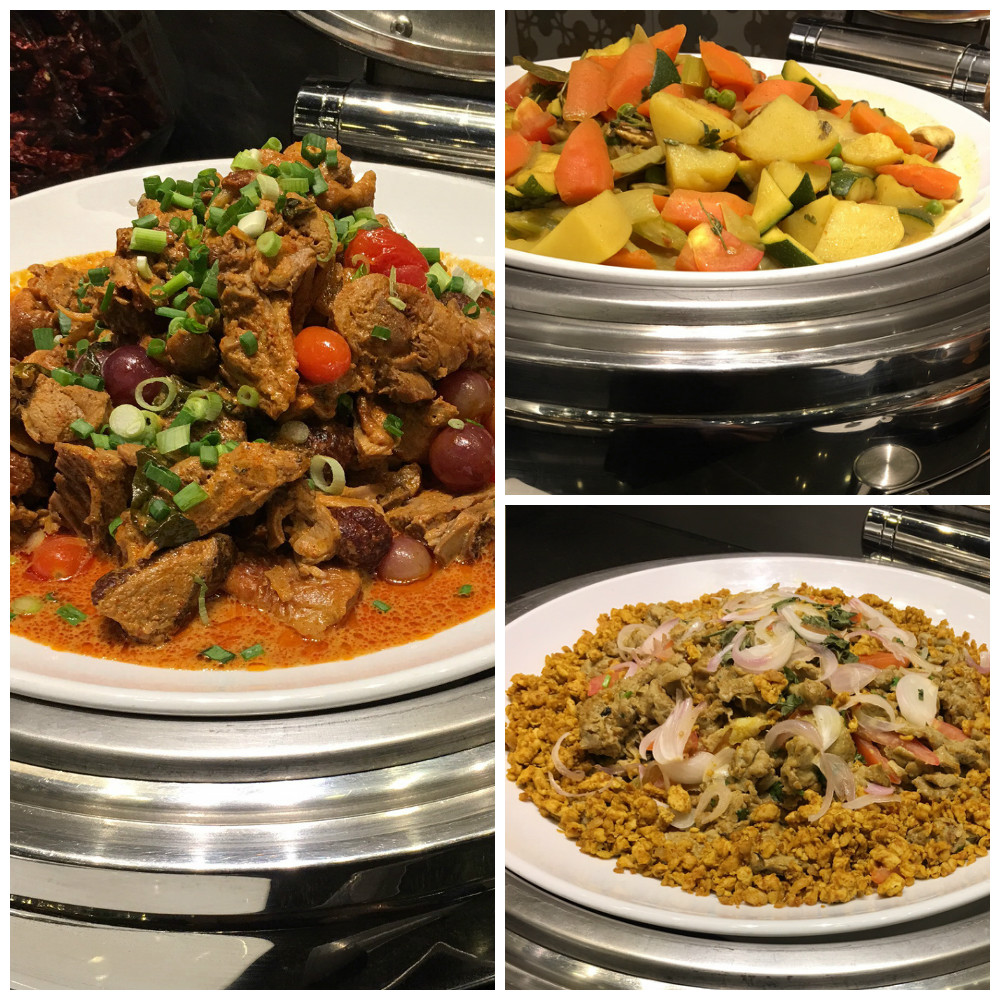 Thai Roasted Duck Curry, Vegetable Tagine and Tunisian Egg
From the outdoor BBQ grill,  one can indulge in a mouth-watering Malay Panggang Feast. The menu selection include an assortment of Sanma Fish, Saba Fish, Prawns, Sausages, Beef and Chicken Satay, Smoked Duck, and Chicken offerings. Prepared using lava stones from Indonesia, the grilled delights have Air Assam, Sambal, BBQ Sauce and Black Pepper Sauce to go with.
Photo courtesy of G Hotel
Desserts are presented with blend of tastes and textures, and the wide variety included traditional Malay kuih, Western cakes and Gelato flavoured ice cream. One worthy recommendation by Chef Dodi is their specialty Durian Mousse which is made with a blend of fresh durian pulp. Durian lovers will sure to find themselves carried away with the pungent fragrance of this dessert.
A new and must try dessert is the Franzipane, an almond-flavoured sweet pastry. Chef Dodi revealed that the dessert is prepared using a special in-house toasting technique to create the tart crust crisp on the outside and soft on the inside.
Teh tarik and warm sweet soup
Traditional Malay kuih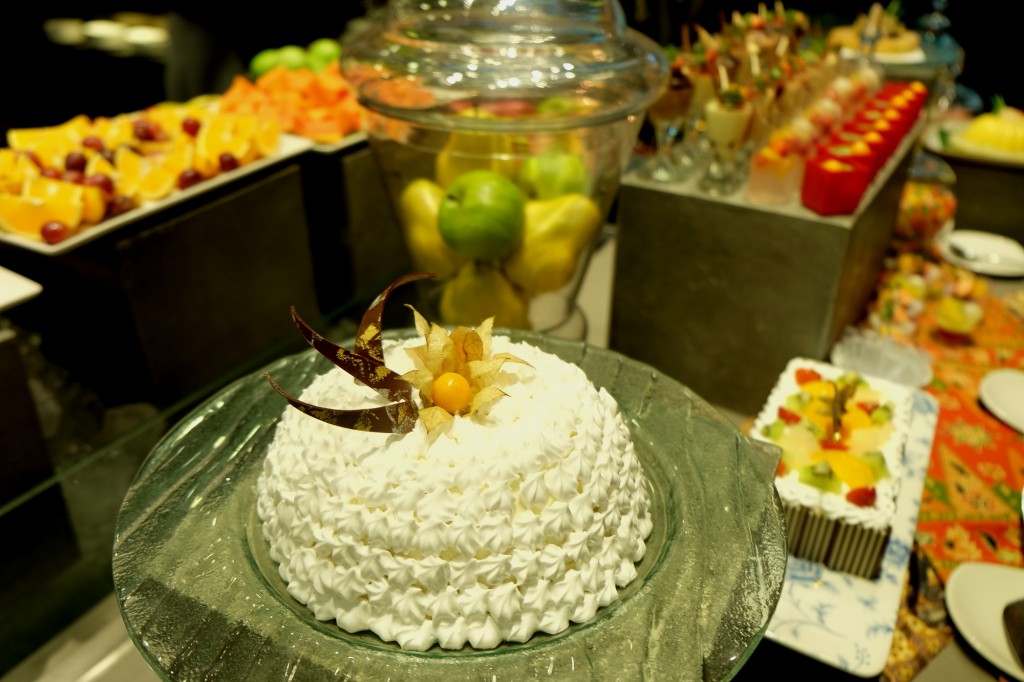 House specialty Durian Mousse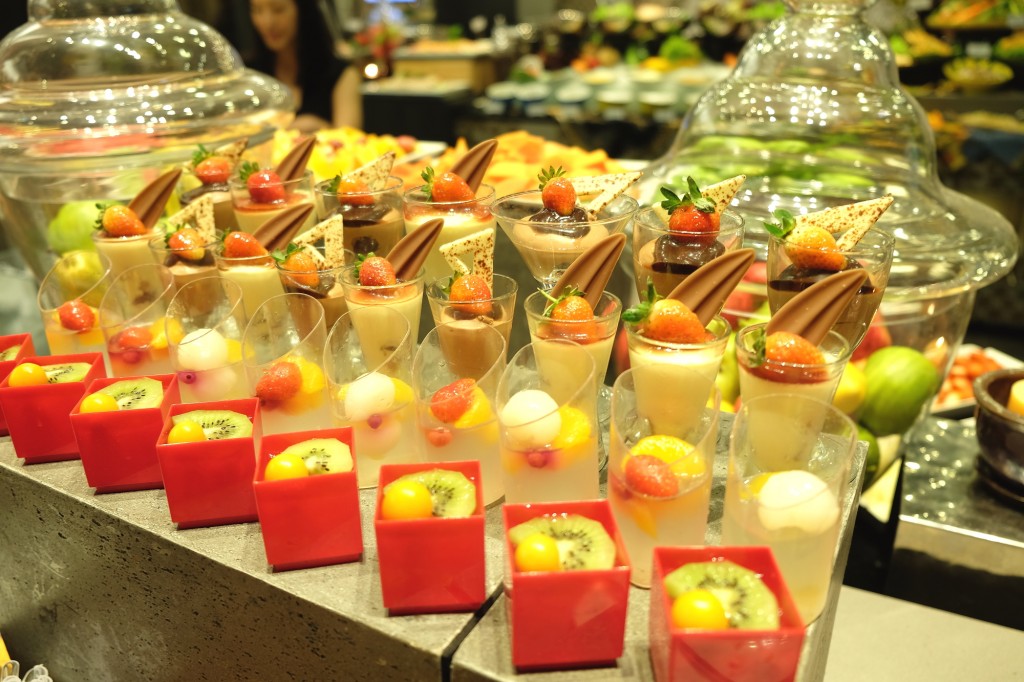 Both G Hotel Gurney & G Hotel Kelawai also offers Private Buka Puasa Dinner and Ramadhan Meeting Package from now till 6th July 2016.
The Ramadhan Meeting Package from RM105nett per person includes complimentary usage of Nintendo Wii,  Wi-Fi internet, conference room for up to eight hours, head and shoulder massage, and fitness session.
The Private Buka Puasa Buffet Dinner for a minimum of 30 persons with free flow of air bandung, individually packed red dates and usage of surau is priced at RM75nett per person.
Taste Cafe @G Hotel Gurney Penang
168A Persiaran Gurney
10250 Penang
Tel: +604-2380000
Spoon @G Hotel Kelawai
2 Persiaran Maktab
10250 Penang
Tel: +604- 2190000
* Many thanks to G Hotel for extending this invitation.