Grapes & Malts, Penang – Place for Wine & Whisky
BY CK Lam
Grapes & Malts is an unpretentious wine and whisky drinking place housed in an old heritage building on Chow Thye Road, Penang. Offering comfortable seating with low ambient lighting & cozy music, it breaks the mould of other wood-paneled wine and whiskey bars around town.
You may choose to either lounge at the lush couches, the bar at the courtyard, or in the room with a crowd of friends.
This watering hole offers 100 over labels of Old and New World wines, and 20 labels of whisky. The affordable wine list offers wine with prices from RM70, with the average price of RM100 to RM150.
Run by Stantley Symons, with Chef Balan in the kitchen, one can enjoy interesting wines and whisky with affordable small plates to pair. The mild and light bar bites come with clean presentation. Choices are limited but surprisingly shines and snack-worthy.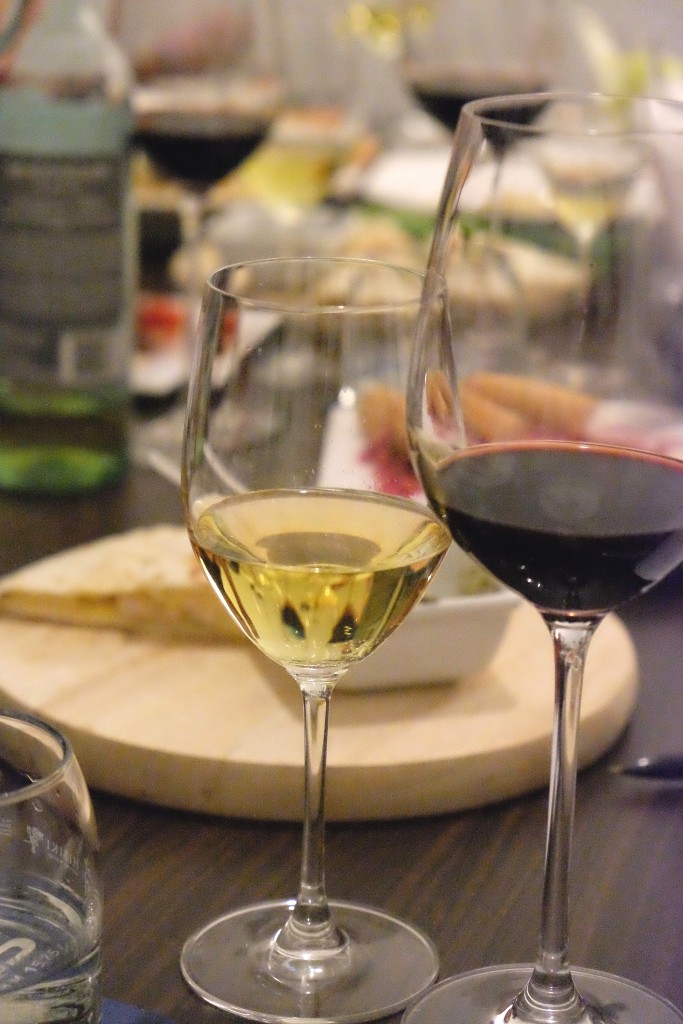 We had our first wine, a white from Australia which cost RM80. The Mc Guigan 2012 Sauvignon Blanc with fresh citrus fruit and gooseberry flavors is a refreshing starter wine paired with crunchy house dip along with olives and mushroom.
House Dip RM6, and Antipasto Olive & Mushroom RM8
On a plate nearby are sauteed mushrooms done with a dash of herbs. Don't let its simple appearance fool you, as each bite of mushroom is absolutely delicious.
Sautéed Mushroom RM10
We love surprises and there is nothing quite like being served with a cheese board with the presence of spring onions. According to the owner, Grapes & Malts is the only place serving cheese board this way in town. The hot selling dish put together with Edam, Gouda, Brie, Camembert, and plain crackers was enjoyed with Reillys 2012 Cabernet Sauvignon. The wine from a small winery in Australia is priced at RM99.
The owner took some time to impart some knowledge and demonstrated on how to best enjoy the dish. Firstly, enjoy a sip of wine. Take a piece of cracker, lay it with a small portion of cheese and put in the mouth, followed with a bite of spring onion. While munching, have a sip of the red wine! The aroma of the full bodied red wine bursting with blackcurrant was so much sweeter and aromatic when paired with the cheese board.
Cheese Board RM26 (small)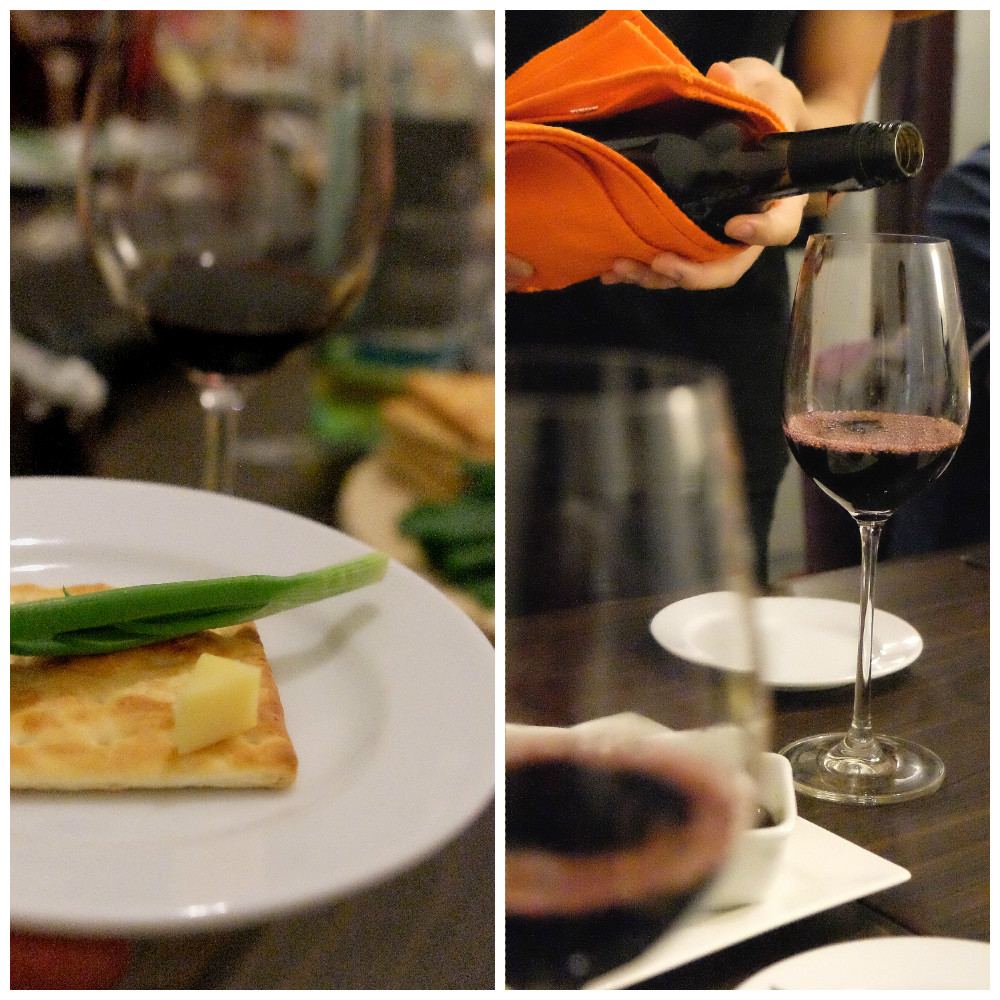 Reillys 2012 Cabernet Sauvignon
Also paired with the red wine was the Sauteed Chicken and Sautéed Beef, with both dishes so simple in presentation. The latter was the best, with flavor of the medium rare meat made simply with enough Himalaya sea salt.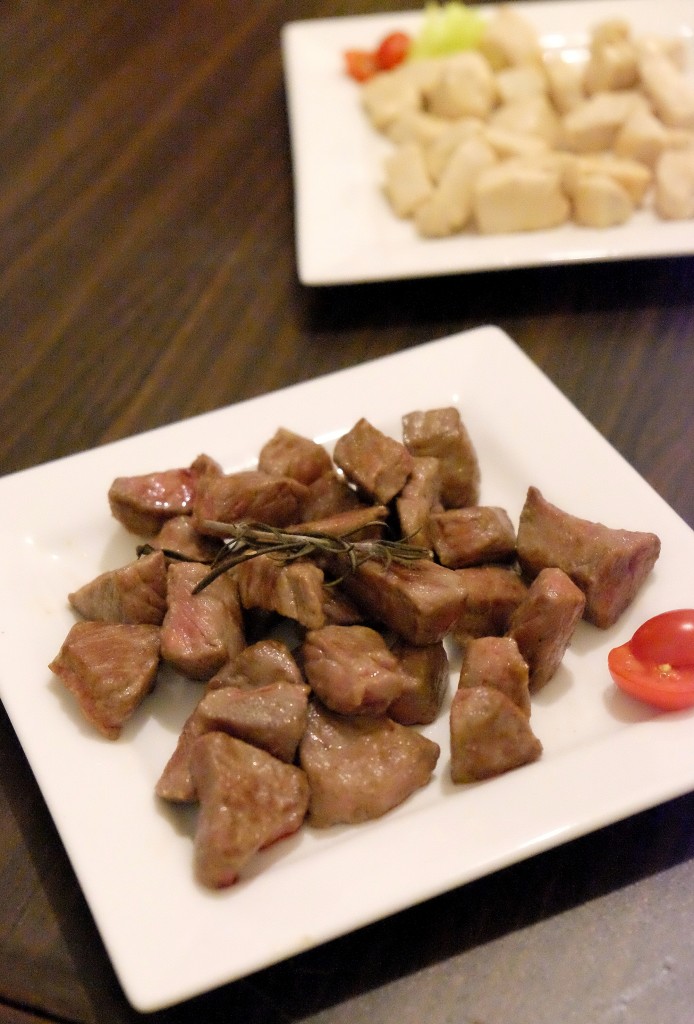 Sautéed Beef RM14 and Sauteed Chicken RM8
Followed up was the Chicken Jumbo Sausage. It was a little blander on its own but it started to pick out its flavor when paired with the accompanying homemade sauerkraut.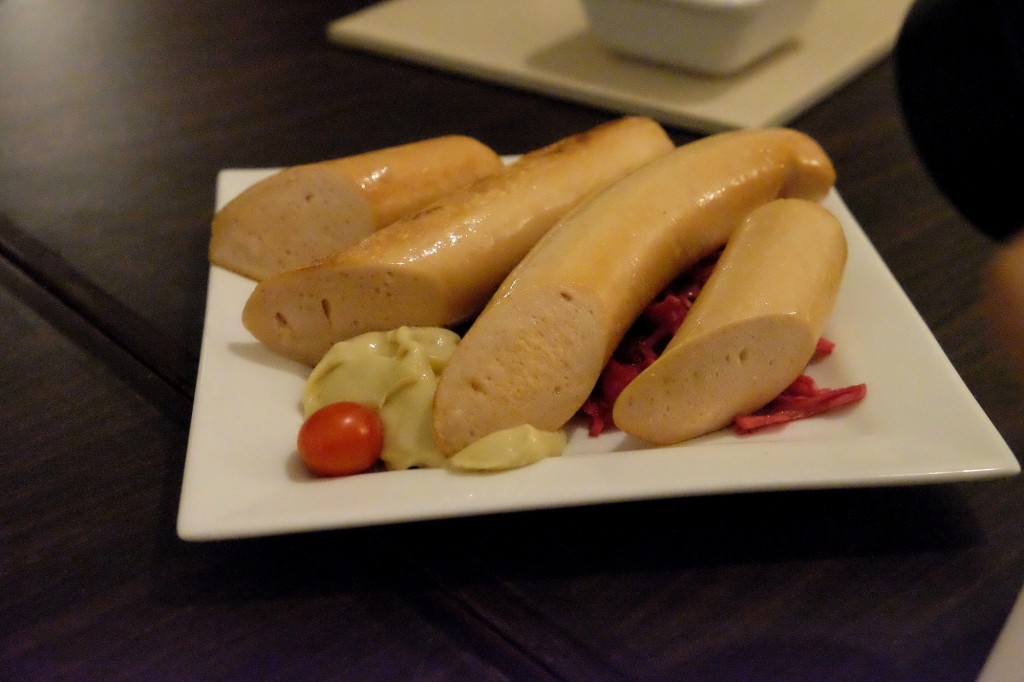 Chicken Jumbo Sausage RM12
The Chicken Quesadilla is the second best seller of the house. It comes with house made guacamole spread combining cheese, ripe avocado and herbs. Using the right type of cheese, its sharpness adds a layer and reinforces the creaminess of the avocado.
Chicken Quesadilla RM12
There is the Meatball with Concasse, a robust plate of crunchy meatballs. The meatballs are covered in rich and slightly tangy sauce made using three types of chopped seedless and skinless tomatoes besides basil and other herbs.
Meatball with Concasse RM17
The smooth Chicken Pate Spread with just the right creamy weight is served with baguette. Prepared with butter and topped with layer of olive oil, the dish is a crowd-pleaser for pate lovers with its enjoyable flavor and melt-in-the-mouth texture.
Chicken Pate Spread RM13
Heavy filling pasta dishes are also available, with choices of Aglio e Olio with Chicken and Aglio e Olio with Prawns. What is more interesting is the prawn version with umami taste and tender prawns.
Aglio e Olio with Chicken RM9
Besides wines, the outlet also carries whisky. Fans of Scottish single malts would be delighted with the different variations of Auchentoshan. For those who like the taste of whisky on ice, there is the trendy ice ball made with alkaline water.
We had a bottle of Auchentoshan 12 years old. Triple distilled and matured for over twelve years, it has creme brulee smell and a slightly dry finish. If you prefer to have a shot instead of opening a bottle, each shot of the Auchentoshan 12 years old is priced at RM19.
Triple distilled 12 years old Auchentoshan
To cleanse your palate, the outlet offers Italian SanPellegrino (sparkling mineral water) and Acqua Panna (still mineral water), each priced at RM16. There is also free alkaline Cuckoo water.
Water to accompany your whisky
Grapes & Malts draws in people for wine and whisky tasting classes, and an excellent happy hour, happening from 4pm till 8pm, with the 2nd bottle of Reilly's at 20% discount.
Business hours are from 4pm till 12midnight. The closing day is on Sunday.
Grapes & Malts Wine Bar
46 Chow Thye Road
10500 Penang
Tel: 04-2281628
* Many thanks to Grapes & Malts Wine Bar for extending this invitation.