Tavern In The Park Cafe @George Town, Penang
BY CK Lam
George Town in Penang is a great place to go cafe hopping. For those who prefer one with green surroundings, Tavern In The Park is a great place to check in.
Located at Hin Bus Depot, the bright glass cafe is surrounded by a large manicured garden. Its entrance boasts a counter framing the open kitchen while its interior has a mismatched mix of chairs and tables.

The cafe offers both air-conditioned indoor and alfresco dining area. Of course, if the weather is fine, the outdoor seats are preferable as it gives diners the choice to enjoy fresh air, and seeing the many exciting mix of art work.
The compact menu includes a selection of salad, soup, crostini, burger, steaks and hot and cold beverage offerings. A recent brunch had us started with pressed coffee, followed by some light food.
Don't skip out on the crostini with crunchy edges. A platter comes in a set of three. To appeal to the varied tastes of crostini lovers, there are seven sweet and savoury options: smoked salmon, chicken pesto, 3-mushrooms, sun-dried tomato cucumber salsa, chicken wasabi mayo, strawberry & blueberry, and peanut butter banana.
We had the peanut butter banana, sun-dried tomato cucumber salsa, and  3-mushrooms, all small enough to enjoy without overwhelming. The peanut butter banana is a standout sweet option which gave a dose of saltiness and sweetness.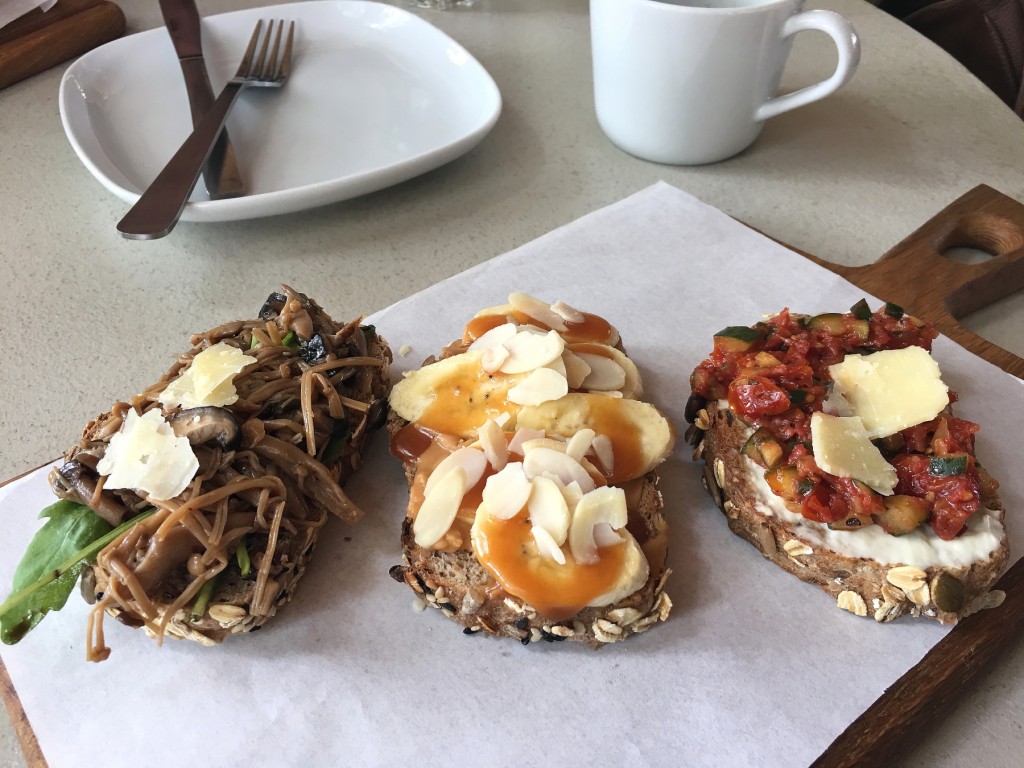 Aside from the crostini, they also offer burger with chicken and beef choices. We had the beef burger which had the bun harbouring a beef patty. It comes with a basket of addictive golden fries, together with chilli, tomato and mustard sauce. The portion of the fries is a bit small. They will do well to toss in a bit more.
If you're more in the mood for a full meal, there is the steak and fried rice. As for dessert, the cafe only offers a few to accompany the meal.
Tavern in the Park is open everyday from 10am till 10pm. And on Sunday, the surrounding area is merrier with a pop-up market set up with stalls selling items such as food and drinks, home decor and clothes.
Tavern in the Park
Hin Bus Depot Art Centre
125 Jalan Timah
10150 Georgetown
Penang
Tel: 04-218 9394