Banfi Wine Dinner @Farquhar Mansion, Penang
BY CK Lam
My Wednesday evening wine tasting at Farquhar Mansion organized by Asiaeuro Wines & Spirits was exciting with a range of Banfi wines. The wine dinner with Guillaume Blanchard, the Regional Manager – South Asia of Castello Banfi  included two whites and an impressive collection of reds.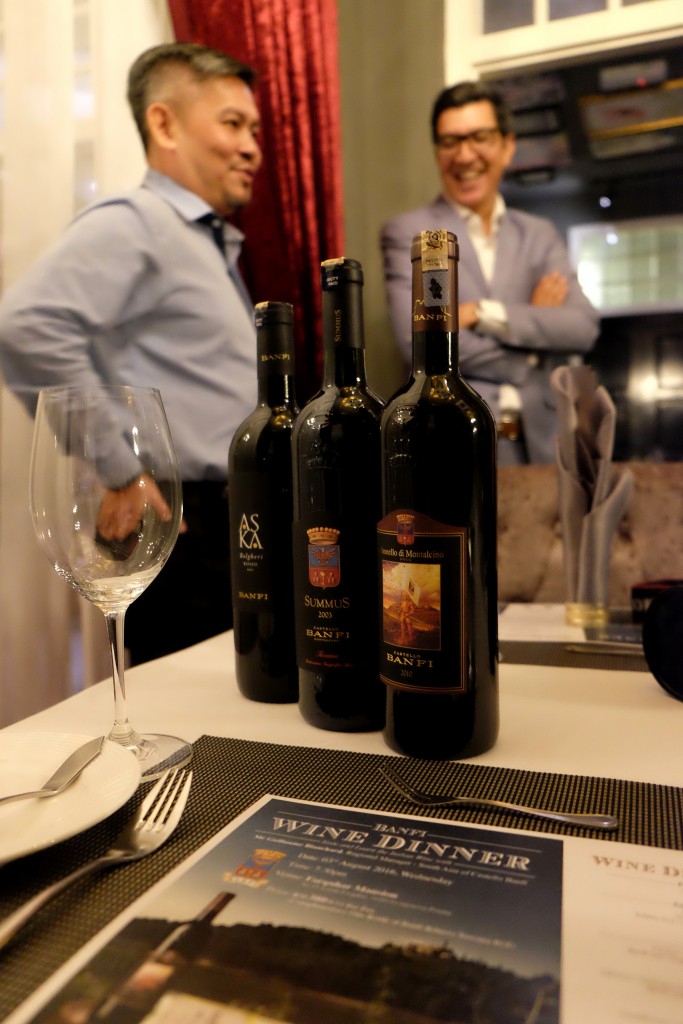 Together with a bunch of wine lovers, we had our palates treated to the Fumaio 2014, San Angelo Pinot Grigio  Toscana IGT 2014, Aska – Bolgheri DOC Rosso 2013, Brunello Di Montalcino DOCG 2010, Summus Toscana IGT 2003, and Rossa Regale DOCG.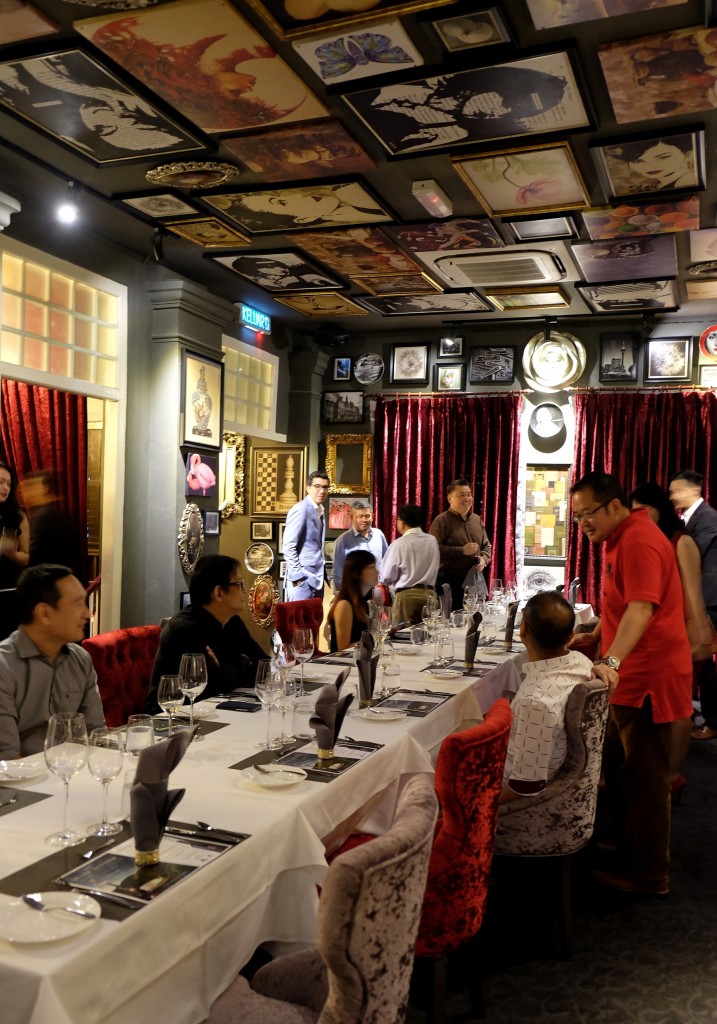 The evening begins with the Banfi Fumaio 2014. Made with varieties of Sauvignon Blanc and Chardonnay, the slightly acidic youthful wine was paired with cocktail and amuse bouche, in a refreshing way.
Banfi Fumaio 2014
The second wine for the evening was the Banfi San Angelo Pinot Grigio Toscana IGT 2014. Made from pinot grigio from estate vineyards in the southern part of Montalcino, the white wine exhibited high acidity and a long finish.
High acidic wine always work well with salty seafood and the chef had the wine paired with fresh oysters. The dish was served with crab consume, caviar and sea urchin.
I would have enjoyed the food-and-wine-pairing more, if the oysters were served with only salty fishiness of caviar and sea urchin,  minus the creamy based crab consume.
The event also had Guillaume Blanchard unveiling the brand new Banfi Aska, a Bolgheri Rosso 2013 DOC. The ruby red wine from the legendary Bolgheri zone was made mainly of carefully selected Chardonnay and Sauvignon Blanc, with elegant aromas of toasted wood, coffee, spices and red berries. It was the accompaniment to the dish of salmon tattar with ikura and half grilled salmon which was many-layered in texture. It was an excellent pairing.
Guillaume sharing his advice on the new Banfi Aska
Banfi Aska paired with salmon tattar, ikura and half grilled salmon
Another dish – cauliflower, espumal fluffy egg white and truffle oil

For the main course, there is a choice of cod fish with miso or tenderloin with beef jus. The dish of tenderloin with tender texture and medley of tastes was appetizing paired with the Banfi Brunello Di Montalcino DOCG 2010. Made with Sangiovese grapes and aged in French oak barrels and Slavonian barrels, the Brunello delivered very complex and soft aromas and it had our palates coated with hints of liquorice and tobacco.
Also on the menu was the Banfi Summus Toscana IGT 2003,  a blend of Sangiovese (40%), Syrah (25%) and Cabernet Sauvignon (35%). Expect a deep red colour wine with elegance, fruity bouquet and long persistent finish.
Through the tasting, Guillaume noted that both wines have great aging potential.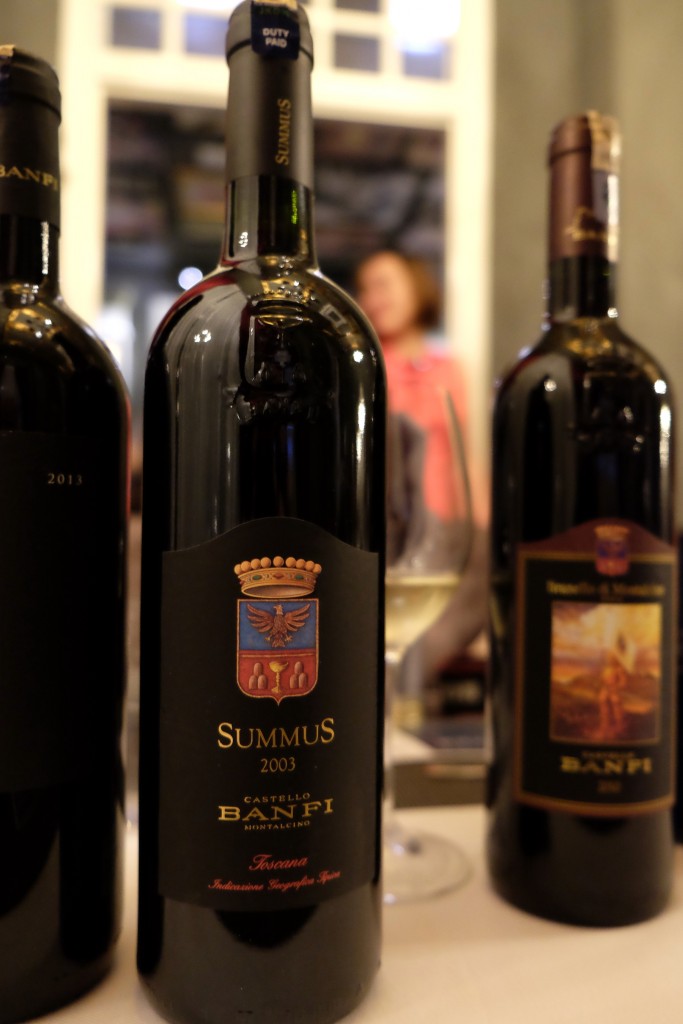 Tenderloin with beef jus
(Clockwise) James Loh, myself, William Chong and Guillaume Blanchard
The Banfi Rossa Regale DOCG made its appearance as the dessert wine. Made with brachetto grapes, with aromatic bouquet with hints of raspberries, strawberries and rose petals, the lovely wine was paired with some cheese and fruits.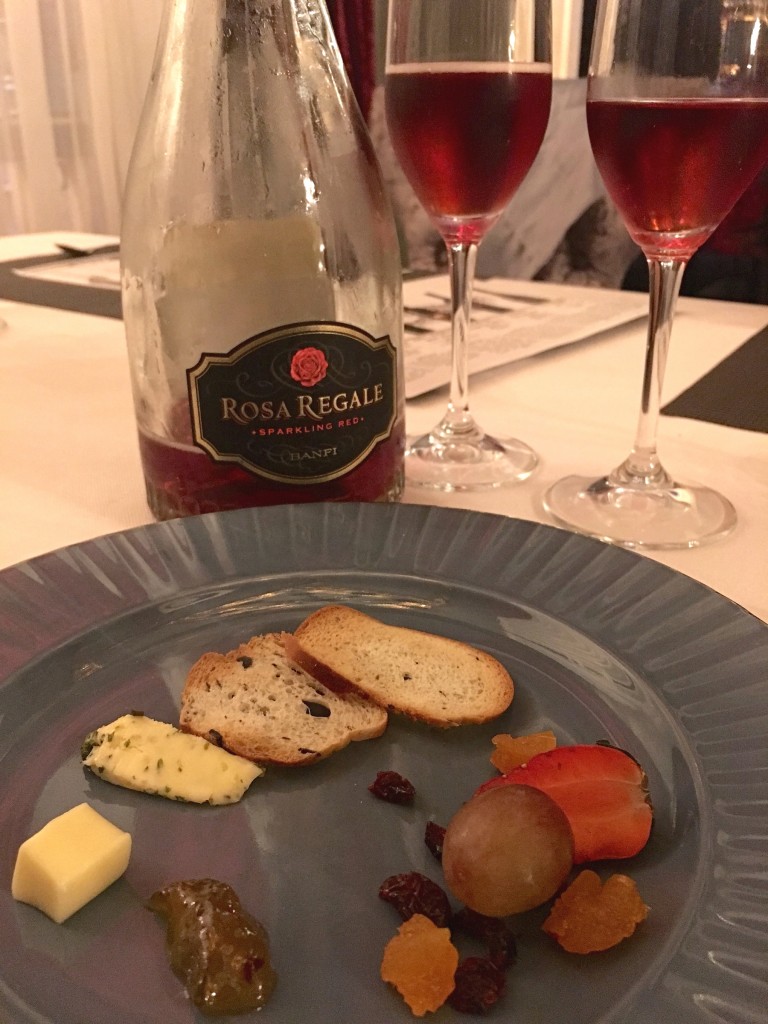 Cheese platter
Dessert of the day
Many were captivated by the selection from Banfi. The Italian wines are distributed in Malaysia by Asiaeuro, and  available at Vino Vino Bistro Penang.
Banfi Fumaio Toscana IGT 2014 RM90
Banfi San Angelo Pinot Grigio Toscana IGT 2014 RM132
Banfi Aska Bolgheri DOC Rosso 2013 RM163
Banfi Brunello Di Montalcino DOCG 2010 RM269
Banfi Summus Toscana IGT 2003 RM282
Banfi Rossa Regale DOCG RM232
Banfi Belnero Toscana IGT RM160
* Many thanks to Asiaeuro for laying on this invitation.