Economy Rice Stall @Pengkalan Weld PDC Flat, Penang
BY CK Lam
We were happy to hear that a stall selling economy rice is now open for lunch at the Pengkalan Weld PDC Flat in Penang. Located off Lebuhraya Tun Dr. Lim Chong Eu, the outlet managed by Madam Tan Lian Liaw offers a small menu that has a mix of Nyonya and Chinese dishes.
When we stopped by an afternoon at the outlet, we enjoyed a taste of home with number of dishes complemented with white rice, tumeric, blue pea flower, lemongrass, and pumpkin rice.
My friend chose a selection of green chicken curry, stir-fried jiu hu char, and deep-fried pork with three types of rice. The green chicken curry was very rich, with chicken cooked in a creamy sweet and spicy curry.
I had mine with chicken curry and also tau yue bak (braised pork). The pieces of pork were braised till tender in soy sauce infused with flavors of herbs and spices. With some added-on sourish pickled cucumber, onions and red chilies, I have to admit my meal was pretty tasty.
There are also several other dishes that would go great with rice. If you are a fan of seafood, you will love the fried assam heh which had prawns marinated with a union of sour tangy tamarind pulp, sugar and dark soya sauce. Another personal favorite is the rempah fish, filled with gently aromatic spicy filling of home made chili paste.
As for the deep-fried chicken, the meat is done with bold flavors of marination but is slightly on the dry side. On the vegetable choices, there are dishes of spinach, brinjal and sambal lady fingers (okra).
The outlet offers drinks too.The signature blue pea flower drink cooked with barley, white fungus and gingko worked perfectly for us. A slice of lemon gives the drink a refreshing kick.
Besides that, there are also other surprising specialties for certain Chinese festivals. On chap goh (fifteenth day of the six month Chinese calendar), Madam Tan would serve colorful tang yuen and Nyonya chang.
The Nyonya chang has gultinous rice marbled with blue pea flower. Leaning towards sweet and savory, ingredients include coconut milk, tang kua (candied winter melon), peanut, cukur, white sesame seeds and pork among others.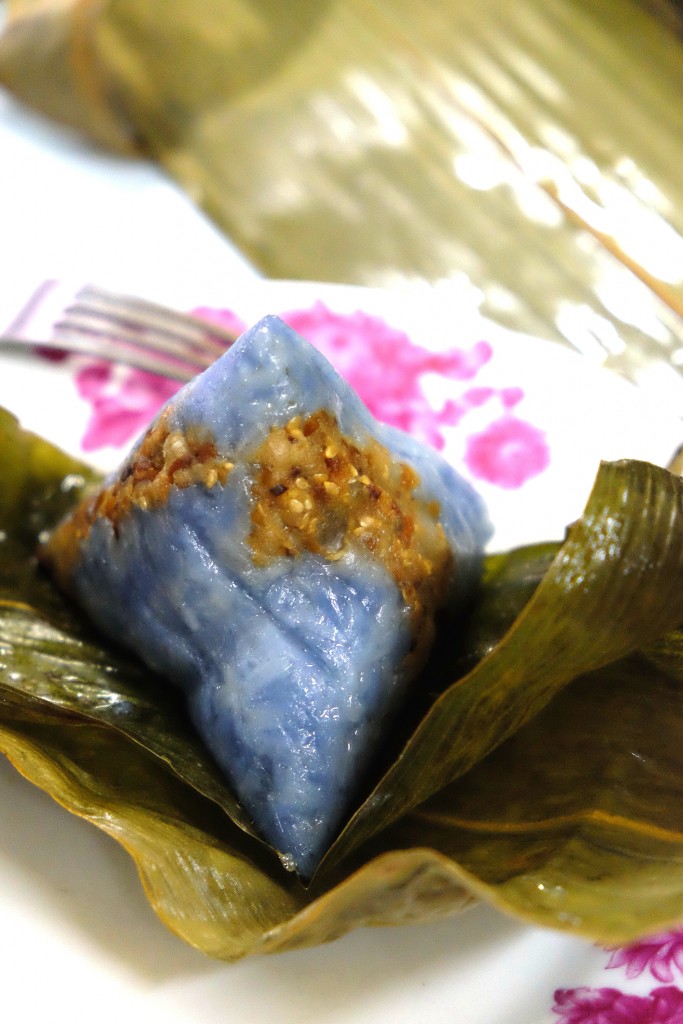 Nyonya Chang RM4
The colorful tang yuen is freshly made and sold on the spot. If you're lucky, you will be able to witness the preparation – the tang yuen made  from glutinous rice flour are rolled into a small ball and cooked in a pot of hot water before served in sugar syrup.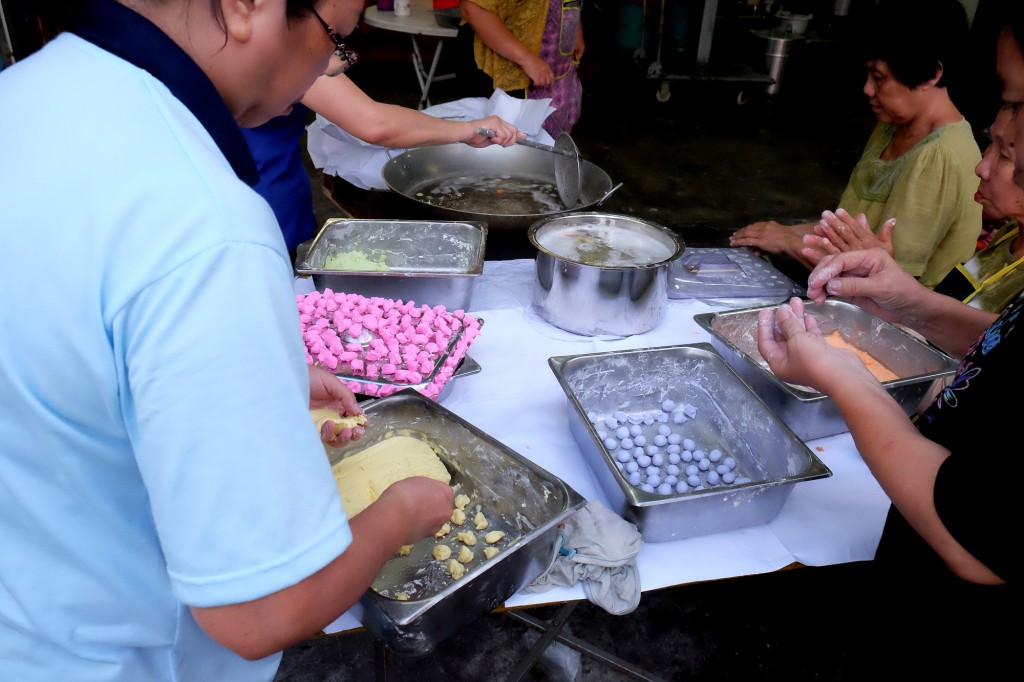 Making the gultinous tang yuen for the chap goh Chinese celebration
All in all, I find this a simple place to have a tasty meal of home-cooked food for lunch break. The eatery is open from Monday till Saturday and business hours are from 11.30am till 3pm.
256 Pengkalan Weld PDC Flat
10300 George Town
Penang
Mobile No: 012 4097881