The Safe Room @Campbell Street, Penang
*The outlet has since closed down
Set on the busy Campbell Street in Penang, The Safe Room is a great place to have dessert, snack or meal. The pork free outlet has plenty going with its coffee, tea and homemade liquid nitrogen ice cream that have proven popular.
We spend a leisurely afternoon at the cafe which was in full swing with diners. The location housed in a refurbished goldsmith's shop, makes good use of the building by retaining the safe and keeping an open-plan layout.
For those who fancy liquid nitrogen ice cream, The Safe Room serves a range of ice cream made with a combination of freshly brewed coffee, fresh milk and fresh cream. The scoops of creamy coolness here are big.
We tried a couple:  sweet and savory Salted Caramel Coffee, Butterscotch Popcorn, and the Mocha. For coffee non-lovers, the Strawberry Liquid Nitrogen Ice Cream would be an ideal choice.
Salted caramel coffee liquid nitrogen ice cream RM15.90
Strawberry liquid nitrogen ice cream RM13.90
We arm ourselves with spoons and dig in the Coconut Liquid Nitrogen Ice Cream, served in a coconut with nutty addition of roasted peanut toppings. Prepared with coconut water, coconut flesh, vanilla ice cream and syrup, the healthy low-fat coconut creation remains the must-order menu item.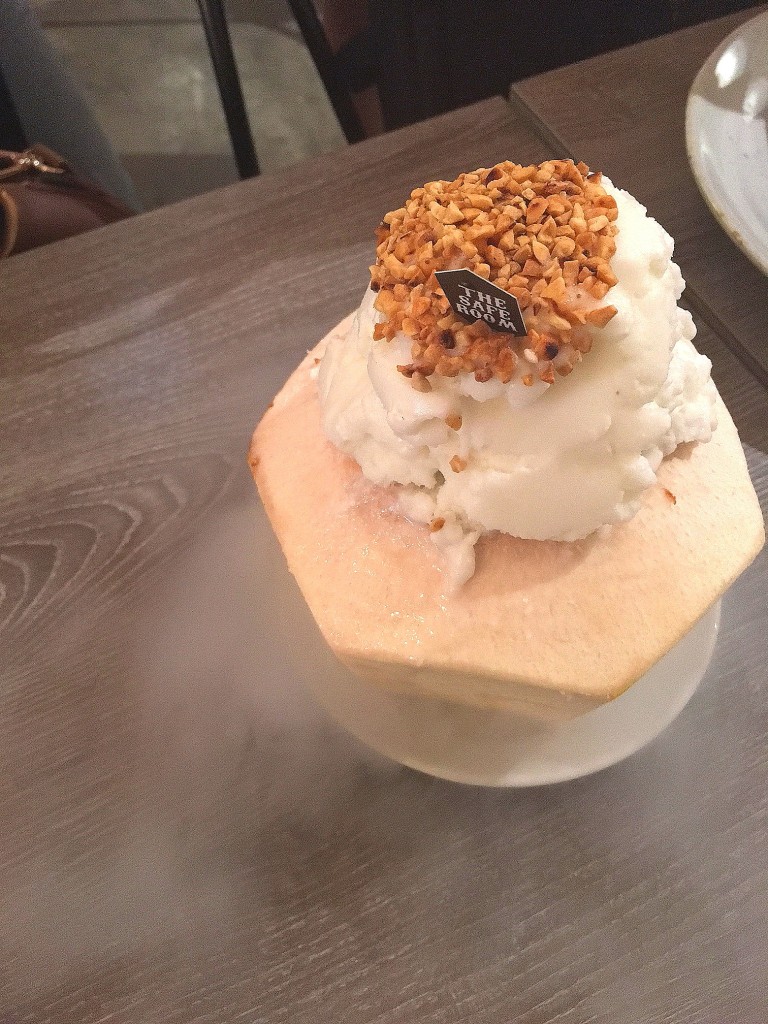 Signature coconut liquid nitrogen ice cream RM16.90
The biggest sigh of excitement came with the liquid nitrogen Cloud 9 Affogato. The recently introduced special addition call to childhood joys in the form of creamy vanilla ice-cream covered up with white cotton candy cloud. Drizzled with dark aromatic espresso, the sinfully rich dessert indeed tasted so satisfying.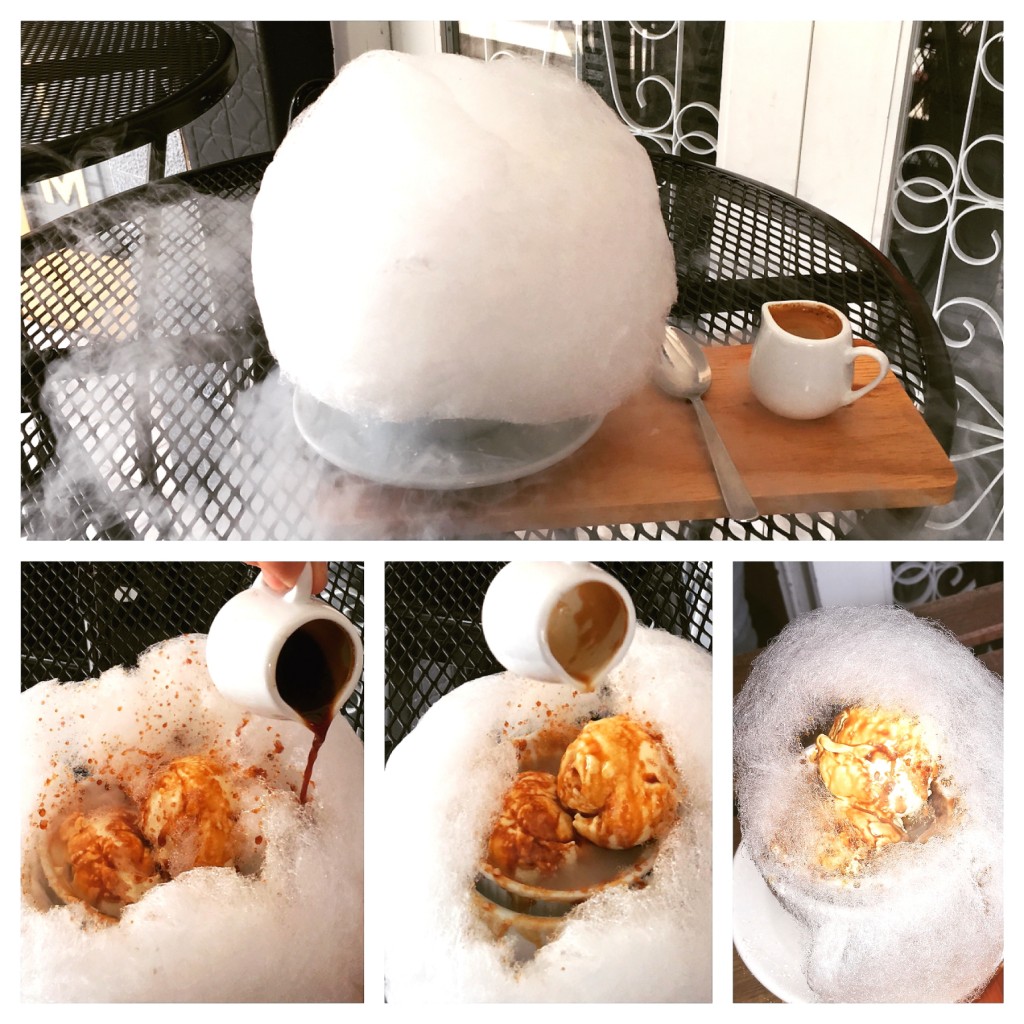 Cloud 9 Affogato RM15.90
And then there is the food. The Dragon Breath is a fun 'snack' of caramel flavored popcorn made instantly with liquid nitrogen. The machine is situated at the counter so it's possible to watch the popcorn making. Served in a transparent bowl with a cloud of vapour, the slightly sweet crunchy popcorn provides a cold sensation in the mouth.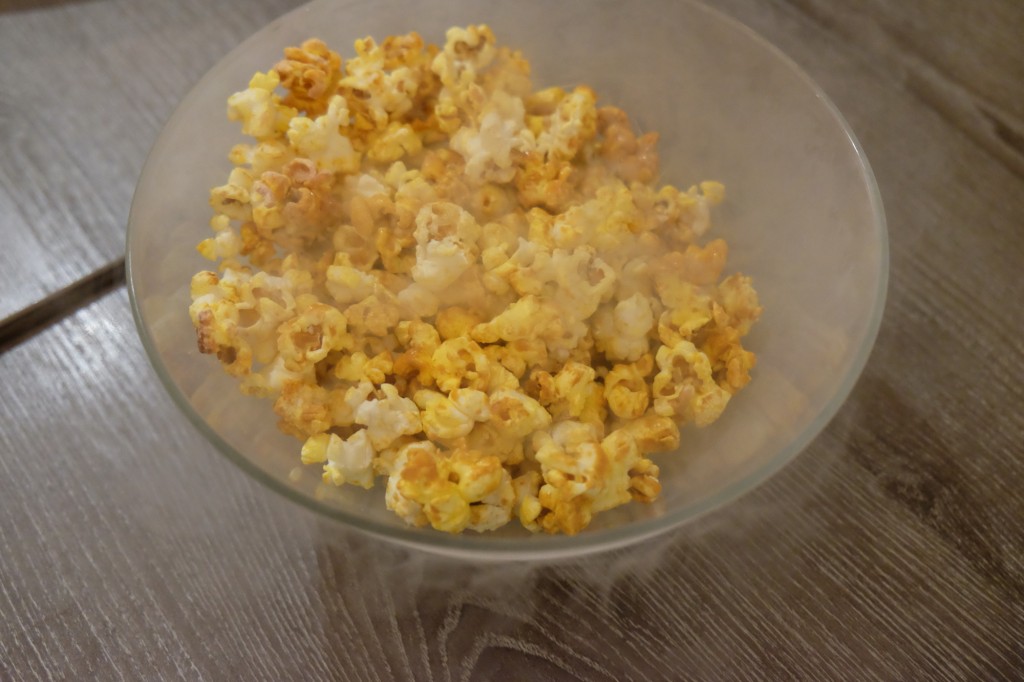 Dragon's breath RM13.70
The cafe is also dispensing freshly brewed coffee using Arabica blend roasted with a fine balance of Brazilian, Ethopian, Columbian & Sumatran coffee beans. Interesting concoction include creme brulee cappuccino and English toffee cafe latte which offers the luxury of milk.
For non-coffee friends, drink options are vibrantly varied, with choices like nitrogen mocktails, freshly squeezed juice, ice blended, and San Pellegrino soda drinks.
Green tea frappe & ice cappuccino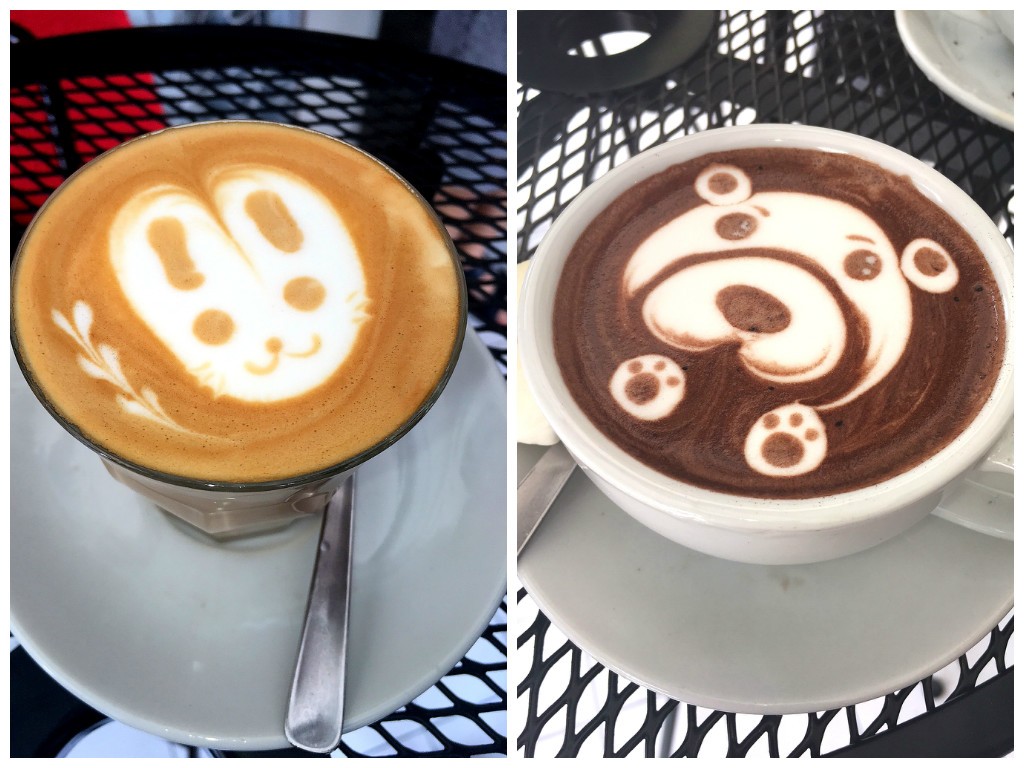 Latte and hot chocolate with marshmallow
Western cuisine prepared using fresh ingredients simply adds to the attraction. Light bites are nothing overly flashy, but are delights to crunch on. There is an amount of choices – fish fingers, potato wedges, calamari, garlic bread, French fries and bruschetta.
Bruschetta RM8
The Seafood Spaghetti is ideal for a seafood pasta though other choices are on offer, too, such as Smoked Duck Miso Pasta, Cheese Baked Salmon Linguine, Chicken Bolognese and Smoked Salmon Carbonara.
Seafood spaghetti RM26.90
If you are not a fan of pasta, there are heartier dishes such as Baked Fresh Barramundi FIllet, Osaka Miso Lamb, Chicken ala Japonais, and Safe Room Grilled Chicken. The latter marinated in mixed herbs proved to be a tasty dish with accompanying crunchy asparagus, broccoli and grilled potatoes.
The Safe Room grilled chicken RM20.90
Besides favorites to return to, there are still many choices to try from the wide variety of desserts, drinks and selection of main meals. Set lunch is served from 12pm to 3pm.
The Safe Room with its late closing hours is perfect for those staying up late. The cafe opens at 12noon till 11pm, from Tuesday to Friday. On Saturday and Sunday, the cafe closes at 12 midnight.
The Safe Room
42 Lebuh Campbell
10100 Georgetown
Penang
Closed on Monday