Lavish – Fusion Bakery By Love A Loaf
BY CK Lam
Love A Loaf, which gained its popularity with several outlets in Penang, has also launched Lavish Fusion Bakery at Victoria Street. Its location in George Town, (UNESCO World Heritage site) is attracting the city's foodies (especially the office crowd) and also people out-of-town.
At its grand opening celebration on 20th November 2016, a group of us were invited by co-founder, Vincent Tan (also managing director of Love A Loaf) to check out the concept first hand, and savor some of their creations.
In terms of the menu, it offers new and unexpected treats, not just the same standard menu of Love A Loaf.
The bakery cafe appears to be small from the front, having shared with florist shop called Petals & Leafz, but it stretches back further with white-washed brick and plenty of seats for everyone.
Each of us received a hand bouquet from Sharon Cheng of Petals & Leafz
Lavish specializes in bread and pastries with focus on croissant danish. One will likely to find new favorites among the many designer pastries.
From the bakery's bun selection, there is the round crusty bun with hint of kimchi and cheese – which easily dazzles any spice-loving palate. On the other hand, the mini buttery crescent-shaped French croissant holds its texture well with that lovely generous creamy filling.
The mornings are full of hot cups of coffee and bakery products besides dishes of Big Breakfast, Egg Benedict and Scramble Croute. Featured along with coffee is a variety of Dilmah teas and English Tea Latte.
Latte RM10.50
There are a variety of cold drinks to choose from as well. The Passion Fruit Mango Tea is a good pre-meal option, with dominant flavors of passion fruit and mango and balance sugary sweetness. For dessert drinks sipper, check out the Oreo Milkshake, Mango Orange Peach, Greentea Frappe and Magnum Coffee Frappe. The latter offers a new way of savoring the ice cream, with coffee notes and comforting creamy finish.
The menu also includes a list of beers: Kronenbourg, Somersby, Heineken, Kirin, Asahi, Smirnoff Red, Hoegaarden and Guinness.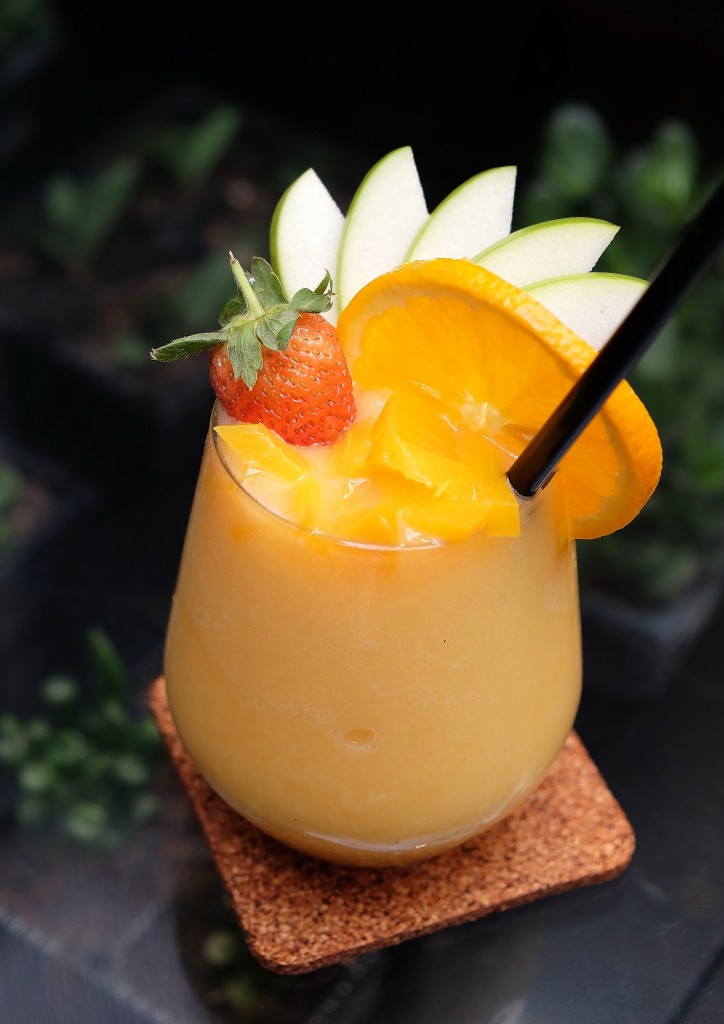 Mango Orange Peach RM16.50
Greentea Frappe RM17.90 & Passion Fruit Mango Tea RM16.50
Magnum Coffee Frappe RM17.90 & Oreo Milkshake RM17.90
Dessert is not to be skipped in Lavish. The sweet delectable cronut gelato is the highlight, with variety of flavors – Salted Egg Caramel, Durian Musang King, Chocolate Bash, Passionfruit In Red, Mango Sorbet, Lemon Booze and Uji Matcha with earthiness of matcha. The cronuts are made with many thin layers of flaky pastry with melt in the mouth crispness. It's rather big portion makes it best to share the dish.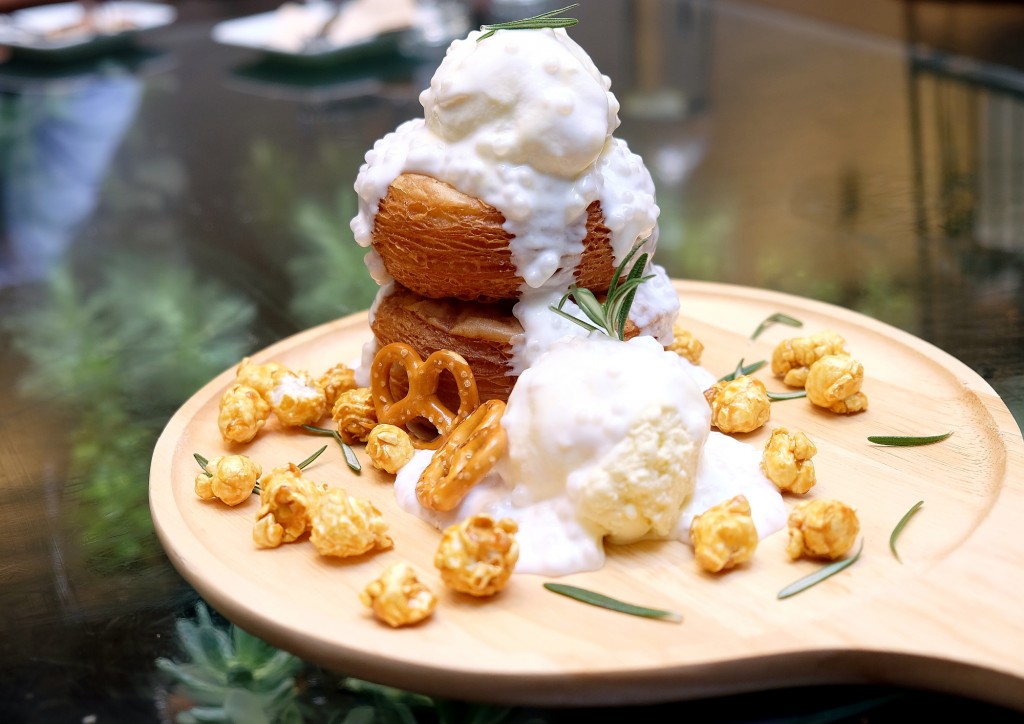 Durian Musang King RM24.90
Uji Matcha RM23.90
The menu of mainstays for the afternoon and evenings features a selection of  salads, sandwiches, pastas, small plates and chicken and fish dishes.
The Greek Souvlaki Sandwich has a slab of chicken thigh, wedges, lettuce, kyuri (Japanese cucumber) and a nice bit of honey mustard and tomatoes salsa, wedged between two thick slices of bread. There is a sweet note to the tender chicken.
Greek Souvlaki Sandwich RM18.80
From the special menu, there is the Chicken Addiction, with pieces of chicken juicy to the bite paired with feta cheese, grapes, dry figs, basil, stir-fried zucchini and potatoes. The chef served the simple chicken dish with capsicum puree and balsamic reduction which proved to be perfect to the chicken.
Chicken Addiction RM26.80
If, however, you are craving for seafood, the Saba Fish In Ocean is the dish to go for. Grilled saba has always been a standard Japanese dish but at Lavish, the fish comes with rosemary hummus, nicely pulled along the side of the plate, along with honey yuzu puree pickle beet, basil crumb and arugula.
The combination of the hummus, saltiness of the fish and the sour hint from the pickle beet cumulate to form a surprisingly tasty dish.
Saba Fish In Ocean RM27.80
A fresh and bright selection is the Caprese In Bottle, with buffalo cheese, momotaro, basil and balsamic reduction. The flavor of the dish is enhanced with a pinch of Maldon sea salt.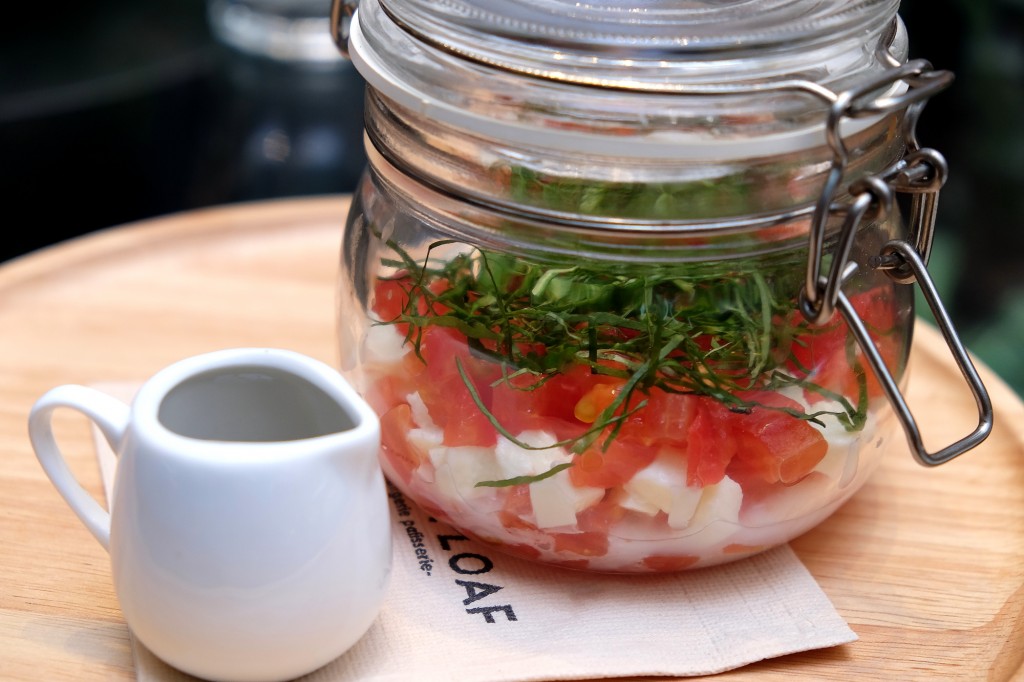 Caprese In Bottle RM16.80
There are eight pastas to choose from, such as the Real Classic Carbonara (RM23.80), Seafood Squid Ink (RM29.80), Cold Pasta (RM22.80) and the Spicy Bacon Amatriciana (RM25.80).
The Seafood Squid Ink features a bed of black pasta prepared with baby octopus, prawns, spinach, white wine, lemon juice, sun-dried tomatoes. The dish is spiced up with chili flakes.
Seafood Squid Ink pasta RM29.80
With casual and comforting environment and opening hours from 8am till 10pm daily, Lavish is another inviting bakery cafe to relax, eat and network in Penang's George Town heritage hub.
Lavish – Fusion Bakery By Love A Loaf
214 Lebuh Victoria
10300 Georgetown
Pulau Pinang
(Beside Container Hotel & Former Guang Hwa Building)
Mobile No: 012-570 5804
* Many thanks to Lavish for laying on this invitation.