Roti Bakar Kacang Phool at Kompleks Penjaja Desiran Tanjung, Penang
Roti Bakar Kacang Phool at Kompleks Penjaja Desiran Tanjung, Penang
Tanjung Tokong area in Penang currently offers something for every taste with choice spreads of international cuisines and local hawker food. A gem to discover lately is the Roti Bakar Kacang Phool, located in Kompleks Penjaja Desiran Tanjung (Tanjung Tokong Food Court Complex).
Its signature menu offers several standouts and the best seller is the rarely seen Foul Medames, stewed with a choice of minced beef or chicken. This family-run outlet has adopted this rich tomato base dish and made it with their 'Penang Twist', naming it Kacang Phool as diners find it difficult to pronounce.
Sunny side up egg, sliced onions, green chilies and lime juice lends the creamy bean dish light spiciness, sweetness and zesty combination.
The Kacang Phool is eaten with dipping warm bread into it. To appeal to the varied tastes of diners, the set comes with cheese, garlic, French toast, garlic cheese or normal bread, with prices ranging from RM6 till RM9.
Served alongside thick fluffy French toast with its outer layer crisp up, the kacang phool is hearty and satisfying.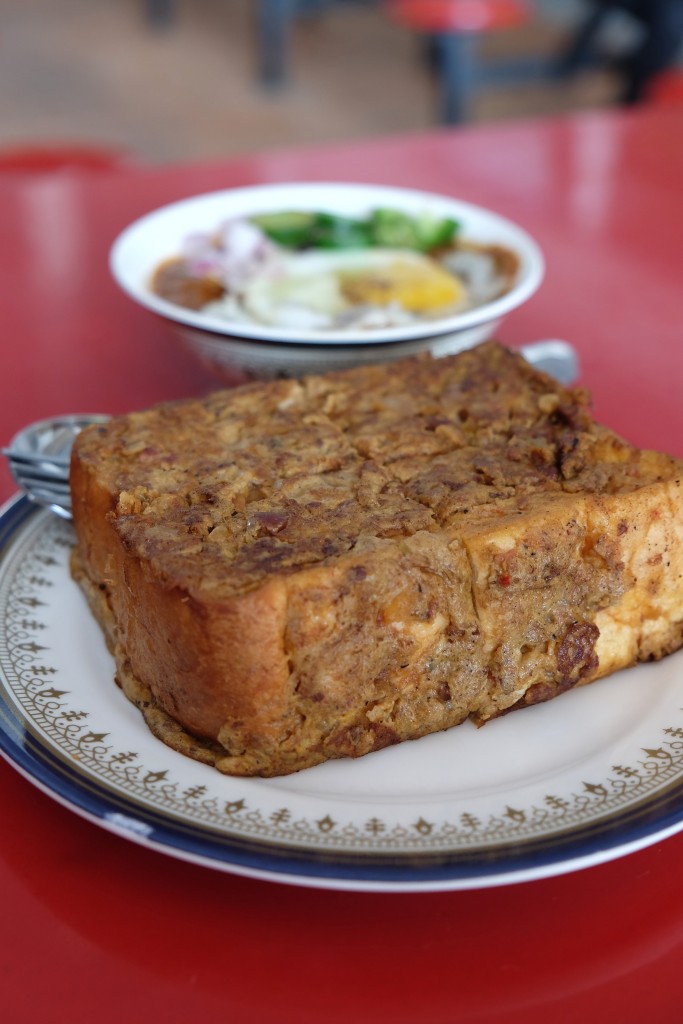 A set of kacang phool with French toast
From the specialty menu, there is the Spanish Huevos Rancheros. Diners can savor this bright and colorful dish for RM7. Each serving comes with bread topped up with runny egg and Spanish sausage cooked in tomatoes with basil and ground spices. We mop up every drop of the zesty sauce with the bread.
The Heuvos Rancheros is available along with various other specialties such as fajitas and cheesy melts. For something a bit different, try the Roti Titab – Kelantan style roti bakar. According to the owner, this toast bread is served with a combination of runny egg and homemade kaya (coconut jam).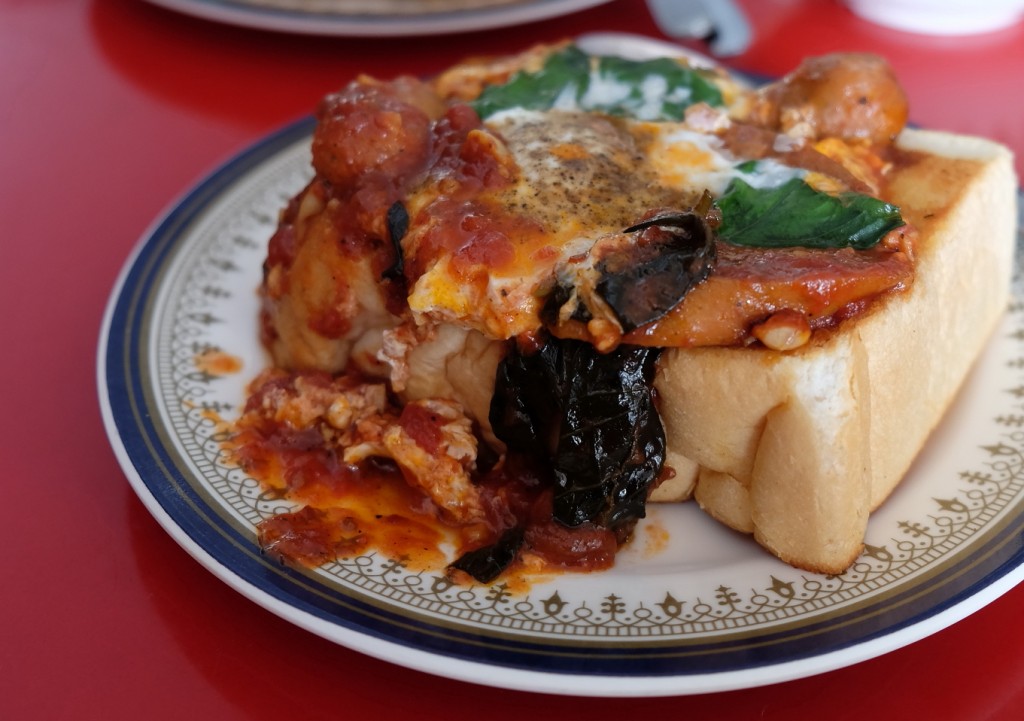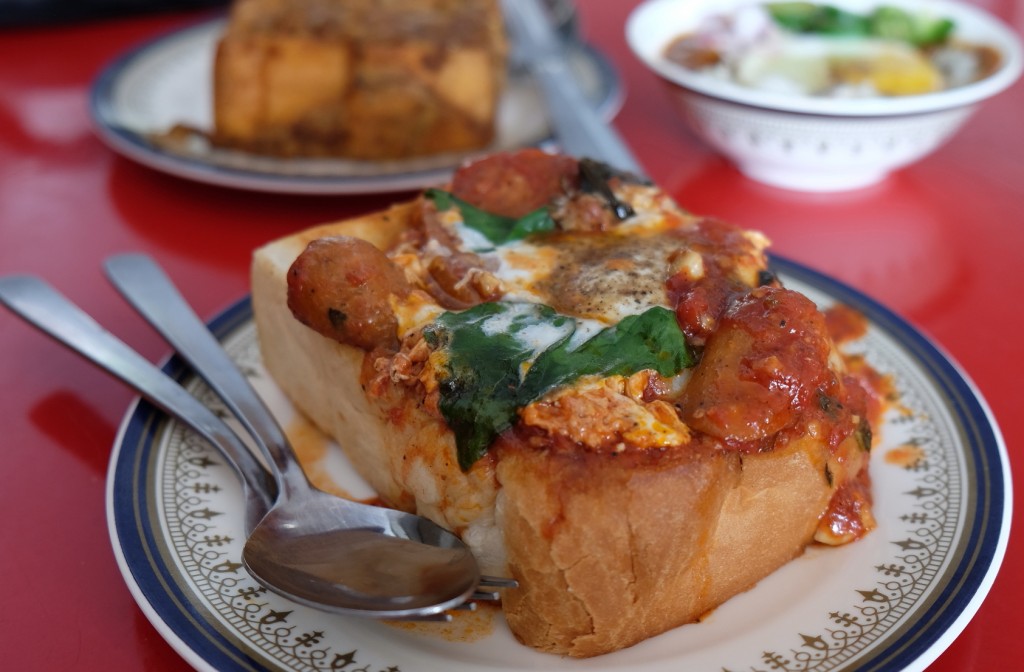 Huevos Rancheros RM7
As for desserts, there are a handful of Western style offerings. We were tempted with the freshly baked English Lattice Apple Pie. The buttery crust base with taste of quality butter holds a substantial amount of bite-sized apple accented with a touch of cinnamon. If apple pie is not your choice, red velvet ice cream cake and cupcakes are also available.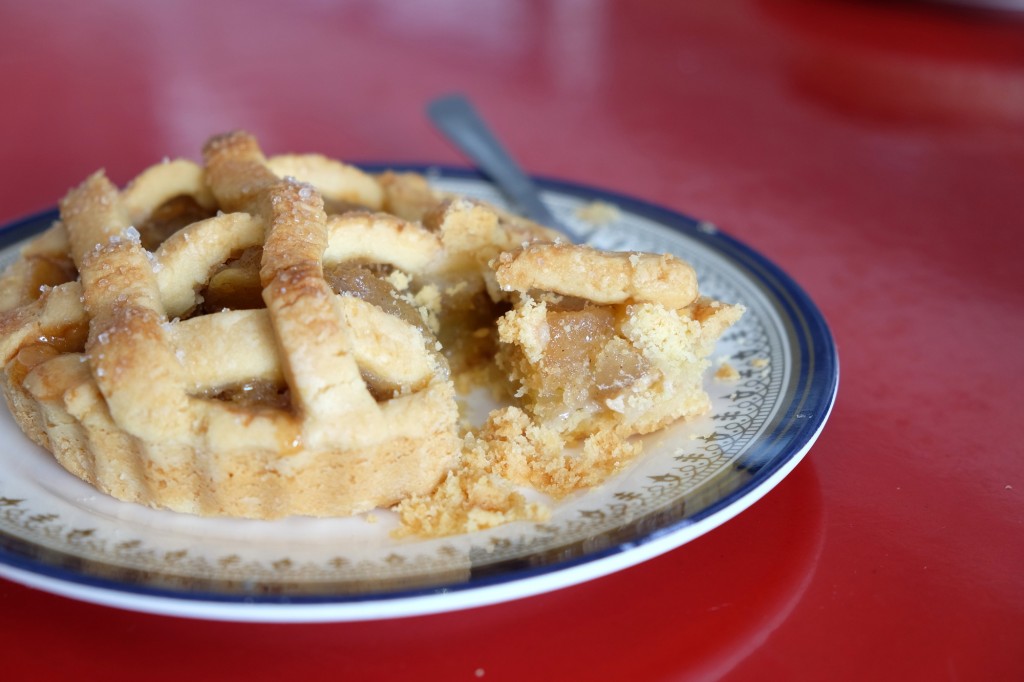 English Lattice Apple Pie RM11
The food at this simple place can be eaten throughout the day. Breakfast is served from 8.30am till 9pm on Tuesday to Sunday. On Monday, business hours are from 3pm till 9pm.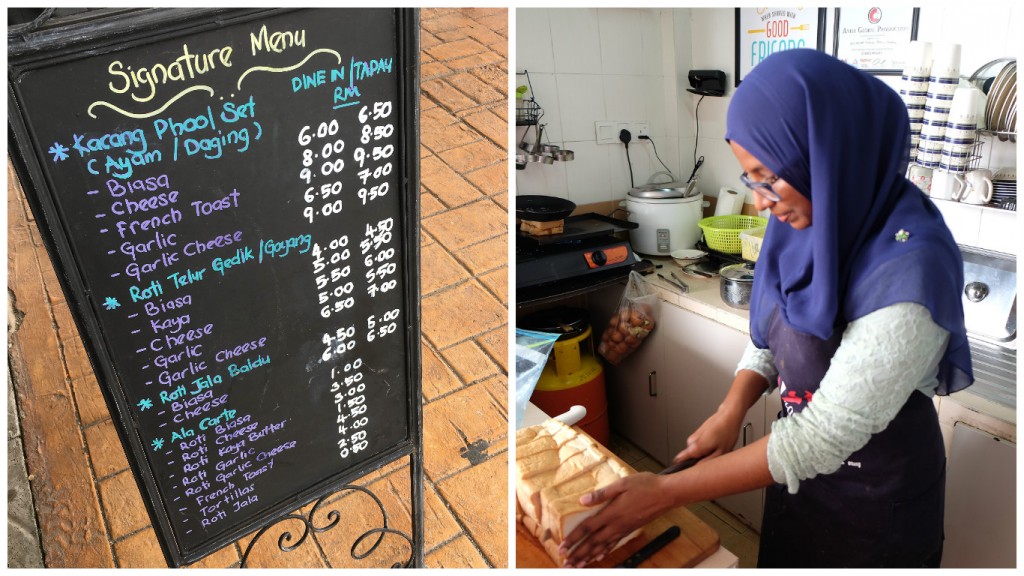 Roti Bakar Kacang Phool
No.1 Kompleks Desiran Tanjung
Jalan Desiran Tanjung 3
Seri Tanjung Pinang
10470 Penang
Tel: 019 2201355
GPS Coordinates: 5.452188 100.308591