Colonial Kitchen – Western-style Hainanese Food
The outlet has since closed down
Penangites are in for a treat with a gem of heritage in Pulau Tikus area with the opening of Colonial Kitchen. Run by the 4th generation of the Cheah family, M.K. Cheah uses old family recipes that goes back to Cheah's great grandfather.
The menu highlights MSG-free Western cuisine, with focus on Hainanese cooking. Savor signature dishes including the Traditional Hainanese Chicken Chop, Hainanese Pork Steak and various types of pies.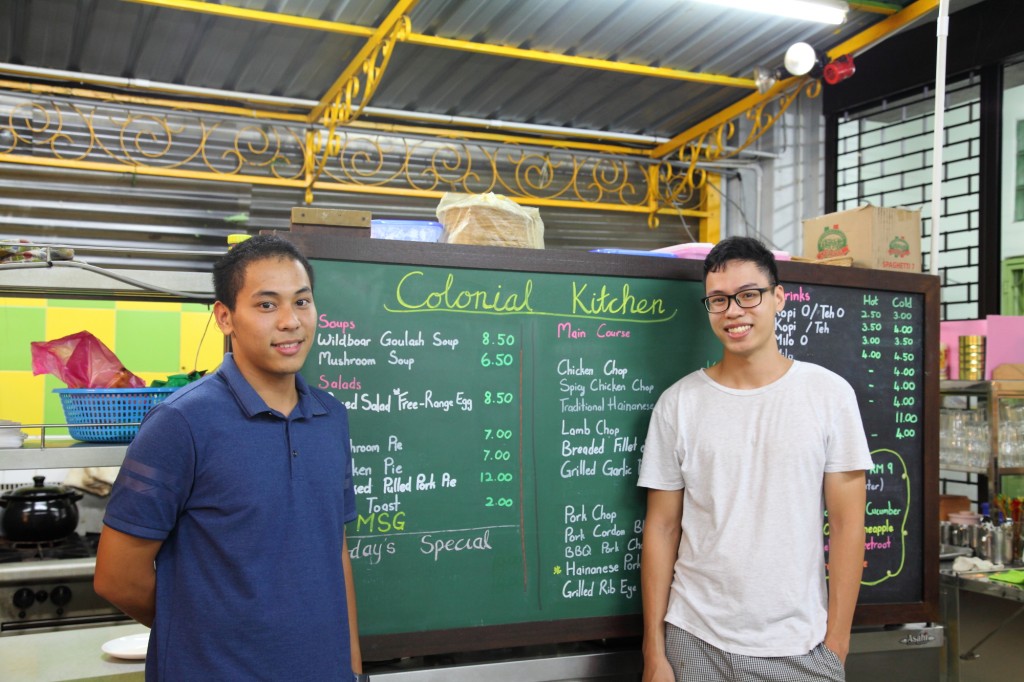 Photograph featuring M.K.Cheah (right) and his younger brother M.S.

Start off with the Mixed Salad prepared with free-range eggs which come from their barns. Enjoy a bit of cucumber, sweet red cherry tomatoes, lettuce, red beets, carrot and homegrown blue pea flower. Enlivened with a sauce, the salad is definitely a shareable selection or as a light meal on its own.
The Wild Boar Goulash Soup (RM8.50), had the wild boar stewed, then boiled into a soup with mixed herbs, paprika, potatoes and carrots.
Mixed Salad RM8.50
There is the Traditional Hainanese Chicken Chop from the main course. What makes this dish different? According to M.K. the chicken is braised with hint of sweetness and tender texture using the family recipe. The dish served with tasty potatoes (first boiled then pan-fried), carrot and peas has quickly established its own identity and the reason to visit.
Traditional Hainanese Chicken Chop RM20
The Hainanese Pork Steak is prepared using imported ribeye, herbs, spices and sweetness of onions. Served with sides of potatoes pieces, carrot and peas, this dish with its tender texture is a proven pleaser.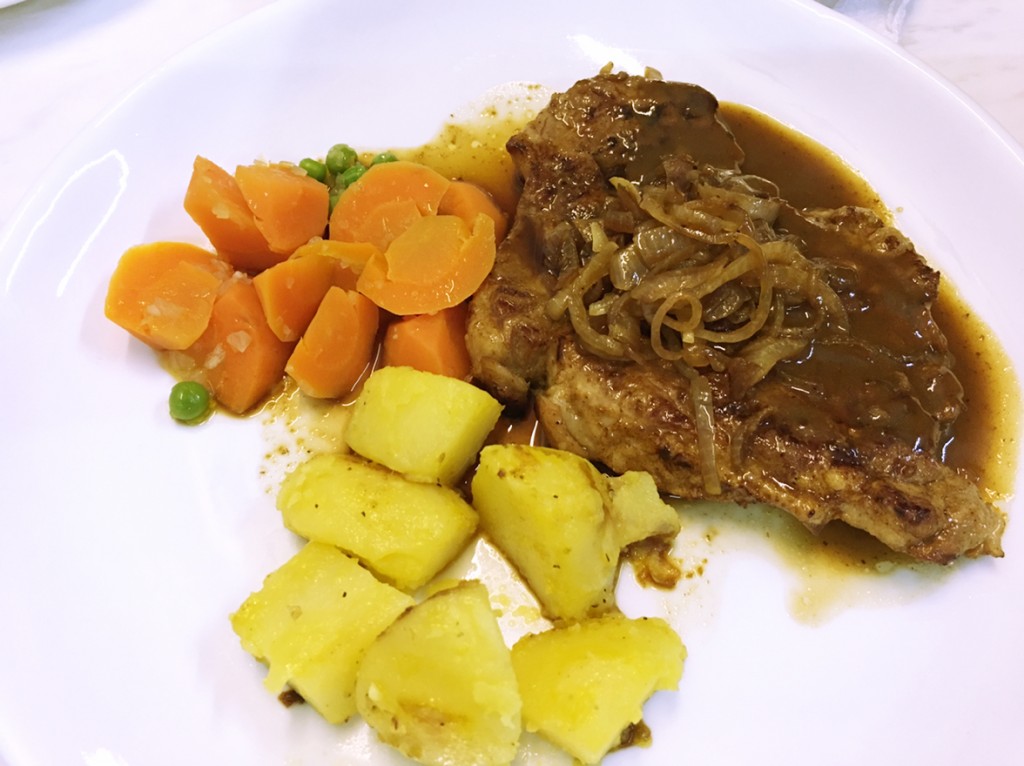 Hainanese Pork Steak RM25
Do not miss out the Pork Cordon Bleu (RM21), deep-fried with breadcrumb crispiness, wrapping layer of pork, bacon and cheddar cheese. Colonial Kitchen team the piece of meat with pieces of potatoes and a huge portion of salad. The accompanying creamy tartar sauce made with added chopped vegetables and chives made it tastier.
If meat is not to taste, try the fish dishes prepared with tilapia fish.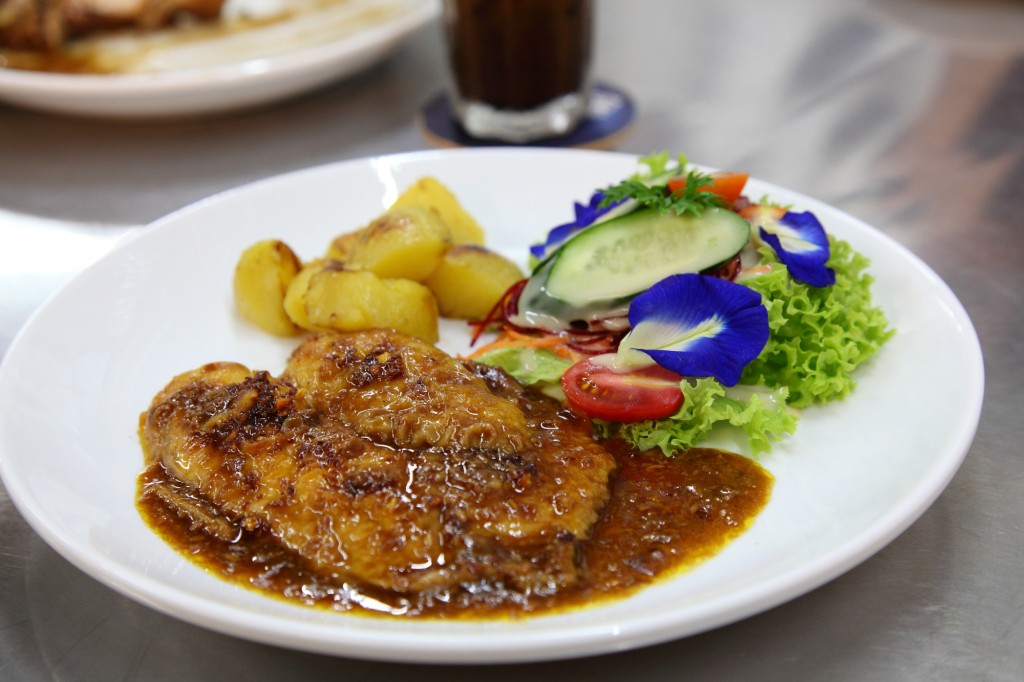 Grilled Garlic Fish RM18.50
Colonial Kitchen lists several pies framed by bubbly brown flaky crust. The Hainanese Chicken Pie, Mushroom Pie and Smoked Pulled Pork Pie make a tasty trio. The pies are best eaten when served.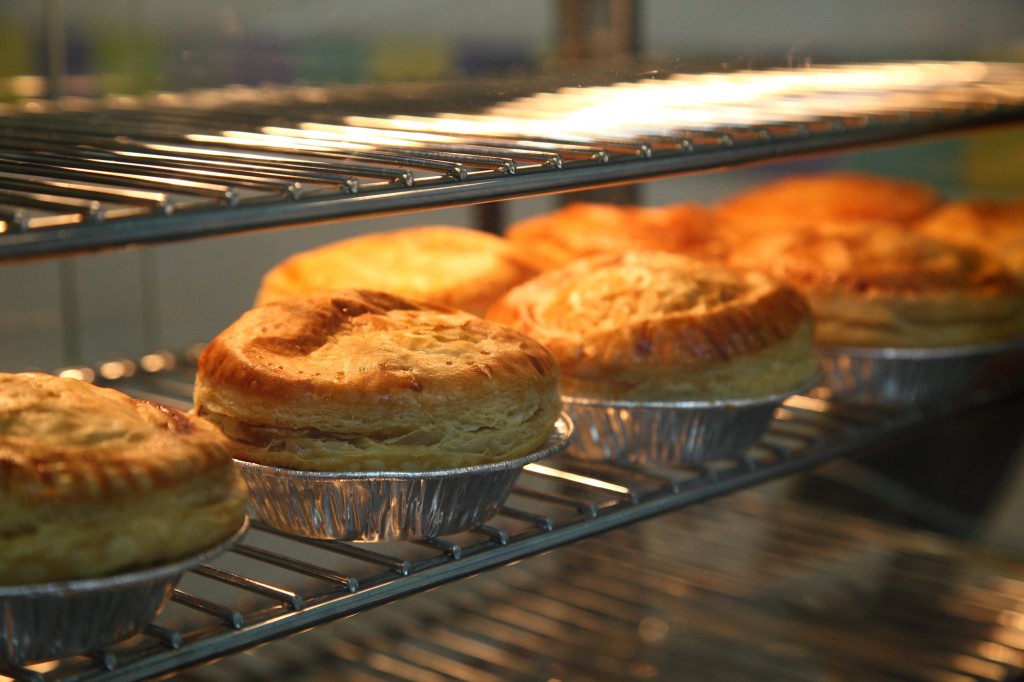 The French-style Mushroom Pie comes filled with stewed shiitake mushrooms while the Chicken Pie consists of flavoursome creamy filling of peas, chicken cubes, carrots and onion.
The Smoked Pulled Pork Pie has filling of shredded smoked pork roast. With marinade and slow smoking done over low fire, the meat has delicious flavor and tender texture.
Smoked Pulled Pork Pie RM12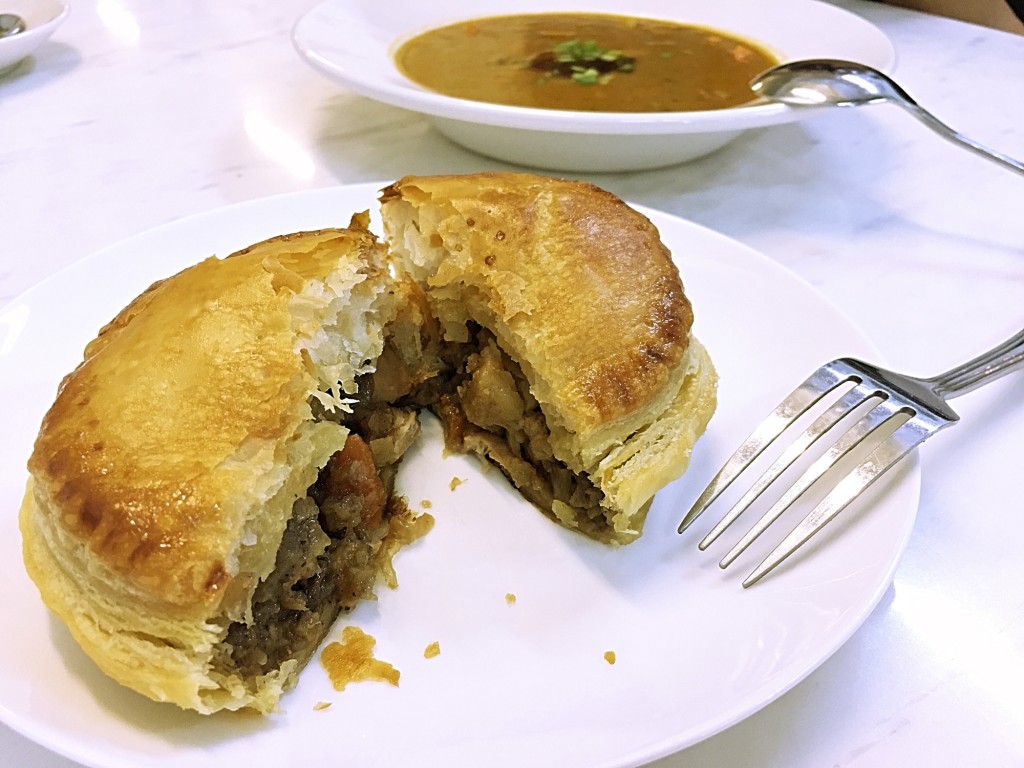 Hainanese Chicken Pie RM7 and Wild Boar Goulash Soup RM8.50
For drinks to go with your meal, try the robust Hainan coffee. With sensational aroma of roasting beans, the Hainan coffee offers a different texture and flavor. The hot Hainan Kopi-O is served with sugar on the side while the cold version is prepared with full cream milk.
Hot Hainan Kopi-O RM2.50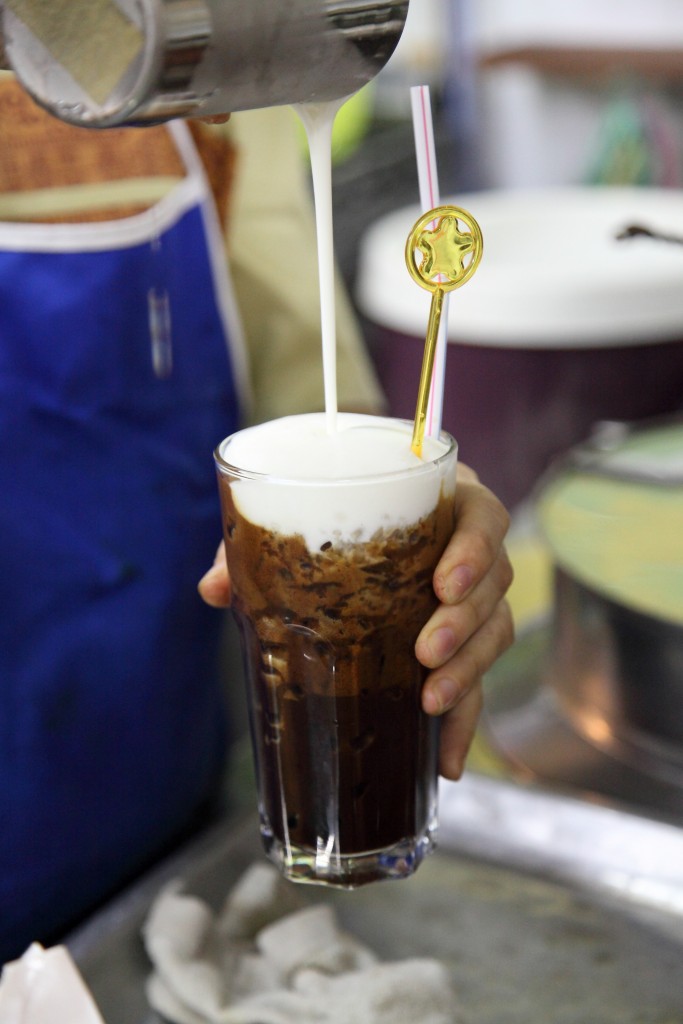 Cold Hainan Kopi RM4
Drinks are not confined to only coffee. There is the cold creamy Bandung drink in pink and white color. Made with floral rose syrup, full cream milk and 'frog eggs' (basil seeds), the drink pleases the eye and also the palate with right level of sweetness.
Colonial Kitchen also provides cold pressed juice that will keep you going with a nutrition boost. Priced at RM9, choices include a fine mix of apple, tree cucumber, pineapple, orange, lemon, celery and beetroot.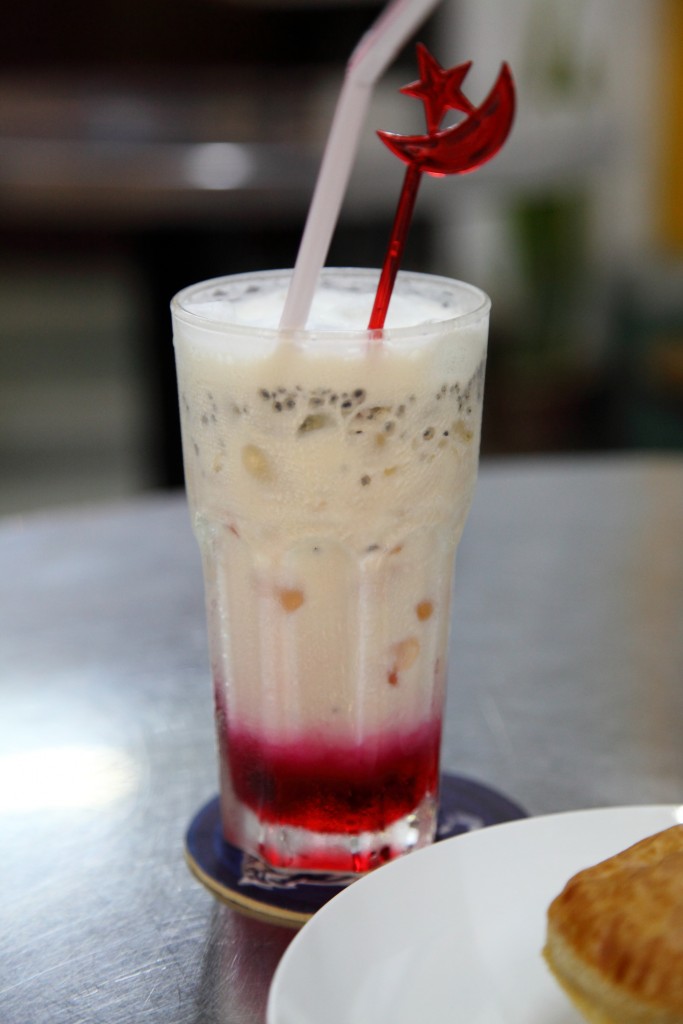 Creamy cold Bandung with basil seeds RM4
Colonial Kitchen is located on Burma Road, near to the junction of Jones Road in Pulau Tikus area. Closing days are on Tuesday and Wednesday.
Colonial Kitchen
218 Jalan Burma
10350 George Town
Pulau Pinang
Tel: 017 – 4343316
Business Hour: 11am till 3pm & 6pm till 10pm