Private Kitchen in Penang 私房菜 @Aqua Green, Pearl Fish Farm
BY CK Lam
Welcome to Aqua Green in Penang, where Private Kitchen Dining 私房菜 experiences unlike any other await. Located at Pearl Fish Farm off Pulau Jerejak, the dining outlet requires a boat ride from Jeti Jabatan Laut Batu Uban (Batu Uban Jetty) to get to.
We dropped by recently to experience the private kitchen dining. A trip on the fast boat took us across to the fish farm in just 10 minutes.
Pearl Fish farm and Aqua Green is run by the enterprising couple, Sean Cheah and Doris. The husband oversees the four years old fish farm while the wife manages the newly opened dining outlet (opened in December 2016). The place is a relaxing getaway, watching unending panoramas of sky and sea while feasting on the food.
We visited the fish farm and Sean took time explaining the process and the sustainable business.
After the farm tour, we headed back to Aqua Green. The spot has since attracted visitors from across and also neighboring countries with its tailor made dishes. There isn't a menu and the local-style Western and Chinese cuisine is prepared creatively with ingredients they can lay their hands on.
Ingredients include sustainable sources of seafood, organic ingredients and range of fresh herbs and greens sourced from Wonder Wilder Farm 野逸园.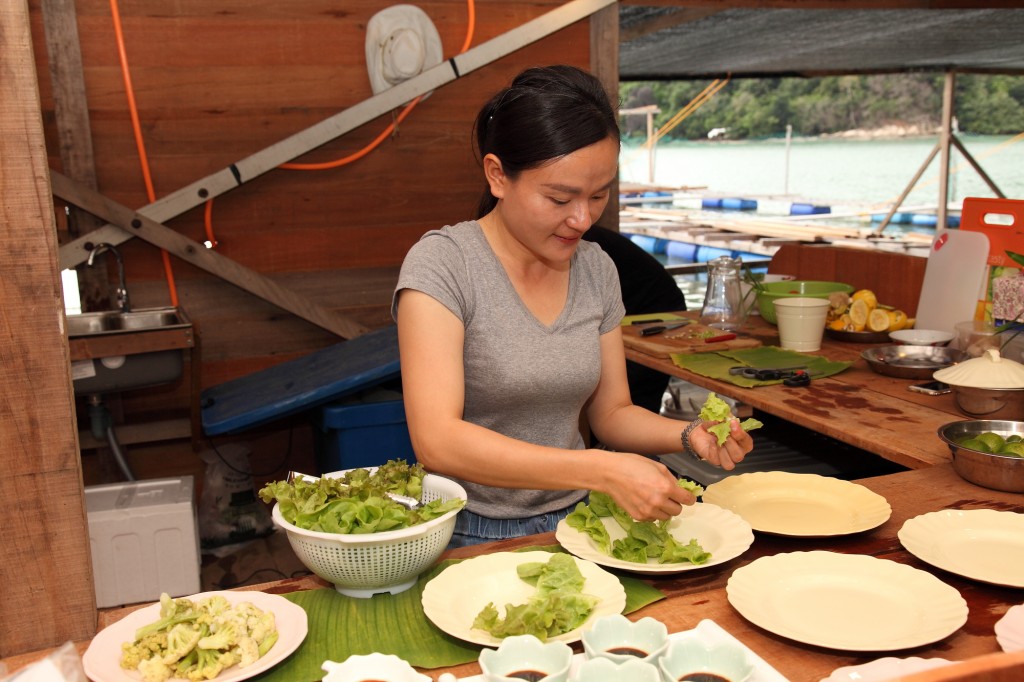 Doris preparing the salad
Organic ingredients and range of fresh herbs
We began the meal with appetizers. The first was a crispy salad with powerful aroma. We watch as the salad plate takes shape with layer of greens, cauliflower and herbs along with macadamia nuts, tomato, almond and passion fruit. The zesty sweet-sour sauce made from apple vinegar, avocado oil and lemon juice nicely complemented the dish. 
Second appetizer was a simple steamed dish of brinjal, topped with sesame seeds, and served in a delicious sauce made of traditionally aged organic brown rice vinegar, organic toasted sesame oil and soy sauce. It had the right balance of simplicity in appearance and taste.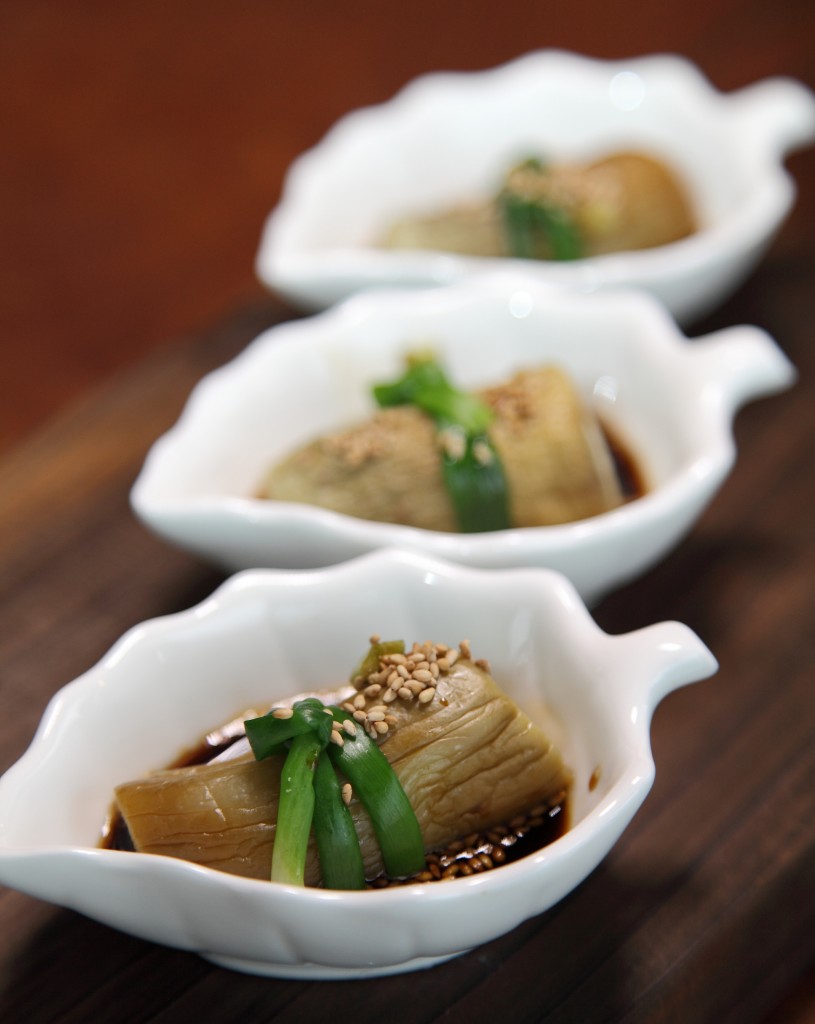 Next we have a prawn dish. Prawn lovers will find solace in the pan-tossed prawns served with ripe mango. With simple appearance, the two plump prawns with just the tail left on were made better with the accompanying small dose of spicy homemade sambal.
The seafood party continued with the fish dish, served with fillet of threadfin and pearl snapper (which is in season now). The threadfin was cooked in gentle low heat with incredibly light flavor while the pearl snapper pan-seared with golden brown exterior had bolder flavors. We particularly like the threadfin, refreshingly light with a squeeze of lemon.

A delicate brew of tea was served and according to Doris, the tea helps to cleanse the palate before the next dish. Prepared with lemongrass, pandan leaves and Peruvian Marigold leaves (man sau kook), it packs a punch of herbs content and had us refilling our cups.
Other drinks served together in the meal include the remarkably sourish lemon juice and the well-known rosella herbal tea.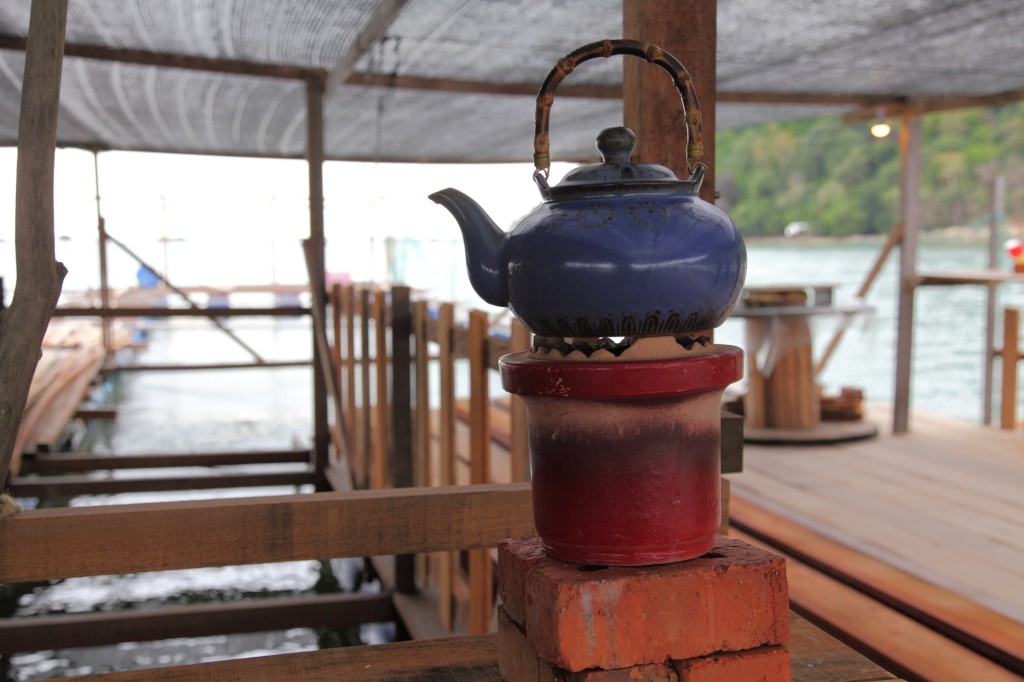 Doris whipped up the fried rice with cabbage, mango sweetness and sambal spiciness. It was topped with generous amount of pinkish torch ginger flower which added a touch of floral fragrance.
A complimentary dish created by Doris had clams simmered in a garlic-based broth. It has the sweetness of clams, but for me, a light dose of fragrant Chinese wine would have been preferred.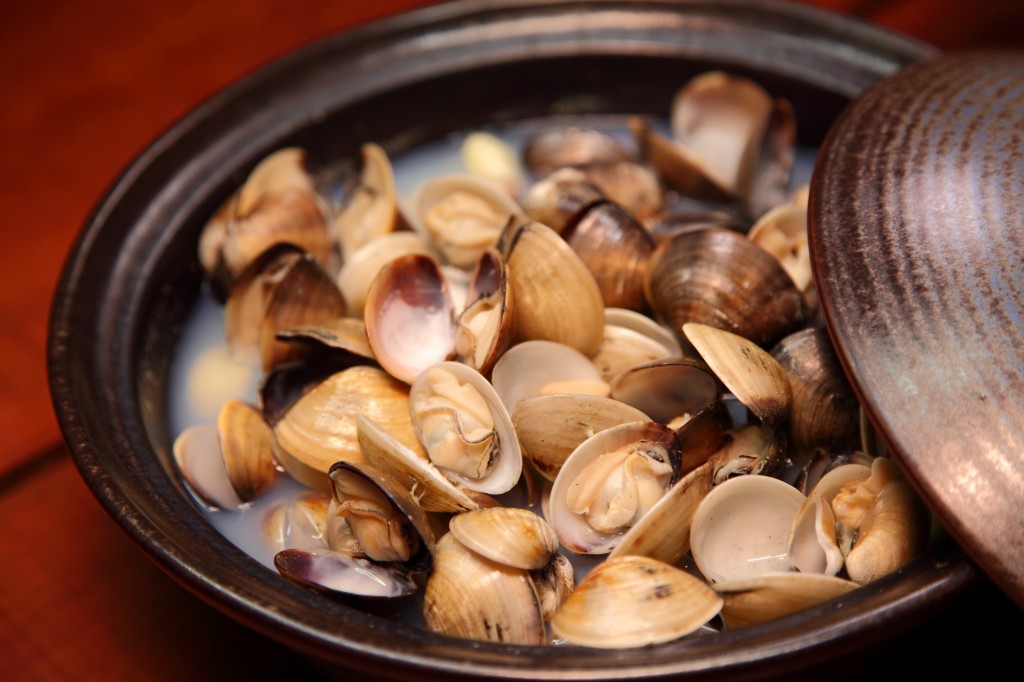 We watch the twilight sky while having the last course of the meal. It was a fruity dessert – light on the palate with chopped sweet mango and pineapple.

The prices for the meal start from RM120nett per person, and all in, we felt it is pretty reasonable for the private kitchen dining experience, ambience and transportation. The outlet which can sit 30 comfortably is only open for lunch on weekends, with a minimum requirement of six people. Dinner is available upon request.

The hospitality shown by Doris and Sean, coupled with homecooked dishes and service ensured the culinary visit is unforgettable.
Sean Cheah and Doris
Aqua Green
Pearl Fish Farm
Off Pulau Jerejak
Penang
Tel: 012-4901386 Sean Cheah
* Many thanks to Pearl Fish Farm for extending this invitation.