Sin Seh Kai Artisan Bakery Cafe @New World Park, Penang
The outlet has since closed down
The Baking Garage in Lebuh Lembah Permai, Penang is a favourite place for shoppers who live nearby to pick up freshly baked items. Specializing in producing and supplying traditional, artistic & rustic artisanal breads, the outlet has plenty of goodness to offer.
They recently opened their second location in New World Park on Burma Road. Known as Sin Seh Kai Artisan Bakery, the outlet with minimal frills is easy to find with its black signboard adorned with huge gold colored wordings.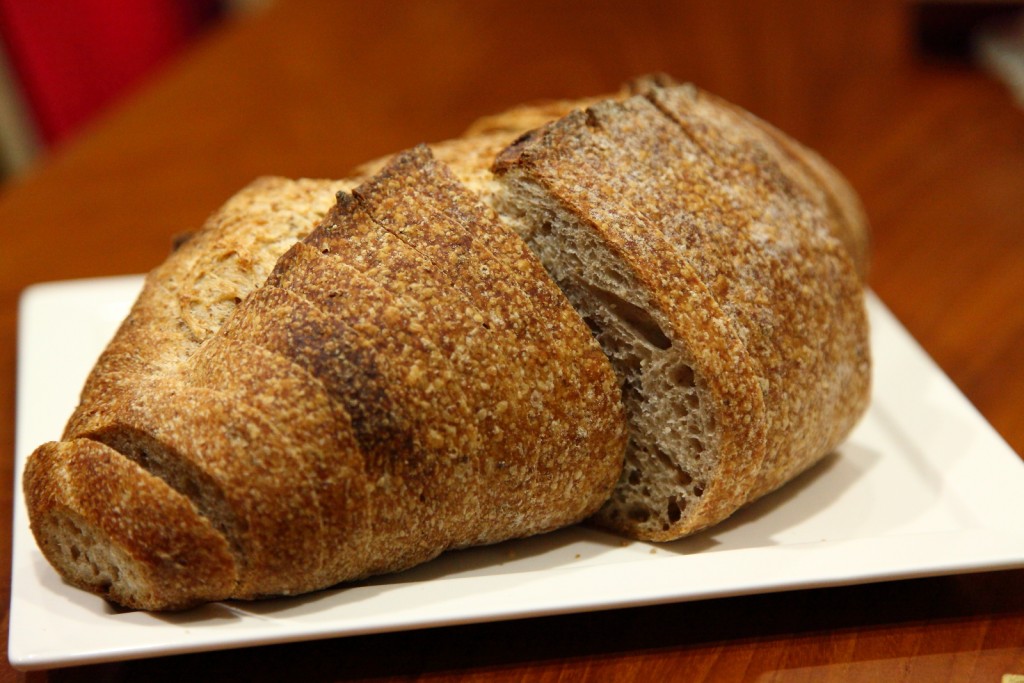 Baking is done on the spot and includes loaves of breads and buns, from French Brioche to Wholemeal Loaf, Pain de Campagne, Classic Sourdough, Wholemeal Walnut,  Baguettes, Ciabatta and Focaccia.
A tasty loaf with grain richness is the Wholemeal Loaf. Made with a blend of wheat flour and wholemeal flour besides mixed grains and sourdough, the loaf offers more fiber and grain flavor.
Wholemeal Loaf RM7
The Wholemeal Walnut is made with a combination of wheat flour, wholemeal flour, sourdough, sesame seeds and earthy walnuts.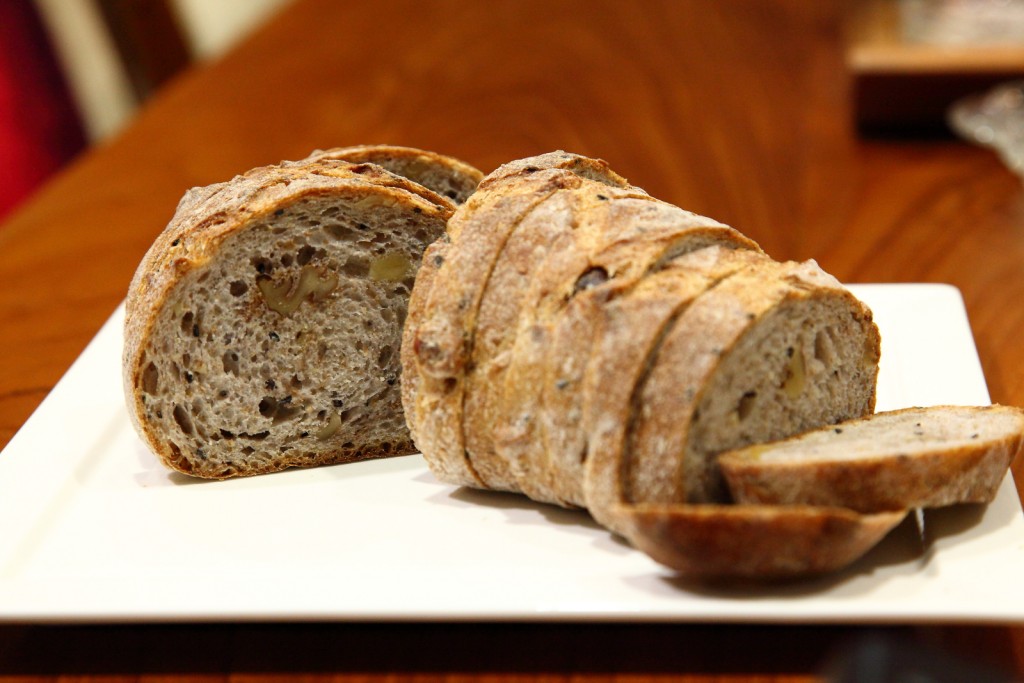 Wholemeal Walnut
For something a little different, check out the Classic Sourdough prepared using rye flour. Priced at RM8.50, the dense rustic bread is low in gluten and has a stronger flavor.
And if it is baguette you are after, there is not just one type but several – French Baguette and the wider and shorter French Batard. Both comes in crisp crust.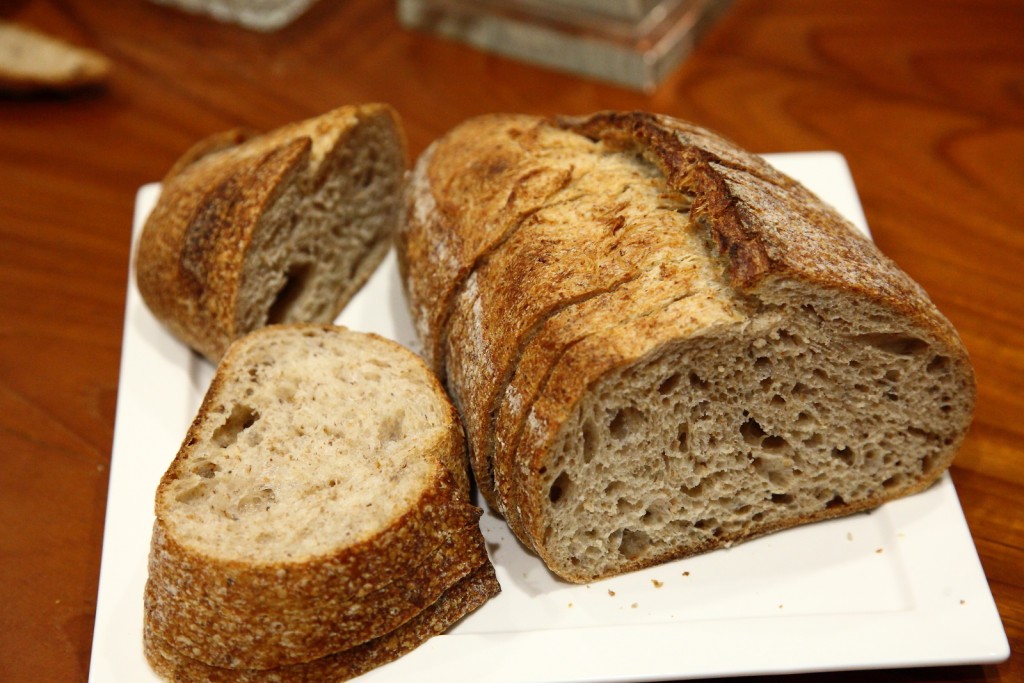 Aside from loaves, there is an assortment of cakes and it includes Gula Melaka Cheesecake, Tiramisu and Swiss Roll based on two flavors – green tea and cranberry.  You will also find Rustic Chocolate Banana Room Temperature Cake and Chocolate Banana Mousse Cake, two creations made with banana and chocolate.
Besides take away options, the bakery further enhanced its business with a dining area to grab a bite and a drink. Adding to the wholesome offerings is the "Baker's Brunch" menu, available daily from 7.30am to 2.30pm.
You can opt to have sandwiches prepared with artisanal bread and flavorufl ingredients of homemade sausages, pickled vegetables, salad dressing and pate spread.     
One popular item in this bakery cafe is the Half-Boiled Egg & Bread Set. The set comes with choice of bread and spread, along with Lescure French Butter.
We enjoyed wholemeal bread with the quality butter and homemade kaya. It is a wholesome choice wth loveliness of two half-boiled eggs.  For personal preference, I wish that the sliced bread is slightly thicker for that extra bit of chew.
Half-Boiled Egg & Bread Set RM5.90
The menu also offers another simple egg dish – Creamcheese Scrambled Egg. It is difficult to resist this dish with creamy filling of cream cheese and soft cooked egg served in a round cranberry walnut loaf.
Creamcheese Scrambled Egg RM8.50
For something a little more substantial, go for the Banh Mi Sandwich. The sandwich is prepared with Vietnamese baguette and had layer of brandy-infused pate, homemade beef sausage and toppings of sourish pickled vegetables. The amount of ingredients is well-balanced, and complements each other.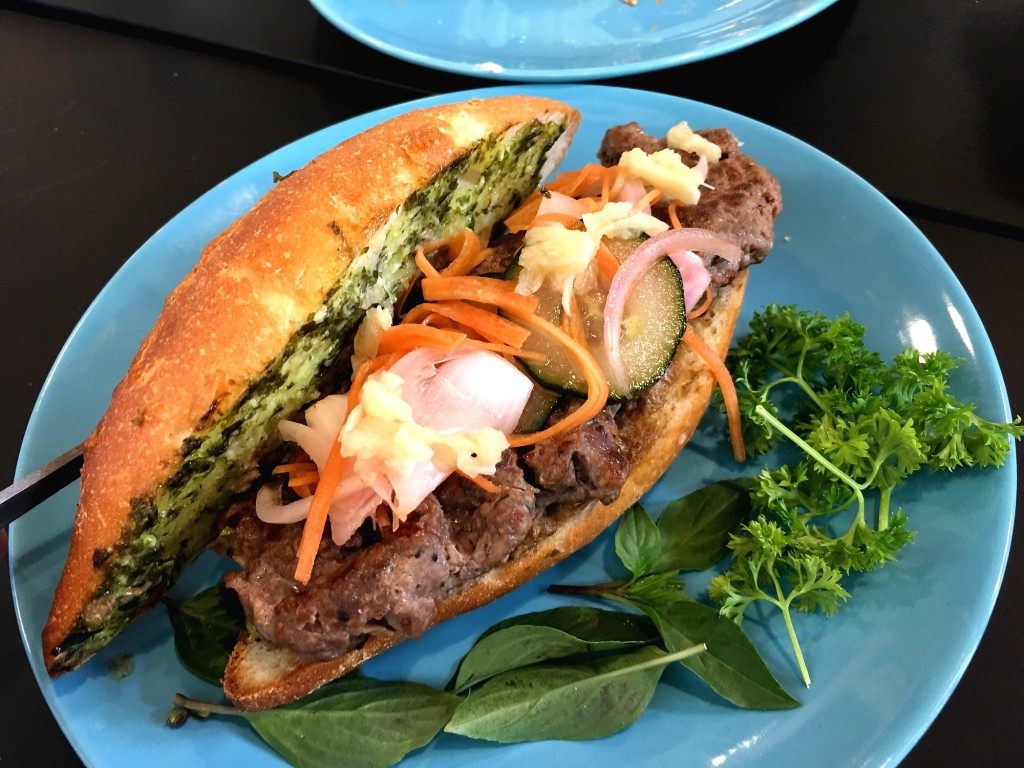 Banh Mi Sandwich RM18
Besides that, the beverage menu does include local Kopi and French Press Coffee, as well as Cold Press Juice.
Sin Seh Kai Artisan Bakery is a definitely a good stop destination for those interested in artisanal bread within George Town limits.
Sin Seh Kai Artisan Bakery
Lot 102-D-5 New World Park
Jalan Burma
10050 Penang
Tel: 010-826 5527 (Ryan)
Business Hours: 7.30am – 7.30pm
Closed on Friday
The Baking Garage
45 Ground Floor
Lebuh Lembah Permai 1
Tanjung Bungah
11200 Penang
Business Hours:
Daily 7am – 11am & 5pm – 9pm