Thai Shop @Kimberley Street, Penang
*The shop has since shifted to 102B Hutton Lane, Penang*
If you want a taste of Thai street food in George Town, Penang, do consider Thai Shop. The popular street food is found at the relatively new outlet located in an old heritage shophouse with a narrow side alleyway on Kimberley Street.
The owner brings cuisine from Thailand, all prepared with authentic taste using traditional ingredients.
Preparing the Som Tum
Diners can opt to slowly enjoy their food at the two dining sections – non-airconditioned indoor area or take pleasure in their meals at the outdoor space amidst the cooking area.
For a good start, we sampled a cup of  Cha Yen (Thai Milk Tea), a concoction that came strong and thick prepared with milk and tea. Another milk drink is the Cha Khiao (Thai Green Tea Latte).
Besides the milk tea, there is also a selection of red syrup, ice lemon tea, lime juice, aerated water, and beer.
Thai Coca-Cola
A dish that is simple yet appealing in taste is Moo Ping – chargrilled Thai Pork Satay. The dish with three skewers of juicy meat is reasonably priced at RM8. It is a favorite among diners. After one plate, one would be inclined to have another to satisfy the palate.
Som Tum has a combination of raw papaya, veggies, condiments, and sauces mixed in a mortar with a pestle. The papaya salad with a little bit of sweet, spicy, tangy flavor and a layer of roasted peanuts is perfect for lifting the heaviness of the Thai pork satay.
Nothing beats having a rice dish. The choices are aplenty ranging from Tom Yum Fried Rice to Pineapple Fried Rice, Thai Green Curry Chicken Rice, and Pineapple & Chicken Curry Rice.
The Khao Kha Moo (signature stewed pork knuckle rice) priced at RM7 is also among the rice dishes. It was a generous portion with white rice, tender braised meat lined with a little fat, braised hard-boiled egg, blanched greens, and salted vegetables. A plate of moderately hot chili sauce made from fresh green and red chilies is readily available for you to spice up the dish.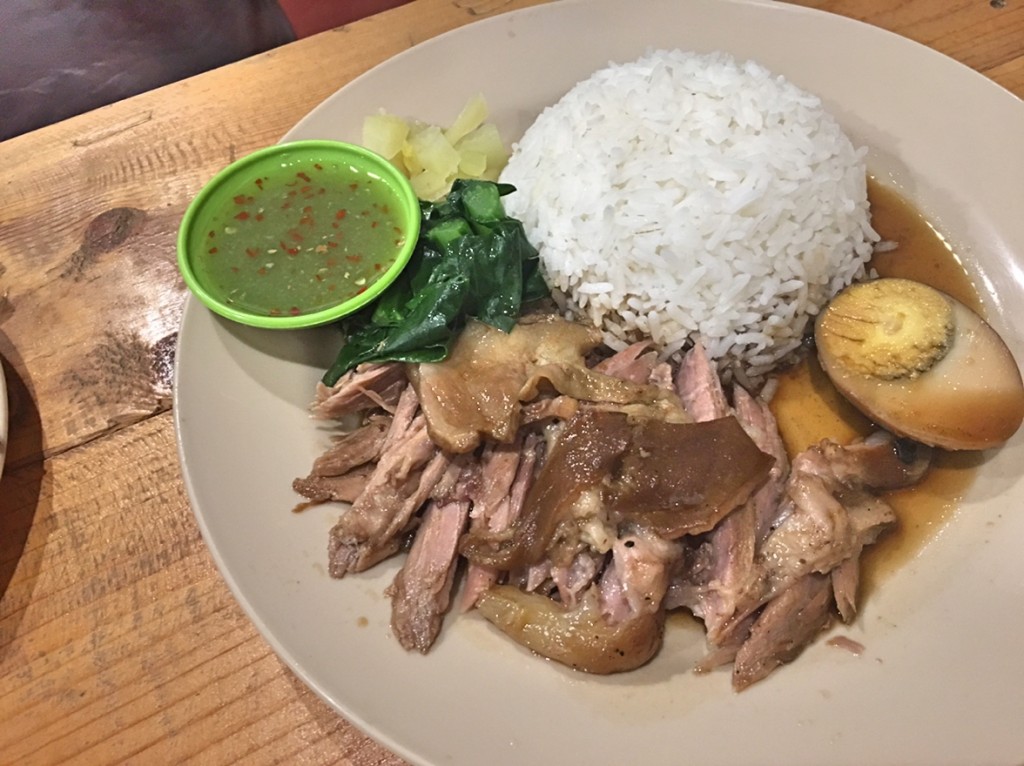 Apart from savory dishes, the outlet also offers a dessert that is easy to love – Tub Tim Krob. It is the one and only dessert on the menu. Prepared with creamy coconut milk, syrup, crushed ice, strips of jackfruit and pieces of Thai red rubies, this cold comforting dessert is great any time of the day.
Tub Tim Krob RM3.50
The menu at Thai Shop is rather small but I have yet to get to the rest of the rice dishes. Another visit will be happening soon.
Thai Shop
257 Lebuh Kimberley
George Town
Penang
Tel: 012 7411868
Business Hours: 11.30am – 9pm