Ming Xiang Tai Pastry Shop Penang Road 名香泰餅家
BY CK Lam
Au Meng Kit, Director of Ming Xiang Tai, is riding the wave in the building trend of traditional Cantonese pastry and biscuit industry in Penang. Having founded his first pastry shop on Burma Road in July 2008, the young businessman has since opened several outlets, with the latest on Penang Road.
At his invitation, a group of us visited the Penang Road outlet where we were given an overview of the creation of traditional handmade Cantonese pastries and biscuits.
Ming Xiang Tai Penang Road
The owner can be traced back to Kampar, Perak where he developed his pastry-making skills at a tender age. He gained experience helping out in his parent's dim sum and pastries business.  "My father grew up helping my grandmother in her makeshift tea-house and I just followed in my father's footsteps," he explains
Ming Xing Tai offers a range of pork-free product. The Trishaw Egg Tart, Ko-cha Siew Pau, Salted Egg Pastry, Chicken Floss Pastry, Chicken Pie, Pineapple Pastry, Lo Por Peng (Wife Pastry), Glutinous Coconut Puff, Crispy Yam Puff, Wutaro Yaki, Crispy Kaya Puff and Wedding Cookies are made fresh daily. The fillings range from savoury to sweet, including red bean, coconut, winter melon, pandan and white lotus paste.
One must not miss out on the most popular Trishaw Egg Tart 招牌三轮车蛋挞 – an interesting novelty. The egg tart was named the "Trishaw Egg Tart" in honour of his parent's hard work selling the pastries using a three wheel cart. Till today, the egg tarts are made in line with the age-old recipe. Made with flaky puff pastry, the egg tarts come with a smooth and fragrant egg filling.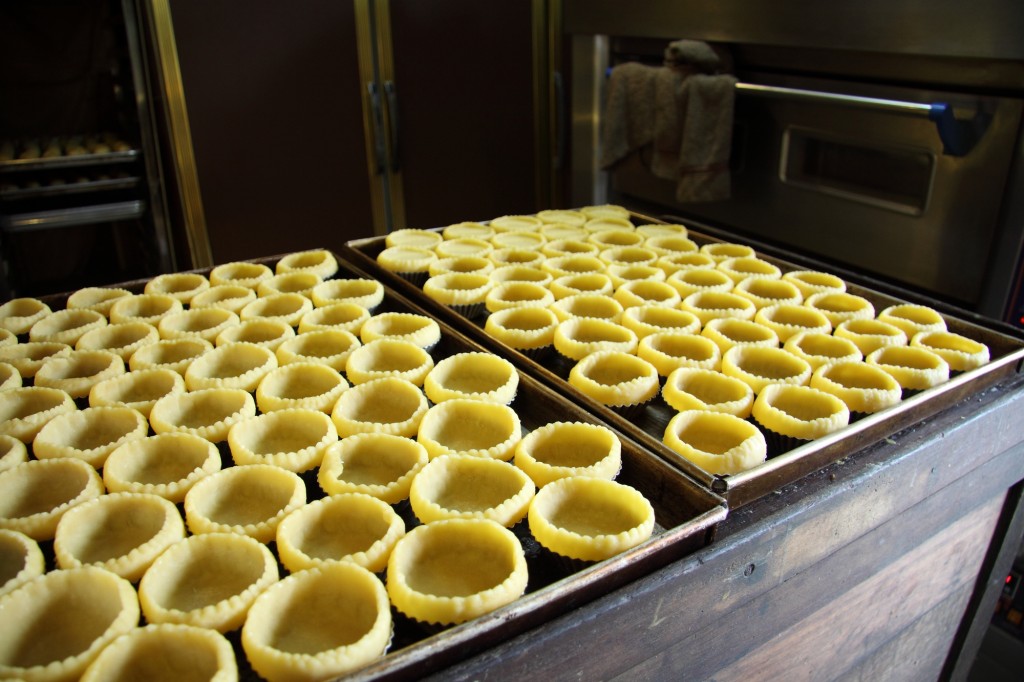 Trishaw Egg Tart made with puff pastry
Filling of eggy goodness
There is also the herbal tea egg. Boiled in a Chinese tea broth with five-spice powder, tang gui, star anise and cinnamon, the savory fragrant egg is a great snack food on the go. The egg is priced at RM1.80 each, three for RM5 and six for RM8.
For a start, we witness the making of the baoz, from the process of making the dough to the filling in of ingredients. There are three types of baoz on the menu – BBQ sauce with roasted chicken baoz 烧酱包子, all spice with duck egg baoz 鸭蛋五香包子 and the meicai gan chicken dice baoz 梅菜肉丁包子.
What makes this baoz different? According to Au, the bao is prepared using the Taiwanese method. In this method, the dough requires 45 minutes rising time, giving the baoz a soft and fluffy texture.
A series of seasonal products is available and the steamed Lotus Base Longevity Peach Bun 莲花座蟠桃 is one of the many choices. The auspicious peach shaped steamed buns are made to symbolize birthday celebrations of the elderly.
A wooden steamer of Longevity Peach Bun
They are also different variations of deep-fried items and we sampled some of them, including the yam puff and jian dui 煎堆.
The traditional-style yam puffs are made of Thai red taros and a juicy filling of marinated chicken cubes prepared with spices and Hong Kong style teriyaki sauce. These puffs are only available on weekends.
Getting the steamed taro ready for the making of the dough for yam puffs
For those who are not familiar with jian dui 煎堆, the deep-fried ball made from glutinous rice flour has its exterior coated with black and white sesame seeds, and a sweet paste filling. Options of filling include lotus seed paste and the robust red bean paste made with red beans cooked together with dried mandarin peel. It's really hard not to fall in love with the red bean version.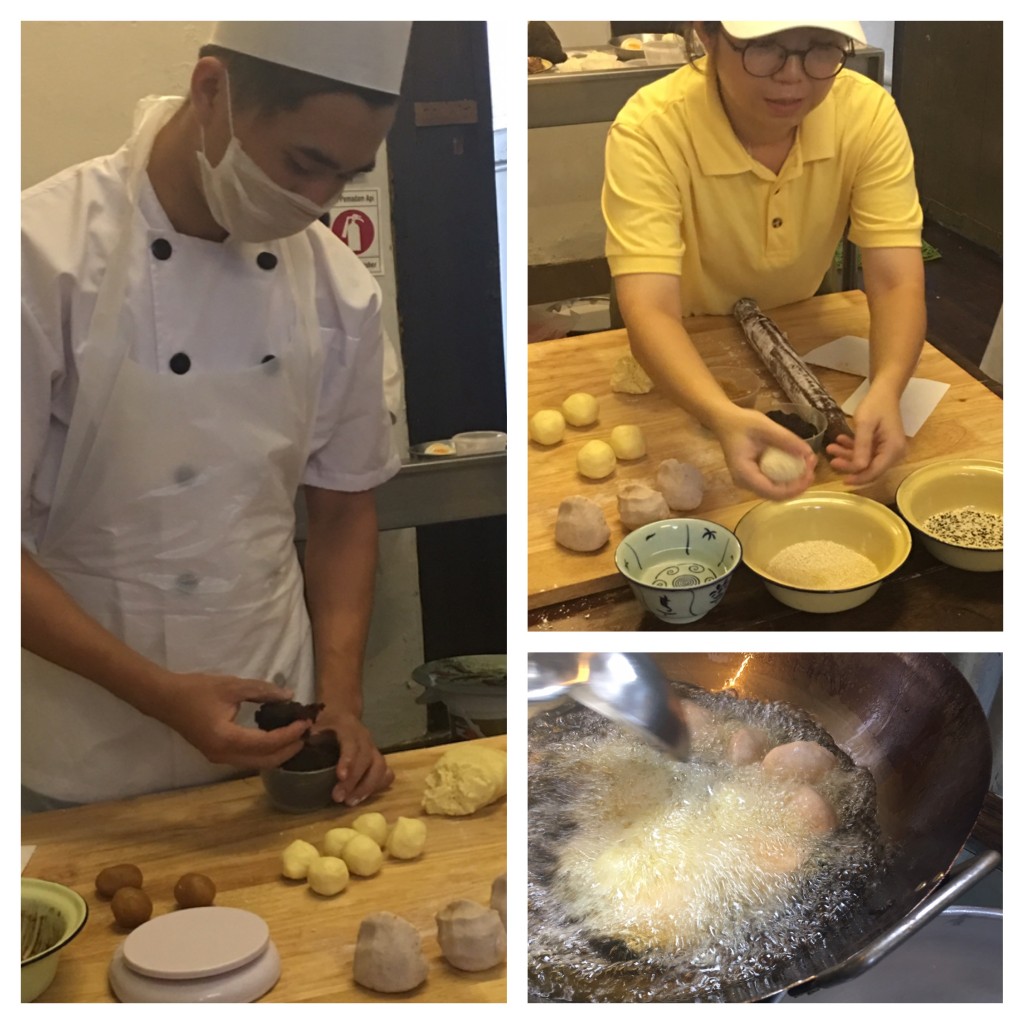 Preparing the jian dui
Deep-fried yam puff RM2.20 and jian dui RM1.80
Au is also proud of his soya bean milk and tau huay (soya beancurd) made from imported quality soy beans. A limited quantity of fresh soya bean milk is made everyday as there are no preservatives added to it.
"The tau huay made in a wooden bucket 木桶豆腐花 is eaten with white sugar syrup or ginger flavored black sugar syrup. This dessert is mostly served hot, but here in Ming Xiang Tai, customers are given the chilled option too." Au explains.
Served well-chilled, the tau huay is cool and refreshing.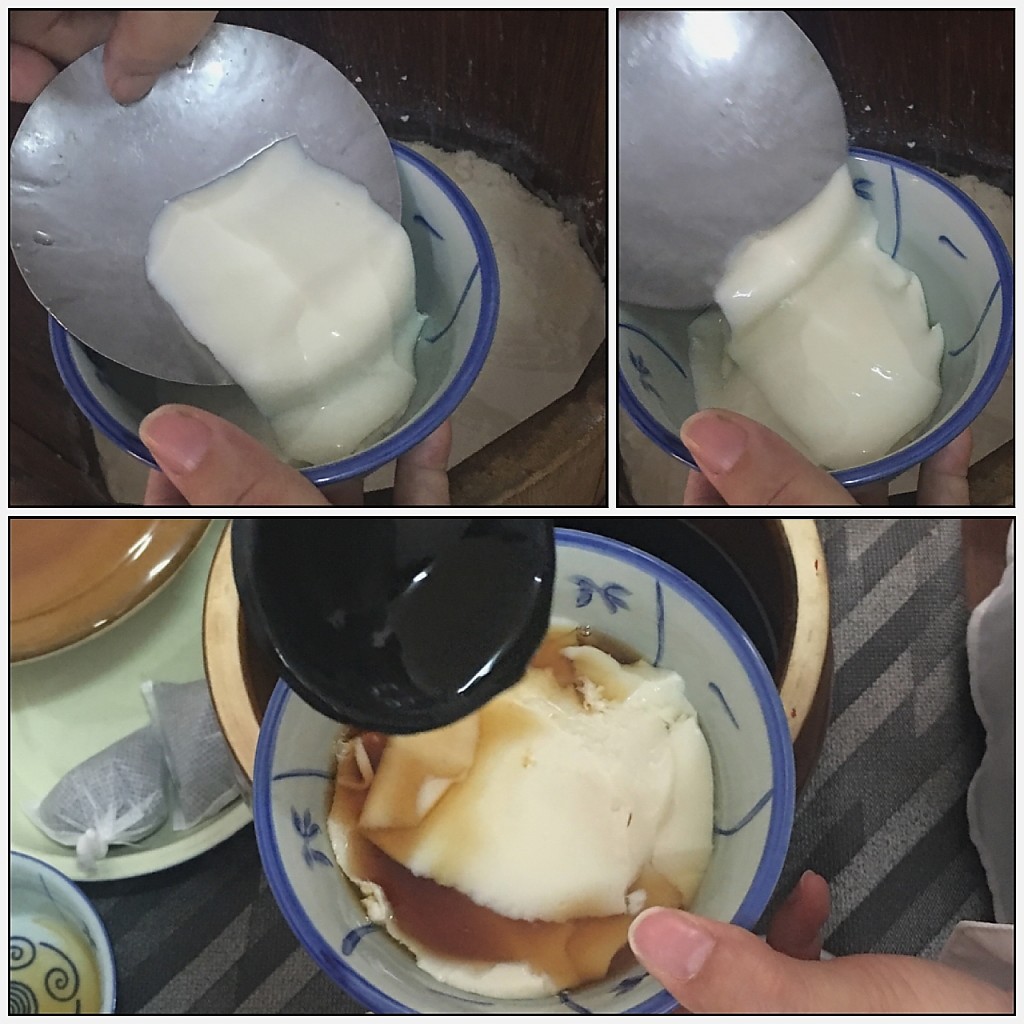 A bowl of tau huay 木桶豆腐花 RM2.50
We also joined in for a hands-on session of baoz and deep-fried items. It looks easy but in fact quite tricky to master – especially the pleating of the boaz.
At the end of it, we got to savor our own creations. The steamed baoz puffed up nicely with a slightly chewy bite. It is pretty impressive, don't you think?
With Gibson and Au (in black)
Overall it was a fun way to spend a Sunday at Ming Xiang Tai Penang Road – learning, cooking and eating tasty traditional Cantonese pastries and biscuits which brings back many childhood memories.
For those eager to learn exciting cooking skills making traditional pastries and snacks, check out Ming Xiang Tai's Facebook page as they will be offering a variety of traditional cooking classes.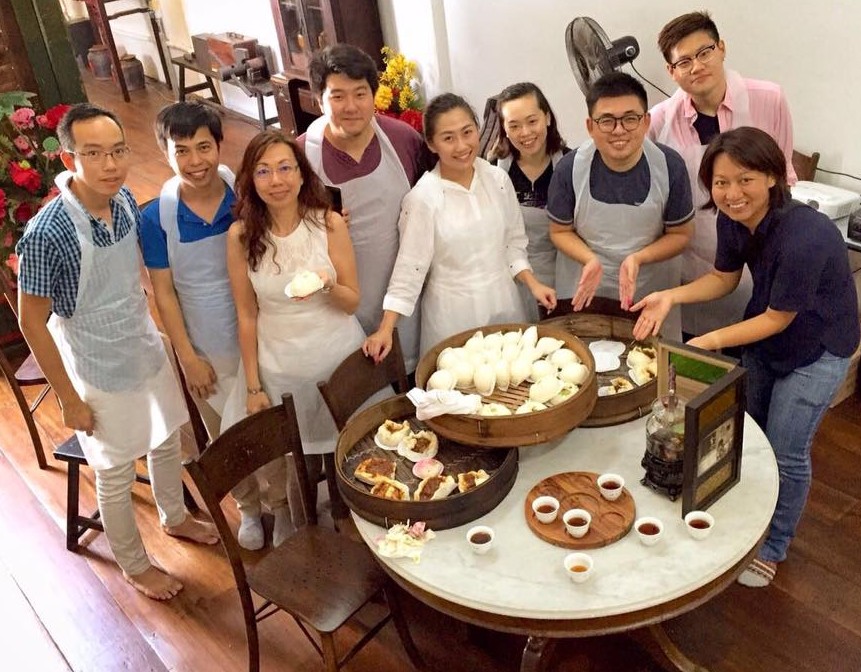 Photo by Ming Xiang Tai
Other Ming Xiang Tai outlets are located at Suntech at Penang Cybercity, Armenian Street and Jalan Burma.
Ming Xiang Tai Penang Road
475-A Jalan Penang
10000 George Town
Penang
Tel: 6 (04) 261 2511
Business Hours: 8.30am till 7pm
* Many thanks to Ming Xiang Tai for extending this invitation.