Teels Heritage Cafe @Ghee Hiang Boutique Burmah Road, Penang
BY CK Lam
In Penang, Ghee Hiang is a one-stop place for traditional tau sar pneah (tambun biscuit), sesame oil and other products that have made it well-known. Lately, the folks at Ghee Hiang has done up their Ghee Hiang Boutique Burmah Road outlet with a new cafe known as Teels Heritage Cafe.
Its exterior retained its colonial style and with its wall painted blue, it strikes a stunning vision when you drive pass it.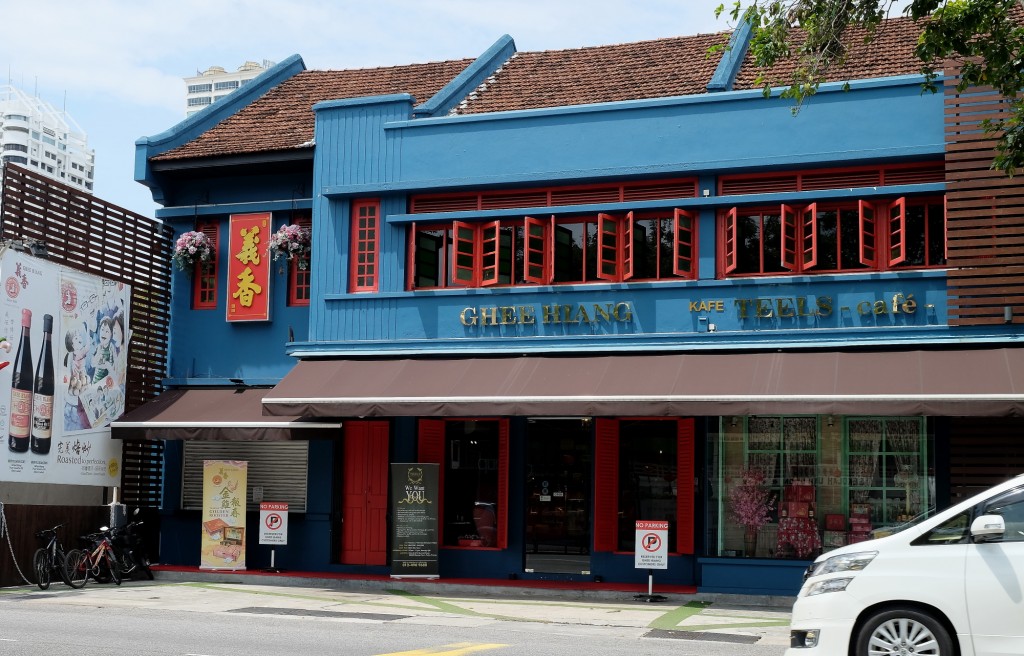 With its all red window frames and colorful interiors, the ambience at Teels Heritage Cafe is all about warm relaxing dining spaces. The two dining rooms upstairs with Western and Asian inspired decor is large, with seating for 25 people each. Furthermore, downstairs has a dining area that can accommodate four tables.
Merchant's Tea Room with asian inspired decor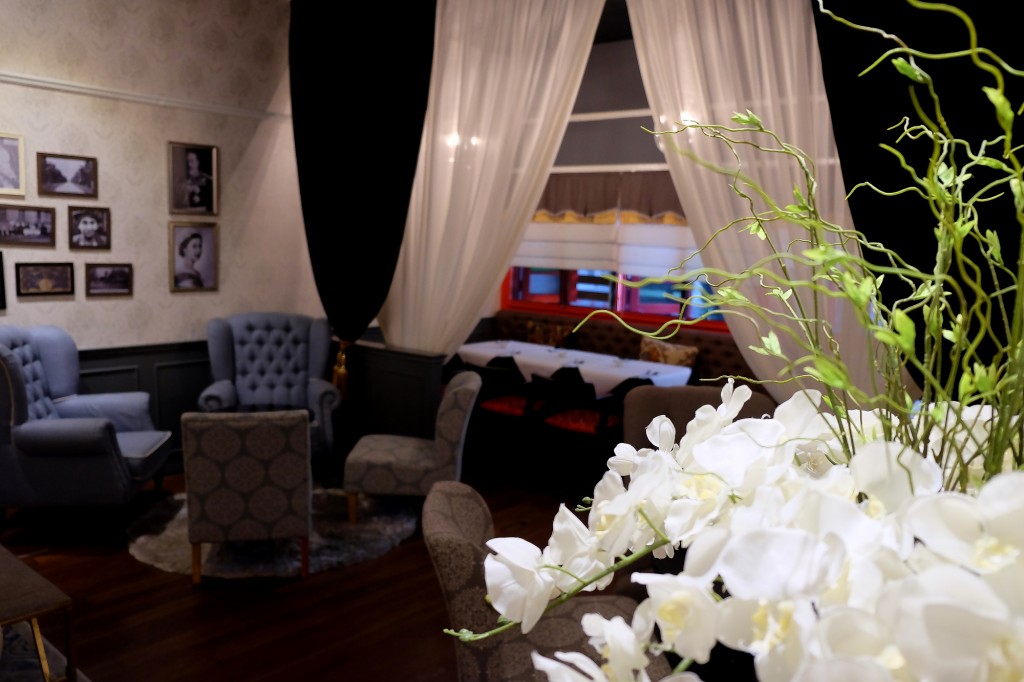 Queen Victoria's Parlour with western inspired decor
Opened recently, its British Malaya nostalgia pork-free menu is very simple and straight forward, with prices ranging from RM17 – RM28. For now, it offers six mains and desserts besides coffee, tea and fresh juices.  We were told that the menu will be further developed in time to come.
For comfort treats, check out the 360′ Beef Brisket Sliders. The dish offers a trio of sliders with filling of six hours tender and rich local pulled grass-fed beef brisket and fresh greens. It is the right size, where you can pick it up and eat it without the need of cutting. Priced at RM24.80, this slider variation comes with deep-fried corn fries. It is a filling deal!
360′ Beef Brisket Sliders RM24.80
Next up is the Baba's Sambal King Prawn Noodles. The dish takes the form of housemade flat wheat noodles cooked with local market fresh wild caught tiger king prawns, spiced with hot fiery sambal. Endowed with bright red orange color, the well spiced dish served with crisp salad and lime juice can be fairly 'hot' for some.
Baba's Sambal King Prawn Noodles RM26.80
Sargeant-Major Fish & Wedges had deep-fried light batter local wild caught sea bass served with deep-fried fish skin, potato wedges, quinoa pumpkin salad, homemade tartar sauce,  sweet pea puree and a squeeze of lemon.
What I love the most about this dish is the addition of quinoa pumpkin salad, which delivers a unique flavor and more crunch and texture.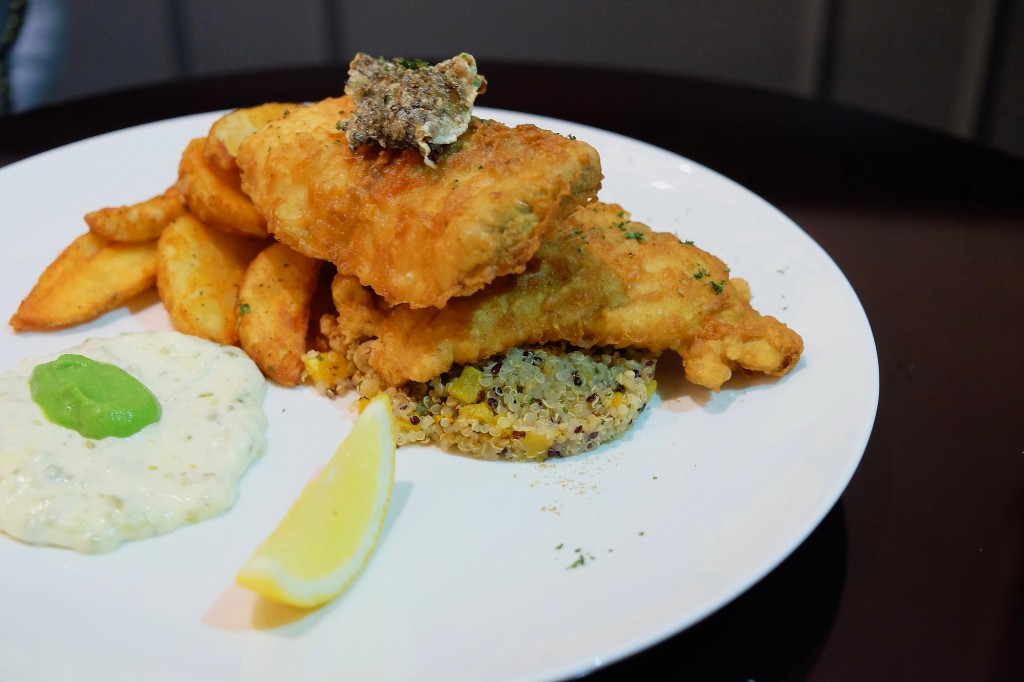 Sargeant-Major Fish & Wedges RM28.80
The Nanna's Herbed Lamb Envelopes has layers of puff pastry covering full-flavored minced filling of lamb. The meat cooked with onions and potatoes marinated with ground spices of tumeric, thyme, cumin and garam masala has comfort spice flavors. It was thoroughly enjoyable and priced at RM22.80.
The Stevedore Soy Chicken is the most unique of the dishes. Interestingly, no breast meat is served here, rather, an enormous drumstick. The chicken stew is flavored with soy sauce, cinnamon, star anise and Ghee Hiang's own fragrant pure sesame oil which adds a distinctive nutty taste to the dish. The chicken is served ladled over jasmine rice, with baby spinach and toppings of white sesame seeds, julienne ginger and red chilies.
The sauce was poured at the table, releasing a powerful enticing aroma of sesame oil into the air. The flavors of the dish is balanced with a bowl of nanny's acar pickles.
Stevedore Soy Chicken Stew RM18.80
And, lastly is the Avocado/Mushroom Char-Bread RM17.80. The dish hits the spot with creamy avocado garlic smash and whole swiss brown mushrooms served on chargrilled wheat grain artisan bread.
A soft poached free range egg is an excellent choice for add-on, as its yolk running through the plate makes for a nice dipping sauce for the toast.

    A blend of avo, mushroom and egg in each bite
To mark a sweet end to the meal, we were served with a dessert prepared with a selection of Ghee Hiang's crisps. A scoop of housemade Salted Caramel Ice Cream arrived topped with matcha crisp sitting on a bed of crushed sesame crisp along with mixed berries puree. The matcha crisp is good, with slight sweetness and crunch. A cup of white coffee was just the perfect accompaniment for the dessert.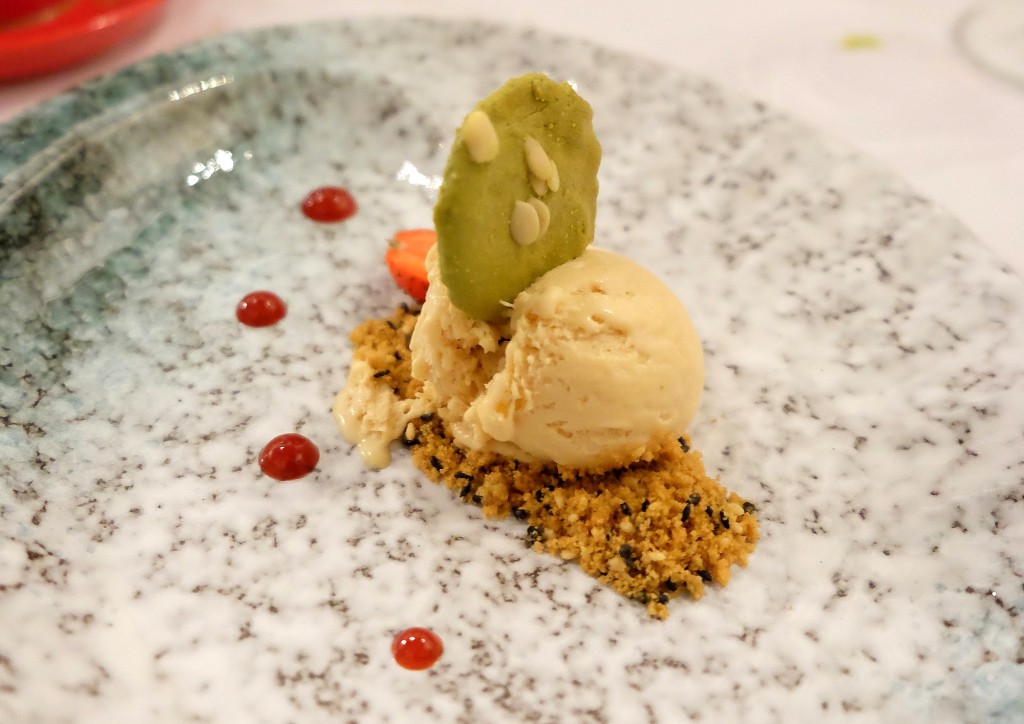 Salted Caramel Ice Cream RM10.90
Besides coffee, the menu also has tea, fresh juices and infused water besides creative healthy drinks with names like Living Beauty, Teels Special, Stay Young and Thin Lady, all priced at RM13.90.  The Teels Special is a healthy concoction of pineapple, carrot, apple & mint leaves.
Overall then, Teels Heritage Cafe delivered a meal with dishes generously portioned. Complimentary warm bread with balsamic vinegar and a lemongrass drink are utterly delightful.
Another welcome addition is its BYO policy, with RM20 corkage fee per bottle of wine and RM30 per bottle of liquor.
Complimentary bread basket and glass of lemongrass
Membership is available at Teels Heritage Cafe. Take the opportunity to sign up as a member for a year at RM100. Benefits include a RM110 voucher which is valid for two months, and even can be used on the spot immediately after signing up!
Teels Heritage Cafe serves food from 11.30am till 10pm. Later in the day from 3pm till 6pm, the cafe offers Afternoon Tea.
Teels Heritage Cafe
144G & H Burmah Road
10400 George Town
Penang
Tel: 04-228 8177
Closed on Monday
* Many thanks to Teels Heritage Cafe for extending this invitation.