KOTA Dine & Coffee, When Francis Meets Rempah @ Fort Cornwallis Penang
BY CK Lam
While new modern cafes and eateries seem to be mushrooming out at almost every corner of Georgetown in Penang, several has since embraced innovative fusion of historical and gastronomical delights.
KOTA Dine & Coffee, When Francis Meets Rempah is one such restaurant, combining rempah (local herbs and spices) from flavors of traditional Peranakan cuisine into modern art forms.
Located inside Fort Cornwallis built in the late 18th century, the building seemingly sits in the compounds of the fort to create an aesthetically pleasing juxtaposition.
The restaurant has put up its recently attained HALAL certification from the Halal Certification Panel of Islamic Development Malaysia. With this, diners can savor the food prepared in accordance with the requirements set by the Malaysian Halal Standard.
A statue of Captain Francis Light
The kitchen prides itself for the modern innovation of traditional dishes, and one particular dish that you might choose to start with is the Laksa. You may wonder, ordinary bowl of laksa noodles in soup? On the contrary, the kitchen had deconstruct and put on a refreshing modern take on the popular Penang street food!
Various vegetables (cucumber and pineapple) and laksa noodles wrapped in thin rice paper are served with a bowl of  hot sourish spicy laksa soup (made with mackerel fish) for dipping. Most notably, this wrap absorbs up plenty of laksa soup in each mouthful, making it an excellent start to the meal.
Laksa RM25
Next up is a dish with something for everyone, namely the Jumbo Platter. As the name suggest, this is a collection of small bites and it is great for sampling. It includes pai tee (top hats), turmeric chicken, jiu hu char (stir-fried jicama), tandoori chicken (yogurt-marinated chicken), yam puff with sardine filling as well as kerabu (pickled mango salad). The kerabu comes with an appetizing sourish taste while the pai tee is perked up with briny pops of ebiko.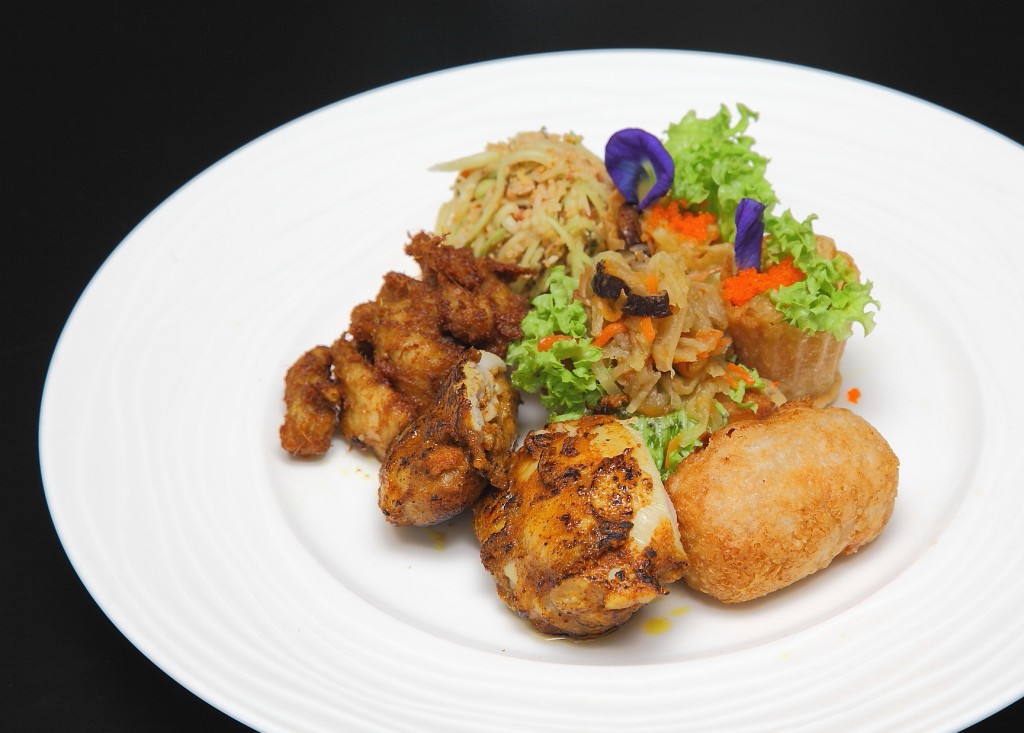 Jumbo Platter RM38
Good old chicken curry comes in a creative form in the Kari dish – a single pot meal of chicken curry crowned with golden puff pastry. Prepared with mild spiciness, this dish is served with several pieces of Benggali bread to scoop up the immaculate gravy.
Kari RM25
For something a little bit more wholesome, do opt for the  artistically prepared Nyonya dish. The Peranakan cuisine is well orchestrated, tiered  with rendang chicken, achar (pickles of vegetables), traditional blue pea rice and otak-otak (fish and egg pudding). The rice melds beautifully with the ingredients.
Nyonya RM25
The Tandoori is a dish with ghee rice served with accompanying grilled chicken tandoori, yogurt and crispy papadum. The rice prepared with ghee has a strong blend of ground spices to it.
Tandoori RM24
For a complete switch in spectrum for vegetarians, do consider the newly concocted Sesame Noodle. This comforting creation is effectively capellini and beetroot salad served with a pot of herbal soup, with a medley of beancurd sheets, greens and mushrooms.
Sesame Noodle RM25
Last but not least on the list of main courses is the Chicken Satay. Instead of skewered like the traditional street food version, expect to find pieces of chicken roulade laid on ketupat (compressed rice). Marinated with lemongrass and turmeric spice mixture, the grilled roulade topped with thick spicy peanut sauce is best enjoyed with slices of fresh cucumber and onions.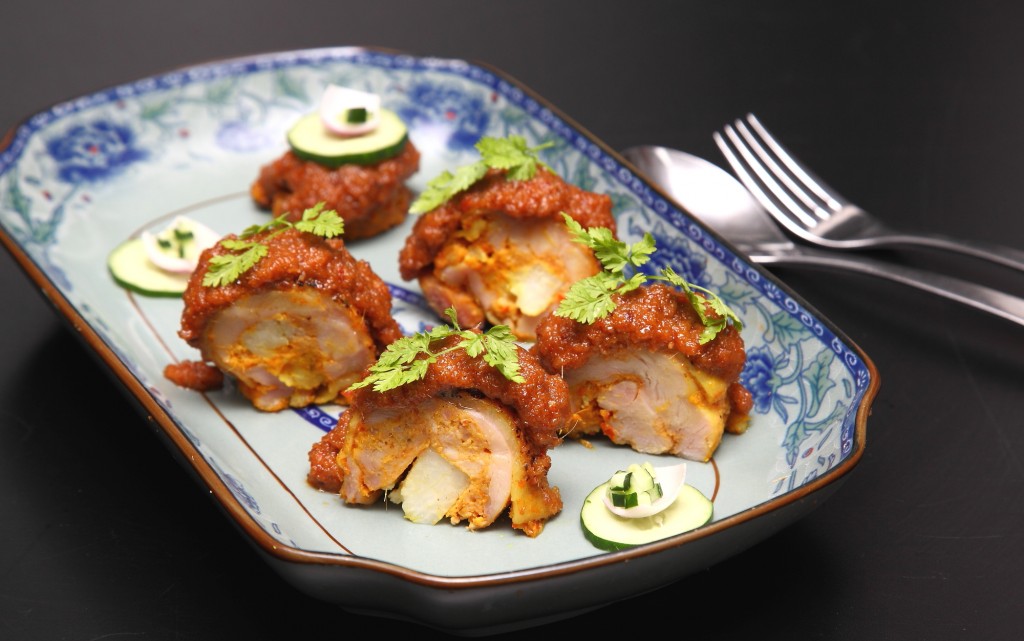 Chicken Satay RM25
Creative innovations at KOTA are not limited to savouries but on sweet desserts as well. Some of the playful choices include Nyonya Tiramisu, Nasi Lemak Cake and Crème Brulee. Unique in their own way, these desserts are definitely worth a try especially on your maiden visit to KOTA.
Perhaps the Nasi Lemak Cake is more self-explanatory by its traditional Malay name. One can hardly believe it's possible to make this Malaysian breakfast favorite to a sweet and savory dessert. The dish had spicy flavored crumbly biscuit base piled with rice, sponge cake, coconut milk cream, and cucumber-flavored jell. Enhanced with peanuts and ikan bilis (deep-fried anchovies), the combination of elements provides a challenge for the palate. For those who are food curious, this is without doubt a dish to try.
The Nyonya Tiramisu is the Italian dessert with its ingredient of mascarpone cheese switched with local kopi-o (black coffee), coconut milk and coconut flakes cooked with palm sugar.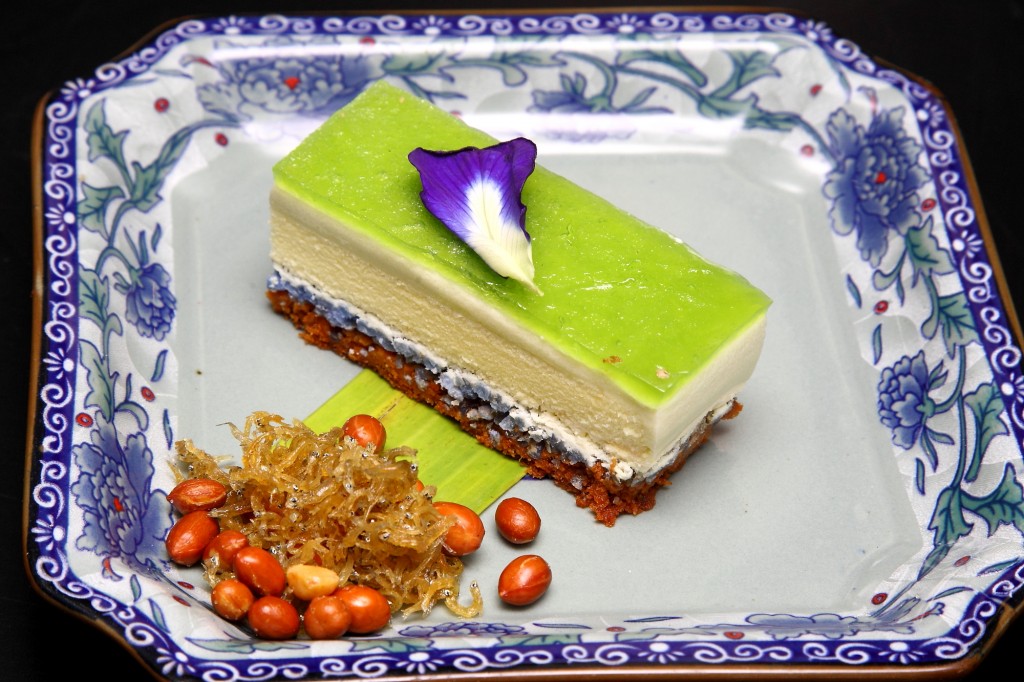 Nasi Lemak Cake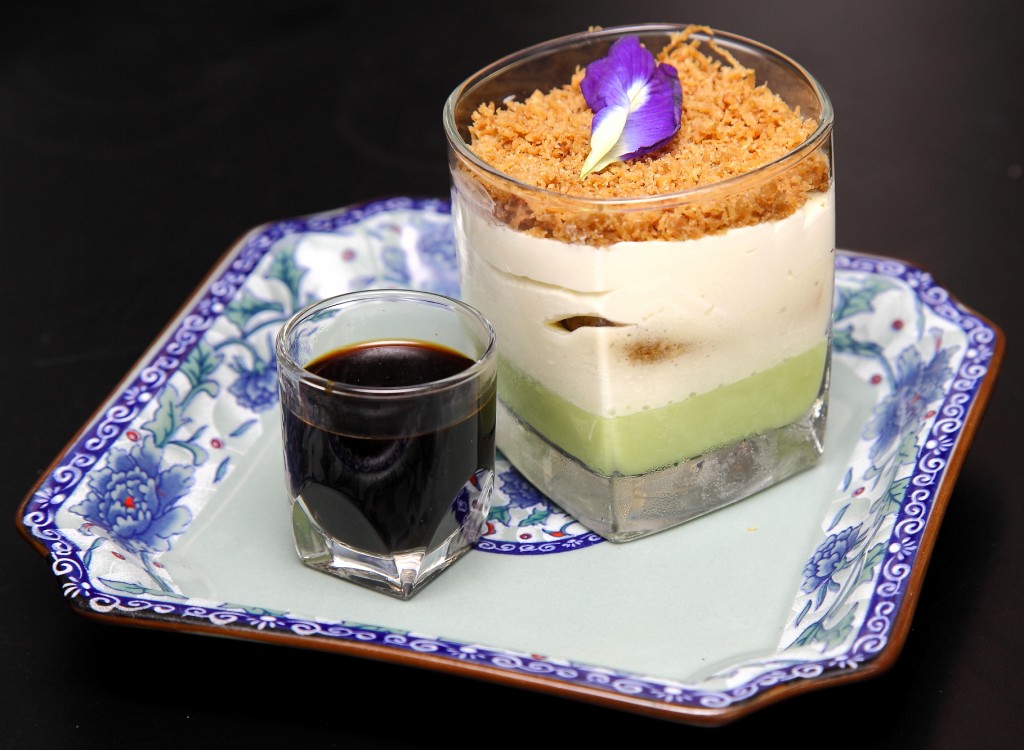 Nyonya Tiramisu
The signature dessert at KOTA, however, is the lovely trio of Crème Brulee with caramelised sugar coating. Having received rave reviews since its inception, the Crème Brulee comes in three distinct local flavors – black glutinous rice, pandan as well as gula melaka (palm sugar). The traditional and local elements inspired this western dessert very well.
Crème Brulee with flavors of  black glutinous rice, pandan & gula melaka
Wrap up the meal by sampling some of the beverages. There is the Kota Flavor which comes in three variations – Signature (lemongrass, mint, chili & lime), Sunrise (orange, lime, mint, & mango) and Sunset (watermelon, mint & lime). The Signature is particularly interesting with hint of heat.
The Pandan Milk; an ice blended drink with milk, grass jelly, basil seeds and screw pine juice is more creamy than it sounds.
Drinks priced at RM16 each
KOTA's restaurant unique dishes with ideal portion sizes and its newly acquired HALAL certification is good news for Penang, making it an attractive place for corporate and business events too.
Spacious and bright air-conditioned restaurant with outdoor sitting area
KOTA Dine & Coffee, When Francis Meets Rempah
Fort Cornwallis
Jalan Tun Syed Sheh Barakbah
10200 Georgetown
Penang.
Tel: 04 – 2519420
Business Hours: Daily 10am – 10pm
* Many thanks to KOTA Dine & Coffee, When Francis Meets Rempah for extending this invitation.