The Ais @Chulia Street, Penang
BY CK Lam
On Chulia Street in George Town, Penang, The Ais has recently opened to give locals and tourist a place to cap off with cool desserts. This dessert cafe serves up interesting homemade ice cold specialities: ice cream, kefir and cold press juices.
While it may be new to the George Town area, the owner, Jonathan Oong, already has an outlet in Pulau Tikus area and been in business since  2013. He supplies his ice cream to many cafes and restaurants throughout Penang island, at Soul Cafe, Espressolab Cafe, Happiness Organic Health shop, Caffeine Chemistry Cafe-13, Permai Village Cafe, and Journey 2 Life.
The freshly homemade ice cream are made without added preservative, coloring and flavoring, and its range of flavors include: sugarfree, vegan, fruits, authentic Asian and liquor.
According to Jonathan, the most valuable ingredient for homemade ice cream is time. It starts with cooking the custard, chill overnight, churn till smooth, then freeze it till harden.
"I use all natural ingredients and I add new flavors seasonally," Jonathan explains while preparing our order. With the on-going mango season, you will find mango ice cream on the menu.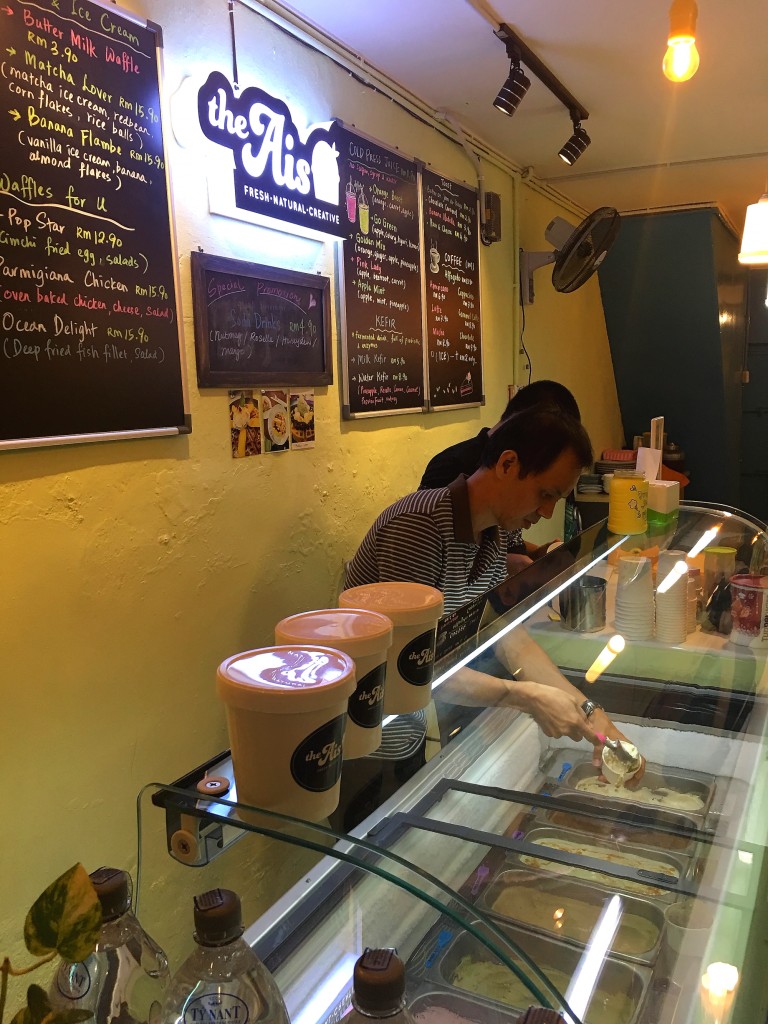 The assorted premium artisan ice cream include authentic Asian flavors such as Horlicks, Gula Melaka, Black Sesame and Kopi Kao. For vegan, you can opt for Pineapple, Mango, Coconut and Avocado.
The cafe also offers a variety of sugar free choices – Matcha, Purple Sweet Potato and Dark Chocolate.  Liquor options include Nutella Guiness, Rum & Raisin and Snow White.
Single scoop RM6.90, double scoop RM12.90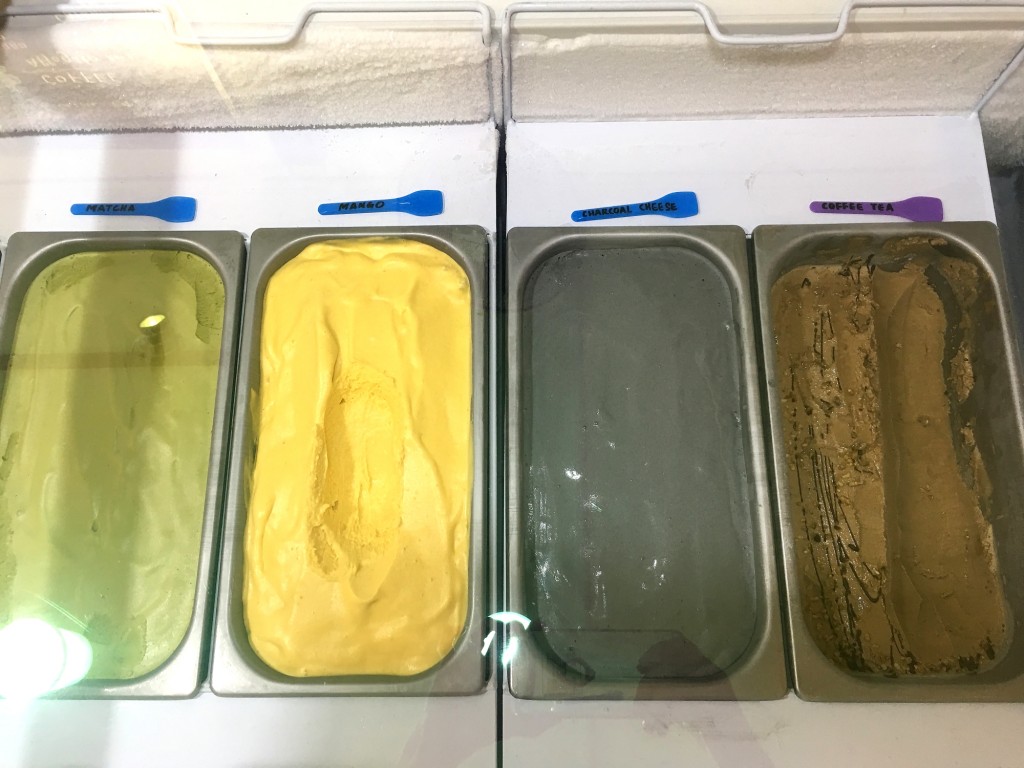 We had the double waffle with a scoop of Snow White and Cinnamon Plum ice cream (RM15.90). The freshly made waffle is heavy and comes with a chewy yet tender crumb within, unlike those crispy and light waffle. The scoop of Snow White ice cream pleasantly surprised with its unique Chinese liquor 高粱酒 while the Cinnamon Plum ice cream 肉桂桃 with a nice zing from the plum offers a lovely play of flavors.
Also worth checking out is the new offering of 'Double Bliss', with charcoal and butter milk waffles, served with fresh mango, kiwi and a scoop of vanilla bean ice cream.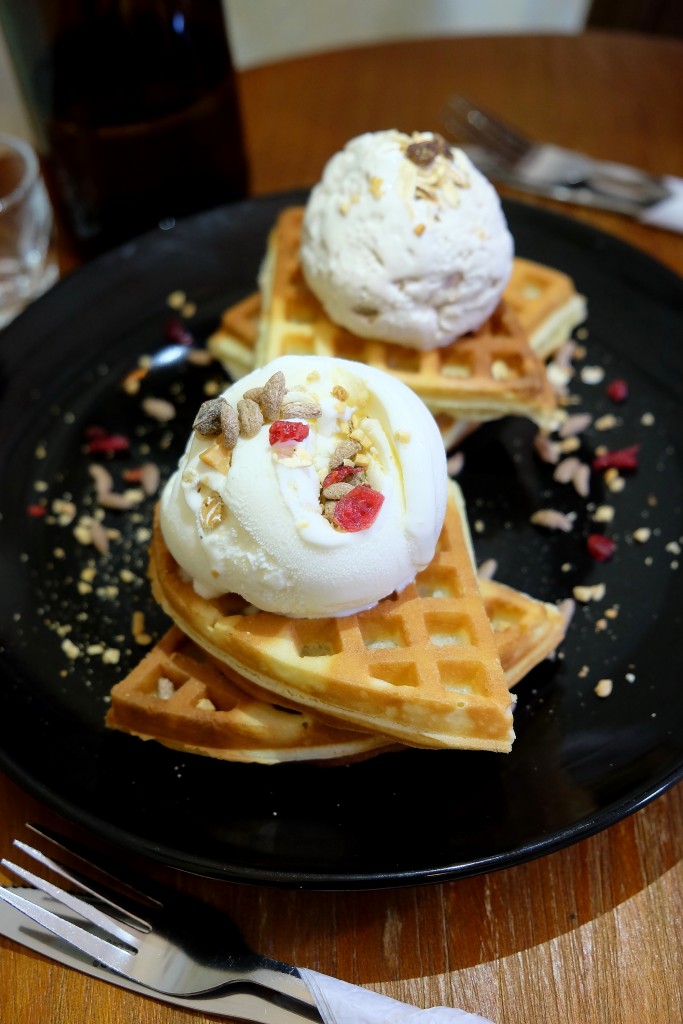 Waffle with cinnamon plum ice cream 肉桂桃 & snow white ice cream 高粱酒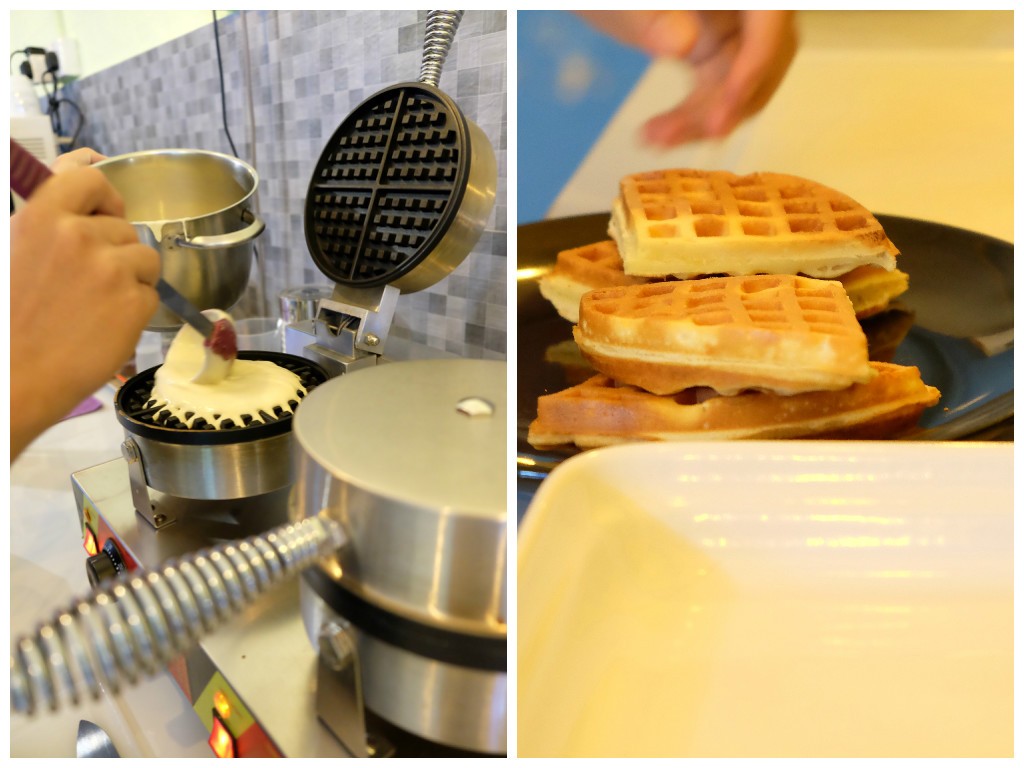 For those with savory tummies, there is a couple of choices. There are options of K-Pop Star, Parmigiana Chicken and the Ocean Delight, prepared with waffles. The Parmigiana Chicken had salad and nicely seasoned oven-baked chicken with a layer of melted cheese resting on a waffle.
On the other hand, the K-Pop Star is the perfect treat when those kimchi cravings hit.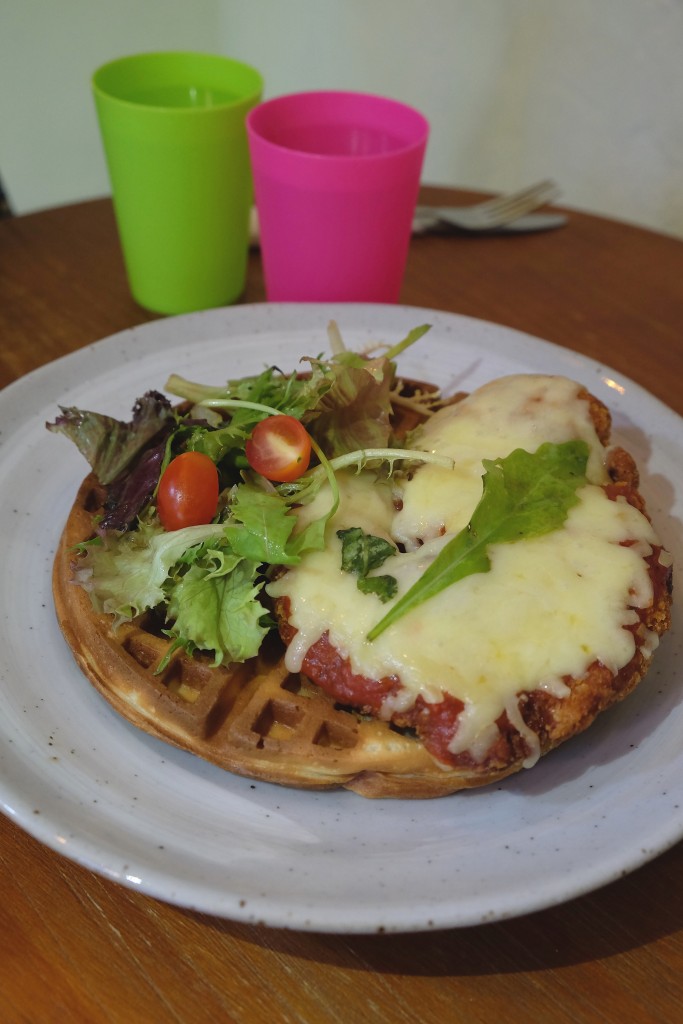 Parmigiana Chicken RM15.90
After perusing the menu, we came across the water and milk kefir. The fermented probiotic fruit drink is a huge source of probiotic and enzymes, and you can try it in a variety of fruit flavors including coconut, passionfruit, nutmeg, roselle and lemon. According to Jonathan, the beverage not only has health benefits but it is delicious too.
We savored the water kefir with roselle and coconut flavor. Both are light, bubbly and refreshing.
Roselle and coconut kefir
At this cool casual spot, you can take a seat upstairs or at the several tables (near the entrance) lined up against the wall adorned with photos of the children smile program in Isan, Thailand. Jonathan is doing a deal of work in the program. He has been helping the helpless and orphanage children in Isan since 2013 through the resources he gathers at The Ais.
The business hours start from 2pm and the cafe will stay open till 10pm, from Tuesday till Sunday.
The Ais
473 Lebuh Chulia
10200 George Town
Penang
Tel: 04-2610427