Warung Tok Mat Mee Udang, Tanjung Bungah, Penang
BY CK Lam
Warung Tok Mat Mee Udang located in the shorelines of Tanjung Bungah in Penang is one of the places to go for Malay dishes prepared with fresh catch of the day. The non-air-conditioned eatery with its rustic appeal and panoramic view of the sea and river is an idyllic escape from city dining.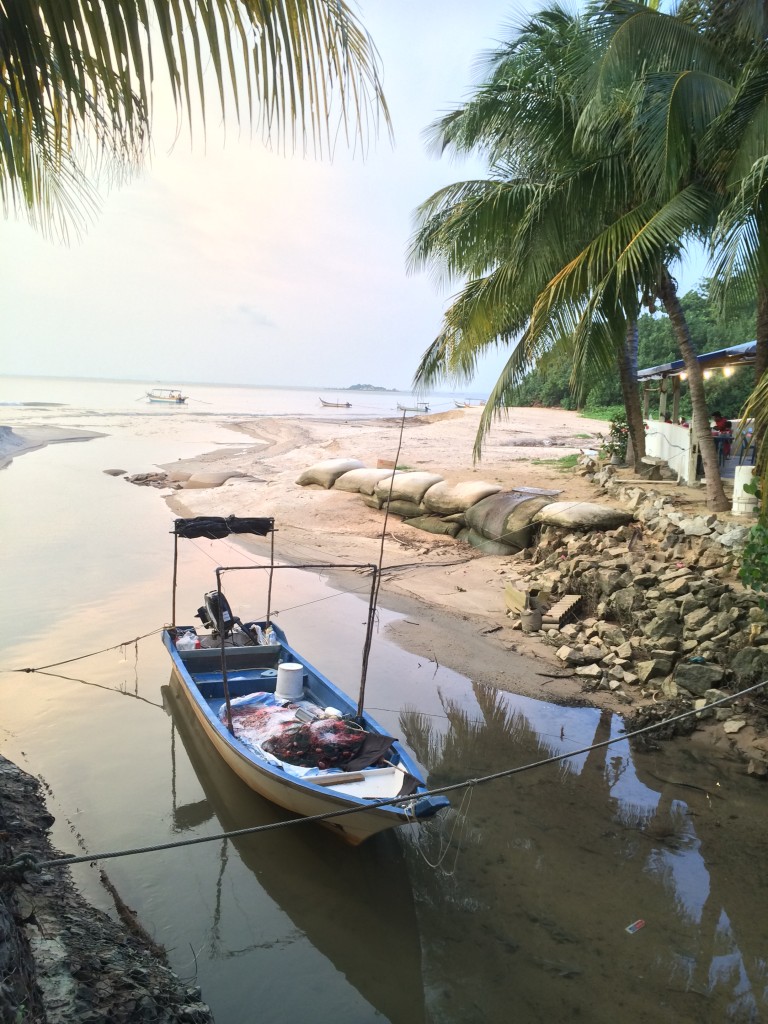 Warung Mee Udang Tok Mat…where the river meets the sea
The menu has many stir-fried dishes and noodles and the main focus is the bounty of the sea.  The locally sourced seafood are good and fresh.
The star of the menu is the mee udang – essentially a bowl of yellow noodles, scalded and cooked with large prawns in a lightly spicy sweet broth. The broth packs a punch, pushed by the freshness of the seafood, chili and tomato. Garnishing include fresh onions, deep-fried shallots and spring onions for a refreshing spin. Besides the popular choice of yellow mee, the prawns can be cooked with koew teow, bee hoon or maggie mee (instant noodles).
This mee udang is always a big hit with diners but if prawn does not appeal to you, it can be replaced by crab.
Mee udang RM15 (small)
If you like a rice meal with stir-fried dishes, check out its countless choices. We had the kangkung with prawns, ayam kunyit (turmeric chicken with a combo of cauliflower and long beans), telur dadar (omelette) and the ikan bawal goreng set (deep-fried black pomfret).
The ikan bawal goreng set (black pomfret) is a one-dish meal. The fish is deep-fried with crispy edges and comes with white rice,  gulai ikan (fish curry gravy) and ulam (greens). The flavor is heightened by condiments of chili padi in sweet black sauce and sambal belacan.
Deep-fried black pomfret (ikan bawal goreng)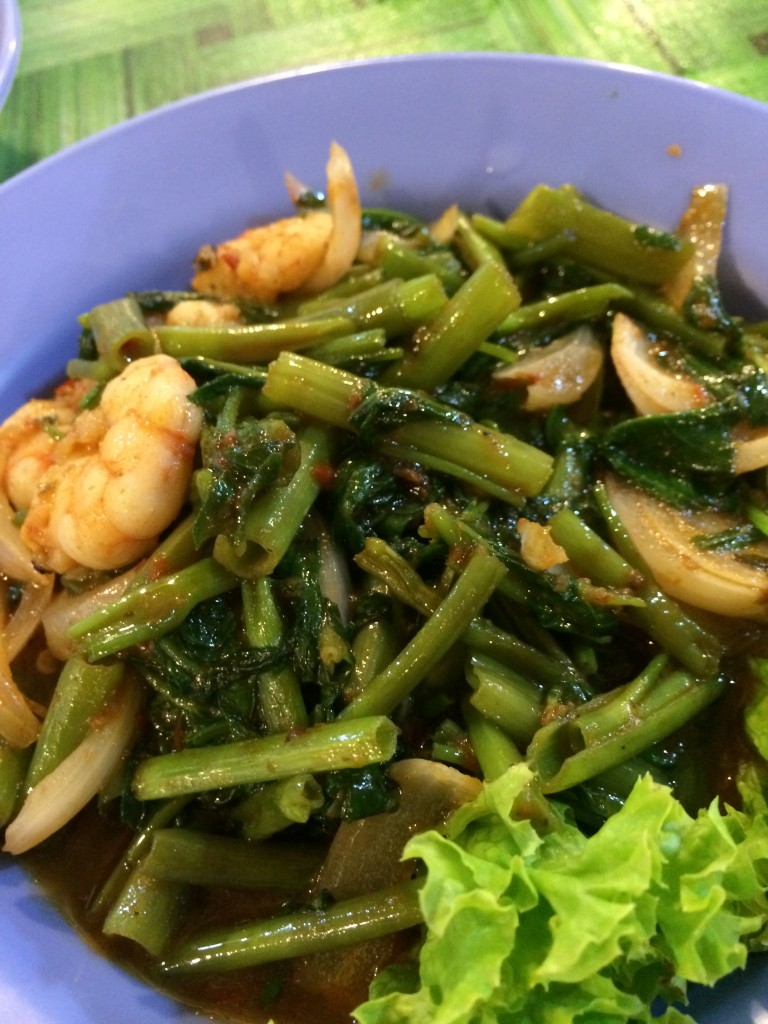 Kangkung with prawns
Ayam kunyit
Udang besar goreng butter
This eatery on the beach doesn't just serve seafood. Tasty version of stir-fried rice prepared with chicken, beef, salted fish and seafood also made an appearance on the menu.
The nasi goreng kampung (fried rice) is enriched by the addition of deep-fried anchovies, and the chili padi lends a delicious spiciness to the dish.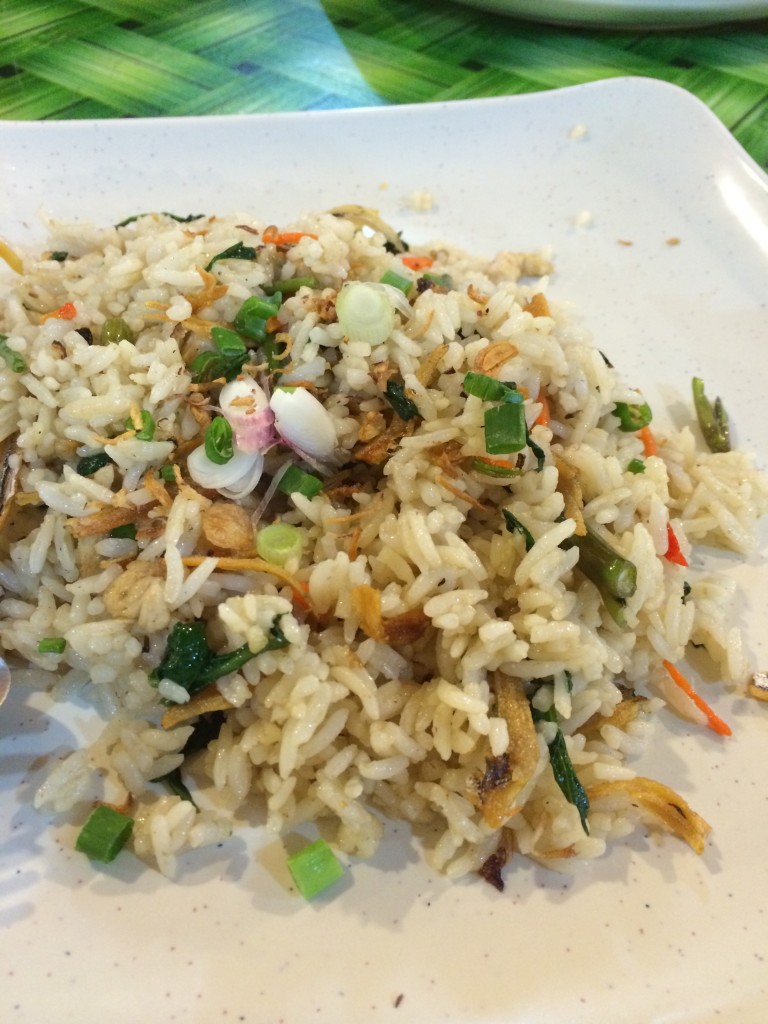 Nasi goreng kampung RM5
Do consider making a trip to Warung Tok Mat Mee Udang to enjoy the food and tranquility the place has to offer. The warung is open for dinner six days a week. Business hours are from 6pm till 11pm and closing day is Monday, and they are reachable at:  011-24014303.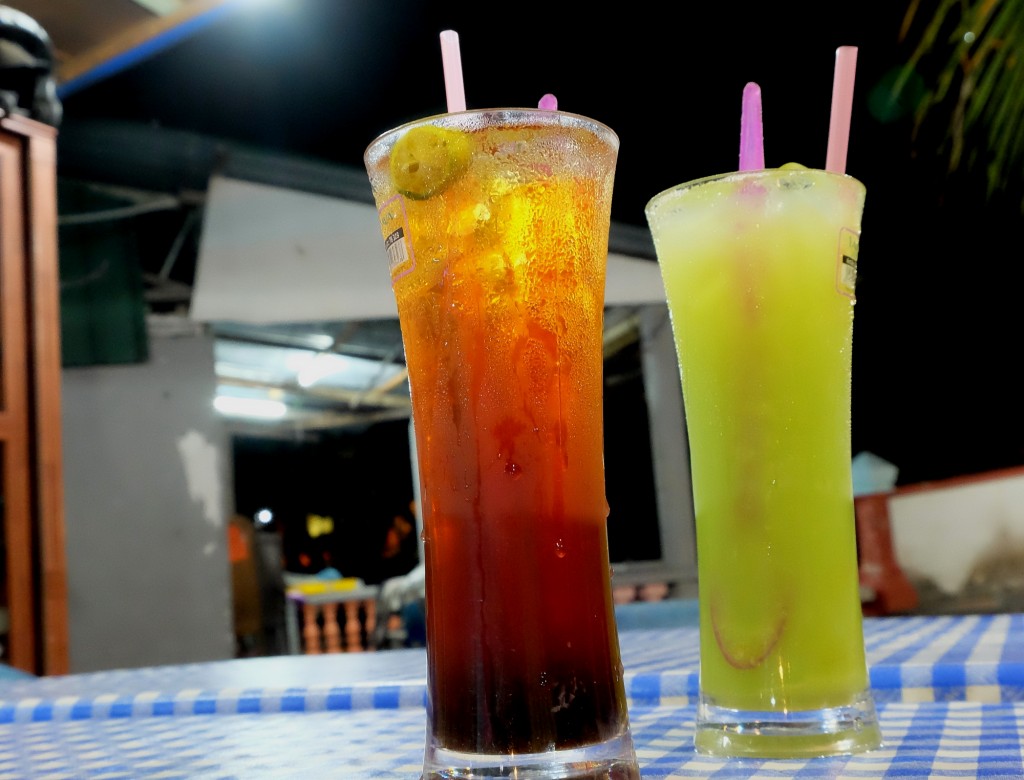 Assam Boi RM2.50 and Ampra juice RM3
Location: To get to Warung Tok Mat Mee Udang from Tanjung Bungah, look out for the left-hand side gravel lane before the Tanjung Bungah/Maybank traffic light junction. Drive on the narrow bumpy gravel lane for a short distance and you will see the eatery on your right.
Welcomed by whiff of sea breeze while dining
Warung Tok Mat Mee Udang
Off Jalan Tanjung Bungah
11200 Tanjung Bungah
Penang