Macalister Mansion Dining Room – Nordic to East Menu With Malaysian Flavors
BY CK Lam
Recently we embarked on a Nordic fusion gastronomic journey at the Dining Room in Macalister Mansion, Penang where Head Chef Johnson Wong and former Noma Chef de Partie, Tor Aik Chua joined together for a two-night collaboration dinner.
The chefs presented their styles of cuisine into an eight-course Nordic to East Menu with Malaysian Flavors complemented by fine French labels.
The meal began with a series of canapes, which are always a welcome way to start a meal. There were three and the first was the mango and pineapple with galangal. The mango chosen was perfect, neither overly sour nor sweet. The second canape was orange sorbet and basil, while the third was Mushroom golden "cakoi". The golden brown cakoi tasted particularly interesting with the mushroom and truffle recipe.
Mango and pineapple with galangal
Mushroom golden "cakoi"
Orange sorbet and basil
Then came the amuse bouche, with deep-fried frog leg wrapped with threads of kataffi. It was a crisp mouthful. The lightly sweet meat worked well with the accompanying soil and cream with garlic flavour well controlled.
Next we were offered the restaurant's signature coffee roll which was served with smoked butter.
First course followed with fresh flavor of cucumber. Long strips of cucumber were topped with basil sorbet and drizzled with oil infused with goodness of turmeric leaves. To add depth and color, the chef finishes with edible flowers and light scattering of black olive soil. The combination was refreshing.
Wine: Ch Peyruchet Blanc 2015
From the simple first course, we moved on to the comforting egg dish prepared sous-vide at 62.5c, timed beautifully for an hour. The dish consists of leek, lemongrass mousse and dehydrated enoki mushrooms. You will be surprised how tasty this dish was together with lemongrass mousse creaminess and crispy buckwheat.
Wine: Ch Lamonthe-Vincent Intense AOC Bordeaux Blanc 2015
For the third course, Langoustine (baby lobster from Denmark) was served with cabbage. For additional taste, the chef uses a puree of creamy smooth watercress, though was a bit salty for me. The crustacean on the other hand was prepared with an exceptional sweet and savory flavor.
Wine: Ch La Croix Saint Estephe 2011
The next course of bone marrow truly tickled meat-lovers with its acquired taste. The rendition of the rich dish was executed with flavors of the gelatinous goodness balanced by fragrance of herbs, Sarawak peppercorns, olive oil and other ingredients. The marrow tasted very much like butter and would be awesome smothered on toast.
Wine: Ch Pavilion de Leoville Poyferre Saint Julien 2013
A huge bone with gelatinous goodness
Marble goby with layers of skin and scales was served with kesum leaves, smoked butter sauce, and kale root with mild cabbage flavor. The fish was kept moist and juicy; on the other hand the skin was crispy but the scales could do with more crispy crunchiness.
Wine: Chateau Les Tourelles De Longueville Pauilac 2010
The next dish was beef tenderloin with luxury toppings of truffle, accompanied by a barley risotto. Also served was a clear root vegetable broth and the presentation is handsomer with Burgundy truffle delicately shaved over it. The tenderloin was succulent with earthiness of truffle, and together with the root vegetable broth, rendered pleasant flavour combinations from the quality ingredients.
Wine: Chateau Le Jardin De Petit Village Pomerol 2012
Next was a lighter and refreshing serving of shaved ice with bright dose of lemon and nutmeg.
Aside from the many savory dishes, the menu gave a variety of sweets. The dish with white coffee mousse, mascarpone, jellies and amaretto was the first to be presented. The uplifting boost from the coffee was an added oomph to the dessert.
Wine: Sauternes 2011
It was a contrast of textures and temperatures with fermented rice, lantana flowers, and housemade milk ice cream. Served table side with pouring of sparkling lime juice which added refreshing souriness, the creamy dessert as white as snow with scattering of lantana petals was a symphony of flavors.
Wine: Donnafugata Kabir Moscato di Pantelleria
The finale was a surprising combination, with the beautifully plated "White Chocolate" Matcha Madelaine. The light shell-shaped spongy madelaine which resembles traditional Malaysian kuih bahulu was prepared with matcha flavor and subtle sweetness.
The chef played on the local childhood snack san cha (haw flakes) to complete the combination, giving the red colour sourish sweet san cha disc a coating of white chocolate with a touch of milky richness.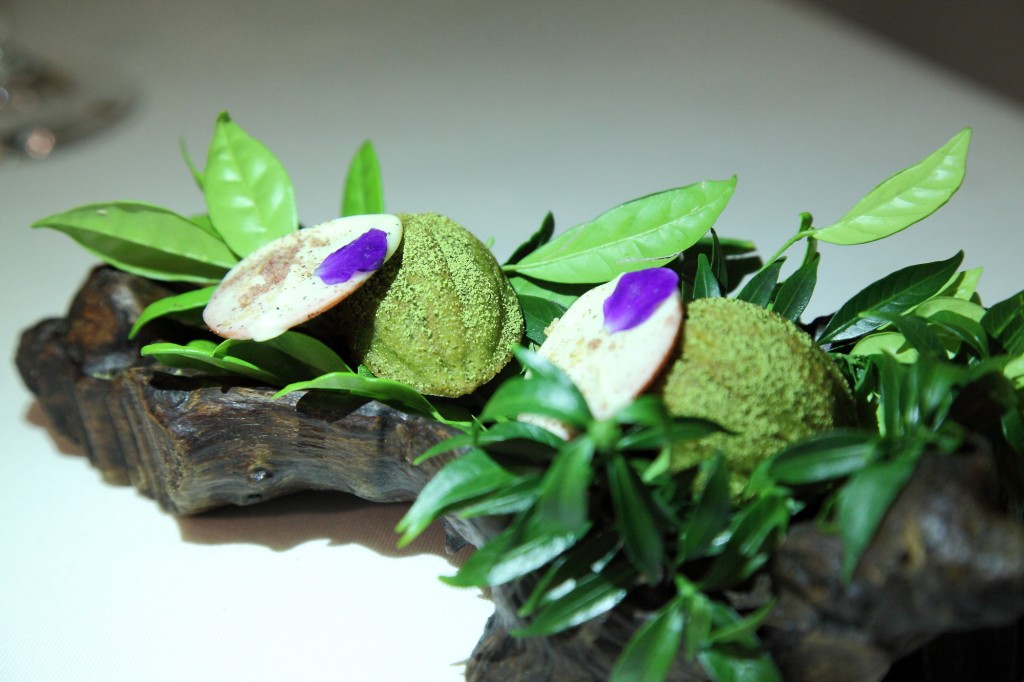 A 'wooden' centerpiece beautifully laid with the dessert
Priced at RM328nett per person, with additional RM80 for wine pairing, the meal by Chef Johnson and Chef Tor with flavors built with local and imported ingredients working in unison was worth the price.
We loved the exciting culinary experience, attentive service with detailed explanation of the dishes, and not to mention, the choice of plates and cutlery.
Dining Room business hours are from 7pm till 11pm, Tuesday to Sunday.
Macalister Mansion
228 Jalan Macalister
Penang
Tel: 04-228 3888
*Many thanks to Macalister Mansion for extending this invitation.