Red Courtyard 红庭院 @King Street, Penang – Hunan Cuisine & Hotpot
Red Courtyard at King Street, Penang
Brightly blooming as one of the newest Chinese restaurants in the heart of Georgetown, Penang, Red Courtyard 红庭院 is a breath of fresh air with its Hunan culinary delights. Priding itself with its famous hotpot and Hunan spicy beer duck, this establishment formerly housed the Das Rad Cafe and it is located right next to the GEM Indian Restaurant along King Street.
The place itself is hard to miss as the entire facade is adorned with bright red, with its classic Penang Chinese heritage building facade welcoming you as you step inside. The interior of bright coloured wall and marble table top furnishing cast a fusion of modernism intertwined with traditional elements.
The signature dish here at Red Courtyard is most definitely the hotpot 火锅, and there are options of beef or pork. As with all hotpots, the key element to the dish is the broth that brings it all together, and not forgetting the condiments. All the chilli sauce (available for sale too) are made from scratch. Be prepared for a total palate awakening with the punchy and spicy ones.
The owner, Zhang Wei Wei explained that the broth for the hotpot is simmered for hours to create an intense yet smooth taste. The pork hotpot is on the cards for many diners. Ingredients are all of quality, as the set comes with pork meatballs, premium pork slices, pork stomach, fish slices, emperor vegetable, baby cabbage, white cabbage, bean sprout, shitake mushroom and flat mushrooms. The pork hotpot is valued at small pot RM68, medium pot RM128 and large pot RM198.
We had the pleasure to sample the beef hotpot. The beef hotpot with its rich beef broth is served with premium sirloin (Australian beef), beef tenderloin, beef balls, emperor vegetable, baby cabbage, white cabbage, bean sprout, shitake mushrooms and flat mushrooms. The highlight for the beef hotpot is definitely when enjoying the paper thin slices of beef which require only several seconds of cooking – simply wave it back and forth in the bubbling soup, dunk it in the housemade chilli sauce and enjoy! Priced slightly higher than pork, the beef hotpot is available at small pot RM88, medium pot RM168 and large pot RM248.
Beef hotpot (small size RM88)
Another highly recommended dish at Red Courtyard is the claypot lap mei fan. Other restaurants may have their own take on this dish; however the kitchen stays true to its original definition. It is a mixture of Hunanese flavors prepared with housemade smoked Hunan pork and a variety of Chinese waxed meat, steamed on a bed of rice. "Absolutely no preservatives are used in smoking the meat", says Zhang.
The oil from the varieties of meat enveloped the rice during cooking, and the result is a gorgeous piping hot serving of lap mei fan topped with two eggs. The medium pot of lap mei fan goes for RM49.90 and the large pot is priced at RM88.90.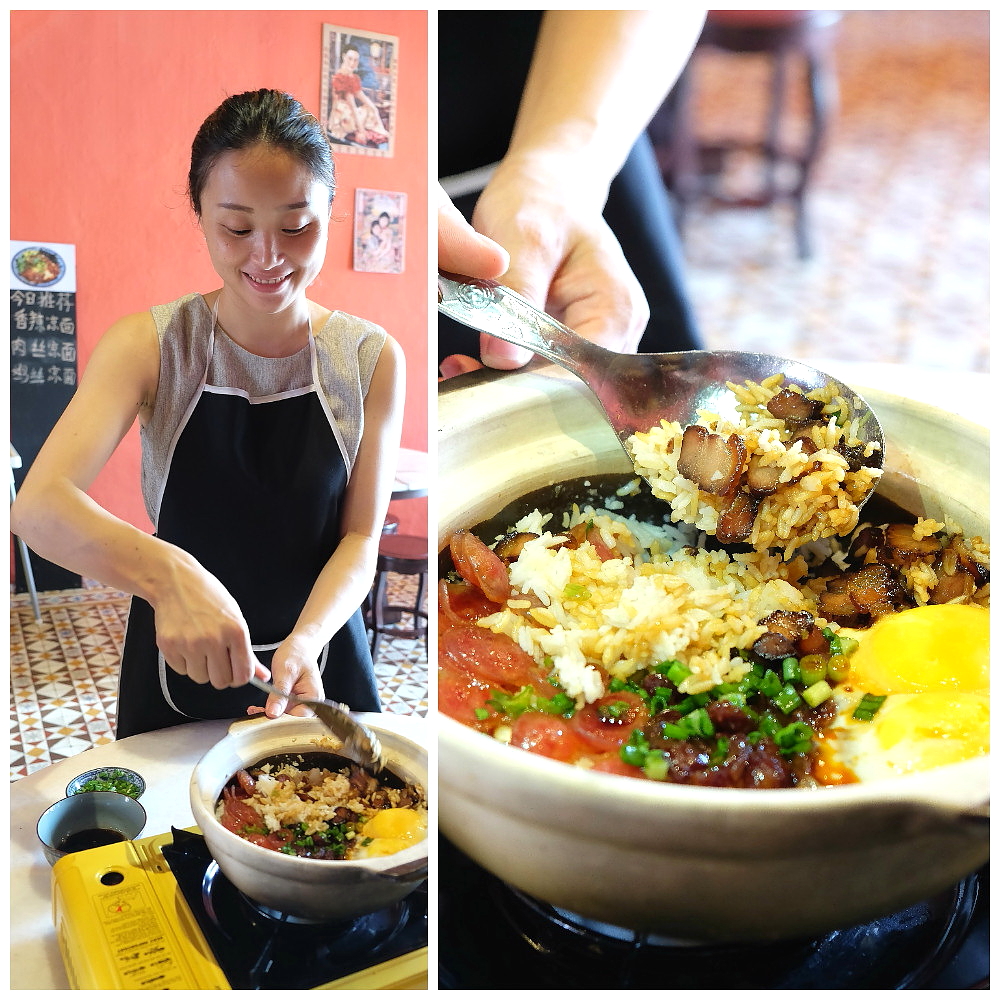 Lap Mei Fan with smoked Hunan pork, Chinese sausages and eggs RM49.90 (medium)
Crispy bits of crust from the bottom of the claypot
Red Courtyard presents a specialty dish from Hunan to Penang, aptly named the Hunan spicy beer duck. Priced at RM49.90 for medium and RM88.00 for large, this dish has pieces of duck firstly fried and then cooked on low heat in beer with abundance of fresh chilies, garlic, vegetables, and a special bean paste. The resulting gravy is slightly on the saltier side but that sets it up perfectly with a bowl of white rice.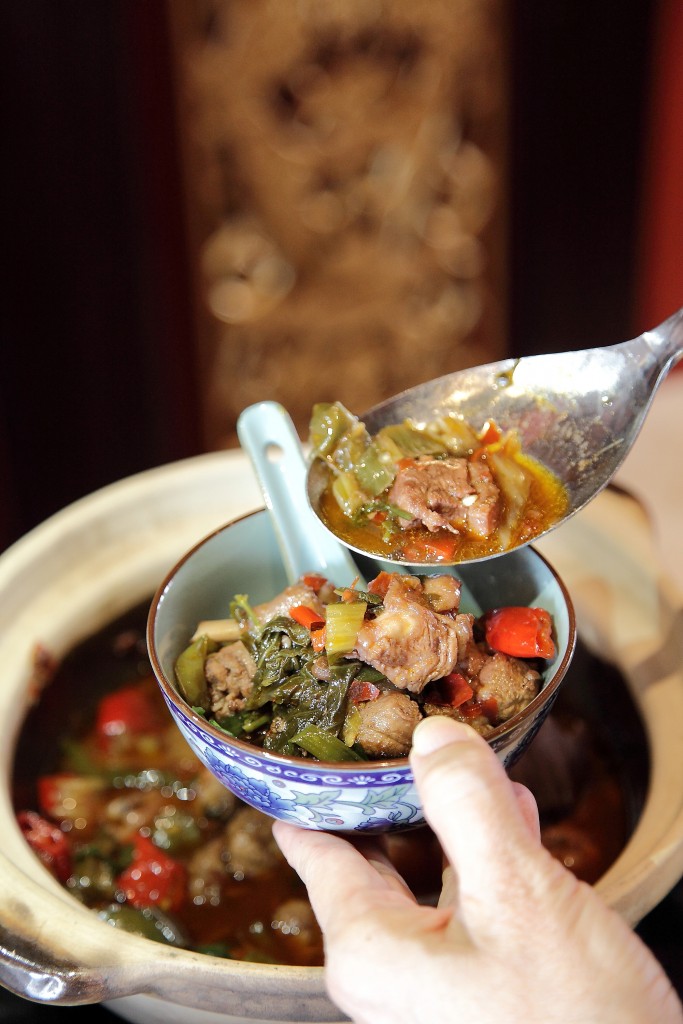 Hunan spicy beer duck
For those who prefer something not overly heavy like the steamboat, the menu has several starters, noodles and rice dishes. For starters, there are options, like the fried dumpling, seaweed, beef ball soup and wantan.
Fried Dumpling RM7.90
Among the choices of noodles and rice dishes are the pork thick beehoon and the marinated chicken rice. We particularly enjoyed the pork thick beehoon with its comforting clear soup and housemade minced meatballs.
Pork thick beehoon RM8.90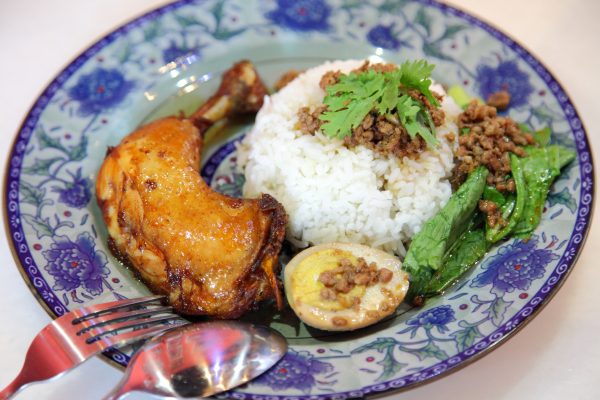 Marinated chicken rice RM12.90
Another noodle dish available at Red Courtyard is the spicy beef beehoon. Delight the senses with mouthfuls of spicy and robust soup which whets the appetite while the thick beehoon remains smooth yet firm. The kitchen is relatively generous with the servings, as each bowl is topped with sirloin slices, tendon, beef balls and meat slices. For those less adventurous, there is always an option for less spicy.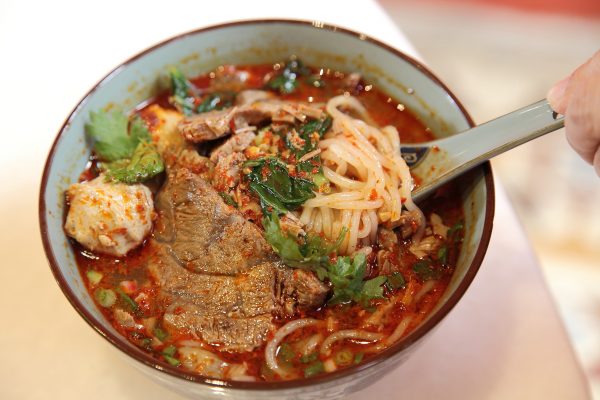 Spicy beef beehoon RM11.90
Beverage-wise, there are plenty to select from, with Hoegarden or Skye beer being excellent accompaniments with the spicy and slightly oily broths. If you're looking for choices away from the bottles, do sample the sour plum drink or herbal tea.
All in all, the culinary delights at Red Courtyard are definitely worth the value as quality fresh ingredients are presented across the dishes prepared based on Hunan-style of Chinese cooking. This restaurant is definitely one to visit if you're looking for a family friendly restaurant serving Hunanese specialties.
Red Courtyard
10B King Street
10200 Georgetown
Penang
Tel: 010-3982205
Business Hours: 11am – 3pm & 6pm – 10pm
Closed on 2nd and 4th week Mondays
*Many thanks to Red Courtyard for extending this invitation.