Musang King Liulian 榴莲 Ice Cream (Durian Dessert) in Penang
Musang King Liulian Ice Cream (Durian Dessert)
With the growing passion for durian, it is not surprising to see the mushrooming of delicacies and desserts incorporating the locally-grown king of fruits in Penang.
For this, we welcomed the opening of Musang King Liulian Ice Cream (Durian Dessert) on the touristy Lebuh Keng Kwee off Penang Road. Opened in March 2017, the menu offers premium soft serve milky ice cream and durian ice cream which features musang king durians.
These refreshing cool ice cream served with a medley of fresh fruits, nuts, and cookies are attractively priced, ranging from RM2.90 to RM7.90.
The rich, creamy, smooth musang king durian ice cream is available whole year round. Made without preservatives and coloring, the durian ice cream will win you over with its pungent and sweet notes. Currently, the menu features several durian choices: Durian Cone and the Durian Storm jazzed up with durian pulp. Both sell out fast.
Durian Cone RM4.90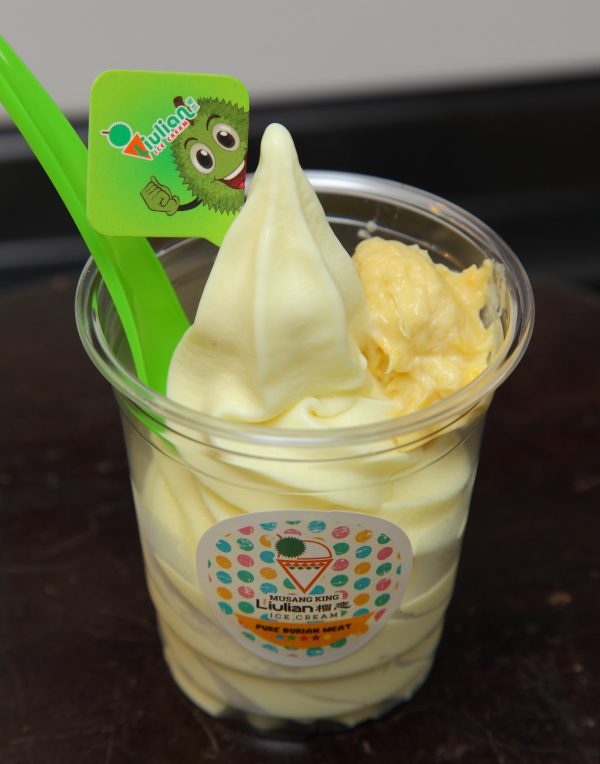 Durian Storm with durian pulp RM6.90
Another durian choice is the Durian Chendul which impresses with combination of durian ice cream and toppings of durian pulp, red bean, chendol (green rice flour jelly) and Gula Melaka (palm sugar).
For the uninitiated, chendol is one of Penang's most famous desserts, with shaved ice topped with fresh coconut milk, red bean, chendol and Gula Melaka.
Durian Chendol with durian pulp RM7.90
The menu here at Musang King Liulian Ice Cream also lists chicken egg waffle (gai daan jai) cooked on an electric griddle. The crispy egg waffle paired with durian ice cream is priced at RM9.90. Do consider adding on durian pulp for an additional RM2, it's quite divine.
Egg waffle goodness with musang king durian ice cream
For those who do wish to try out other flavors, there is a line-up of milky ice cream partnered with a mishmash of ingredients to delight your taste buds. The menu offers interesting options like Coco Loco, Honey Bee, Crunchy Oreo, Mango Manga, Chocolate Banana, Pop Corn Movie, Triple M and the Mushi Mushi.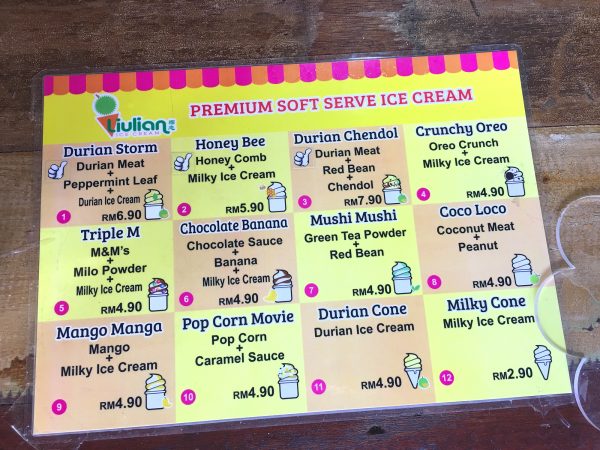 One particular choice that we enjoyed is the Coco Loco, put together with coconut flesh, gula Melaka (palm sugar) and crushed peanuts. This old favorite combination offers creamy coconut milky-ness and sweet nutty flavor.
Coco Loco drizzled with palm sugar
The Mango Manga will win you over at first bite with bright fruity burst of mango. Alternatively, there is also the Mushi Mushi with green tea and red bean for green tea lovers.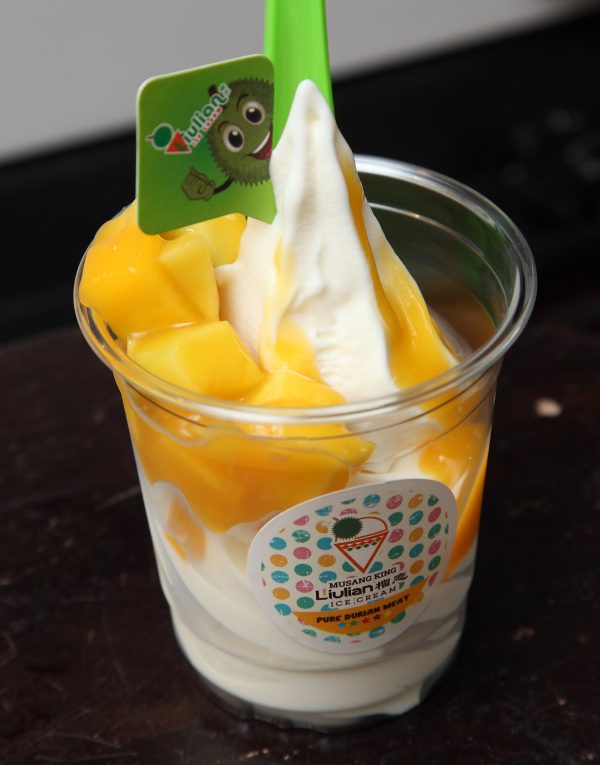 Mango Manga
Another highlight that is absolutely trending nowadays is the fusing of honeycomb into various culinary delights, and this place is no different. A piece of honeycomb is placed on the milky ice cream swirled with honey – the result is a delightful yet not overly sweet choice.
Honey Bee with honey comb
There is something for everyone here at the Musang King Liulian Ice Cream stall! The Triple M with deep flavor milo powder and M&M's (RM4.90), and the Crunchy Oreo with oreo crunch (RM4.90), naturally become more attractive to the young ones.
Musang King Liulian Ice Cream is a great addition to the artisanal ice cream scene in Penang. Its daily business hours are from 10.30am to 6pm.
Musang King Liulian 榴莲 Ice Cream
Lebuh Keng Kwee
10100 Georgetown
Penang