Garden Paradis Cafe, Botanic Garden, Penang
Garden Paradis Cafe at Botanic Garden, Penang
On the way to Penang Botanic Gardens sits Garden Paradis Cafe. Located away from the bustle of Jalan Kebun Bunga main road, the hidden gem offers both Western and Japanese dishes.
Beyond the food, the atmosphere at Paradis Cafe is absolutely lovely. The cafe with air-conditioned indoor area and an outdoor terrace sits on the bank of a stream.
Main entrance of Paradis Cafe
The outdoor terrace is spacious, making it perfect for a gathering. In fact, my first meal at this place was at my friend's hubby birthday party, and followed by many returns thereafter.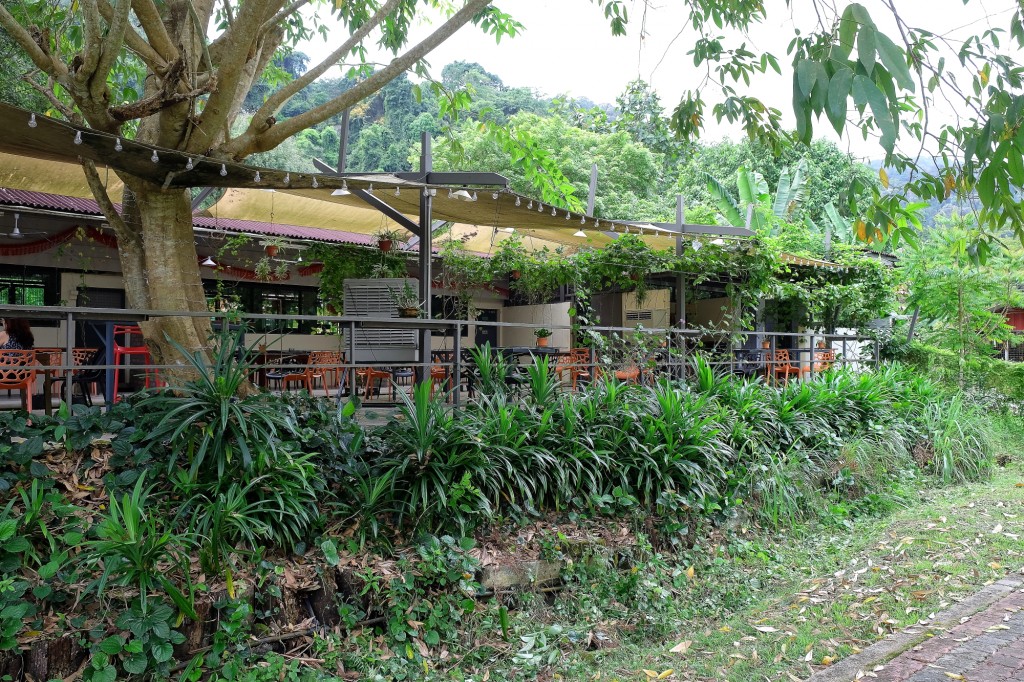 A nice outdoor space
Garden Paradis Cafe is a breakfast joint for many joggers from the nearby Penang Botanic Garden. For Western-style breakfast, the kitchen offers the Garden Breakfast, Poached Egg Sandwich, Tuna/Turkey Ham Bagel, Omelette or Fillet on Mushroom. Do take note that breakfast time runs from 8am till 11.30am.
Besides Western dishes, the menu also go all day concentrating on Japanese fare – ramen, Japanese rice bowls, seafood and cold and warm beverages.
A meal could be accompanied by a salad. There are three on the menu – Kaisho, Wakame and Kinoko, and all come complemented with wafu, pear or goma dressing.
Alternative, if you prefer something to nibble, there are the Kamo Aburiyaki, Surumeika Sioyaki and Shimeji Butteryaki. The Kamo Aburiyaki made with grilled smoked duck with delicate smoke and juicy texture is a favorable choice.
Kamo Aburiyaki RM16.80
There are snack choices and you can pick your favorites from a selection of Edamame, Yaki Gyoza and Takoyaki with diced octopus, served with mayo, dried bonito flakes and seaweed.
Takoyaki (6pcs) RM8.80
Famous is the pan-fried Yaki Gyoza prepared with crispy base and juicy fillings made of cabbage, kau choy (chive), meat and chopped spring onions. A set of six goes for RM9.80. Eaten with soy sauce vinegar dipping sauce, the dumplings are tasty but pleating could have been a little neater.
Yaki Gyoza (6pcs) RM9.80
Teishoku is also available as part of the menu, with the Saba set, Seafood set, Unagi Kabayaki set, Shiro Maguro Steak set and the Gindara set.
The Saba Shioyaki set is served with a bowl of salad, rice, soup and cawan mushi along with slices of oranges. The salt-grilled mackerel is enjoyable with a blitz of lemon juice.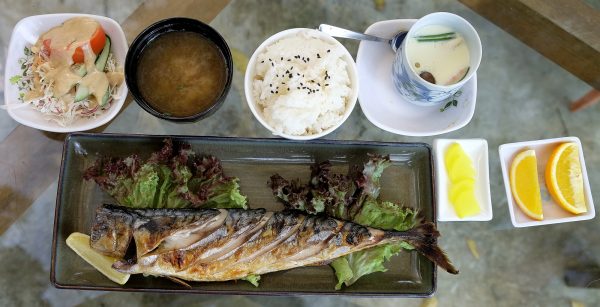 Saba Shioyaki RM23.80
One important element of ramen is the quality of the noodles itself, and the chef had the noodles freshly made with slightly springy texture. Diners can select thick udon, soba or cha soba.
The menu offers noodle soup dishes such as Kake, Kinoko, Kamo and Tsukimi. The Kinoko Cha Soba is a healthy version. The dish had earthy buckwheat cha soba with subtle flavor of green tea and mushrooms bobbing in a dashi broth with savoriness and clean taste.
Kinoko Cha Soba RM12.80
Dry style has gained a foothold in the meun, marked by the Sannuki Udon Pasta, Yaki Soba, Salad Ramen and Garden Udon Pasta. You can try the Sannuki Udon Pasta prepared with dried chili, prawns, squid. Sauteeing the prawns and squid with dried chili, together with toppings of seaweed and chopped onions gives this udon dish its unique flavour.
Sannuki Udon Pasta RM18.80
The cafe pleases diners with its spicy and non-spicy ramen versions. Among the choices are Kimuchi Ramen, Miso Ramen, Shoyu Ramen, Kyushu Ramen, Jigoku Ramen, Gyoza Ramen, Dumpling Ramen and Cha Shu Ramen.
Kyushu Ramen is served in a milky white pork flavor broth topped with slices of cha shu, seaweed, bamboo shoots, black fungus, komi tamago and a sprinkling of sesame seeds.
Kyushu Ramen RM18.80
Spicy favorites include Kimuchi Ramen and the Jigoku Ramen. The latter combines komi tamago, black fungus, naruto and seaweed. The spicy soup teases the palate with spicy brightness and flavorfulness.
Jigoku Ramen RM20.80
Kimuchi Ramen RM18.80
Aside from the ramen, the menu also incorporates a variety of Jyu options, ranging from Chicken Teriyaki Jyu and Salmon Belly Jyu to Una Jyu and Salmon Teriyaki Jyu. A tempting choice is the Chicken Teriyaki Jyu (RM15.80), served with rice and lettuce.

The drink list consists of cold drinks, hot coffee and tea. For a perk-up drink, try the cold refreshing Cucumber Revive with combination flavors of cucumber, apple, lemon and a zip of fresh mint. From the hot drinks section, get a cup of matcha latte, mocha or cappuccino for a kick of caffeine. As for dessert, expect to find one or two choices.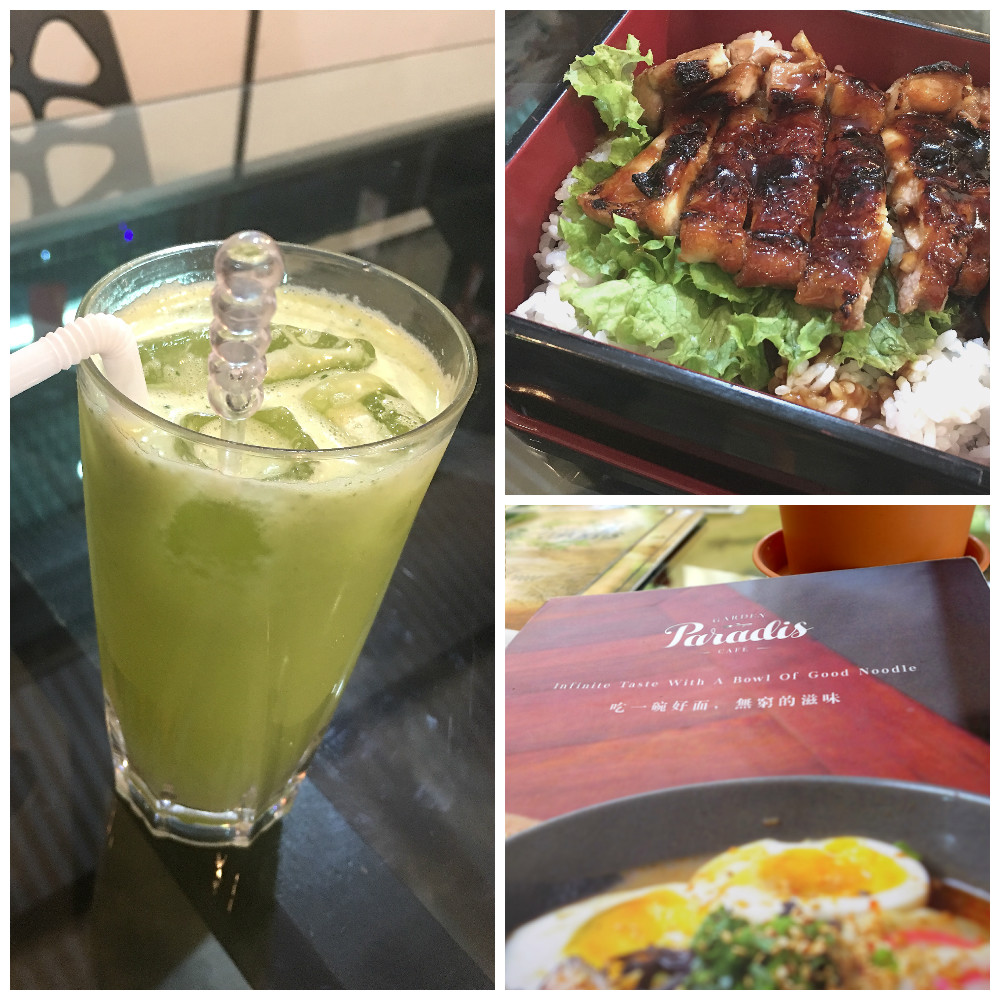 Cucumber Revive paired with Chicken Teriyaki Jyu
Garden Paradis Cafe is the place where you will find much lovingly made food that inspire you to come back to eat. Business hours are from 8am till 9pm daily.
Garden Paradis Cafe @ Waterfall Road, Botanic Garden
Botanical Garden Horticultural Centre 3654 Annex D
Jalan Kebun Bunga
10350 Penang
Tel: 012-4737007